OD Slugfest: What makes an SUV a popular choice in India
Sports Utility Vehicles have come a long way in India, haven't they? There was a time SUVs in India were considered as crude and unrefined with smoke billowing out from the exhaust. For the masses, these were mere people carriers, albeit with more space and comfort than the ubiquitous Maruti Suzuki Omni. There were a few SUVs that were pretty good but those cost a bomb, back then. Cut to just a few years from today and every manufacturer worth its salt has an SUV in the Indian market. So, what is it about the SUV that has made it tick and more importantly made it tick.
2013 Tata Sumo Gold in India
ne are the days when SUVs were all box-shaped with the aerodynamics of a brick. Nowadays, SUVs are big, stylish and have an imposing presence. Some performance-oriented SUVs like the Jeep Grand Cherokee  SRT also have aero enhancing splitters other such bits highlighting the lap time chasing intent of the SUV.  From big SUVs like the Range Rover Vogue or the Ford Endeavour to the compact crossovers like the Tata Nexon, with 209mm of SUV rivalling ground clearance, manufacturers have spread out a gamut of options for the Indian consumer. There are so many choices, at almost every price point that the customer is actually spoilt for choice. The common thread between these SUVs is the style and presence, a point we are emphasising again because that is one of the primary features that appeal to a buyer.
The Ford Endeavour is a true SUV with terrain modes, locking differential and a low ratio box
The Tata Nexon is a compact crossover but the 209mm ground clearance is more than what even a few SUVs offer
The butch wheel arches, big footprint, acres of cabin space and practical boot space makes the SUV an alluring proposition, especially when you consider the similar price of a premium sedan with not as much presence or go anywhere capability. In fact, the SUV is responsible for the slow death of the premium or luxury car segment.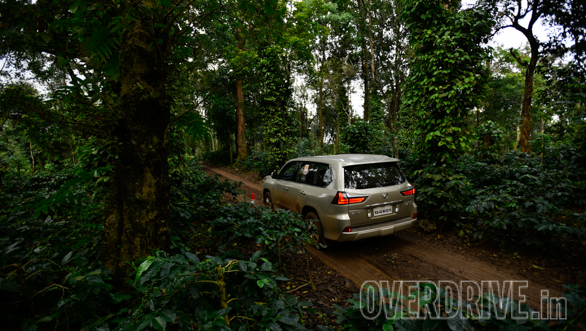 The other reason that SUVs, in various segments, do so well is the status symbol they confer on the owner. India, for the longest time, has associated big cars with a sign of having arrived in life. And SUVs only add to that notion.
The Creta is popular car in India, thanks to its SUV shape and ground clearence
SUVs are also adept at handling India's pothole riddled roads. The suspension set up on most SUVs is tuned to offer good ride quality which makes them very comfortable to ride in. Also, hinterland India has no roads, in most places. The additional ground clearance, as well as articulation, allows people to drive in areas where sedans and hatchbacks can only hope to traverse.  India, as a country, loves to travel and mostly the entire family sets off on trips. SUVs, with their people carrying capacity, have become the choice of many.  
Price (Ex-Delhi)
Starts Rs 32.75 Lakhs
Price (Ex-Delhi)
Starts Rs 75.15 Lakhs
Price (Ex-Delhi)
Starts Rs 2.86 Lakhs
Price (Ex-Delhi)
Starts Rs 6.95 Lakhs