Living with an electric car: Mumbai-Pune roadtrip in a Tata Nexon EV
A very convincing case is being made of these things being the way of the future. So, we couldn't think of a better way to embrace the fact than to jump right into the uncharted waters of EV ownership. The Tata Nexon EV, the best-selling of its kind in the country, seemed fit for this experience.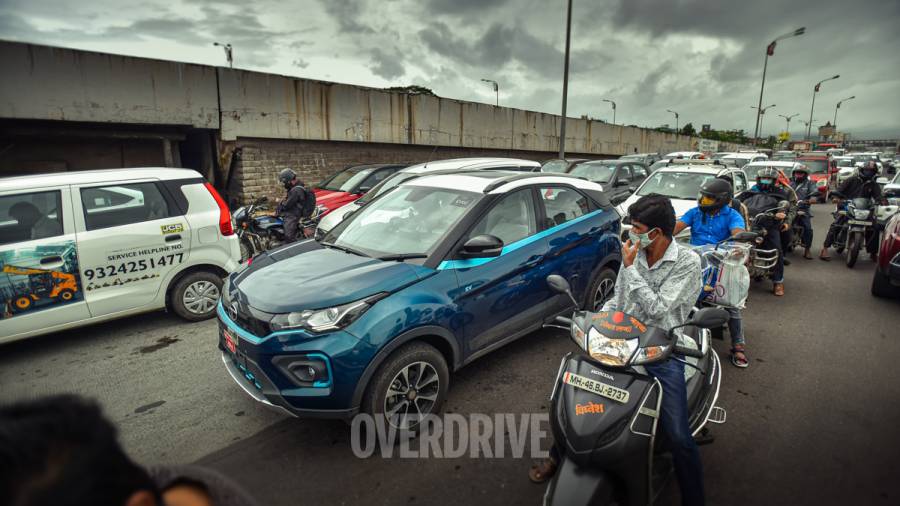 Handling Mumbai traffic and rains in a Tata Nexon EV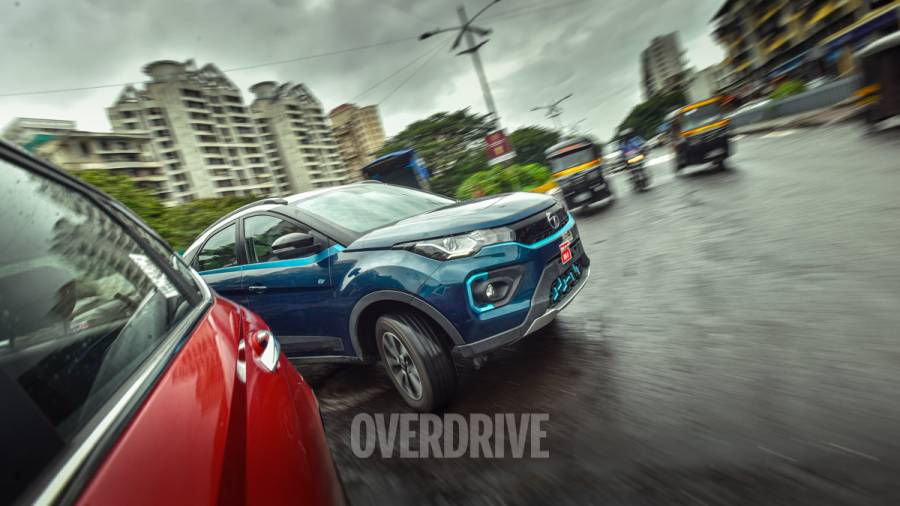 We're almost jarred into the new way of commuting with silent EV mobility. The uninterrupted supply of motive force lulls us into a sense of commuter supremacy, while bringing a sense of calm that's very easy to get used to. Bumps and creaks seem amplified though. With no big gearboxes and differentials rammed between the front wheels, U-turns are a breeze.
EVs will make us far better drivers! Who would have thought that. Lead-footed at first, we see our charge level dwindle and bleak range estimates before better sense prevails. There's quite some engagement to be gleaned in easing up to speed, coasting and preempting slopes and traffic lights to let the regen do the work for us. The Nexon EV's progressively increasing regenerative braking makes this even more interesting. Maintaining correct air-pressures is another good practice that EVs will force you to follow.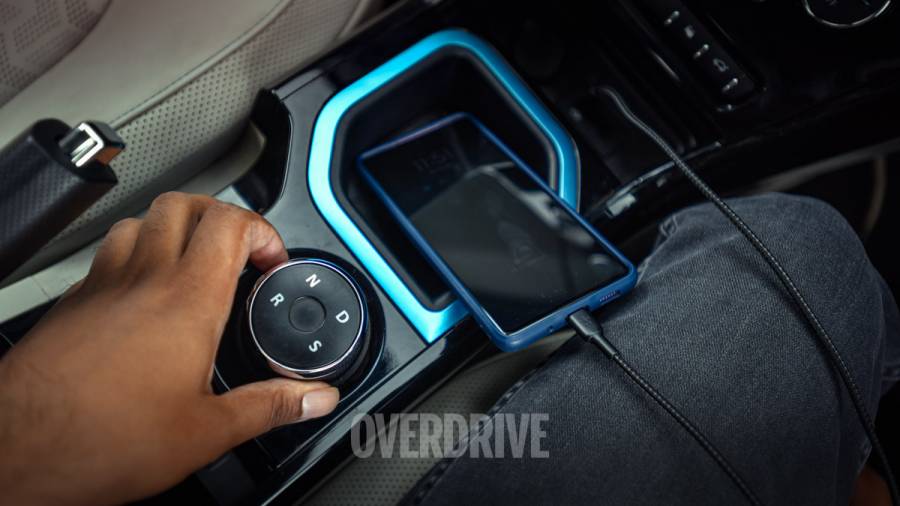 These things are quick, even with outputs limited to 75 per cent of the available 129PS and 245 Nm in the D mode, we magically find ourselves ahead of pesky two-wheelers and cabbies in the traffic light drag. Switching to S, we're surprised by this family-friendly SUV's warm-hatch baiting shove(0 to 100 kmph in 10s, as tested). But the precipitous fall in charge brings us back to reality.
The rains come just as we begin this experiment. But the Nexon EV can handle Mumbai's infamous waterlogging as well as any other car. The battery casing is IP67 rated and it'll even handle a bit of rain splash on the exposed charging port. The cooler weather also surprisingly improves efficiency by some margin, with us sticking to the Econ AC mode to maximize this.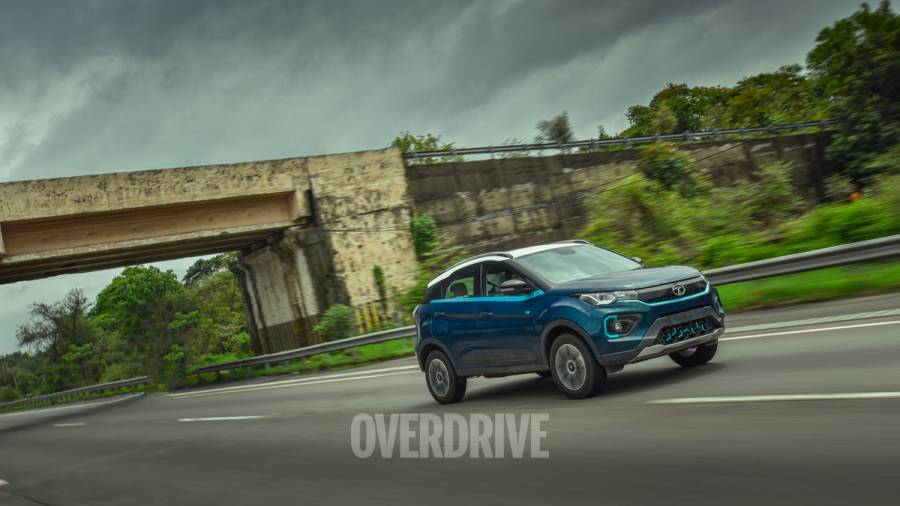 Mumbai-Pune road trip in a Tata Nexon EV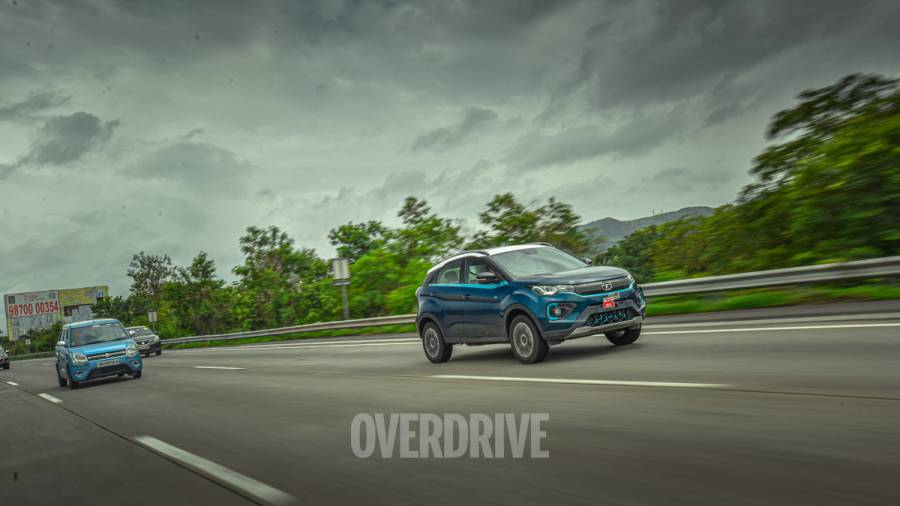 A few days in, we're feeling quite confident. The monthly Pune trip to visit family seems achievable. But even with the battery fully topped up, range anxiety hits like a wall just as we get to the expressway.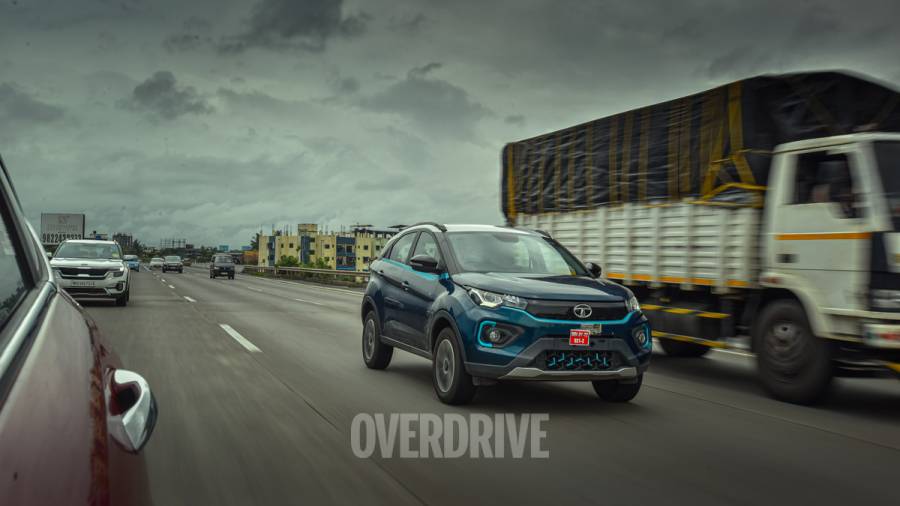 Following Tata Motors' advice, limiting speeds and coasting below 70 kmph and harvesting energy on the mild slopes, we're doing great on the flats up to the ghats with consumption only at 8.4km/kWh. We wish the many EV chargers along the highway were actually functional.
The ghats are at their scenic best but consumption shoots up with the heavy inclines and highway speeds, EVs DON'T like this. We're seeing 4km/kWh, and that's with speeds down to 40-45 kmph, and squabbling with trucks rather than other cars for space. At least electric power means there's no managing a tricky hill start in the heavy weekend traffic.
Our extreme hypermiling pays off, with the section to Pune after the ghats largely downhill and the Nexon EV ramping up regen as the charge levels drop, we reach the city's outskirts with a comfortable 48 per cent battery level and overall efficiency at 7.94 km/kWh. Although the entire journey(159 km) with charging at Navi Mumbai(34 km from start) takes the better part of 5.5 hours, so very long Mumbai-Pune day trips for you in an EV.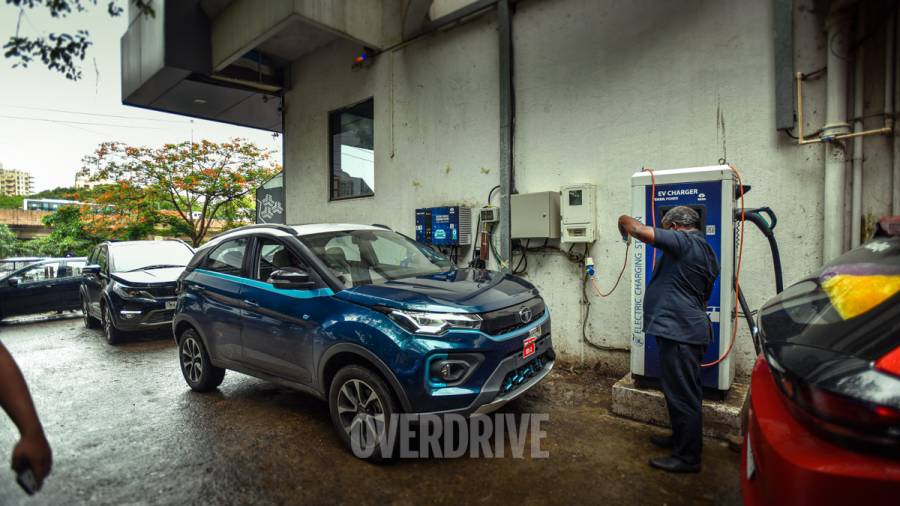 Tata Nexon EV charging time and infrastructure
Odd-even on-street parking is a reality in most parts of Mumbai. This means you'll need to find some solutions to using the wall box charging option that comes bundled with the Nexon. This takes 8 hours to fully charge the Tata and is imperative to making EV ownership viable and stress-free in the current scenario.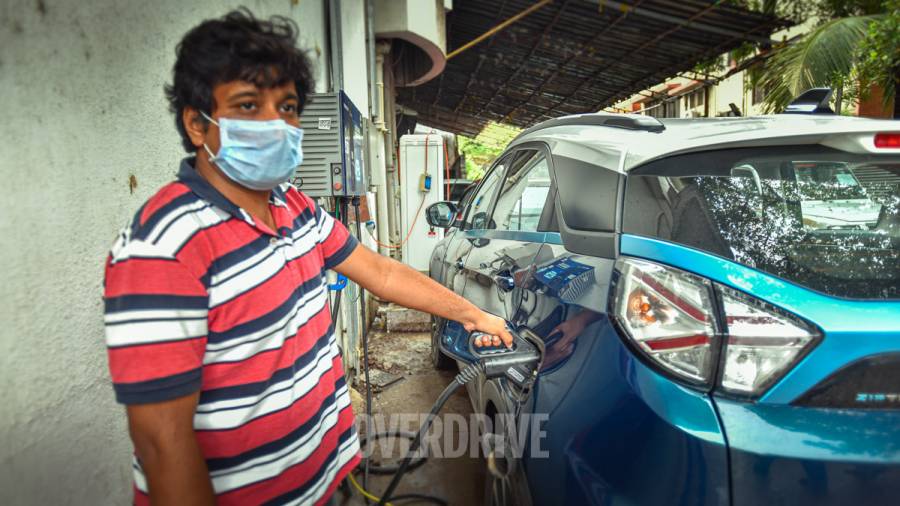 With no such options, we were left to the mercy of the current fast-charging network. The Nexon EV uses the CCS2 cable and there's just not enough of these around in Mumbai or Pune for a carefree experience. We stuck to the Tata Power network, which seems to be the most reliable and prolific currently. Most of these chargers are located at Tata Motors service centres on the outskirts or at some company-owned Indian Oil pumps within these cities.
These chargers are brisk, a charge from roughly 20 per cent to full only takes a little more than an hour. The Nexon EV's range and charge time estimates are conservative, which manages expectations well. Sadly, that can't be said of the level of awareness and co-operation that we experienced at one of the three Tata Motors service centres we visited where the chargers are placed.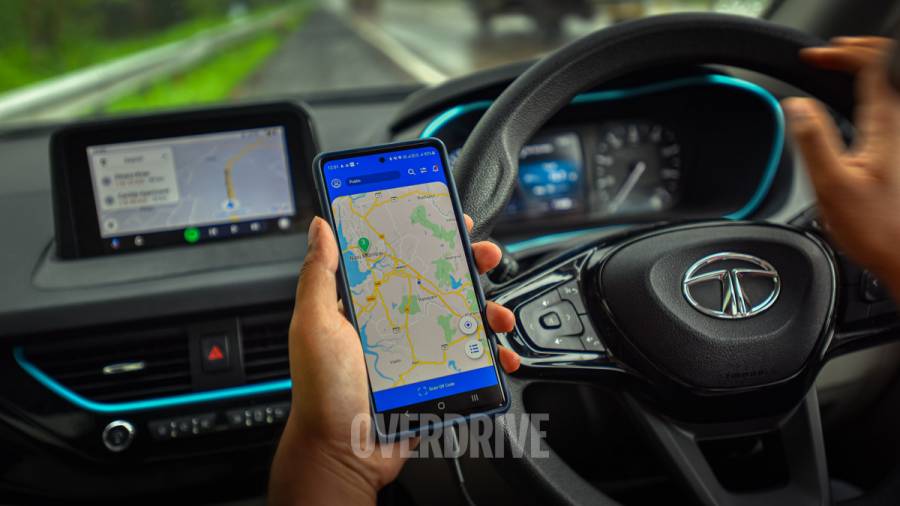 The Tata Power EZ Charge app is a life-saver with its accurate charger locations(even showing if they're occupied or shut) and very easy pairing of the charge outlet and EV. It's also very reasonably and transparently priced. The entire process has no real learning curve thanks to this and is about as easy as plugging in any other electronic device.
Tata Nexon EV price, real-world range, performance, fast-charging costs
Price: Rs 17.59 lakh, on-road Mumbai
Charging costs: Rs 1,158
Energy consumed: 64.31 kWh
Kilometres driven: 481 km
Estimated real-world range: 226km
Images by Anis Shaikh, Tuhin Guha & Simran Rastogi
Price (Ex-Delhi)
Starts Rs 13.99 Lakhs
Price (Ex-Delhi)
Starts Rs 6.95 Lakhs