India's F1 hopefuls: Jehan Daruvala and Arjun Maini
Let's face it. We want an Indian driver in Formula 1. We'd even like two of them in the sport if it's possible. No matter how much people are crying themselves hoarse about F1 being boring, losing its relevance, not attracting more manufacturer teams, losing out to that new-fangled all-electric championship, it's still the pinnacle of open-wheel racing. It's a championship that has produced terrific races, witnessed rivalries of epic proportions, and has created legends out of seemingly ordinary individuals. It's a sport with history, and it's possibly the sport that every young go-kart driver dreams of someday being a part of.
It's for this reason Indian motorsport fans were as thrilled as they were at the 2005 Australian Grand Prix, happily ignoring the fact that Giancarlo Fisichella had won the race, instead focussing all their attention on Narain Karthikeyan. Narain might have only crossed the finish line in 15th place in his Jordan EJ15, but he had created history, and put the country on the global motorsport map. It was a very big deal. Five years later, Karun Chandhok would become the second Indian in F1 when he drove for the Hispania Racing F1 Team. And then Narain would follow that up with another couple of seasons in the sport with HRT.
Arjun Maini is now a development driver role with the Haas F1 team
It's been a significant amount of time since then. A time in which a whole number of Indian racers have competed in a variety of motorsport series around the world. They've risen through the rungs of karting, to wings-and-slicks machines, and have diced with the best of their generation. It really does seem like the world is ready for another Indian in F1. Or perhaps even two. And hopes of exactly that currently rest on two young shoulders - those of 18-year-old Jehan Daruvala and 19-year-old Arjun Maini. Their achievements in motorsport so far, and their approach and commitment to the sport itself, are commendable. After all, these two now signal the dawn of a new breed of professional racecar drivers from India. It's been a long time coming.
Jehan Daruvala has signed a contract with the Sahara Force India Academy
Where are they right now
There's a reason that the motorsport world is beginning to sit up and take notice of Daruvala and Maini. Now, more so than ever. This is because both drivers are taking part in the sort of championships that serve as a stepping stone to Formula 1, and they really are earning their stripes too. Daruvala is in his debut season in the FIA Formula 3 European Championship, which boasts possibly the most competitive grid of drivers of all the F1 feeder series. It's a championship where he's managed to make an impression already, having taken a second-place finish at Monza, a third-place finish at Hungary, and a victory at Norisring. A victory that gave him the distinction of becoming the first Indian driver to ever win a race in the FIA Formula 3 European Championship, a full 18 years after Karthikeyan first won a British F3 race at Silverstone (Karthikeyan, of course, went on to win other F3 races at Spa and Korea). While Jehan has had some terrific results over the course of the year, he's been overshadowed a little by his Carlin team-mate, Lando Norris. The British driver has earned the reputation of being the next big thing, with good reason too, and is being watched closely. In the same way that Sebastian Vettel and Max Verstappen were being watched in the past. But more than being overshadowed by Norris, Jehan stands to gain a lot. In his team-mate, he probably has the most formidable opponent of the current crop of young drivers. Keeping up with Norris on a regular basis is only serving to sharpen Jehan's racing skills, and it's clear that this is what the Indian driver really wants. "The goal at the end of the day is to just win. It doesn't matter what team you're in. But having Lando as a team-mate also helps, because you get to see data and where to improve. So it helps you, for yourself and against the others as well, to get into better positions," Jehan says.
Daruvala is in his debut season in the FIA Formula 3 European Championship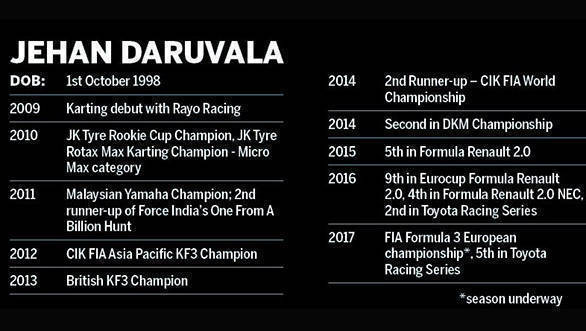 Maini is currently contesting his first full GP3 season (he missed the first two rounds of the 2016 season), driving for Jenzer Motorsport. It's been a decent enough two years for the Indian driver, with his first podium coming courtesy a second-place finish at the reverse grid sprint race at Hungary last year. This year Maini took his first win in the championship - the sprint race at Round 1 at Catalunya. The move to GP3 had come after a tough season in the FIA Formula 3 European Championship. But with it came the sort of results that Maini could feel satisfied with. "Ever since I moved to GP3, the results just started clicking in a way that I would have hoped it would. I was straightaway showing pace, and results were coming in straightaway. And everything was going how I wanted it to go the previous years," he says. Although he does admit that he's not happy with how the season's gone after the first race this year. Other than incidents at the Red Bull Ring and at Hungary, there are areas where he says he needs to focus, like bridging the gap to the ARTs in qualifying. "I think we're still not performing at our potential. So there's still more to come from me this year in GP3," he says.
Where they came from
Jehan's first season racing cars came in 2015. He started out doing a full season in the Formula Renault 2.0 NEC championship, while also doing seven races each in the Formula Renault 2.0 Alps series and the Eurocup Formula Renault 2.0 championship. The season brought with it five podiums and one fastest lap. For his second full season in cars, Jehan returned to the Eurocup and the NEC series, competing in 15 races each. This resulted in six podiums, including a maiden win in the NEC. Once again, his team-mate in both championships was young Norris, who ran away with the titles in each. Jehan wasn't happy with his season. "Formula Renault, my second season in the Eurocup wasn't ideal. I was not satisfied with that. The NEC I finished fourth, but I could have finished second if not for a gearbox failure I had in qualifying in the last round. So, that was hard to take," Jehan states. There were other highs and lows too. In the Toyota Racing Series in 2016, Jehan finished second in the championship, behind Norris. Two DNFs in the 2017 Toyota Racing Series pushed him down to fifth in the championship, but he did take a very impressive win at the New Zealand Grand Prix. Irrespective of the results in Formula Renault and the Toyota Racing Series, for Jehan, making the switch to F3 in 2017 was crucial. It was a move made at precisely the right time.
Maini on the other hand possibly had a harder time in the previous few years. But his first full season racing cars in Europe went excellently. Maini competed in the 2014 BRDC F4 Championship with Lanan Racing and finished runner-up. He lost out on the title, finishing just four points behind his team-mate George Russell. Along the way he took a whopping nine podiums, of which there were four first-place finishes, five poles, and six fastest laps. It certainly was impressive. But the step up to the FIA Formula 3 European Championship the next year was possibly premature. Competing for the Van Amersfoort outfit, Maini didn't end up doing as well as he'd hoped to, ending the season 18th in the championship with 27 points. But there were other highlights, like strong finishes at Pau and at Macau, and he took away the positives from the season. "It taught me to keep focussing on the process, not getting carried away with the results. Because you start to want it more, and it teaches you to control your frustrations with it. To just keep enjoying the drive. At some point in F3, I stopped doing that because I was getting very frustrated with the results," he says. He also learned how to work with the engineers, how to understand the car better, and how to approach the sport more professionally. "I still enjoyed my time in Formula 3, and I am where I am now because of Formula 3," says Arjun.
Maini is currently contesting his first full GP3 season driving for Jenzer Motorsport
As far as beginnings go…
Here's where Jehan and Arjun have something in common with each other. Both rose through the ranks of a fairly solid national karting championship programme in India, before being inducted into the Sahara Force India Academy, and then spending years honing their skills in international karting championships. Arjun won Force India's One From A Billion Hunt in 2011, with Tarun Reddy finishing second, and Jehan, who was a wildcard entry, finishing third. It was at this time that Maini began to take the sport seriously, saying that it "sort of opened my eyes to how professional (it was) and how to work in motorsport in a more professional way". Up until then, by his own admission, he'd pursued it as something of a hobby, triggered perhaps by his father Gautam Maini's own time racing at Sriperumbudur. Which isn't to say that he wasn't doing very well competitively. Maini's list of karting accolades include wins at Macau and Malaysia, as well as national championship titles in the Mini Max and Junior Max categories.
Jehan, however came from a family with no proper background in motorsport, but shocked them all by taking it as seriously as he did from the word go. As he told OVERDRIVE in December 2013, "As soon as I got into the go-kart, I knew that this sport belonged to me and I would do anything for it." He went on to win the Asia Pacific KF3 title, and also did extremely well in the CIK FIA World Championship KF, where he took third place in the championship. While Maini and Jehan might have had slightly different introductions to motorsport, their solid foundation in karting, especially on an international level, has helped both drivers immensely. It's put them on par with their rivals who rose through the ranks of motorsport in other parts of the world, Europe included. And it also means that they've already made up for the deficit that the previous two Indians in F1 had. Karting at a high level is imperative.
The F1 question
No matter what path they chose, or the level of seriousness with which they approached the sport from their first go at it, the fact is that both Jehan and Arjun have their sights set on Formula 1. Ask Arjun if this is true and the answer comes back emphatically: "Yes, one hundred per cent yes!" Ask him why and he says, "I don't think I could give any words to describe it. Because I think it's just a feeling from within. You know, you just want it. There's something you want so badly you're willing to do anything for it. And that's all I can say. I want it so badly that I will be doing anything to be able to achieve it." And en route Formula 1, it's important to continue to make the right move at the right time. But Maini's not sure what those moves will be as of now. "I want to first make sure that I get a good result in GP3. We need to really get a good position in the final standings. To be honest, looking at next year, I have no idea what I'll be doing yet."
Jehan's impressed in the 2017 FIA Formula 3 European Championship, with the win at Norisring being the highlight
Jehan says, "After I started in motorsport, my ultimate goal was to make it as a successful motorsport driver and to make it in Formula 1 as a successful driver. I think so far, I've just been working on what I can - to do my best. And I think as long as I keep improving as a driver and keep achieving my own personal targets, I should move up the ladder and hopefully one day I can really prove myself and make it to Formula 1." But what does he count as success in Formula 1? "I think making a living out of your career in Formula 1, I would consider successful. My ultimate goal would be to win a world championship in Formula 1, but for that to happen, you would have to be in a competitive car." But there's no lack of determination to get there. "I think there's still time for me to develop as a driver. Because I want to be ready when I get to Formula 1. So whether it's three years or four years for me to get there, I have the patience. But as long as I am ready when I am."
And what are the odds?
Pretty darned good, if you ask us. Jehan has had a contract with the Sahara Force India team ever since he became part of their young driver academy. Which means that while he's making his way up the ladder towards F1, there's already a team that's keeping an eye out for him. Results will help his cause, certainly, but it seems like he's going to deliver them just fine. And here's why we think so. Daruvala puts in the work. And it's solid amounts of work too - 90 minutes of cardio every morning and two hours of strength training in the evening. The week leading up to a race weekend includes a session with his mind coach, as well as work on the simulator. Every race is analysed and critiqued by his driver coach Pieter Belmens. "... but it's all in a manner just to improve me and to take me forward. It's not done in a way to make me feel worse. But just to be critical, and to face the real world. I think that's really important," he says. And for the times when things really do go wrong, Jehan tries to "... look for all the positives and take the positive energy from the people around you who support you. Motorsport is hard in general, there's a lot of ups and downs and you have to just learn to deal with the downs and carry on forward with all the ups. As long as that happens you'll always learn and develop as a driver."
Maini's 2017 season in the GP3 Series got off to an excellent start, with victory in the sprint race at Catalunya
Maini, on the other hand, has Karun as a mentor and driver manager, which has, to an extent, helped him land a development driver role with the Haas F1 team. "My role this year is to gain as much experience as I can from being a part of a Formula 1 team. Already I've gained so much experience; it's incredible. So I'm just going to hang out at the garage, be a part of debriefing, understand how drivers communicate with the engineers a bit more. Understand how different the F1 world is from the world I am in, it's very different. This is all to prepare me for what could come in the future. And so I'm going through all the learning phases now. If I ever land a drive, I would be a lot more prepared for it," he remarks. And, of course, he's putting in the work too, "... spending three to four hours a day in the gym, just preparing your body for what's to come; preparing your mind because it needs to be in good shape. And all the work with the engineers, you know, discussing the cars, discussing the areas to improve." He goes on to say something rather wise, "For me a lot of the racing depends on how well you've prepared and that is very important. So I always make sure my preparation is top-class."
When will they get there?
Like both Jehan and Arjun, we're not going to risk trying to put a timeline on just when and how they can make it to Formula 1. We'd just like you to notice that we said "when" not "if". And that's a testament to just how much these two drivers have accomplished thus far, and how much work they're willing to put into the future that they so badly want.