Image gallery: OD SUV Slugfest
For our recent 20th anniversary, we pulled out all the stops and put 25 SUVs through their paces and subjected them to a kind of 'functionality test' never attempted or done before. Certainly not in India, and possibly nowhere else in the world either. This was done in an APRC Rally stage in Chikmagalur for added effect.  We took a selection of SUVs from across segments like – Compact, Premium, Luxury, Upper-Luxury and Hardcore SUV, and subjected them to a close scrutiny based on our six parameter formula. These parameters took into account the cars' styling and street presence, their seating and visibility, all-terrain capability, practicality, touring ability and performance and lastly their stage timings.
Here's a look at what went down:
The Renault set the fastest stage time, and this is what some of us, who have driven it before, had expected. The AWD drivetrain worked very well and provided remarkable traction.
The Hyundai was the second fastest in our special stage! And this truly sensational result, which we never quite anticipated, wass primarily because it's well balanced and handles beautifully in the loose.
The Mahindra takes the rough in its stride, but handling falls short of expectations. Needs constant corrections and gearbox does not encourage quick shifting.
The Land Sport was remarkably sure-footed and felt stable and solid at all times. Steering was responsive and it retained its calm under heavy braking too.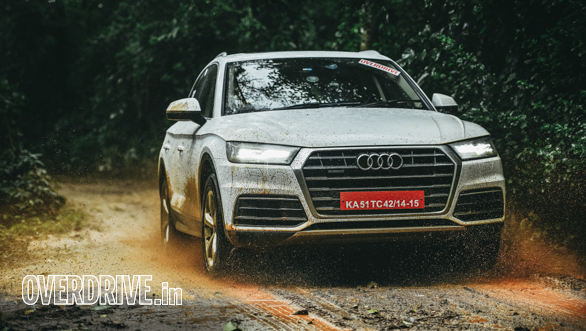 The quattro all-wheel drive was in its element in the Audi on the slippery and loose stage, giving great grip and traction. You could practically feel the wheels biting in and the accurate handling allowed us to push hard and place it almost inch perfect.
The difference in timings between the Duster and Terrano immediately establishes the all-wheel-drive system's contribution. The Terrano's timing was respectable, partly because of the JK Tyre Ranger H/T we fitted it with and proves that the performance and overall driving dynamics are very good.
Apart from the Terrano, the Tata, Renault Duster and Maruti also got fresh JK Tyre rubber which helped them perform better.
The Maruti Suzuki Vitara Brezza's light weight and compact dimensions make it a lot of fun in the slush and it's very easy to throw around and correct due to its well tuned driving dynamics and reasonably communicative steering. The new JK rubber was an additional advantage
Mercedes-AMG G 63 had too much power, which was difficult to put down. Confident handling and fun to drive, but not suitable for setting stage times.
Its bulky size and weight showed in the timings, but it actually handles better than what the clock implies. The Mercedes may not be the fastest, but feels planted and safe at all times and in all driving conditions.
The Lexus The slowest one here, mainly due to its size and almost 3 tonnes weight! Very comfortable and assured off-road, but certainly not meant for setting fast stage times.
The AWD with electronic differential lock on the Skoda works superbly and it handles so well in the loose that it feels almost like a sports car. Its well set-up suspension gives it immense grip and agility, making the Kodiaq huge fun to drive.
Our long term Tata Nexon's was part of our mega-SUV test that is one of the big features in our September 2018 (20th anniversary!) issue
Four-wheel drive works well and braking is confident too. But the Jeep is not meant for fast stage times.
The Toyota felt quite planted in the loose and responded eagerly to driver inputs. But it is not athletic and one is always conscious of its considerable size and weight. Again despite this, its stage timing is commendable.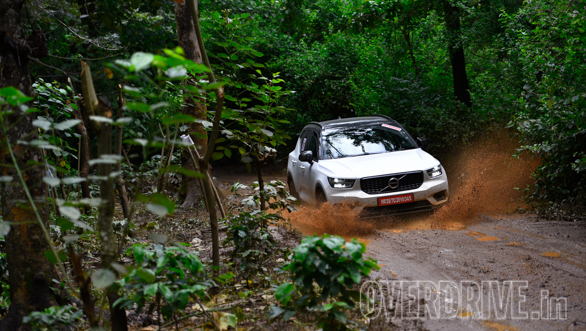 The Volvo feels secure and the AWD and off-road mode appear to have been engineered more for safety than speed, as the timings suggest. It's got good brakes, handles well and feels stable and confident even in the slush, but is not a lot of fun to drive.
The Volvo XC 60's timing once more displayed Volvo's preference to set its SUVs up for stability and safety, and not outright speed.
The Force grips the road well with traction being aided by the standard all-terrain tyres. This reflects in the timing too. It's ideal for loose surfaces and ride is also very composed and comfortable on broken surfaces.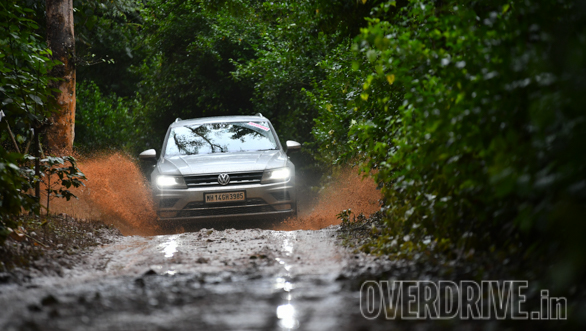 The VW Tiguan handles brilliantly and has a very responsive and predictable steering. The all-wheel drive provides terrific traction giving the Tiguan a car-like feel. The braking is just right and as the timings show; one can confidently chuck this compact SUV around.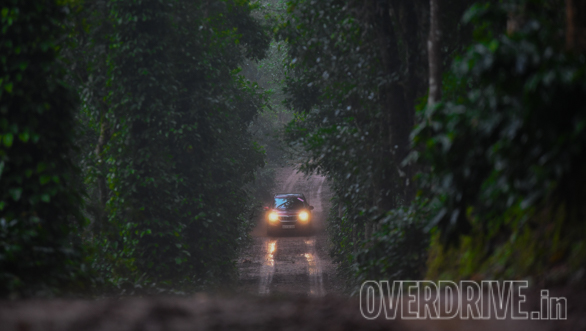 The Mahindra XUV 500 was very enjoyable and felt good on the stage. Its timing is actually very impressive and maybe all the work that has gone into making it a winner of the Indian National Rally Championship is rubbing off on production versions.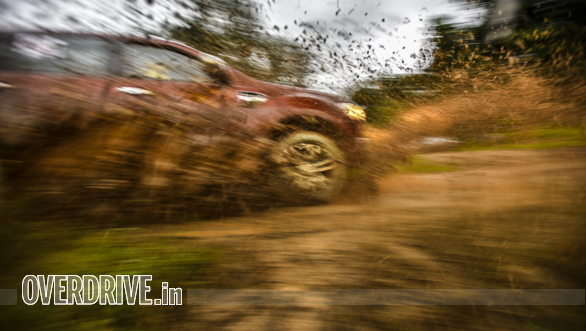 The Ford grips the ground and transfers its power effectively. Its handling is also predictable but its large size and weight of over 2.5 tons (estimated), means it cannot be thrown about impulsively. Despite this, its stage timing is respectable.
The rear steps out too much and you have to keep correcting, which makes for very involving driving. The brakes are outstanding and overall the BMW is great fun.
Also See,