Hyundai i20 Turbo DCT long term review: After 6,036km and three months
Picking up from where we last left off, the Hyundai i20 long termer is back in the OD Garage after the annual Great India Drive, and a visit to the land of rocks, Hampi. Big man Aditya, who was on the drive, said it was comfortable and fun, but perhaps a little outshone by the support Creta for outright fun out on the highway - of course the Creta's 1.4-litre turbo-petrol would feel just a little more effortless when your foot is all the way to the floor, which is *ahem* Aditya's preferred style of driving. On the highway, with manic schedules (and a very heavy right foot), the i20 Turbo DCT delivered about the same efficiency as it does in the city, which is around 10-11kmpl. That aside, we also now know that the i20 is pretty accommodating for all kinds of drivers. The main seat in the house is as comfortable for my build (5'11", 70kg) as it is for someone larger, and heftier, and despite the low roofline, there's more than enough headroom in the rear for larger framed-people too.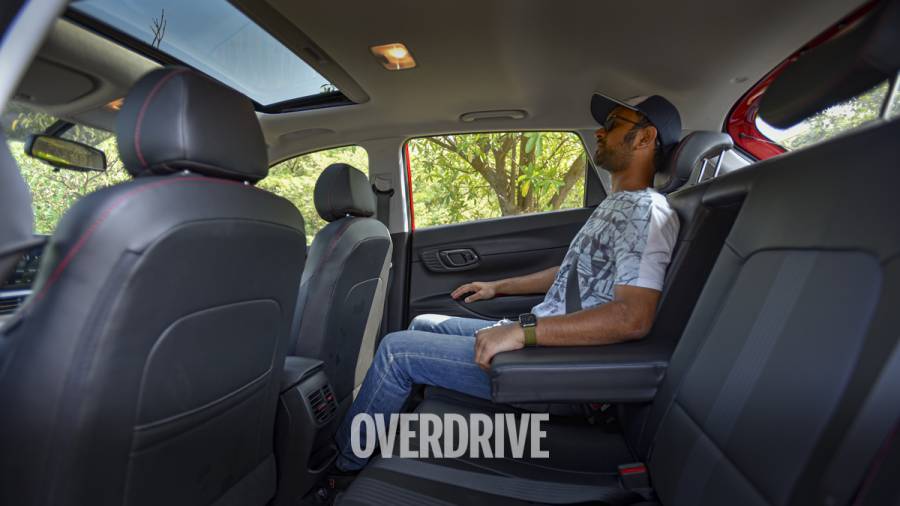 Sight to behold, at night especially *insert heavy Eurobeat here*
For whatever qualms people have with its styling, this new i20 is very, very distinctive and modern. In fact, it looks so aggressive and wedge-shaped, I'd go as far to say that Gandini would be quite appreciative of the edgy direction Hyundai's taken. Quite often, while I wait for it to arrive via the trick multi-level parking in my new home, I find my mental jukebox switching to a heavy Eurobeat in anticipation of the drive to come, especially when I unlock the car and the lightning bolt tail lights come into view. It helps, of course, that I've begun taking the i20 for quick head-clearing spins late at night, or at dawn, when the traffic is light.
If it makes you drive out far, in all kinds of weather, to take pictures of it, you must be driving the right car, right?
I find the little i20 is quite the partner on these slightly more relaxed drives, even more so than when you really want to go all out when the gearbox tends to trip up a bit. The 1.0-litre T-GDi feels fairly rapid between 1,600-2,400 revs, and if you're at a relatively lazy half throttle, the 'box will have you in sixth and triple digit speeds in no time at all. Personally, I've shifted from hunting for the redline, instead just letting the DCT do its thing and shift around 3,500-4,000 revs even when I'm looking for a little more speed. Driven this way, the i20 Turbo DCT has returned about 11kmpl, though the onboard computer seems to be about 10 per cent over optimistic in most situations, reading closer to 12kmpl.
Minor inconvenience to have the air purifier take up that second cup holder
Onto not so good things, cold starts can sometimes be a little clattery, the wireless charging pad has taken a trip to the fritz, and I'm occasionally annoyed that the air purifier takes up a cup holder, also the sun visor doesn't block out a lot of what it's supposed to when turned to the side.
Acquired: November 2020
Inducted at: 2,547km
Total mileage 6,036km
Fuel 317 litres
Economy 11kmpl
Also read, 
Hyundai i20 Turbo DCT long term review: Fleet introduction at 2,574km
Price (Ex-Delhi)
Starts Rs 6.8 Lakhs