Hyundai Alcazar: Tech, for you
Personal mobility sure has come a long way, even just in the last few years, hasn't it? While the concept has remained the same - you know getting from point A to point B - the cars themselves have changed. Quite a bit.
Sure, they still have four wheels, and an engine driving them. Wait, electric cars have changed that last part. But yes, cars now, whatever they're powered by, have to offer more than just a pleasurable driving experience. And a lot of that change comes through the technology breakthroughs that bring your words closer together. Considering most of us often spend a good chunk of our day in our cars, it's now about the whole experience of mobility and how it fits in with the rest of your day.
Technology is everywhere. And while some of it, like Hyundai's BlueLink connected technology, is meant to bridge that gap between your personal technology devices and your car, that's not the end of it. The technology that makes our lives in our cars better goes above and beyond. If you think about it, even something as simple as the outer rear view mirrors folding automatically when you lock the car, is tech-driven. And it's a feature on the Alcazar, and on many other Hyundais, that quietly works in the background to make your life just a little easier. After all, no one wants to leave their car parked on the road to come back and find that its wing mirror has been broken off by errant traffic.
And spending a few days with a Hyundai car, you can tell that this is a company that gets it. Because that's just one of the many tech-features that Hyundai adds to its cars to make life a little easier, keep you safer, or both in many cases. It's not just technology for the sake of technology, or for padding the features list to make for impressive brochures. And that's an important distinction.
Take the 360-deg cameras in the Alcazar. A useful feature, and one that is difficult to get used to not having once you've experienced the convenience of knowing exactly where your car is placed on the road relative to obstacles. What makes it even better is the amazing, crisp image resolution which feels like its 4K to every other reversing camera's 720p. Further, what makes it truly useful is that the system switches from a view of the rear, to a view of what's coming up under your front bumper, when you switch from reverse to a forward gear. It completely takes the guesswork out of driving on our roads where a new danger or obstacle lurks beyond your line of sight. Didn't spot that small rock, or pothole, even though you craned your neck and checked your mirrors? Well, the tech makes sure you will.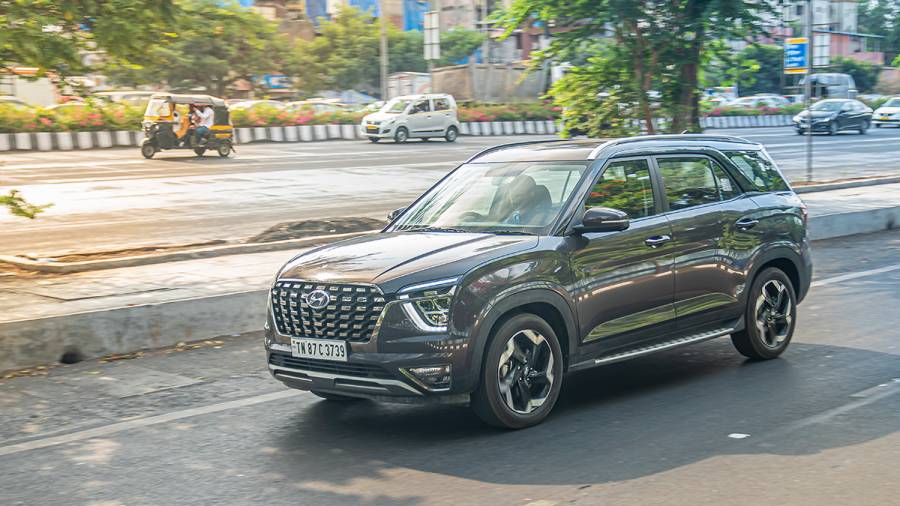 We've even found that the Alcazar's unique blind spot monitoring cameras work in a myriad of situations, and not just when you're switching lanes. Sure, the wider view of the rear of the car means blind spots are a thing of the past, helping you fill in the gaps between the views offered from your mirrors. But having the camera feed show up right in the bright 10.25-inch digital display means that it's also very useful to judge the distance from your wheels to the edge of the road or median when you're parking, or taking U-turns in tight spaces. This really is technology integration at its finest. When the tech serves multiple purposes, apart from just its intended use, you know it's been well thought out.
A feature like ventilated seats is another great example of tech working for you. With three levels to the blower speeds, it can work on hot days, pleasant days and everything in between. Of course, separate controls for each individual seat mean that the cooling can be set as per taste.
Coming back to Hyundai's BlueLink connected tech, which we find particularly useful in starting up your parked car, and pre-cooling the cabin. This great little feature is also offered to you right from the key fob in cars like the Creta and Alcazar, which makes it even easier and quicker to use. All you have to do is press the lock button and hold down the engine start button to get things going. Firing up the BlueLink app helps you fine tune the climate control if you need, so your car's cabin is at just the right temperature when you open the door. You can set the temperature, blower speed, set a preset time to cool it for and more. As you can imagine, this feature is worth its weight in gold if you regularly park your car out in the sun.
But BlueLink offers so much more, like geofencing, tracking, service reminders, fuel level reminders, driving range updates and more. The app is also part of the entire ecosystem that Hyundai has built up, which offers round the clock assistance for any issue you may have in using the tech itself. Can't figure out how to set up a particular feature? You can speak to a customer service representative right from the button on the inner rear view mirror and sort it out. Apart from the fact that roadside assistance is just a button touch away.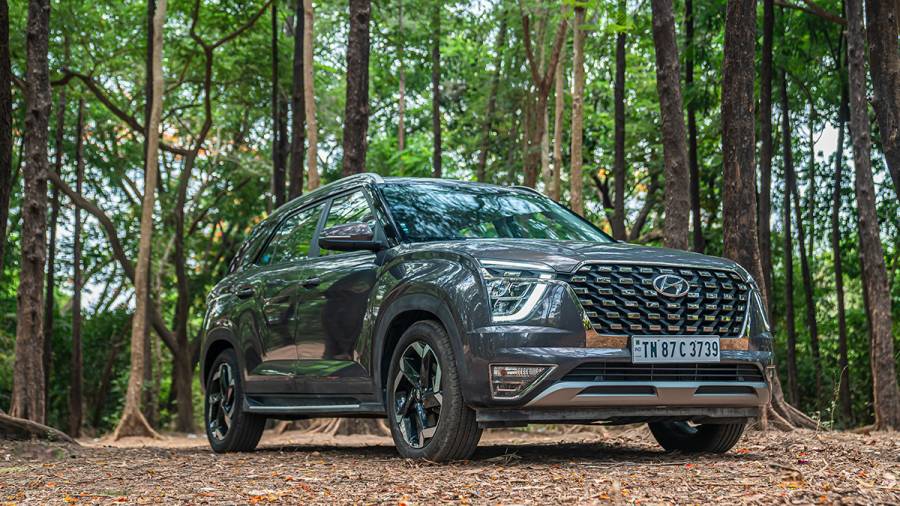 As is now becoming a trend with Hyundai cars, that button touch away also plays an important role in bringing the tech just that little bit closer to you. Accessibility is key here. All the groundbreaking technology in the world would be utterly useless if it wasn't easy to use. And by hardcoding particular actions to well-placed buttons, it means even an elderly member of the family with an aversion to tech could easily figure it out. Not to mention the fact that while the twin 10-.25-inch screens offer massive real estate, there's also real buttons with tactile control to the important functions like the settings, volume, media and climate controls. It makes changing settings easy and safe even when you're driving, which is increasingly becoming more important with the more tech features on offer.
Even the Alcazar's electronic panoramic sunroof lets you open it via the toggle switch, or a simple voice command. It couldn't get any easier than saying, "Hello BlueLink, open sunroof". It's a feature that you may not use everyday, sure. But that one time that you're parked up at a beautiful spot, and your hands are full, or you're grabbing a bite to eat and don't want to dirty up the switch, the feature will come in handy. Trust us.
At the end of the day when tech does the work for you, instead of you working for it - it's served its purpose.
Photography by Tortuga Media
Also read, 
2021 Hyundai Alcazar road test review
2022 Hyundai Creta facelift makes global debut in Indonesia with ADAS features