Here are 15 vehicles that have been a part of Justin Bieber's car collection
Justin Bieber is coming to India for his concert on May 10, and as a part of his long list of requirements, one of them is a list of expensive cars he wants in his convoy. Clearly, he's used to certain standards of luxury, especially when it comes to automobiles. Here's a list of the cars and bikes that Justin Bieber owns or has owned back home in the US.
1. Cadillac CTS-V Coupe
The CTS-V Coupe is powered by a 6.2-litre supercharged V8 engine which produces 556PS of power and 747Nm of torque. Bieber has nicknamed his CTS-V Coupe as the Batmobile and has modified it accordingly. It features self-opening doors, personal logos, Batman badging, dark blue headlights and even his initials on the dashboard in black crystals.
2. Fisker Karma
Bieber's manager, Scooter Braun, gifted him with a chrome-wrapped Fisker Karma for his 18th birthday. When the Karma came out, it was one of the most exclusive plug-in hybrids in the market. It featured a 260PS GM-sourced 4-cylinder turbo-petrol which spins a generator that sends electricity to the twin AC motors that produce 402PS together. To top it off, it also had a solar-cell roof.
3. Range Rover
Bieber's mentor and friend, Usher, gifted him with an all-black Range Rover when he turned 16, back in 2010. The top-spec variant of the car runs a 5.0-litre supercharged V8 which produces 510PS of power and 625Nm.
4. Porsche 997 Turbo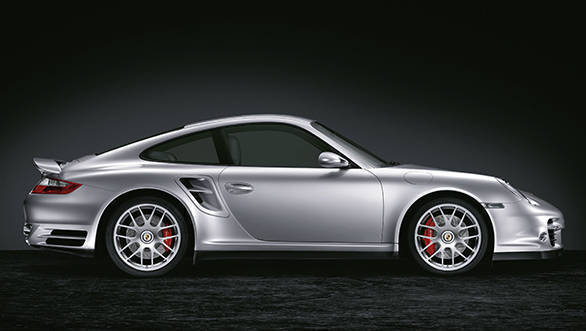 The Porsche 997 Turbo is one of the most popular versions of the 911 Turbo. It features a 3.6-litre turbocharged flat-6 which produces 480PS and 624Nm of torque. With the 5-speed automatic gearbox, this car can do 0-100kmph in 3.7 seconds. Bieber painted this car black and fitted it with red-outlined black rims.
5. Ferrari F430
The Ferrari F430 featured a 4.3-litre naturally aspirated V8 engine which pushes out 490PS and 465Nm. Ferrari claims it will do 0-100kmph in 4 seconds flat, and the research for developing this car was carried out by its Gestione Sportiva F1 Racing Division. Bieber bought himself this car when he turned 16 and, like his Porsche, made it matte black with red-outlined black rims.
This, as everyone knows, is Lamborghini's replacement for the epic Murcielago. It gets a 580PS/650Nm 6.2-litre V12, and Lamborghini claims it will go from 0-100kmph in 2.9 seconds. Bieber's white Aventador was modified by a customisation shop called RDB LA Five Star Tires.
7. Ferrari 458 Italia
The gorgeous 458 Italia is Bieber's replacement for the F430. It features a 4.8-litre V8 which produces 570PS of power and 540Nm of torque. Ferrari claims it will do 0-100kmph in 3.4 seconds with a top speed of 325kmph. Bieber took his white 458 Italia to West Coast Customs and customised it quite a bit. It features a Liberty Walk body kit, a Frozen Blue wrap and a 2,000W sound system.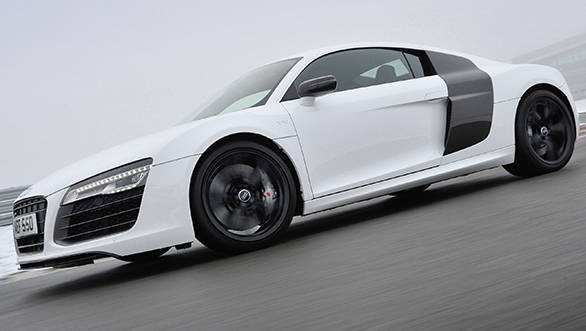 Justin Bieber has a first-generation Audi R8, which he also took to West Coast Customs to make it wrapped in leopard print. While we aren't fans of that wrap, we do love that 4.2-litre V8 which produces 430PS and 316Nm.
9. Lamborghini Gallardo Spyder
If Bieber's 16th birthday wasn't lacking one thing, it's exotic cars. American rapper Sean Diddy Combs, aka P Diddy, gifted Bieber with a white Gallardo Spyder a few months after he promised to do so. The Gallardo Spyder features a 5.2-litre V10 which produces 550PS and 540Nm.
10. Project Kahn Range Rover Evoque
To impress his then-girlfriend, Selena Gomez, Bieber went ahead and ordered himself a $160,000 custom Range Rover Evoque from Kahn Design.
11. smart fortwo
One of Bieber's smallest cars is smart fortwo. It's all-black and he's also replaced the smart car badges with 'Swag Car'.
12. Mercedes-Benz Sprinter van
Yes, Bieber also has a big, not-too-pretty van. However, it looks nothing like the van you see in this image. Bieber gave his Sprinter van to West Coast Customs who turned it into a big black touring machine.
Coming to his bike collection, Bieber's father gifted him with an MV Agusta F3 for his 19th birthday, which was personalised with the idea of it being a Bat Bike.
14. Ducati 848 Evo
Bieber's other uber cool bike is the Ducati 848 Evo, which he's had painted black and fitted with bright red wheels. This bad boy (the bike, we mean) features an 849cc V-twin engine which produces 140PS of power.
15. Campagna T-Rex 14R
Stuck in between being a car and a motorcycle, this three-wheeled automobile borrows its 1,352cc inline 4-cylinder engine from a Kawasaki Ninja ZX-14. It produces 197PS and will go from 0-100kmph in 3.9 seconds. It was gifted to Bieber in 2011 by professional skateboarder Rob Dyrdek.
Price (Ex-Delhi)
Starts Rs 2.55 Crore
Price (Ex-Delhi)
Starts Rs 4.78 Crore
Price (Ex-Delhi)
Starts Rs 1.38 Crore
Price (Ex-Delhi)
Starts Rs 15,00,000