Bonnet Breakfasts
If you are fond of driving holidays or road trips, it's very likely that at some point of time, you have pulled over in a pretty place or under a shady tree, and spread out something to eat or drink on the bonnet of your car.
Eating breakfast served on a bonnet is a brilliant experience.
I have been doing this for the longest time because in the old days, there were few places to eat on our highways, and one packed and took stuff from home. I always had a wicker basket with compartments for fresh and dry fruits, cookies, and so on. And on the first day of the journey I usually carried homemade sandwiches, paranthas and one of the specialities of Sindhi kitchens, kokis. It's a tasty and slight thick wheat flour roti, with varied flavours and stuffing of onions, coriander, cumin seeds and pomegranate seeds, and as it is cooked in ghee, it does not spoil for a few days and is a great snack while travelling.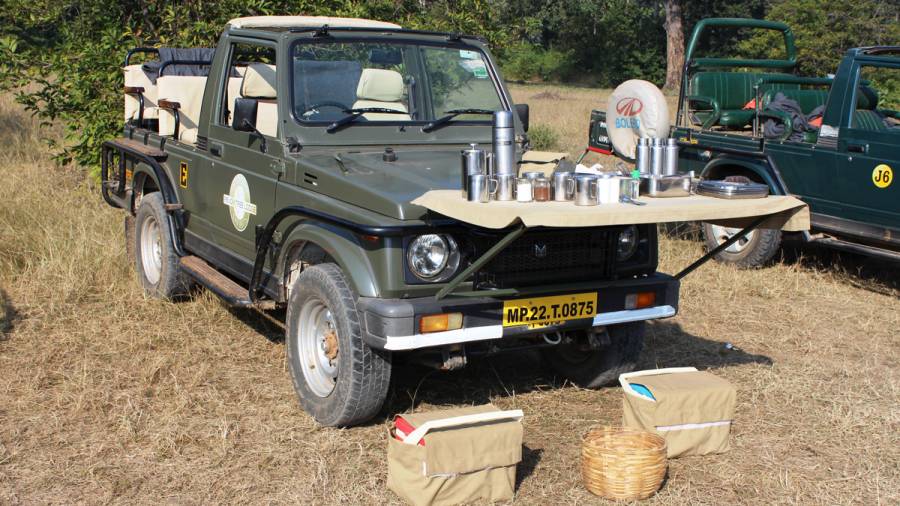 This Maruti Gypsy has a specially fabricated folding table that extends ahead of the bonnet. Note the cane dustbin below and iceboxes covered in khaki cloth.
Eating out on the road with the food and refreshments spread out on the bonnet is a great experience and some resorts in few of our tiger reserves, have taken this kind of al fresco dining to a completely different level.  In fact now they have kind of regularized what I choose to call the "Bonnet Breakfast". Earlier in the 80's and until the mid-nineties, when there weren't many tourists visiting our national parks, a few of us did carry sandwiches, tea, coffee, etc while on a jungle safari and some of us even had favourite spots to stop for a break.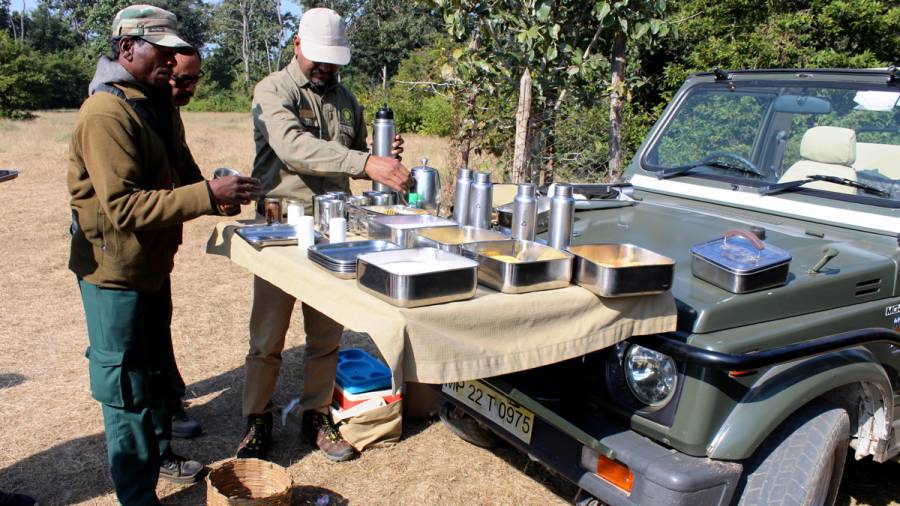 This elaborate "Bonnet Breakfast" includes eggs, paranthas with curds and pickle, muffins, juice and hot tea or coffee. Note the distinct serving dishes, crockery, cutlery, etc.
But if I am not mistaken, it was around the early 2000s that the Taj Group in association with CC Africa set up their first wildlife resort in Pench Tiger Reserve and designed their safari vehicles in a manner that enabled them to carry the entire paraphernalia for a proper "Bonnet Breakfast" in the middle of the forest. The forest department also came forward and demarcated a special area inside the jungle where these safari vehicles could park and serve breakfast.  Now several resorts have started offering these "Bonnet Breakfasts" and the tourists also have access to toilets and even some souvenir shops, at these refreshment points.
Some resorts opt for a simpler arrangement of spreading a table cloth on the bonnet and serving the breakfast on it.
From what I have seen and experienced, this practice of "Bonnet Breakfasts" is being mainly followed in some tiger reserves in MP (Madhya Pradesh) and the fact that the Forest Department has permitted this, is appreciable. For one the tourist, who may never have had breakfast in the open, gets to enjoy this unique experience of dining in a jungle. The fact that the tourists can take a break inside the tiger reserve also means they spend more time inside it, which can be very rewarding for some.
Eric and Joylet D'Cunha are great hosts and here they are laying out a personalized breakfast in Kanha Tiger Reserve. Note the forest behind them.
The quality of the "Bonnet Breakfast" and style of serving and service, of course depends on which resort you are staying at. Some have gone very deep into the details and have even fabricated special folding tables on their Maruti Gypsy's. When opened these extend out in front of the bonnet and become serving tables. Some resorts also have an elaborate setup of serving dishes and crockery and cutlery, while others do things more simply by just spreading out a table cloth on the bonnet and placing the food and refreshments on it. Whatever the setup, having a "Bonnet Breakfast" is an exceptional and not to be missed experience.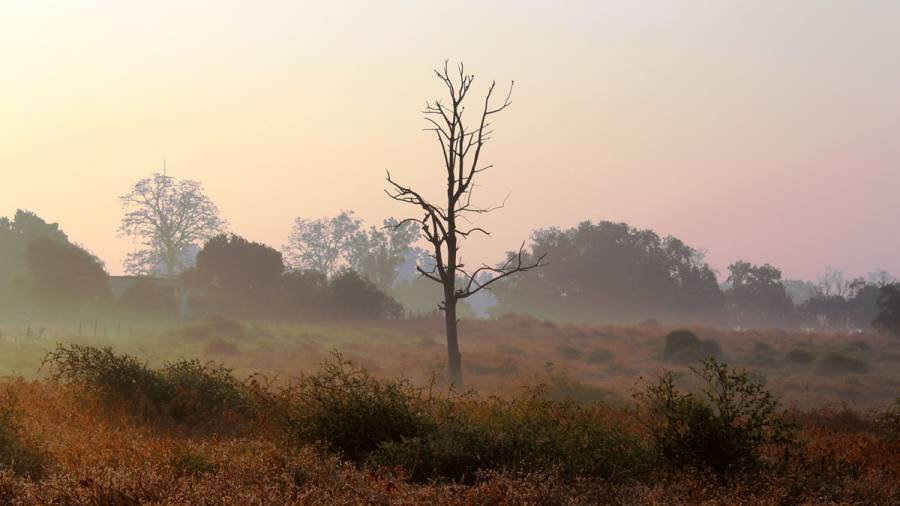 One of the highlights of a "Bonnet Breakfast" is the awesome view.