Age of the smart car: Simplifying connected technology
If you haven't heard the words 'connected' and 'car' used in the same sentence recently, good job on staying disconnected from the automotive news cycles! The hottest (marketing) buzz word at this point of time, it's hard to believe that just a little over a year ago, few had even heard of it. With the launch of the Hyundai Venue, which earned the distinction of being India's first connected car, the flood gates seem to have been opened. In the time since then, other manufacturers have joined the party - MG, Kia, Honda, Ford and Tata to name but a few of the notable entries.
The common talking points have been the ability to "talk" to the car (in the form of voice assistance) and view vital information about it right from your smartphone, apart from being able to track its location, and even remotely lock/unlock and start the engine to run the air-conditioning on a hot day - one of the most useful features of the technology we've found so far. 
We'll get into how well those features work in a while, but if you also have memories of something similar, if basic, being around for a while even before the Venue, you'd be right. Third-party manufacturers, have offered connected car dongles (with SIM cards for connectivity and GPS for tracking) which plug into a vehicle's OBDII port enabling telematics, tracking and even emergency alerts in some cases. In fact, the Ford EcoSport, launched back in 2013, when paired with your phone via Bluetooth, could call emergency services automatically if the airbags went off. More recently, manufacturers themselves have been offering the tech as an add-on, usually with a subscription fee, like Maruti Suzuki does. 
How are connected cars different?
Well, it's down to how well the system is integrated into the car's systems and here's where things get a little technical. The plug-and-play systems, usually mounted within the cabin, or in the case of manufacturer-fitted systems in the engine bay, are prone to be tampered with, thus not providing absolute security in case of a theft. Not to mention that those systems use physical SIM cards, which can be displaced by mechanical vibrations over the course of regular driving, leading to loss of connectivity. With connected cars moving to 4G-ready eSIMs, or embedded SIMs, those issues are taken care of. Additionally, eSIMs can be programmed to shift between networks, allowing for the possibility of jumping to a network with better connectivity when the need arises, allowing for a seamless connection and thus more consistent data collection.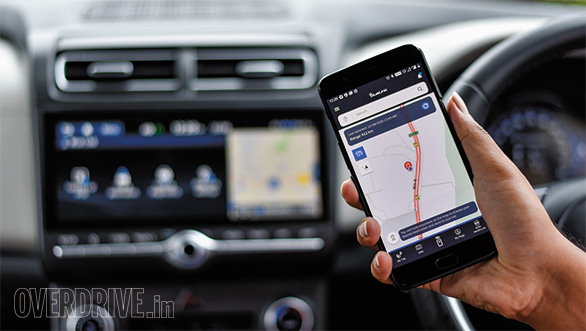 Is my data safe?
Remember, the connected car is always being tracked, and your driving behaviours, including visited locations and speeding habits are being recorded. The answer, at this point, appears fairly straightforward - the eSIM offers high standards of encryption between the car, network provider, manufacturer, and your smartphone. In most cases, the car can be linked to one registered phone number at a time, with several manufacturers allowing up to five devices to be linked, so everyone in the family can keep track of the car when the situation calls for it. Resetting the link to a specific phone, say in case it's stolen, requires the filing of an FIR for the missing phone, as well as vehicle specific details such as the VIN, apart from the unique PIN you've chosen. We tried calling in to the various helplines to reset the link to try and gain access to a car's location, but without knowledge of the aforementioned details, it's impossible. Most manufacturers already have a fairly robust back-end to deal with connected technology features, extending to independent teams handling customers who call in with queries, apart from calls placed directly from the car using the dedicated roadside assistance or SOS buttons.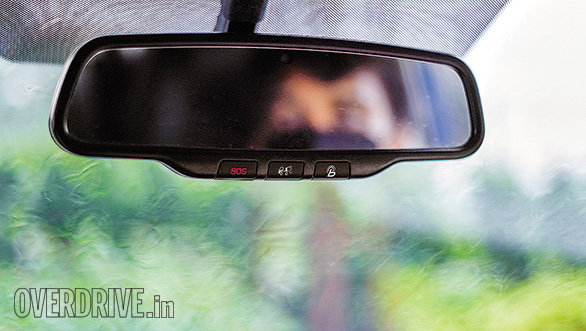 This brings us to the three categories of features that connected cars offer currently:
Safety
The quiet companion set of features to connected technology, which have been around the longest – including location tracking, geo-fencing, speed alerts, valet mode and more. Geo-fencing and speed alerts allows the user of the phone app to set up alerts any time the vehicle travels outside a predetermined area, while valet mode does pretty much the same, with few cars (none in this test) going so far as to lock the storage compartments in the car, limit speed and lock out the sporty drive modes. Where most connected cars go further is in the ability to make phone calls directly from the car, useful in a situation where your phone isn't within easy reach, or has no signal itself. 
Convenience
We see a lot of utility in being able to trace your car's location, in the maze that mall parking lots are, via GPS and the ability to flash the lights or honk the horn. Sure, some key fobs allow you to do the latter, but the range on a connected car's companion app is theoretically limitless making sure even the most scatter-brained drivers have hope of finding their cars! But perhaps the greatest convenience comes from the greater control of your car remotely, with some allowing you to start the engine and pre-cool the cabin by running the air-conditioner. 
Notably, the Tata Nexon (which wasn't available for our shoot), with the next-gen iRA connected tech can also lower the windows an inch or two to allow hot air to escape the cabin when you run the air-con. When these car's understand what you're saying, having them set navigation directions can be useful too, without needing to take your hands off the wheel. But with all these systems offering smartphone integration, in the form of Apple CarPlay and Android Auto, we don't see why you wouldn't just use your phone's voice assistance features, which let's face it, is far,
far superior. 
"Wow" features
We don't know about you, but hearing an engine start up with no one sitting in it is pretty cool, even if it is short lived. Until recently, the pre-cool function has been offered on vehicles with automatic transmissions, but the Hyundai Creta and Kia Seltos have brought the function to manual-equipped cars too. The voice assistance features count here too, because in our experience it's quite the gimmick. Saying, "Open the sunroof" and voila – the sunroof is open, is something for sure. But we don't see any long term practicality in it, especially given how finicky most of these car's in-built voice assistance is in recognising commands. The list of "wow" features we found over the course of living with these cars for a few days is a surprisingly short one. For example, the Mercedes-Benz GLE will play a trivia quiz with you when you say, "I'm bored", but that's more a one-time trick.
'Internet Inside' proudly says the badge on the Hector, and with its large 10.4-inch portrait orientation touchscreen display, you'd certainly believe that. It's one of the largest central touchscreens in a car in India, and network connectivity seemed quite good moving from urban to semi-urban areas, with the MG using services from Unlimit, an Airtel company, and is said to be 5G-ready too. We found voice assistance to be hit-or-miss most of the times, with our test car being unable to use its current location to find nearby points of interest – it wanted to navigate us to restaurants several states over! Given there are no physical climate controls, saying, "I'm cold" seems like a viable way to get the car to increase the temperature when you're driving. But once again, given that the system only provides audio cues that it's understood a voice command, you may find yourself repeating commands, sometimes even over the car's voice (that's a sentence we never thought we'd use), and it takes some getting used to. There is a button on-screen that connects you to MG's call centre for all manners of assistance, emergency or otherwise, though there is no separate physical button for the same.
A recent update (which our test car didn't have) has allowed voice control of the Gaana app (streaming audio is the Hector's most unique feature), as well as an updated list of (over 100) voice commands with what MG calls an improved 'chit-chat' feature, which also highlights the over-the-air upgradeability of the system. We can only hope future updates can do something about the fluidity of the whole interface, though we must say the full screen integration for Apple CarPlay is quite nice. We wonder if and when more apps, like the Gaana app, would be made available to take advantage of the Hector's screen. As for the iSmart app for your smartphone, it works as advertised and vital functions are easily accessible, even if the interface looks quite basic. 
Amazon Alexa remote capability – a very enticing sounding claim – is part of the new 8-inch touchscreen infotainment on the City, with Honda's Connect telematics backing it up. What that means is that you can use any Alexa device you may have at home to interact with your car wherever it is, such as asking Alexa to pre-cool your car, or tell you information about your car. It doesn't work in reverse however. Meaning you can't speak to your car like you would to Alexa, nor can you control any device in your house from the car, which seems like a bit of a missed opportunity.
In fact, the City doesn't support voice commands from inside the car, not that we're missing that feature terribly anyways. Pressing the voice assistance button on the steering wheel brings up Siri/Google Assistant when your phone is wired in, and thinking about it, we'd rather have it this way. The Honda Connect app looks and feels quite basic and utilitarian, and pressing the SOS button in the app just brings up a message with your coordinates to send to the contact of your choice. It all feels like it may be too many steps in an emergency situation, and we hope Honda can come up with a way to streamline the process. We also faced a fair number of false notifications from the app – we know the car is parked, Honda, we don't need a reminder every thirty minutes!
Hyundai Creta
With the next largest screen for a car in India (apart from the luxury segment), the Creta's 10.25-inch touchscreen has crisp graphics and even offers split-screen functionality, between smartphone integration and in-built navigation, for example. Hyundai uses a Vodafone-Idea eSIM, which again showed surprisingly good levels of connectivity, being especially apparent in how quickly the voice recognition feature worked.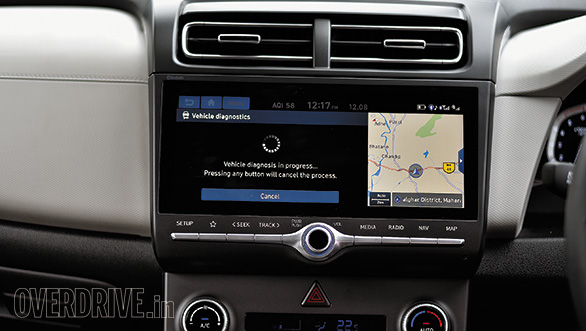 With audio and visual cues showing you exactly what the car was understanding of your speech in real time, the Creta also proved to be very easy to issue commands to – whether looking for points of interest, or opening the sunroof, or adjusting the climate control. We found the BlueLink app to be well-designed, though you do have to dig through some menus to find some of the secondary functions. The app also communicates with the car rather quickly, with some of the lowest latency we've seen, between commands issued and the car reacting. On one occasion, the app even notified us that we'd left the car unlocked, further allowing us to lock it remotely from home, which is quite handy. Also handy are the separate buttons to call the concierge service, roadside assistance and emergency services, meaning help for anything from navigation directions to saving your life is a button press away.
Mercedes-Benz GLE
With two 12-inch screens laid end-to-end, for the instrumentation and infotainment, there's a lot of screen real estate in the GLE. The central screen is touch enabled too, which is a good thing since the voice assistance in MBUX has a hard time with our accents. It has visual cues to show it understands which side of the car the command is coming from, and can adjust things like individual zone climate control, or the seat massage functions accordingly, but ultimately took one try too many to get right.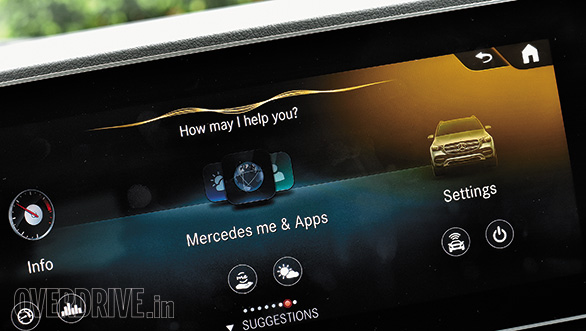 We could see ourselves using it to adjust the ambient lighting, from the back seat for example but it does require patience. The Mercedes me app has a slick interface though, with functions exactly where you would expect them to be, though we found the response times to vary quite a bit depending on the connectivity. Speaking of, we weren't able to dial SOS services on one occasion during our testing because of lack of network, though the roadside assistance connected. But considering the Mercedes also packs an eSIM, it should be possible to upgrade to better connectivity over time.
Are we there yet?
The one thing we couldn't ignore through the course of putting this story together, is just how much more advanced the speech recognition is on our smartphones. And after a few hours of trying the in-built systems, we all gave up and moved back to good ol' Siri/Google Assistant. With your phone wired in through Apple CarPlay or Android Auto, there really isn't much need left for the car's voice assistance systems. And while we would've liked to see how the connected technology works in other manufacturer's cars, some simply weren't available for this test. For example, BMW offers wireless CarPlay and the ability use your phone as a car key, which sounds like exactly the direction connected tech should be heading in. 
We'd love if your car could integrate better with your smartphone and the network, so that one day, as you're driving home from work, your car knows to ask you if you want to switch on the air-conditioning at home instead! It's wishful thinking with the V2D and V2N systems currently, but the possibilities are endless, really, with the vast ocean that is the Internet of Things. For now, connected technology holds a lot of promise, and we're excited about the future of connected cars including the prospect of cars communicating with each other to prevent accidents, and with the grid to prevent traffic jams and more proper Minority Report stuff. Where the tech is now, it certainly shouldn't be a part of your decision-making process. At least not just yet.
This story first appeared in OVERDRIVE's September 2020 22nd Anniversary Special.
You can also watch our in-depth discussion on connected technology in cars, and where we think the tech is headed:
Price (Ex-Delhi)
Starts Rs 7.99 Lakhs
Price (Ex-Delhi)
Starts Rs 10.9 Lakhs
Price (Ex-Delhi)
Starts Rs 9.99 Lakhs
Price (Ex-Delhi)
Starts Rs 7.53 Lakhs
Price (Ex-Delhi)
Starts Rs 9.95 Lakhs
Price (Ex-Delhi)
Starts Rs 73.7 Lakhs
Price (Ex-Delhi)
Starts Rs 12.9 Lakhs
Price (Ex-Delhi)
Starts Rs 6.95 Lakhs