2016 Yamaha YZF-R3 long term review: After 11 months and 6,315km
I have to confess that these past few months have been a bit busy. Most of us have been on the road for the most part. This meant the R3 has been a bit neglected of late. Hence the low mileage, you see.
The last time you heard about the little blue wonder, everything was hunky-dory, and I was just waiting for some new tyres. Around the same time, Yamaha had issued a recall of around 900 R3s. This was to replace some faulty components – the oil pump assembly and the clutch pressure plates. To be honest, I hadn't had any problems such as clutch slippage or oil pump failure, so I was considering ignoring the recall. But then I decided against that. Why take a risk? So off it went to be fixed.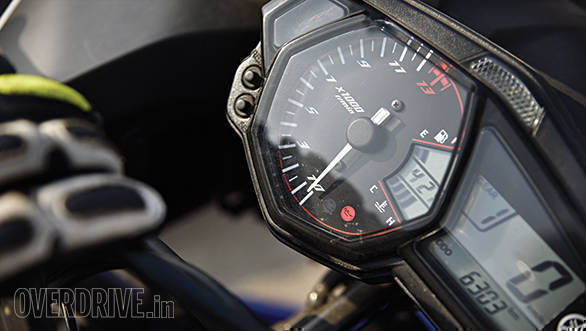 Ever since the R3 came back from the service centre, it's developed a dirty habit of stalling at slow speeds
The check light showing up when you stall the bike is normal, but since this time it just came back from an oil pump replacement, I'm not taking any chances
Now that the bike is back, I really can't tell any noticeable difference. But considering you really don't feel anything wrong with the clutch or oil pump till they start malfunctioning, this isn't saying much. But since the motorcycle also got a full service along with the recall, it has become a lot smoother and feels a lot tighter. It's come back with a nice layer of polish on it too, and it looks shiny and new.
But here's the problem. A week into riding the motorcycle around, I've been having some issues with the engine stalling suddenly. At first I let it slide thinking it might be my doing. But every time I'm in slow-moving traffic, the motorcycle has been stalling. This is a completely new issue and has me a bit worried. It also turns out to be a huge annoyance. Especially since it isn't an isolated incident. In fact, the problem crops up every time engine temperatures rise - in heavy traffic, for example. Needless to say I'm being a bit cautious. I've minimised usage to city commutes for now and have spoken to Yamaha to get the bike checked. I'll keep you posted about what happens at the service centre. Maybe by the time the bike comes back from the inspection, the Pirellis that are long overdue will also arrive, and I'll be able to let the R3 stretch its legs properly.
Date acquired: Jan 2016 , Total Mileage: 6,315, Last report at: 3,780Km, Fuel: 91.19 litres, Economy: 27.8Km
Price (Ex-Delhi)
Starts Rs 3,50,180
Price (Ex-Delhi)
Starts Rs 1,02,700