10 epic movies that made the Mustang a cult car
Ford has launched its iconic muscle car, the Mustang in India. This is the first time that the Ford Mustang is being offered in a right-hand drive configuration since its launch in 1964. Now, the Mustang has starred in many movies over the years and has quite an impressive fan following - from the likes of television host Jay Leno to directer Quentin Tarantino. For good reason too. Here's our list of all-time favourite movies in which the Ford Mustang has shared screen space.
1. Death Race (2008)
Image source: imcdb
The star of this movie is a 'one-of-a-kind' Ford Mustang. It's a 2006 GT model that comes loaded to the gills with two M134 Miniguns which are mounted on the bonnet. In this movie, it not only makes a huge amount of power to clock serious speeds despite the added weight but also has a ridiculous amount of firepower to clear anything that lies on its path. This is not a Mustang for the purist! Behind the wheel is Jason Statham, playing the character Jensen 'Frankenstein' Amen.
2. Transformers (2007)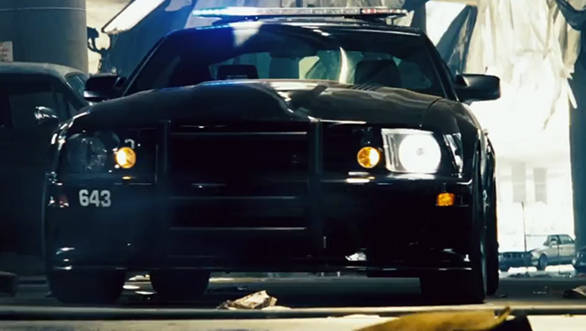 In this movie, a 2007 Saleen S281 Extreme Mustang plays a Decepticon police character called Barricade that hunts down Autobots. According to reports, the film studio had created three such cars for this movie. About two years back, car number 2, also called the Camera Car was up for sale on eBay. This is one Mustang that has not only appeared in movies, publications and television features, but also on kid's charity events. Its popularity has even spawned an entire Hasbro toy line. Of course, the 'To punish and enslave' Decepticon markings on the body distinguish it from your standard good guy police cruiser. If you see this one, run!
3. I Am Legend (2007)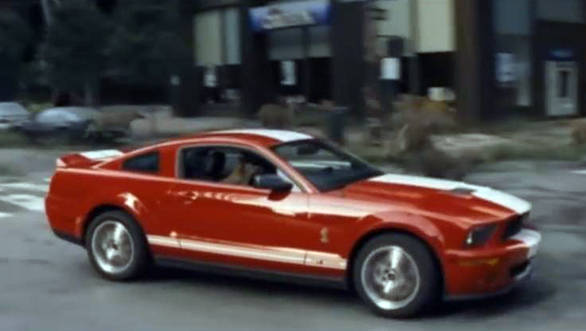 I Am Legend had us glued to our seats with Will Smith's portrayal of scientist Robert Neville who is the only person 'alive' in New York as an infection turns everyone into scarily intelligent and surprisingly quick zombies. However, it was the bright red Shelby Mustang GT500 that really had our hearts pounding as it roared across the empty streets of a deserted city. The way the sequences of the Shelby Mustang GT500 being driven flat-out in New York have been captured is breathtaking. In fact, we still can't decide who's cooler - the actor or the car.
4. Diamonds Are Forever (1971)
Image source: gearpatrol
In any 007 movie, you can expect the dapper British spy to sneak away in a cool set of wheels. Over decades, James Bond has been seen making getaways from dangerous situations in BMWs, Aston Martins and Lotuses. However, in this particular movie, he decides to go American as he successfully manages to evade the baddies in a 1971 Mustang Mach 1.
5. Knight Rider (2008)
Image source: autoblog
The 2008 Ford Mustang Shelby GT500KR KITT was clearly the star of the remake of the hit TV series Knight Rider. In the movie, the KITT's supercomputer can not only hack into any system but also change its shape and color. Additionally, it has artificial intelligence and is equipped with an EMP pulse weapon which makes it capable of handling any situation on its own. KITT vs the Mustang from Death Race. Now that's a movie we'd pay good money to see!
6. Goldfinger (1964)
Image source: mustangdrivers
Ford was asked to prepare a Mustang Fastback that was supposed to be used in the Goldfinger movie. However, the car wasn't delivered in time. So, a 1964 ½ Mustang convertible was used instead which got chopped up by Bond's Aston Martin DB5. Eventually, Ford sold a limited run of the Mustang Fastback in a special gold metal flake colour and with some special features that weren't offered to regular buyers.
7. Bullitt (1968)
This movie has quite often been hailed as one with the best car chase sequences. In fact, it is revered by critics and audiences alike. The ten minute chase across the streets of San Francisco and into the countryside will give you goosebumps even today. The best bit is that a 1968 Ford Mustang GT390 Fastback is central to the drama. If you love Ford Mustangs and love car chase sequences in movies then Bullitt is the best combination of both you will probably ever come across. Even without the CGI that's ubiquitous now.
8. The Fast and the Furious 3: Tokyo Drift (2006)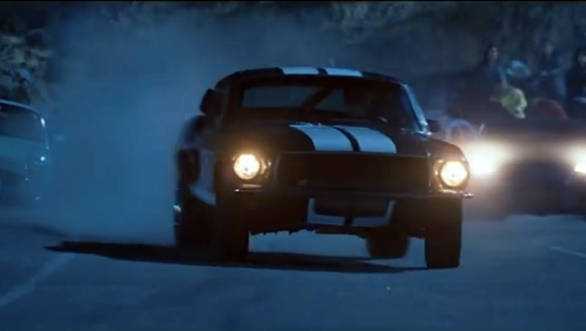 Mustang enthusiasts and purists might loathe it but no one can possibly ignore this RB26DETT powered 1967 Mustang fastback. Starring in the third The Fast and the Furious sequel, this American Mustang has a Japanese heart. Yes, Universal Studios didn't find the Mustang's V8 suited for the job and replaced it with an R32 GT-R Skyline's unit. This is a perfect example of what happens when East meets West in Hollywood's automotive imagination. A lot of extreme engineering went into making this one-off example but after seeing the results, we aren't complaining one bit.
9. Thomas Crown Affair (1999)
Image source: imcdb
In this movie, Pierce Brosnan plays it cool by getting behind the wheel of a Shelby GT350 which looks more like a crossover. Apart from the raised suspension, it gets a roll bar with four fog lamps mounted on it and the spare wheel is mounted on the trunk. It might not be to everyone's tastes but it does stand out from other Mustang's.
Gone in Sixty Seconds (2000)
Image source: mstarz
The 1967 Ford Mustang 'Eleanor' is every auto enthusiast's wet dream. This is one Mustang that not only made us weak in the knees but also stole our hearts. To a lot of young enthusiasts, the Eleanor Mustang is the one that stoked our love for cars. Among the multiple versions of the Eleanor made for the movie, only one survived and went under the hammer for a million dollars. Interestingly, despite all of Nicholas Cage's frantic gear shifts, many of the cars used for filming were automatic. The Eleanor was not an original Shelby and was instead built by Cinema Vehicle Services and famous custom builder Chip Foose using a 1967 Mustang Fastback. After it's on-screen portrayal, this Mustang became so popular and desirable that many clones have been built.
More from OVERDRIVE on the new Ford Mustang in India:
Ford Mustang first drive review
Ford Mustang to be unveiled in India on Jan 28, 2016
India's love affair with the Ford Mustang
Spied: Ford Mustang testing in India
To stay at the cutting edge of automotive news in India, follow us on Twitter (@odmag) or on Facebook (facebook.com/odmag). Or download our app from the iOS or Android app stores today
.
Price (Ex-Delhi)
Starts Rs 74.62 Lakhs