F1 2015: Sebastian Vettel takes Ferrari to victory at thrilling Malaysian GP
Perhaps Nico Rosberg should have chosen his words more wisely after the 2015 Australian GP, when Mercedes blitzed the opposition to finish first and second at the race. In the post race press conference, Rosberg had said that he wished that the rest of the teams would catch up, so that they could give the fans a thrilling season. Well, Ferrari has certainly gone and done that, as is in evidence from the results of the 2015 Malaysian Grand Prix. Sebastian Vettel won the 56-lap race, giving Ferrari their first Formula 1 win in 35 races.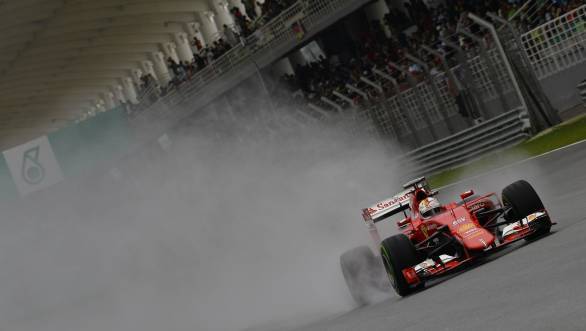 Vettel was second during the rain-soaked qualifying session at Malaysia - a grid position that was enough to see him safely through to victory during Sunday's race
Even though it was Lewis Hamilton on pole, with Vettel starting second on the grid, things looked up for the Ferrari driver early on in the race. When the five red lights went out at Sepang, Hamilton took the lead, with Vettel second and Rosberg in the other Mercedes, third. However, when a Safety Car situation was caused after Marcus Ericsson's Sauber needed to be cleared from the track, Ferrari decided to keep Vettel out on track. The other front runners dove into the pitlane for tyre changes, switching to the harder compound tyre, while Vettel stayed out on track, clocking consistently fast times. It proved to be a good decision from the Scuderia, as the advantage they gained during the early stages of the race was too much for the Mercedes duo to nullify during the later stages. Which meant that in only his second outing as a Ferrari driver, Vettel managed to win.
Hamilton had a tough race, telling the team on the radio that he was unhappy with the tyres that they had put him on, and at one point yelling "Don't talk to me in the corners, man!". Finishing second wasn't something the reigning world champion would have liked, but there was nothing he could do about it. Team-mate Rosberg could do no better than third place, later stating on the podium that it was "Game on, Ferrari!".
Overall, it was a good weekend for Ferrari, given that Kimi Raikkonen, despite suffering a puncture during the early stages of the race, managed to finish fourth. Valtteri Bottas and Felipe Massa were fifth and sixth for Williams, with Toro Rosso rookies Max Verstappen and Carlos Sainz Jr. finishing seventh and eighth. Red Bull drivers Daniil Kvyat and Daniel Ricciardo rounded out the top 10.
It was another dismal weekend for McLaren, with both Fernando Alonso and Jenson Button failing to finish the race.
F1 now heads to China for the third race of the season on April 12th, 2015.