F1 2014: Stage set for season finale at Abu Dhabi
When Mercedes announced that Lewis Hamilton would be taking Michael Schumacher's place in the team in the 2013 season, people thought that the partnership of Hamilton and Nico Rosberg would be good. Much was made of the fact that they had been team-mates in the past in their karting days. And there was a lot said about the friendship between the two drivers. Well, their rivalry might not have come to the forefront in 2013. But come 2014, with the two Mercedes drivers battling it out for the Formula 1 world championship, things within the Mercedes camp got volatile. They even reached a highpoint at the 2014 Belgian Grand Prix when the two drivers collided, with Rosberg later admitting that he'd been responsible for the collision, and earning a fine from his team.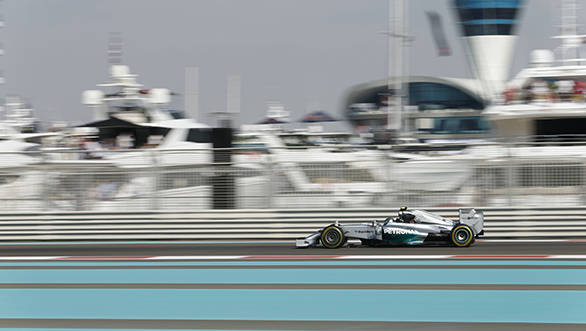 Well, with just one race left in the 2014 championship, the only drivers people are really looking towards at this point are Rosberg and Hamilton. After all, Hamilton currently leads the world championship with 334 points, while Rosberg is second in the standings with 317 points. Should Nico win the race, he will be awarded 50 points, not the usual 25 as the final race of the season counts for double points. And if Hamilton needs to win the world championship, despite the fact that Rosberg might win the race, he will need to finish second.
While Friday free practice timings show that Hamilton is faster than Rosberg, anything can happen during qualifying and the race itself. Meanwhile, Rosberg is also hoping that the improving pace of the Williams cars, particularly that of Finn Valtteri Bottas, will help his title hopes. With Valtteri to split the two Mercedes cars on the grid on the final race on Sunday, there is a good chance that it will be Rosberg who wins the championship, 32 years after his father Keke Rosberg won the title for Williams back in 1982.
Lewis, on the other hand, will be hoping to be double world champion, having won his first title at the thrilling 2008 Brazilian GP.
And if there are any Jenson Button fans out there, keep a close watch on his performance this race. After all, it could be his last Formula 1 grand prix, with a real possibility of him making the switch to endurance racing next year.