TVS considered making Akula 310s with carbon fibre fairing on popular demand
The star of TVS's presentation at the 2016 Auto Expo was the all-carbon-fibre clad Akula 310. Standing on a pedestal with naked carbon fibre visible unadorned, TVS officials told us that the Akula 310's carbon fibre was laid and cured in-house. But they clarified that the panels were designed to be visually accurate but had no structural strength and therefore, just show garnish. Under that fairing was the frame and some of the bits that will underpin a sportsbike set to arrive early next year. This is the first of the TVS products to be derived off the joint development project that TVS and BMW have been working on. BMW's version, the G 310 R, is expected to go on international sale shortly and Indian launch is expected later this year. The TVS Akula 310 concept uses a bolt-on aluminium subframe (to be replaced by production time), USD forks, radial calipers, a force fed airbox, a quick shift 6-speed transmission and also a neat gyrocam (not going to make production either) on the tail piece. TVS' designers told us at the expo that 60 per cent of the concept would make it to production and that's got us quite excited.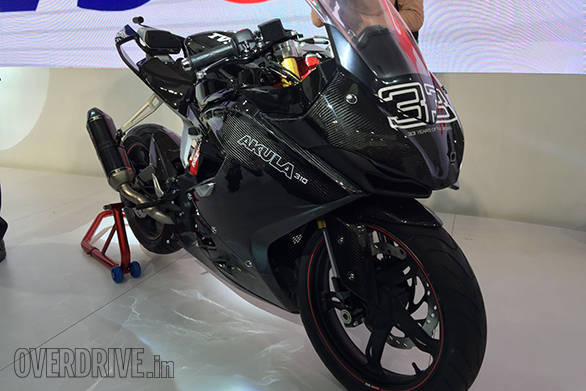 It turns out that it got showgoers even more excited and TVS has been inundated with demands for the carbon-fibre faired version of the Akula 310. TVS has confirmed exclusively to OVERDRIVE that it did consider making the Akula 310 with full-on carbon-fibre fairings. TVS has a lot of engineering ground to cover before they can put carbon fibre panels into production. But if we were TVS, we would simply ask BMW to help.
BMW is a convenient partner to have not only because they are an experienced 100-year old manufacturer but because they're amongst the world leaders when it comes to carbon fibre. BMW's interest in the super stiff and super light material began with the i car project for which they needed a light frame to host the mechanicals and the passengers. BMW has put in enormous effort into developing, validating and now mass producing carbon fibre frames for the i3 and i8. The process gives them great advantages in terms of cost as well as quality. It is this experience that should stand TVS in good stead when it comes to the carbon fibre Akula 310 - if TVS decide to head down this path.
TVS says that the Akula 310 is going to launched after the BMW G 310 R. BMW has indicated but not confirmed that Indian customers will be able to purchase the G 310 R from their dealers by the end of the year. That should push the Akula 310 to the very end of the 2016 or more likely early 2017.
Here's a walkaround video of the Akula 310 with Arun Siddarth, head, Motorcycle Business, TVS Motors
Also from OVERDRIVE:
2016 Auto Expo: TVS unveils the Akula 310
Five things you'll love about the TVS Akula 310 and three things you won't
Price (Ex-Delhi)
Starts Rs 2,45,000