Automobile events this week: September 5-11
The automotive scene is busier than you think! There's always some new automobile being unveiled here or a race happening there. This week, from September 5-11, we've got a bunch of events from the unveiling of the 2018 Nissan Leaf in Japan to the San Marino MotoGP race in Italy and Round 4 of the Indian National Motorcycle Racing Championship in Chennai.
September 6: 2018 Nissan Leaf to be unveiled
Event type: All-new car unveiling
Location: Japan
What is it?
The 2018 Nissan Leaf, is the first full-revamp of the car since its launch in 2010. Nissan hasn't officially revealed any details as yet, but there are a couple of leaks on the internet. From what we know, this car will lead Nissan's charge in the EV segment, and will feature semi-autonomous driving tech, and boast a driving range of around 550km.
Can you go?
Unfortunately, it's a media only event. But don't worry because OVERDRIVE will be there, sending out live updates on our social media handles. So keep an eye out!
September 7: 57th Society of Indian Automobile Manufacturers (SIAM) Annual Convention
Event type: Discussions on the Indian automobile industry
Location: New Delhi
What is it?
SIAM will be bringing in the who's who of all the automobile manufacturers in India under one roof. They will discuss the future direction of the global and Indian automotive industry and the growing concerns and problems they are currently facing.
Can you go?
Head right over to SIAM's website to register and attend the event. OVERDRIVE will also be there and will be updating our social media feed with all that's happening. So tune in from 9.00am to 5.00pm to know what's happening.
September 8-10: 2017 MotoGP - San Marino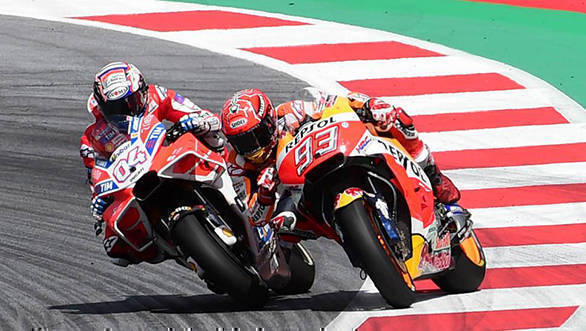 Event type: Circuit race
Location: Misano Adriatico, Italy
What is it?
Round 13 of the 2017 MotoGP Championship, the San Marino and Rimini Coast Grand Prix, will be held this weekend at the Misano World Circuit Marco Simoncelli. Valentino Rossi and Jorge Lorenzo have the most race wins here – 3 wins each, while Pedrosa won here last year. Unfortunately for Rossi, he'll be sitting this one out after he broke his leg while enduro riding last week.
Can you go?
Yes, you can, if you've got tickets to the Italy and the race. But if you don't, you can catch a live stream on Hotstar, on TV on these channels – Ten, Ten HD and Ten One – or for free on Sonyliv.com.
September 8-10: Gulf Monsoon Scooter Autocross
Event type: Autocross
Location: Adventure Sports Ground, Nehru Nagar, Bhopal
What is it?
Gulf oil is organising an autocross event only for scooters in Bhopal this weekend. Riders from Mumbai, Nasik, Pune, Nagpur and Bhopal will be competing alongside factory teams like TVS Racing.
Can you participate?
Unfortunately, registrations for the event are closed, so you can't participate. However, anyone can go watch the event, so if you're calendar is free, make your way there!
September 8-10: 2017 Indian National Motorcycle Racing Championship Round 4
Event type: Circuit race
Location: MMRT, Chennai
What is it?
The fourth round of the INMRC will host races for six championships -- Super Sport Indian (up to 165cc), Super Sport Indian (300-400cc), Pro-Stock (up to 165cc), Stock (up to 165cc) and the Honda and TVS One-make championships. The event will see the likes of Mathana Kumar, Harry Sylvester and Deepak Ravi Kumar racing in these championships.
Can you go?
The MMSC doesn't charge spectators an entry fee. So if you're free and in Chennai, and want to watch some intense motorcycle racing, step right up!