Audi A3 g-tron sportback running on CNG launched in Germany
Audi has launched the A3 sportback g-tron, the first production A3 model which can run on compressed natural gas. This model will be available only in Germany where advance sales for this hatch priced at Rs 22,05,585 have already begun.
The g-tron gets 1.4-litre TFSI engine which develops 110PS and can run on natural gas, e-gas or petrol. Audi e-gas is a synthetic methane fuel produced from green electricity at Audi's e-gas facility located in Werlte, Lower Saxony in Germany. This hatch can go for 100 kilometres in just 3.3kgm of gas and when driven in pure e-gas mode is completely CO2 neutral thus giving it excellent ecological footprint.
E-gas can be purchased using Audi e-gas fuel card. When the customer pays for e-gas using the this card, Audi records the quantity of gas that the customer has paid for and ensures that exactly this amount of e-gas is fed in to the German natural gas network. This card can be used to purchase e-gas at over 650 fuel stations in Germany.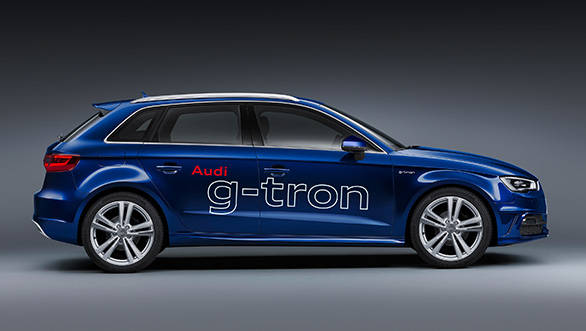 Owing to the lack of infrastructure required for implementation of natural gas filling stations outside of Germany, the A3 g-tron will not be available anywhere else apart from its home country.
Ulrich Hackenberg, Board Member for Technical Development at AUDI AG, said, "In addition to our e-mobility developments, the Audi e-gas project is an important pillar of our sustainability strategy – as is the development of other synthetic fuels."
Price (Ex-Delhi)
Starts Rs 30.5 Lakhs