TVS Ntorq 125 Race XP first ride review
When TVS Motor Company launched the Ntorq 125 Race XP earlier in July 2021, it caused a bit of a stir in the Indian scooter segment. That's because TVS claimed that it is the first scooter in the country to have over 10PS of power, making it the most powerful 125cc scooter in India. Which it technically is. Also, the introduction of this Race XP now brings the number of Ntorq 125 variants up to five – in addition to the base drum and disc versions, the Race Edition and the Super Squad Edition.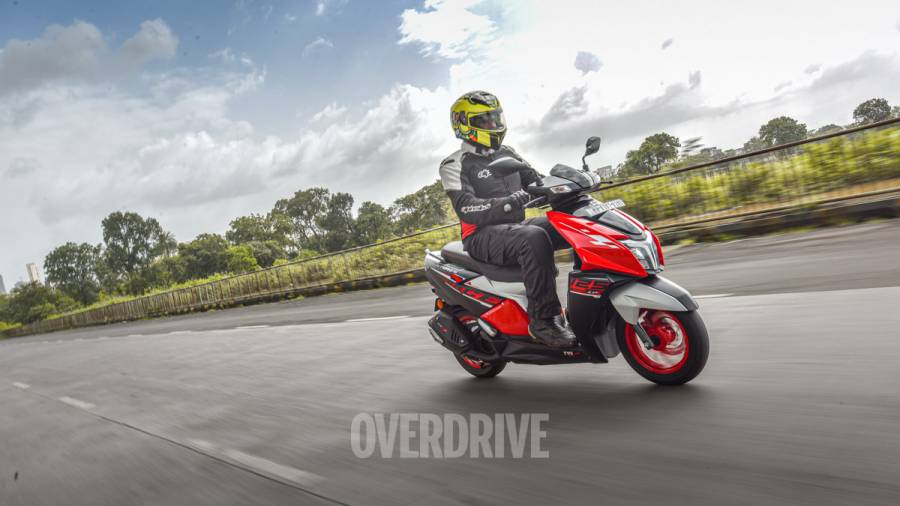 At a cost of Rs 84,025 (ex-showroom), the TVS Ntorq 125 Race XP is the most expensive scooter in Ntorq scooter range, a little over Rs 6,000 over the standard disc variant. The Ntorq 125 Race XP is just like the other TVS Ntorq variants currently out there, while at the same time, it actually isn't. The Race XP has got the same panels, the same engine, tubular frame, suspension and brakes hardware as the other variants, but its motor comes in a revised state of tune whereby it produces 10.2PS of max power at 7,000rpm and 10.8Nm of peak torque at 5,500rpm, while the other Ntorq variants make 9.38PS and 10.5Nm. Also, TVS say that the Race XP, unlike the other variants, makes use of advanced engineering polymers, high strength steel and alloy steel which add up to the scooter being 2kg lighter than the others, weighing in at 116kg.
The significant visual tell-tale signs that differentiates the Ntorq 125 Race XP apart from the Ntorq Race edition are its red diamond-cut alloy wheels which look awesome and sporty, and some slightly different panel graphics. The XP comes with two ride modes which alter the scooter's power delivery, and therefore, performance and economy. In comparison to most other 125cc scooters currently out there, the Race XP feels nice and quick in response to you whack open the throttle as soon as the lights go green. The throaty exhaust note also adds a lovely touch to it all. It doesn't feel like the TVS is really trying to be a discreet commuter scooter, while not being overbearing and intrusive. Its sounds quite like a modern-day motorcycle. TVS say that in race mode, there's all of 10.2PS of fun and 10.8NM and excitement to indulge in, and the scooter definitely feels quick from the word go. In Street mode, the scooter dials it down a tad, giving you access to 9.1PS and 10Nm. While switching between modes on this short test, I honestly could not make out the difference in initial power delivery off the line and while pottering around town at city speeds. But the difference became slightly more evident when I hit the highway.
In power mode, I saw an indicated 101kmph the Ntorq 125 Race XP's all-digital cluster, while in street mode, the scooter ran up to a speed of an indicated 92kmph. The top speed of the Race XP is definitely higher than the other variants of the Ntorq and definitely feels a lot quicker getting there as well. Street mode is supposed to be more economical mode of the two, but I kept to Race mode, because, yes, well the scooter is called the Race XP after all, and that's the whole point of having this particular variant. And it was super fun to ride.
The thing I really liked about this scooter is that it never once felt out of place whenever I picked up the pace. It also felt very stable in the bends, in a straight line, and even when I hit a couple of small undulations. With most other CVT scooters of this caliber, the rate of engine braking is very evident once you roll off the throttle past 50-60kmph. But it wasn't so with the TVS Ntorq 125 Race XP. It feels more in tune with high speeds. The scooter handles speed very well too. The telescopic fork up front is very stiff and can often crash when you hit a bump hard at low speed but it maintains stability as you pick up the pace. The rear spring isn't overly stiff, but is set up moderately so, balancing the act of not being overly sport focused and rather comfortable at low speeds, so it won't try to rearrange your innards when you hit a bump. The 100/80 (f) and 110.80 (r) section 12-inch TVS tyres that scoot comes with are simply brilliant and offer a good amount of grip in wet and dry road conditions.
The Ntorq 125 Race XP comes with all the features that the other Ntorq scooters come with – so there's the very arcade-style digital instrumentation layout that displays a good deal of information, from trip meters, speed, lap timer, time, 0-60 time, engine temp and fuel level, LED lighting, the external fuel filler cap. The scooter has the same robust styling and build quality as before and with good room for your legs, a nice an broad accommodating seat that won't prove to be painful over long-ish rides, decent storage space under the seat with a USB charging capability, it feel like a well-rounded package overall.
Another unique bit about this Ntorq 125 Race XP variant is the fact that it comes with a voice assist feature, which basically allows the rider to communicate with the scooter via the SmartXconnect app and execute a number of commands, verbally, through a connected device like a Bluetooth enabled helmet or headphones. This lets you manage calls and messages received, and even switch between riding modes, and some will tell you that it's great and everything. But if I'm to be honest, it's really isn't. Firstly, it's faster and a lot easier to alter modes and settings using the buttons, and secondly, I found it to be a bit distracting. It did have the nifty feature of turn-by-turn navigation though –one feature that could genuinely be useful with the Ntorq range of scooters.
As far as fuel efficiency goes, 62km-long run, the Race XP returned a decent 44kmpl in the city and highway cycles, with me riding the scooter rather leisurely the urban environment, and not exceeding 60kmph on the highway.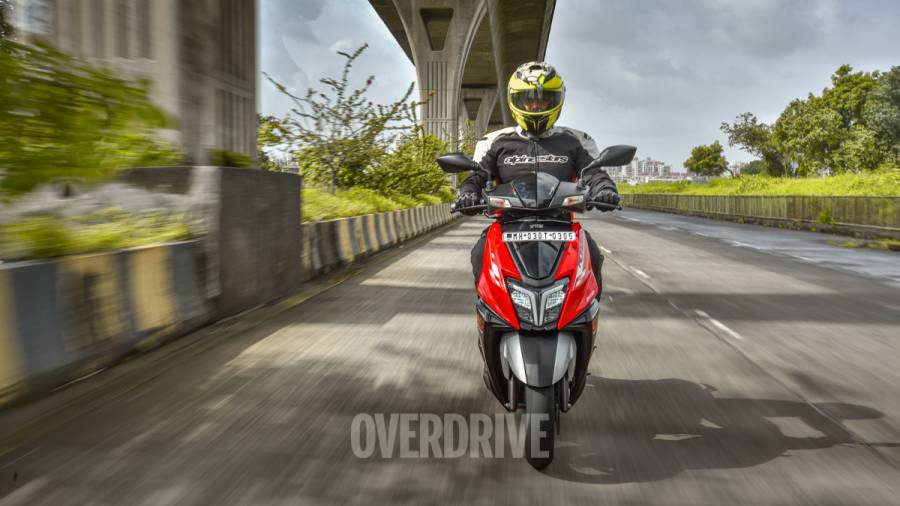 Overall the Ntorq 125 Race XP feels like a fun scooter to ride. The scooter is an agile handler, comes with a good list of features, and most importantly, the engine note is meaty with a good amount of grunt to back it up. What I like about it most is its balance of between comfort and sportiness. We can't wait to do a complete road test, and see how it fares against some sprightly competition in the form of the Aprilia SR 125 which is a kilo lighter and marginally down on power (115kg and at 9.92 PS).
Price (Ex-Delhi)
Starts Rs 72,270
Price (Ex-Delhi)
Starts Rs 1,07,000