Spec comparo: Versys 650 vs Ninja 650 vs Tiger XR vs TNT 600GT vs Scrambler Icon vs Bonneville Street Twin
The Kawasaki Versys 650, according to Kawasaki, is hard to classify. That's because it borrows the best of the adventure tourer, tourer, sportsbike, street bike and more. In essence, it is a tour-enduro, a term we heard recently at the EICMA show in Milan. While we wait for the Kawasaki Versys 650 test bike to come, we decided to place it in context via what the specifications promise. For normal middle-weight motorcycles, we drafted in the Kawasaki Ninja 650 and the Benelli TNT 600 GT.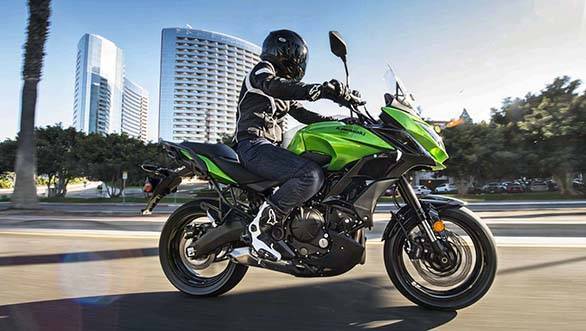 Kawasaki Versys 650
Kawasaki Ninja 650
The N650 is the natural comparison point - it's essentially identical in many, many ways. The Benelli is here because it claims to be a tourer - matching the role promise of the new Kawasaki Versys 650. On the other side, since the Versys also has good ground clearance and some promise of soft-road-ability, we drafted in the Triumph Tiger XR - the cheapest model - and the Ducati Scrambler Icon. Finally, we decided to throw the upcoming Triumph Bonneville Street Twin, a motorcycle that promises to be an excellent all-road tourer in our conditions. Here are the things that stood out.
Triumph Tiger XR
The Tiger XR has the biggest engine here, the 800cc triple and there's no surprise that it offers the most horsepower and the best power to weight ratio by some margin. But beware of the new Street Twin, it has an even bigger engine - by February 2016, it'll be the biggest in this crowd - and offers incredible torque and at just 3,230rpm! If you leave the Street Twin out, the Kawasaki Versys 650 offers a good amount of torque and is tuned to deliver a relatively flat curve right off the bottom, trading in some horsepower at the top to attain this role-friendly goal.
Ducati Scrambler Icon
Triumph
We know from experience that the Benelli isn't the fastest off the blocks but it does a reasonably good job in cruise mode. The Scrambler's much quicker in acceleration but without wind protection and an overtly sensitive throttle, it needs fine-tuning before it shines in long distance work.
Benelli TNT 600 GT
If the Versys 650 proves to be a fast, efficient motorcycle at about 130kmph with minimal vibration and reasonable economy then the combination of its 21-litre tank, adjustable windscreen and upright ergonomics should be devastating. Especially considering that it's got the fanciest suspension spec here by miles and the second lowest price point of all.
Spec comparo: Versys 650 vs Ninja 650 vs Tiger XR vs TNT 600GT vs Scrambler Icon vs Bonneville Street Twin
| | |
| --- | --- |
| | |
| Name | Kawasaki Versys 650 |
| Displacement (cc) | 649 |
| Cylinders | 2 |
| Bore (mm) | 83 |
| Stroke (mm) | 60 |
| Compression ratio | 10.8:1 |
| Valves | 8 |
| Camshafts | DOHC |
| Max power (PS@rpm) | 69@8,500 |
| Max torque (Nm@rpm) | 64@7,500 |
| Power/Weight (PS/tonne) | 319.44 |
| Fuel delivery | FI, 2x 38mm throttle bodies |
| Clutch | Wet multiplate |
| Gearbox | 6-speed |
| Chassis | Steel diamond type |
| Rake | 25° |
| Trail | 108° |
| Suspension (F) | 41mm USD fork, Showa SFF type, preload and rebound adjustable |
| Suspension travel (F) (mm) | 150 |
| Suspension (R) | Offset remote preload-adjustable monoshock |
| Suspension travel (R) (mm) | 145 |
| Brakes (F) | Dual 300mm floating petal discs |
| Brakes (R) | Single 250mm petal disc |
| Tyres (F) | 120/70ZR17 |
| Tyres (R) | 160/60ZR17 |
| Traction control | No |
| ABS | Yes |
| Length (mm) | 2165 |
| Height (mm) | 1400 |
| Width (mm) | 840 |
| Seat height (mm) | 840 |
| Wheelbase (mm) | 1415 |
| Ground clearance (mm) | 170 |
| Fuel tank (l) | 21 |
| Kerb Weight (kg) | 216 |
| Factory luggage | Optional |
| Availability | Now |
| Price ex-Delhi (Rs) | 6.6 lakh |
| | |
| Name | Kawsaki Ninja 650 |
| Displacement (cc) | 649 |
| Cylinders | 2 |
| Bore (mm) | 83 |
| Stroke (mm) | 60 |
| Compression ratio | 11.3:1 |
| Valves | 8 |
| Camshafts | DOHC |
| Max power (PS@rpm) | 72@8,500 |
| Max torque (Nm@rpm) | 64@7,500 |
| Power/Weight (PS/tonne) | 344.50 |
| Fuel delivery | FI, 2x 38mm throttle bodies |
| Clutch | Wet multiplate |
| Gearbox | 6-speed |
| Chassis | Steel diamond type |
| Rake | 25° |
| Trail | 110° |
| Suspension (F) | 41mm telescopic fork |
| Suspension travel (F) (mm) | 120 |
| Suspension (R) | Offset preload adjustable monoshock |
| Suspension travel (R) (mm) | 125 |
| Brakes (F) | Dual 300mm petal discs |
| Brakes (R) | Single 220mm petal disc |
| Tyres (F) | 120/70ZR17 |
| Tyres (R) | 160/60ZR17 |
| Traction control | No |
| ABS | No |
| Length (mm) | 2100 |
| Height (mm) | 1200 |
| Width (mm) | 760 |
| Seat height (mm) | 790 |
| Wheelbase (mm) | 1410 |
| Ground clearance (mm) | 130 |
| Fuel tank (l) | 15.5 |
| Kerb Weight (kg) | 209 |
| Factory luggage | No |
| Availability | Now |
| Price ex-Delhi (Rs) | 5.37 lakh |
| | |
| Name | Triumph Tiger XR |
| Displacement (cc) | 800 |
| Cylinders | 3 |
| Bore (mm) | 74.1 |
| Stroke (mm) | 61.9 |
| Compression ratio | 11.3:1 |
| Valves | 12 |
| Camshafts | DOHC |
| Max power (PS@rpm) | 95@9,500 |
| Max torque (Nm@rpm) | 79@7,850 |
| Power/Weight (PS/tonne) | 441.86 |
| Fuel delivery | FI |
| Clutch | Wet multiplate |
| Gearbox | 6-speed |
| Chassis | Tubular steel trellis frame |
| Rake | 23.9° |
| Trail | 92.4° |
| Suspension (F) | 43mm upside down telescopic fork |
| Suspension travel (F) (mm) | 180 |
| Suspension (R) | Preload adjustable monoshock |
| Suspension travel (R) (mm) | 170 |
| Brakes (F) | 308mm dual disc |
| Brakes (R) | 255mm single disc |
| Tyres (F) | 100/90-19 |
| Tyres (R) | 150/70-17 |
| Traction control | Yes |
| ABS | Yes |
| Length (mm) | 2215 |
| Height (mm) | 1350 |
| Width (mm) | 765 |
| Seat height (mm) | 810 to 830 |
| Wheelbase (mm) | 1530 |
| Ground clearance (mm) | NA |
| Fuel tank (l) | 19 |
| Kerb Weight (kg) | 215 |
| Factory luggage | Optional |
| Availability | Now |
| Price ex-Delhi (Rs) | 10.6 lakh |
| | |
| Name | Benelli TNT 600 GT |
| Displacement (cc) | 600 |
| Cylinders | 4 |
| Bore (mm) | 65 |
| Stroke (mm) | 45.2 |
| Compression ratio | 11.5:1 |
| Valves | 16 |
| Camshafts | DOHC |
| Max power (PS@rpm) | 85@11,500 |
| Max torque (Nm@rpm) | 54.6@10,500 |
| Power/Weight (PS/tonne) | 349.79 |
| Fuel delivery | FI |
| Clutch | Wet multiplate |
| Gearbox | 6-speed |
| Chassis | Half trellis, cast pivot plate |
| Rake | 24° |
| Trail | 96° |
| Suspension (F) | 50mm USD fork |
| Suspension travel (F) (mm) | 120 |
| Suspension (R) | Preload adjustable monoshock |
| Suspension travel (R) (mm) | 123 |
| Brakes (F) | 320mm dual disc |
| Brakes (R) | 260mm single disc |
| Tyres (F) | 120/70ZR17 |
| Tyres (R) | 180/55ZR17 |
| Traction control | No |
| ABS | No |
| Length (mm) | 2150 |
| Height (mm) | 1240 |
| Width (mm) | 840 |
| Seat height (mm) | 800 |
| Wheelbase (mm) | 1470 |
| Ground clearance (mm) | 150 |
| Fuel tank (l) | 27 |
| Kerb Weight (kg) | 243 |
| Factory luggage | Optional |
| Availability | Now |
| Price ex-Delhi (Rs) | 5.96 lakh |
| | |
| Name | Ducati Scrambler Icon |
| Displacement (cc) | 803 |
| Cylinders | 2 |
| Bore (mm) | 88 |
| Stroke (mm) | 66 |
| Compression ratio | 11:1 |
| Valves | 4 |
| Camshafts | Desmodromic |
| Max power (PS@rpm) | 75@8,250 |
| Max torque (Nm@rpm) | 68@5,750 |
| Power/Weight (PS/tonne) | 403.23 |
| Fuel delivery | FI, 50mm throttle body |
| Clutch | Wet multiplate |
| Gearbox | 6-speed |
| Chassis | Steel trellis |
| Rake | 24° |
| Trail | 112° |
| Suspension (F) | 41mm USD fork |
| Suspension travel (F) (mm) | 150 |
| Suspension (R) | Preload adjustable monoshock |
| Suspension travel (R) (mm) | 150 |
| Brakes (F) | 330mm disc |
| Brakes (R) | 245mm disc |
| Tyres (F) | 110/80ZR18 |
| Tyres (R) | 180/55ZR17 |
| Traction control | No |
| ABS | Yes |
| Length (mm) | 2100 |
| Height (mm) | 1150 |
| Width (mm) | 845 |
| Seat height (mm) | 790 |
| Wheelbase (mm) | 1445 |
| Ground clearance (mm) | NA |
| Fuel tank (l) | 13.5 |
| Kerb Weight (kg) | 186 |
| Factory luggage | NA |
| Availability | Now |
| Price ex-Delhi (Rs) | 6.62 lakh |
| | |
| Name | Triumph Bonneville Street Twin |
| Displacement (cc) | 900 |
| Cylinders | 2 |
| Bore (mm) | 84.6 |
| Stroke (mm) | 80 |
| Compression ratio | 10.55:1 |
| Valves | 8 |
| Camshafts | SOHC |
| Max power (PS@rpm) | 55@5900 |
| Max torque (Nm@rpm) | 80@3,230 |
| Power/Weight (PS/tonne) | 253.46 |
| Fuel delivery | FI |
| Clutch | Wet multiplate slip-assist |
| Gearbox | 5-speed |
| Chassis | Tubular steel cradle |
| Rake | 25.1° |
| Trail | 102.4° |
| Suspension (F) | 41mm telescopic forks |
| Suspension travel (F) (mm) | 120 |
| Suspension (R) | Preload adjustable twin shocks |
| Suspension travel (R) (mm) | 120 |
| Brakes (F) | 310mm single disc |
| Brakes (R) | 255mm single disc |
| Tyres (F) | 100-90/18 |
| Tyres (R) | 150/70/17 |
| Traction control | Yes |
| ABS | Yes |
| Length (mm) | 2090 |
| Height (mm) | 1114 |
| Width (mm) | 785 |
| Seat height (mm) | 750 |
| Wheelbase (mm) | 1415 |
| Ground clearance (mm) | NA |
| Fuel tank (l) | 12 |
| Kerb Weight (kg) | 217 |
| Factory luggage | NA |
| Availability | Mid-Feb 2016 |
| Price ex-Delhi (Rs) | 6.6 lakh (estd) |
| | |
Price (Ex-Delhi)
Starts Rs 7,99,000
Price (Ex-Delhi)
Starts Rs 6,24,000
Price (Ex-Delhi)
Starts Rs 6,79,000
Price (Ex-Delhi)
Starts Rs 12,15,800
Price (Ex-Delhi)
Starts Rs 7,45,000