Spec comparo: Ford Figo vs Maruti Suzuki Swift vs Hyundai Grand i10 vs Tata Bolt
The new Ford Figo is here and it is essentially a Figo Aspire without the boot. It will take on the crowd favourite Maruti Suzuki Swift along with the Hyundai Grand i10 and the Tata Bolt. Running the same 100PS diesel engine seen in the Figo Aspire, the Figo is the most powerful of the lot, with the others' diesel engines making between 71PS and 75PS. The Figo also gets two petrol variants - a 1.2-litre capable of 88PS and 112Nm and a 1.5-litre mill that makes 112PS and 136Nm. The diesel and 1.2-litre variants get a 5-speed manual, while the 1.5-litre petrol, like the Figo Aspire, is offered only with a 6-speed dual-clutch automatic. The Grand i10 offers a 4-speed automatic as well with the 1.2-litre petrol engine, however, the Swift and Bolt are limited to 5-speed manuals on both petrol and diesel engines.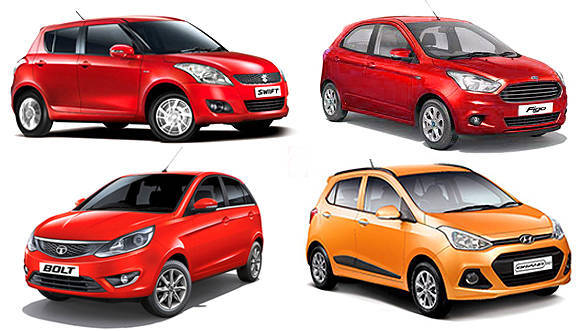 Ford claims a fuel efficiency of 25.83kmpl from the 1.5-litre diesel, which is the highest of the four. The company also claims an 18.16kmpl from the 1.2-litre petrol and a 17kmpl from the 1.5-litre petrol. Hyundai claims 18.9kmpl from their 1.2-litre petrol engine while the claimed figures for the Swift and Bolt petrol engines are 20.4kmpl and 17.57kmpl, respectively.
In terms of safety, the Figo has the upper hand with six airbags on the Titanium+ trim, while a hill-assist function, traction control and ESP are available on the automatic variant. While its rivals get two front airbags on just the top trims, the Figo gets them as standard from the second variant onwards. The Figo will also get the MyKey and MyFord Dock features seen in the Figo Aspire along with Ford's Sync system. Its generous 257 litre boot is the biggest of the lot with the Hyundai Grand i10 following right behind at 256 litres.
Ford Figo vs Maruti Suzuki Swift vs Hyundai Grand i10 vs Tata Bolt
| | |
| --- | --- |
| | |
| | Ford Figo TDCi Titanium+ |
| ENGINE | |
| Type | Inline 4-cylinder turbo diesel |
| Engine capacity | 1,498cc |
| Valvetrain | 4 valves/cylinder |
| Max power | 100PS@3,700rpm |
| Max torque | 215Nm@1,750-3,000rpm |
| Transmission | 5-speed manual |
| UNDERPINNINGS | |
| Suspension (F) | MacPherson strut with coil springs |
| Suspension (R) | Twist beam with shock absorber |
| Brakes (Front/Rear) | Ventilated disc/drum |
| Tyres | 175/65 R14 |
| PERFORMANCE | |
| 0-100kmph | - |
| Top speed (kmph) | - |
| FUEL EFFICIENCY | |
| Highway (kmpl) | - |
| City (kmpl) | - |
| Overall (kmpl) | - |
| ARAI FE (kmpl) | 25.83 |
| GENERAL DATA | |
| LxWxH (mm) | 3,886x1,695x1,525 |
| Wheelbase (mm) | 2491 |
| Boot space (ltr) | 257 |
| Kerb weight (kg) | - |
| Price (ex-Delhi) | Rs 7.40 lakh |
| | |
| | Maruti Suzuki Swift ZDi |
| ENGINE | |
| Type | Inline 4-cylinder turbo diesel |
| Engine capacity | 1,248cc |
| Valvetrain | 4 valves/cylinder |
| Max power | 75PS@4,000rpm |
| Max torque | 190Nm@2000rpm |
| Transmission | 5-speed manual |
| UNDERPINNINGS | |
| Suspension (F) | MacPherson strut |
| Suspension (R) | Torsion beam |
| Brakes (Front/Rear) | Ventilated disc/drum |
| Tyres | 185/65 R15 |
| PERFORMANCE | |
| 0-100kmph | 13.2s |
| Top speed (kmph) | 152 |
| FUEL EFFICIENCY | |
| Highway (kmpl) | 19.3 |
| City (kmpl) | 16.9 |
| Overall (kmpl) | 17.42 |
| ARAI FE (kmpl) | 25.2 |
| GENERAL DATA | |
| LxWxH (mm) | 3,850x1,695x1,530 |
| Wheelbase (mm) | 2,430 |
| Boot space (ltr) | - |
| Kerb weight (kg) | 1,060 |
| Price (ex-Delhi) | Rs 7.31 lakh |
| | |
| | Hyundai Grand i10 Asta (O) |
| ENGINE | |
| Type | Inline 3-cylinder turbo diesel |
| Engine capacity | 1,120cc |
| Valvetrain | 4 valves/cylinder |
| Max power | 71PS@4,000rpm |
| Max torque | 160Nm@1,500-2,750rpm |
| Transmission | 5-speed manual |
| UNDERPINNINGS | |
| Suspension (F) | MacPherson strut |
| Suspension (R) | Torsion beam |
| Brakes (Front/Rear) | Disc/drum |
| Tyres | 165/65 R14 |
| PERFORMANCE | |
| 0-100kmph | 15.3s |
| Top speed (kmph) | 156 |
| FUEL EFFICIENCY | |
| Highway (kmpl) | 24.2 |
| City (kmpl) | - |
| Overall (kmpl) | 20.5 |
| ARAI FE (kmpl) | 24 |
| GENERAL DATA | |
| LxWxH (mm) | 3,765x1,660x1,520 |
| Wheelbase (mm) | 2,425 |
| Boot space (ltr) | 256 |
| Kerb weight (kg) | 1,020 |
| Price (ex-Delhi) | Rs 6.73 lakh |
| | |
| | Tata Bolt Quadrajet XT |
| ENGINE | |
| Type | Inline 4-cylinder turbo diesel |
| Engine capacity | 1,248cc |
| Valvetrain | 4 valves/cylinder |
| Max power | 75PS@4,000rpm |
| Max torque | 190Nm@1,750-3,000rpm |
| Transmission | 5-speed manual |
| UNDERPINNINGS | |
| Suspension (F) | MacPherson strut with coil springs |
| Suspension (R) | Torsion beam with coil springs |
| Brakes (Front/Rear) | Disc/drum |
| Tyres | 175/65 R15 |
| PERFORMANCE | |
| 0-100kmph | - |
| Top speed (kmph) | - |
| FUEL EFFICIENCY | |
| Highway (kmpl) | - |
| City (kmpl) | - |
| Overall (kmpl) | - |
| ARAI FE (kmpl) | 22.95 |
| GENERAL DATA | |
| LxWxH (mm) | 3,825x1,695x1,562 |
| Wheelbase (mm) | 2,470 |
| Boot space (ltr) | 210 |
| Kerb weight (kg) | 1,160 |
| Price (ex-Delhi) | Rs 7 lakh |
| | |
Price (Ex-Delhi)
Starts Rs 4.98 Lakhs
Price (Ex-Delhi)
Starts Rs 5.73 Lakhs
Price (Ex-Delhi)
Starts Rs 7.75 Lakhs