Spec comparo: Tata Tiago (Zica) vs Hyundai Grand i10 vs Maruti Suzuki Celerio
The Tiago (earlier known as the Zica) is Tata's latest small car and it comes with a brand new design and a couple of new engines. The Tiago will face-off directly against the Hyundai Grand i10 and the Maruti Suzuki Celerio. The Tiago is closer in feel to the Hyundai and offers similarly rated three-cylinder petrol and diesel engines. The Celerio has a smaller 1.0-litre petrol and a tiny 0.8-litre diesel but the performance of both leave little to complain about, thanks to the Maruti's kerb weight advantage.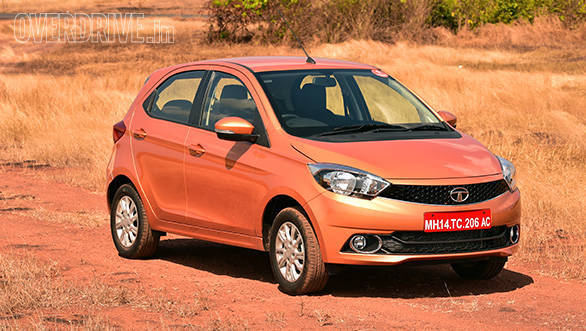 The Celerio is certainly the most efficient and while Tata hasn't released efficiency data just yet - we have been informed that the diesel figure should be around 25kmpl while the petrol ARAI figure should hover between the 18 and 20kmpl mark.
Dimensionally, once again the Tata and the Hyundai are quite similar while the Maruti cuts a smaller shape. However, the Maruti's wheelbase is identical to the Tata's which explains why its cabin isn't cramped for space. All three cars here are closely matched, even in terms of boot space.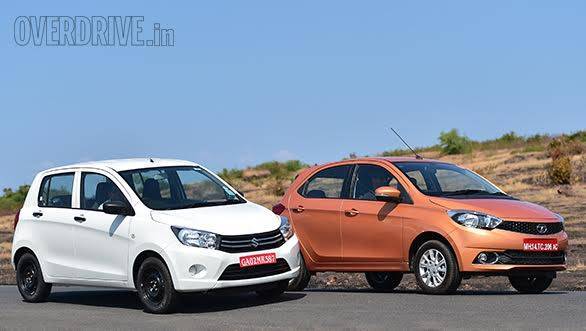 In terms of pricing, however, the Hyundai is considerably more expensive than the Celerio. We do expect the Hyundai will continue to pack the most features but more light will be shed in our upcoming first drive report on December 5.
For the Tiago to have a truly strong impact in the segment, Tata needs a strong pricing strategy. We won't be surprised if the Indian manufacturer manages to undercut the Maruti's pricing, at which point the Tiago will provide a serious challenge. Look out for our first drive review on December 5, 2015 and a comprehensive comparison test shortly after.
Hyundai Grand i10 vs Maruti Suzuki Celerio vs Tata Zica
| | |
| --- | --- |
| | |
| | Hyundai Grand i10 |
| Engine type | 1.2-litre 4-cyl petrol |
| | 1.1-litre 3-cyl turbodiesel |
| Engine capacity | 1,197cc |
| | 1,120cc |
| Valvetrain | DOHC |
| | DOHC |
| Max power | 83PS@6,000rpm/ 71PS@4,000rpm |
| Max torque | 114Nm@4,000rpm/ 160Nm@1,500-2,750rpm |
| ARAI efficiency figure (kmpl) | 18.9/ 24 |
| Underpinnings | |
| Suspension (F) | MacPherson strut with coil spring |
| Suspension (R) | Torsion beam |
| Brakes (Front/Rear) | Disc/drum |
| Tyres | 165/65 R14 |
| General data | |
| LxWxH (mm) | 3,765x1,660x1,520 |
| Wheelbase (mm) | 2,425 |
| Kerb weight (kg) | 935/1,025 |
| Boot space (litres) | 256 |
| Fuel tank capacity (litres) | 43 |
| Ground clearance | 165 |
| Price (ex-Delhi) | Rs 4.7-6.7 lakh |
| | |
| | Maruti Suzuki Celerio |
| Engine type | 1.0-litre 3-cyl petrol |
| | 0.8-litre 2-cyl turbodiesel |
| Engine capacity | 998cc |
| | 793cc |
| Valvetrain | DOHC |
| | DOHC |
| Max power | 68PS@6,000rpm/ 48PS@3,500rpm |
| Max torque | 90Nm@3,500rpm/ 125Nm@2,000rpm |
| ARAI efficiency figure (kmpl) | 23.1/ 27.62 |
| Underpinnings | |
| Suspension (F) | MacPherson strut with coil spring |
| Suspension (R) | Torsion beam |
| Brakes (Front/Rear) | Disc/drum |
| Tyres | 165/70 R14 |
| General data | |
| LxWxH (mm) | 3,600x1,600x1,560 |
| Wheelbase (mm) | 2,425 |
| Kerb weight (kg) | 830/900 |
| Boot space (litres) | 235 |
| Fuel tank capacity (litres) | 35 |
| Ground clearance | 165 |
| Price (ex-Delhi) | Rs 3.99-5.77 lakh |
| | |
| | Tata Zica |
| Engine type | 1.2-litre 3-cyl petrol |
| | 1.05-litre 3-cyl turbodiesel |
| Engine capacity | 1,199cc |
| | 1,047cc |
| Valvetrain | DOHC |
| | DOHC |
| Max power | 85PS@6,000rpm/ 70PS@4,000rpm |
| Max torque | 114Nm@3,500rpm/ 140Nm@1800-3000rpm |
| ARAI efficiency figure (kmpl) | NA |
| Underpinnings | |
| Suspension (F) | MacPherson strut with coil spring |
| Suspension (R) | Torsion beam |
| Brakes (Front/Rear) | Disc/drum |
| Tyres | 175/65 R14 |
| General data | |
| LxWxH (mm) | 3,746x1,647x1,535 |
| Wheelbase (mm) | 2,400 |
| Kerb weight (kg) | 1,012/1,080 |
| Boot space (litres) | 242 |
| Fuel tank capacity (litres) | 35 |
| Ground clearance | 170 |
| Price (ex-Delhi) | Rs 3.7-5.5 lakh |
| | |
Also see:
Image gallery: We drive the Tata Tiago hatchback
Image gallery: Details of Tata's new hatchback in India, the Tata Tiago
Tata Tiago features and specifications revealed
Price (Ex-Delhi)
Starts Rs 4.98 Lakhs
Price (Ex-Delhi)
Starts Rs 4.6 Lakhs
Price (Ex-Delhi)
Starts Rs 4.99 Lakhs