Simple Energy One first ride review - A prospect of promise
Now if you will recall, this is the same scooter that Bangalore based start-up, Simple Energy, launched almost a year ago, last Independence day. It was launched at the price of Rs 1.10 lakh ex-showroom, this cost is not inclusive of state subsidies, so depending on where you live out here in India the price will drop further. Now the scooter has undergone a fair bit of change on the looks and a bit of the underpinnings have changed as well so we're going to check out all of this. The Simple One's USPs, well, firstly it looks the way it does, which is awesome. Then it has a good amount of range in its kitty, with its big battery, it also gives you a good amount of shove with the electric motor that it has coupled with the ride modes, and it also is decent on storage space as well. So this scooter has a lot going for it and we're to ride it today, so let's get right to it!
Now first of all, it should be said that although it's been a year since the covers were first pulled off the Simple One, It's still in the prototyping phase, which is in a way disappointing. So there are still some ill-fit plastics and some placeholders on the dash. Stuff like quality of the fit and finish of its panels and also some software will improve by the time this scooter hits the streets – sometime this September, according to Simple Energy. So what's the company been up to since last august you ask? They say that they've been tweaking the scooter and even streamlining the entire production process.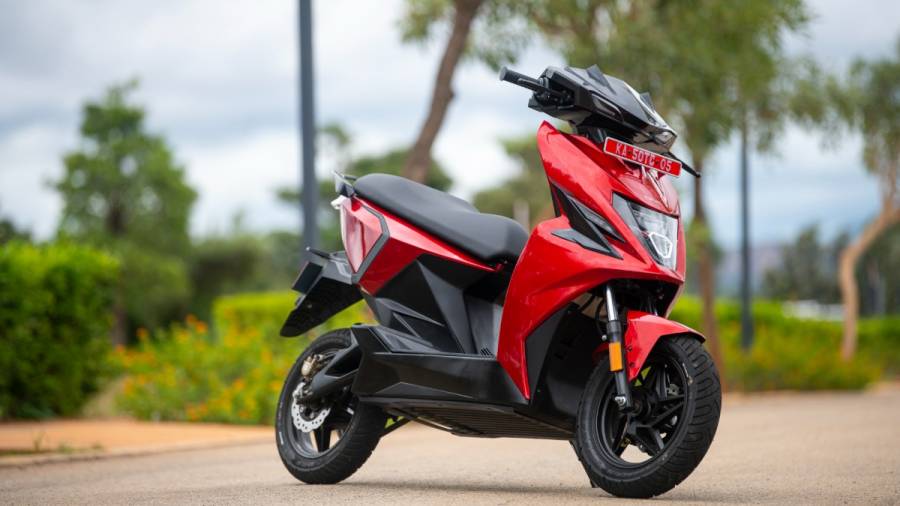 Design:
On the design front, although from afar, it might resemble the scooter that we saw last year but some a bit closer and you will see the changes that Simple Energy have made over the course of time. Starting from the front you still have the mean aggressive look about it. It looks sporty, very modern and attractive. It sports a new headlight design, those small LED DRLs on the handlebar faring also look very cool. The design of the winglets which have the LED indicators integrated are tweaked and look a lot better than before. Then you have a bigger mudguard setup up front, compared to the scooter we saw last year.
The tyres well, the scooter that we saw last year sported TVS tyres, whereas this one has MRF treads at both ends. Brakes are discs at both ends – Bybre brakes where you have a 200mm disc at the font and a 190mm disc at the rear. Telescopic front suspension and a monoshock suspension at the rear. Moving further back, you have a different design seat. Now this is not the seat that you're going to see on the production scooter. Simple say that they're still working on the design – the shape of the seat – as well as the softness of it all. It should be a lot more firm that what we see on the scooter currently. Coming to the rear of the scooter we see a new taillight unit that's designed a lot more aggressive than the unit that we saw last year. And the biggest change – the drive. The scooter that we saw last year came with a chain drive while the scooter now comes with a more conventional belt drive.
You also get a 7-inch high-res screen that's pretty snappy to use, but once again, lots of place holders on this test unit. And the procedure to set the scooter into reverse is a bit too simple. But the readout would appear well thought out and it feels up with the times if anything.
Features:
The scooter gets pretty much everything you could ask for in terms of savvy features and most of them are accessible via the high-res 7-inch touchscreen and then there are other features like the reverse mode, call and music controls and cruise control which are activated through buttons on the handlebar. Bluetooth connectivity comes standard and the scooter will even get OTA updates. The Simple One also runs MapmyIndia navigation. There's no ABS on offer, but the left brake lever functions a combined braking system.
Battery:
When you think EV in general, you have to factor in the vehicle's overall range. And that's really one of the stand out bits of the Simple One electric. It features a massive 4.8kW battery. To emphasise on its uniqueness, the updated Ather 450X which earlier this month, which the company is calling the Gen 3 model, comes with a large 3.7kWh battery as compared to the 2.9 kWh pack from earlier. . And this unit boasts a range of 140km in Eco mode, when run in the ideal driving cycle. Now the Simple One boasts an excess of 200km in these conditions with its ip16 rated motor. But will allegedly run a max of 105-110 km in a single charge in Eco mode. What's more impressive is the fact that Simple Energy have managed to keep the weight down to 115kg while even giving you about 30-litres of underseat storage which is big enough to fit in your half-face helmet comfortably.
The unique bit about the Simple One's battery setup is that it's split up into two units, one that's fixed and the other that's detachable. Under the scooters floor board sits a 3.3kWh battery pack and under the seat you have the 1.5kWh battery pack that you can remove and charge at your convenience. Both combined take little over three hours to charge while the detachable battery alone takes 75mins to come to a complete charge and will give you enough juice to go 60km in Eco mode. Simple One is still figuring out the method on which the batteries should discharge as in either one at a time or simultaneously, but as of now the fixed unit discharges first with the detachable battery acting as a backup unit.
Performance:
Now along with a bigger battery, comes a longer range capability. Now the company is boasting a total of 200+ km in eco mode, which is the most economical mode that you can ride the scooter in, and while we haven't really had the opportunity to test out the range capability because of the time constraints of this particular shoot, we have gotten a good idea of the performance, ride quality and handling dynamics of this scooter as a whole. Basically you have four ride modes with the scooter – Eco, Ride, Dash and Sonic. Eco mode is the most economical mode, then you have Ride mode which is the mode that you'll mostly be in during your jaunts in the city, where your speed is limited to around 60kmph, then you have Dash mode which gives you a higher output from the motor. Throttle response feels more rewarding and performance is somewhere between Road mode and the fastest mode which is Sonic. Each will give you a 20km difference in terms of high speed limitation, and you can hit 100kmph in Sonic without a fuss. The motor, ip16 rated motor puts out 4.5kW of nominal power with a max output of 8.5kW which is really impressive as well. And the best part is that in Sonic mode, this scooter just flies off the line. While the Ather feels quick, this scooter takes performance a notch higher. So in terms of performance, this scooter definitely has it.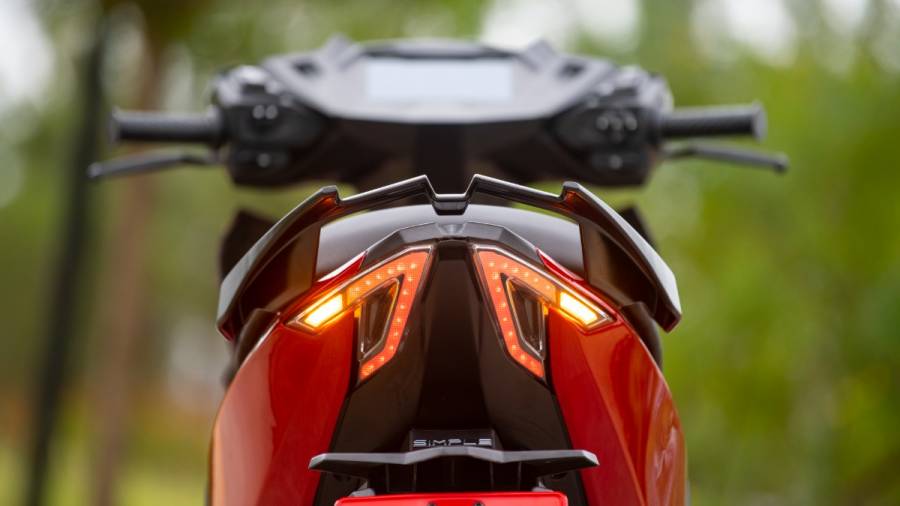 And the transition from one ride mode to the next is seamless, which is quite commendable. Now we were riding the Simple One in an isolated environment where we weren't exposed to any real challenging terrain by means of undulations, sharp corners or steep gradients but we did get a taste of how the scooter will handle out on a proper paved surface.
Ride and Handling:
In terms of ride quality, the Simple One is a very comfortable scooter to be on. The suspension setup is balanced nicely between soft and firm, so if you're cruising around the city, hitting speed breakers and getting into bumps, ditches and stuff like that, the suspension manages very well at that.
If you've ridden older scooters before, the Simple One isn't the sort that make you change your natural riding position for you to feel comfy. It's as relaxed as a regular ICE scooter. It feels like a nice agile scooter, not the easiest out there to handle, but it is light and very easy to get used to in the long run.
Conclusion:
It's really sad that we've been summoned to review a vehicle like this honestly, because in its current state of being, this One isn't even the final product that will roll off Simple Energy's assembly lines. But still, for what it's worth, to sum it up, if you paid attention to what was announced last year, then you'd know that Simple energy didn't really keep to its promise of delivering a scooter that you could physically ride, on time. Yes, since the time of launching the One it's all been shaping up and coming along well, but if we are to follow the timeline of a company who's been promising a game-changer in a currently highly volatile segment, who hasn't kept to its timelines, you don't know what to rely on, time-line wise. Because, it won't be the first time that a manufacturer of this sort made its patrons wait a long while before coming out with what was promised, originally.
Price (Ex-Delhi)
Starts Rs 1,09,000