Porsche Cayenne e-Hybrid road test review
Plug-in hybrids certainly seem fitting for India with its yet-unrealised EV charging infrastructure - take a regular internal combustion engine, add in assistance from an electric motor, and there you have it, a part-electric vehicle but with no range anxiety. What you're getting is essentially some of the benefits of zero-emission motoring, with only some of the drawbacks; something ventured, something gained. It certainly pays off for carmakers to have PHEVs to offset their carbon footprints, important for a manufacturer like Porsche to keep making sportscars with good ol' fossil fuels powering them. 
In the Cayenne e-Hybrid's case, the trade-off is a claimed 44km electric-only driving range with a hefty price hike of Rs 40 lakh over the base Cayenne V6, for the added 136PS electric motor with boost mode derived from the 918 Spyder, and 14.1kWh battery pack. The Cayenne as a plug-in hybrid is in its second-generation, with an emphasis on performance this time around, but as we'll find out in this road test review, the e-Hybrid holds a few more contradictions.
How does it look?
These third-gen Cayennes look a lot less awkward than the previous ones, but continue the characteristic high-set headlight and hood, and the tucked in bumper look, which makes most wheels look just about adequate, even these large 20-inchers.
But the Cayenne is still typically Porsche, a great thing if you're a fan of the understated look, but not so good if flash, or aggression is what you want. Sure, white isn't the flashiest of colours anyway, but remember, something like the Lava Orange of the Cayenne Coupe is an expensive option nearing Rs 5 lakh. 
The rear end is its most attractive angle, where the pinched glasshouse makes its way to wide hips and the best set of tail lights on any SUV, with the Porsche badge safe within the interconnected enclosure. The four LED motif, signature Porsche, is repeated in the tail light elements too.
Special to the e-Hybrid are the acid green badges, and brake callipers. And, of course, the filler flaps on either side of the car (one for plugging it in to charge), which always leads to interesting conversations at the fuel pump.
What's the cabin like?
As always with Porsche, the list of customisations is endless, so you can tailor it to taste, from dual-tone interiors, like you see, to Alcantara upholstery, to wood or even carbon fibre trim. Like the styling, the cabin bears simple aesthetics, perhaps bordering on too restrained even. With a big 12.3-inch central touchscreen, and backlit buttons on the lower console, the cabin borders on plain-looking when the ignition is off, and all you can see are piano black surfaces.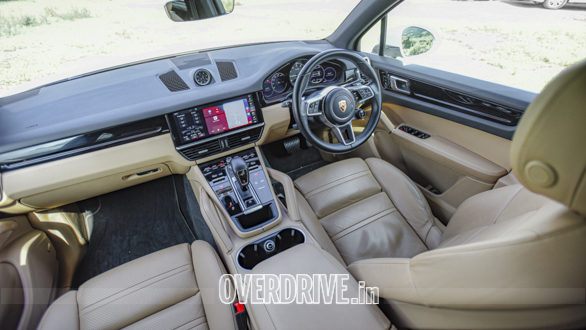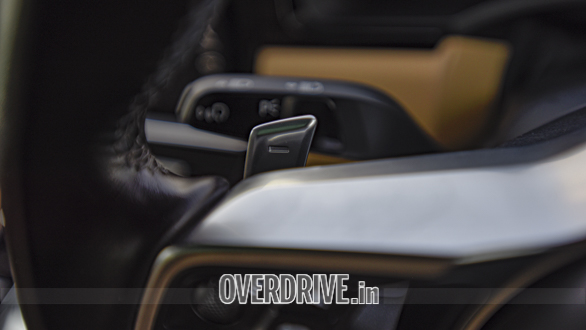 Still, it's an aesthetic that sits well with me, but there's no denying the Cayenne relies on the quality and mix of materials to make you feel like you're sat in something expensive, not outright 'wow' design. Everything fits together with millimetre perfection inside, and there's no flex anywhere. Take the aluminium paddle shifters, for example. Cool to the touch, they engage with a satisfying and obvious click. Or the textured soft-touch plastics everywhere, including on lower panels. You'll likely notice these surfaces aren't as plush to the touch as on some of the competition though, almost as if Porsche considers the softness as unbecoming of its cars. Standard features include four-zone climate control, 8-way adjustable front seats, a 10-speaker 150W audio system, 8 airbags, powered tail gate and Park Assist, to name a few.
Thankfully, the seats are very comfortable, and supportive, both front and rear, with the large glasshouse making for excellent visibility. In fact, space in the rear is a huge plus point, with great knee room, head room and excellent cushioning (and adjustable recline), even when it comes to under thigh support. The boot at 648-litres, loses some essential cargo capacity to the regular car at 770-litres (!), but it's still entirely usable with a flat floor and low loading lip. The battery is fitted under the cargo floor, situating its 130kg mass somewhere above the rear differential. 
What about the powertrain?
The Cayenne was offered as a plug-in hybrid in its earlier generation internationally, and with this model introduced in 2018, outright performance was the key focus. The electric motor's figures were increased, to a total of 136PS and now is responsible for starting the engine as well, with no dedicated starter motor included. 
The on-board lithium-ion battery grows to a 14.1kWh capacity, good for 44km range, according to Porsche. Charging via the included 3.2kW charger needs nearly eight hours for a full top-up, while using the optional 7.2kW charger brings that down to about 2.5 hours.
There's also regenerative braking to top up while you're driving, and an E-Charge drive mode that uses the engine to charge up the battery quicker than regular driving would. We managed to get up to 60 per cent charge after a 45km drive. Porsche have also included a boost mode derived from the 918 Spyder, you know, the hybrid supercar that set a 6 min 57 sec lap time at the Nürburgring in 2013. A time that was only beaten by the GT2 RS in 2017, by the way. 
Anyway, combined with the 3-litre single twin-scroll turbo V6 producing 340PS at 5,300-6,400rpm and 450Nm between 1,340-5,300rpm, there's a total of 462PS, with 700Nm available under 1,500rpm! It's channelled to all four wheels via an 8-speed Tiptronic auto 'box, with the electric motor adding to the output on the rear axle. In total, the hybrid system adds 310kg, making the Cayenne e-Hybrid a bit of a porker at 2,295kg kerb. 
How does it drive?
By default, you set off in Hybrid Auto, under pure electric power and none of the straining-at-the-leash drama you'd expect from a 700Nm powertrain. There's a surprising amount of springy throttle to depress before the engine kicks in, and Porsche claims up to 135kmph in electric only. In the city, it's more than enough to keep ahead of traffic in electric only, but you'll most likely find the engine assisting around 85-100kmph if you express a desire to go faster from there, unless you let it build speed at its own pace. 
When the engine does join in, it's seamless. If you're making an overtake, you'll hear the engine come in rather than feel it, and post the overtake, depending on the urgency, you're back to electric power. It's only at low speeds, if you put your foot all the way down, can you feel a jolt as all the electric torque and fossil-fuel power come in together. You can tell this auto 'box has the farthest thing from efficiency on its mind, often staying in a lower gear than you expect, even though it's not the quickest shifting gearbox out there. 
Of course, setting the car into Sport or Sport Plus only amplifies this, and makes the e-Hybrid too alert and over-eager for most driving scenarios. In Sport Plus, Porsche's launch control program is activated when you do the brake-throttle drill, and results in a very quick 0-100kmph run in 5 sec flat, exactly as claimed!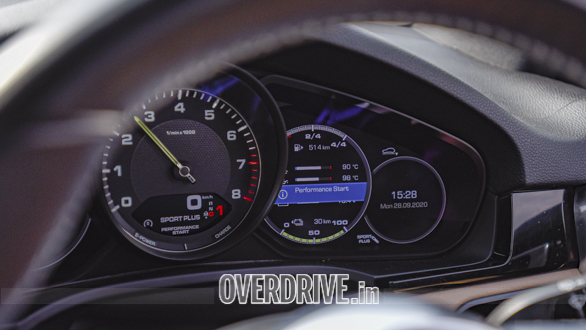 Roll-on acceleration (30-50kmph in 1.3s, 50-70kmph in 1.5s) is equal to or better than some 3-litre diesels we've tested recently, so the electric torque is definitely doing its job. And nowhere is that more apparent than in our fuel efficiency testing. The Cayenne e-Hybrid managed a commendable (for a 2.3-tonne, V6-powered SUV) 12.8kmpl on the highway, where you see much less opportunity for the electric motor to help out. In the city, over our test route and with roughly 60 per cent charge left, the e-Hybrid managed an unbelievable 20.5kmpl! If you're starting your commute with a full battery, you can expect a largely electric-only drive for roughly 36-40km or so.
Ride comfort, even on these large wheels and low-profile Pirelli P Zero rubber, is well-sorted with the air dampers providing a level, pliant drive over everything from patched up roads to undulating surfaces. If the Cayenne e-Hybrid makes a lot of sense to you until now, that's because it does, till we get to the handling package. You see, the main reason to look at a Cayenne over anything else, would be its handling, apart from the Porsche pedigree. And with an extra 300 kilos to carry around, the e-Hybrid feels a little hampered, despite the optional rear-wheel steer helping agility. You can feel it in the way the car leans on to its outer wheels when you turn in, and in the squeals of early understeer if you're carrying speed.
That's not to say that you won't very much enjoy driving it quickly, perhaps even more than some rivals, but you can feel it working hard to give you anything more than a decent turn of pace in the twisties. You also definitely feel the weight under braking, and in the inconsistent feel from the pedal thanks to the constant switch from regen braking to actual friction braking. In our tests, the e-Hybrid stopped from 100kmph in 41m and 3.1 sec.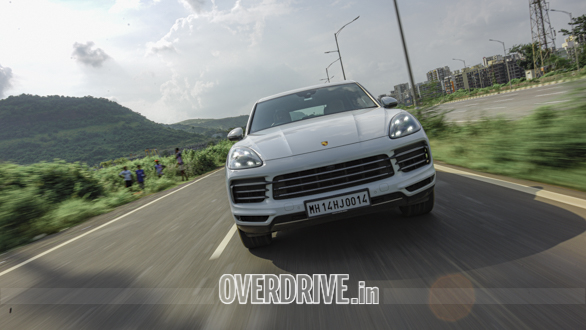 Verdict
Okay, say you bite the cost of the upgrading to a Cayenne e-Hybrid, at nearly Rs 1.59 crore ex-showroom before options, a steep increase of nearly Rs 40 lakh. If your commute is under 36km, you're going to be pretty green, with the flexibility of taking it out on longer drives when you want, without needing to worry about charging it. Unfortunately, we can't quite understand the need for a sporty SUV with eco-friendly (or fuel efficient) credentials, especially when it comes at the cost of the Cayenne's inherent handling prowess. Unless you absolutely want to go electric but can't commit to being tethered to city limits for now, the base Cayenne may be a better choice.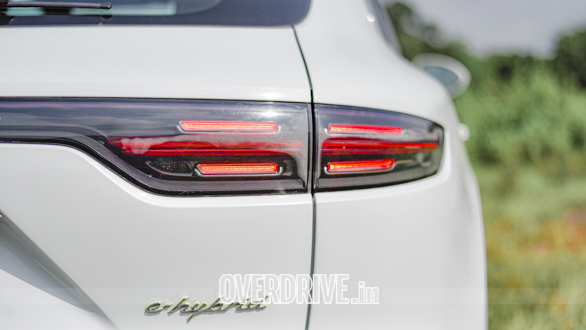 Photography by Anis Shaikh
Price (Ex-Delhi)
Starts Rs 1.19 Crore
Related Stories