Porsche 718 Cayman GT4 RS review, first drive - Red-letter day
If you drive as many cars as one does on this job, you can't help but fall into a sense of coldness after a point. But then, a car comes along that shakes you out of this. It then goes further and redefines everything you thought you knew. Your references and perceptions change immediately and there's a thrill to it that you know will not come very often. The Porsche 718 Cayman GT4 RS is one such car.
The Cayman GT4 RS is the mid-engined Porshe's swansong before the next electric 718. It's the car Porsche has never made so far, but everyone has wanted it to. The recipe? Shoehorn as much of the 911 RS models' bits into the smaller, lighter 718 Cayman.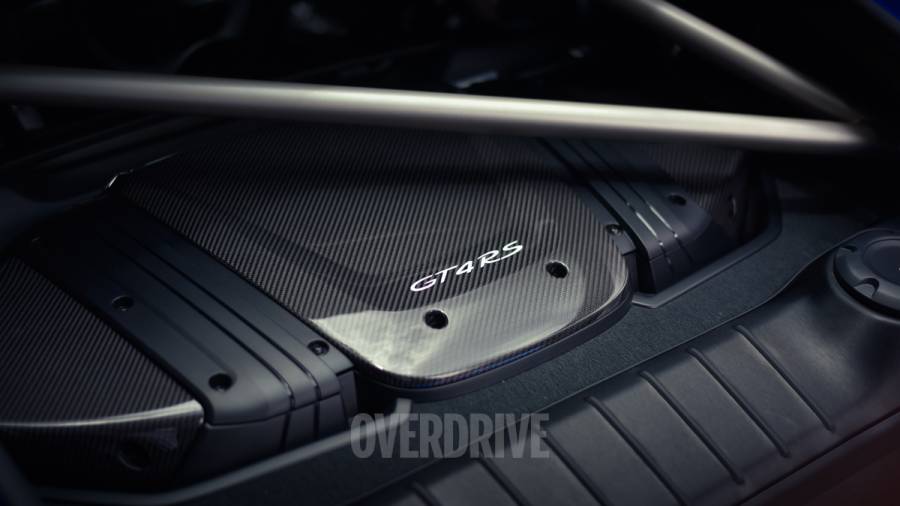 The centrepiece of this is the dry-sump 4.0-litre naturally aspirated flat-6 from the 911 GT3, not shared with any other Cayman. It's mounted mid-ship here and slightly detuned to account for this architecture's exhaust systems to make 500PS and 450 Nm, against the 911 GT3's 510PS and 470 Nm. The two are nearly identical in the speed stats on paper. Both get from 0 to 100 kmph in 3.4s, the GT4 RS has a 315 kmph top speed while the GT3 is 2 kmph faster as equipped with a similar PDK dual-clutch gearbox.
Speaking of the gearbox, the Cayman GT4 RS uses a short-ratio seven-speed unit originally developed for the 992.2-gen 911. The suspension is heavily motorsport-inspired. You get McPherson struts with model-specific springs and anti-roll bars, rose jointed all around with the Porsche Active Suspension Management (PASM) damping system. The suspension's toe, camber and anti-roll bars can be adjusted for track use further. There's also a limited-slip differential and torque vectoring.
Then comes the lightweight and aero trickery. The GT4 RS only weighs 1,415 kg, 35 kg less than the Cayman GT4, with its carbon fibre bonnet and front splitter. There's also lesser insulation, lightweight carpets, fabric door pulls, storage nets, lighter carbon seats as well as a lighter rear glass.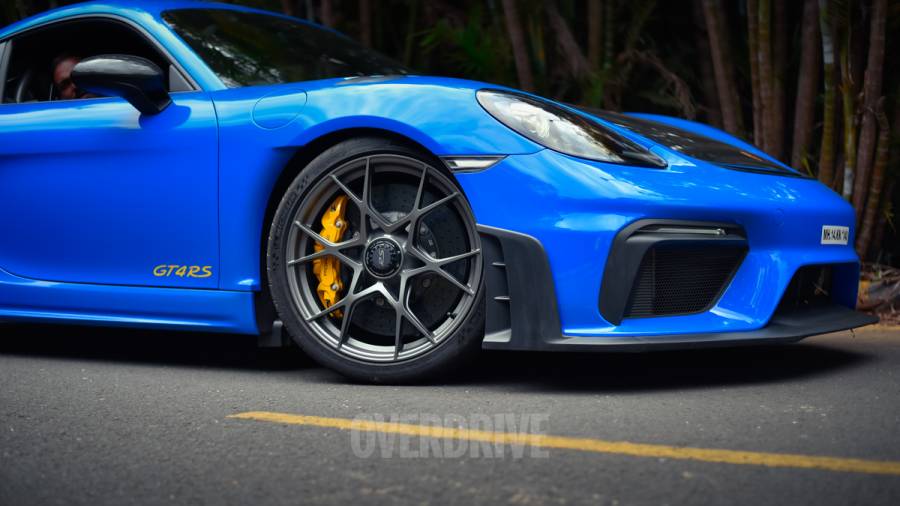 The massive swan-neck carbon wing is the best way to spot the GT4 RS and it's just the start of all the aero–aids that go into this car. This wing arrangement is again taken from the 911 GT3 and is accompanied by a similarly exaggerated adjustable front diffuser and the splitter. There are also wheel-arch vents and a large diffuser at the rear. The GT4 RS sits 30mm lower to the ground than a regular Cayman and makes 25 per cent more downforce than the Cayman GT4.
Porsche 718 Cayman GT4 RS: What does it sound like?
Clamour over the low opening and into those well-fitting seats, turn over the engine in typically Porsche fashion and you realize very quickly that all of these numbers and tech don't fully capture the feel of the Cayman GT4 RS.
It's about as sensory an experience as driving a car can get. The flat-six barks to life right behind your ears and as if like an angry, impatient mechanical animal, you hear hisses and ticks from the control valves alongside a deep grumble. Then, start feeding it revs and if you haven't spent a whole amount of time driving cars like this, it's a hair-raising thrill.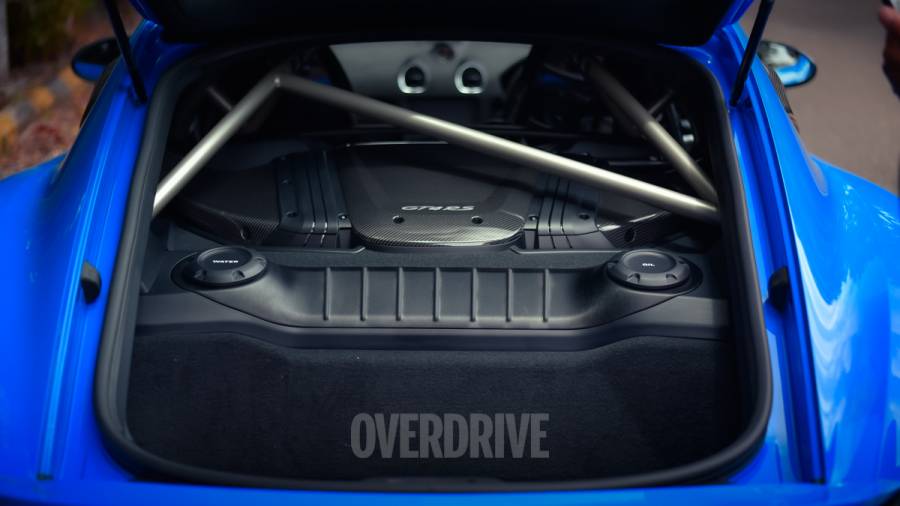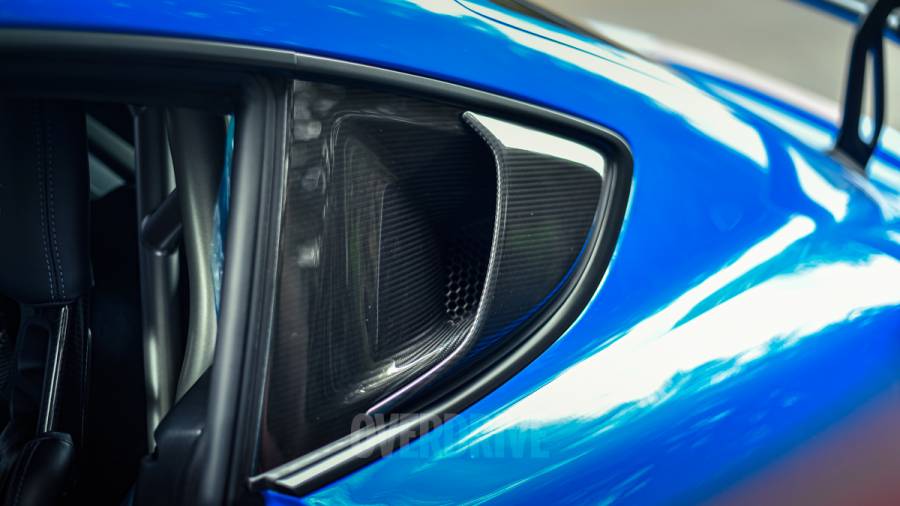 The motor eats through revs faster than your eyes can keep track of the rev counter and the grumble starts to turn into an ever louder shriek. And with that high 9,000 rpm redline, it seems to just keep going. Right up until you hit the last 1,000 rpm, after which the tone changes to an enraged-sounding wail. Then, when you thought this was it, the barks every time you downshift just added that extra touch of excitement. This very well-prepared soundtrack comes from the new air intakes that replace the rear quarter glass in lesser 718 Caymans, among other enhancements. Unlike most other boosted supercars, with their synthesized soundtracks and exhaust rumbles, the Cayman GT4 RS is pure induction bliss.
Porsche 718 Cayman GT4 RS: How does it drive?
Once you've gathered yourself, you'll realize that the way the Cayman GT4 RS sounds is only to enhance the equally stimulating event of actually driving it. The only time you know that this motor is naturally aspirated is when you need a confident dab of the throttle to start moving.
But keep going and the performance comes to you in a rising unrelenting gush. The GT4 RS reaches hungrily for the redline and the only hint of it letting off is past 8,000 rpm. But it's the immediacy rather than the already significant volume of performance that is most noticeable. Every little twitch of the throttle seems to bring a change in both motion and note, so you find yourself attuned to the car very easily.
The PDK seems to bring this all together. It's lighting quick as you'd expect but the smoothness is what's more useful. There's barely a let-up in power delivery as it clips through the gears. It's especially effective in the Sport setting, there are no drive modes as such, where you find yourself with a load of revs at your disposal or with a downshift just when you think you need one. It's still a bit long-legged so for some truly heavy driving and the full sensory experience, the paddles are a temptation. The regular gearbox mode is still far more responsive than in most cars but in this situation feels just right up for cruising.
There's a hilariously effective launch control function that's surprisingly simple to activate, holds revs at about 6,200 rpm and seems to manage traction, revs and gear changes just right for that tested 3.2s time.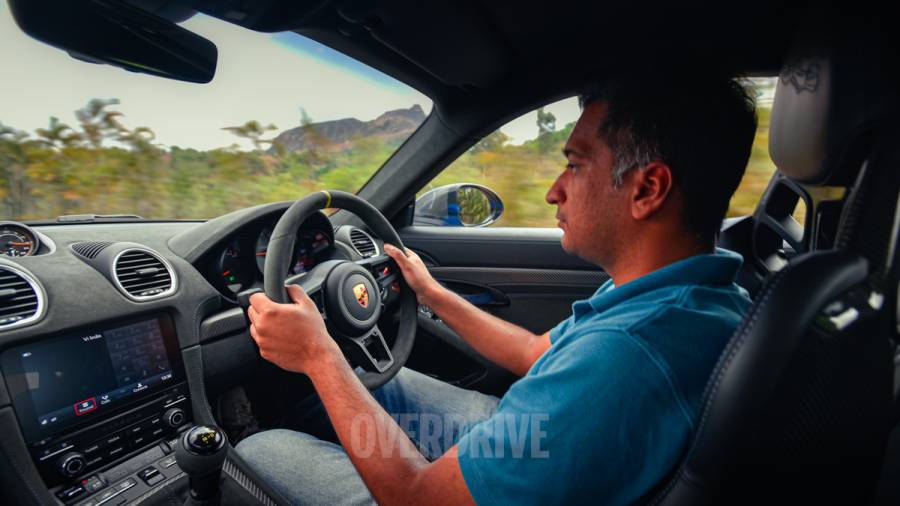 There's nothing quite like the way a mid-engined car seemingly pivots around a corner under you, especially if you aren't used to this sensation all that much. But, as with the rest of the Cayman GT4 RS, the impression is amplified here. It starts with the near-perfect driving position. You can't quite adjust the backrest without some basic tools but you sit low and with your legs just about bent. The steering, devoid of any frivolous buttons, is placed just right and you have the typical Porsche view of the car's haunches. The wheel itself is quite heavy at low speeds with its light assistance but what you get is quite a good amount of feel. It's not as talkative as a pure hydraulic setup but you still find the steering moving around in your hands, there's great precision and you know just how much to dial into a corner.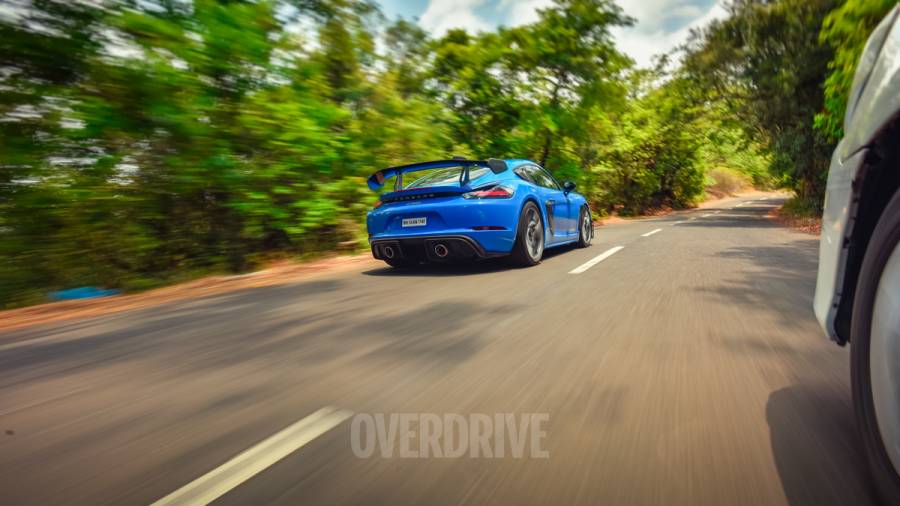 The GT4 RS never feels twitchy or darty, you seem to swivel around bends in a smooth balanced motion that fills you with confidence to push harder. A good thing considering the sheer amount of grip that's on offer. On these familiar roads, we had to recalibrate quite quickly to the immense speeds the Cayman GT4 RS can carry through bends. The Cup 2 tires have a role to play here but most of it is the sheer grip through the chassis. Effectively, you can sometimes not lift at all around more open corners or get on the power far earlier than you think could be possible around tighter bends.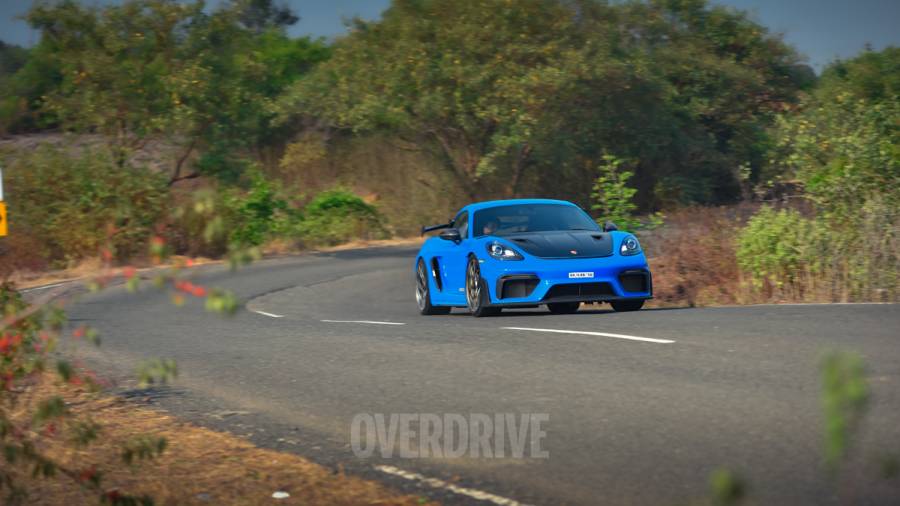 You get a Sport suspension mode, but on our roads, the standard damper setting works well enough. The GT4 RS rides exceptionally well for something this focused. Of course, rough surfaces jar through at low speeds, but the faster you go, the more fluid it gets. The GT4 RS seems to sit very lightly on the road, which makes sense to enhance how nimble it is. Again this helps around bends, where the slight hint of lean just seems to guide you around that much better. It also seems to keep the car from getting too affected by bumps and undulations.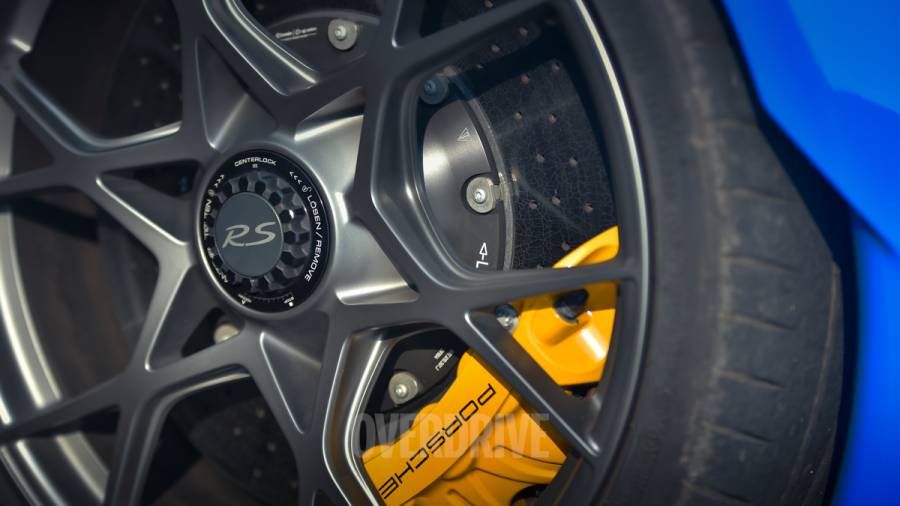 The carbon-ceramic discs are largely up to the job. They're linear at low speeds although the faster you go, you will need to remember to put in a strong dab of the pedal to get the Cayman GT4 RS to stop as well as you would like.
Porsche 718 Cayman GT4 RS: What is it like on the inside and out?
The Porsche 718 Cayman GT4 RS is not a very large car, about as long as a Honda City. But it sits wide and low, which when paired with this striking Shark Blue paint, makes the GT4 RS quite the crowd puller. Those exaggerated wings and flicks see to this but it must be said that the inherently taut but restrained look of the 718 Cayman has been preserved.
There's also the Weissach package as seen here. It doesn't really make the car go any faster but is something you must get if you want people to notice your GT4 RS. This package adds all the carbon bits to the bonnet, mirrors, intakes and wing. Also added are the titanium exhaust and that large Porsche sticker. The yellow highlight is another option on this car that makes it stand out further.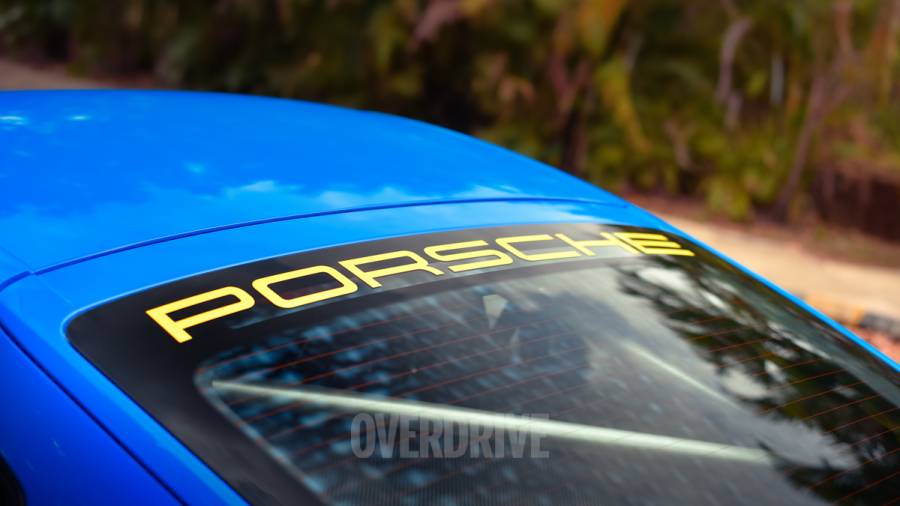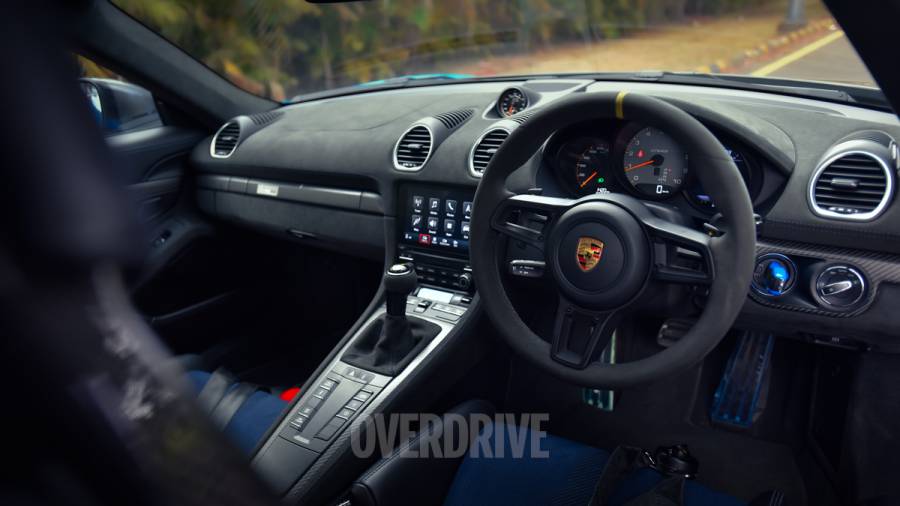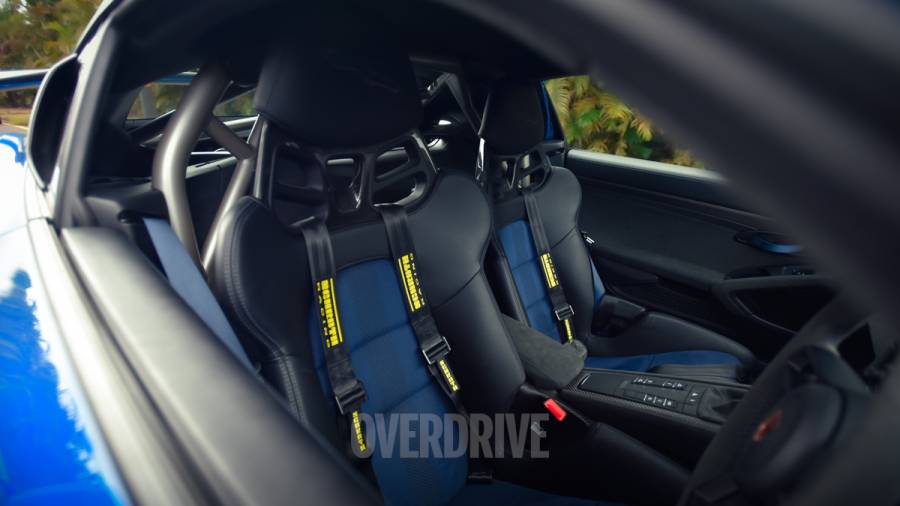 The Weissach package also extends to the inside where you get the carbon engine cover, the titanium roll-cage and extended suede trim. The interior design itself is now quite old, considering this 718 Cayman is nearing the end of its life cycle, but the level of quality is impeccable as usual. The leather and suede covering on the seats, wheel, gear selector and other bits put across this car's sporty theme well enough. But it's the extended carbon finishes on the doors, the simple analogue gauge cluster, the fabric door pulls, the racing harness and the optional fire extinguisher that truly set the mood for what the Cayman GT4 RS has to offer.
Porsche 718 Cayman GT4 RS: Should you get one?
In an age where power outputs and 0 to 100 kmph times seem to hold more ground than anything else, the Porsche 718 Cayman GT4 RS stands out further still. It'll be about as fast as anything else around a lap of a circuit, but the way it brings alive the sensation of driving is what makes the GT4 RS so special. It really does feel like the best minds at Porsche have gone about creating their idea of what a mid-engined driver's car should be like. Sure, it's quite expensive, and if you are lucky enough to afford one, it'll be a pain to live with daily and you'll be quickly impatient to let off some steam. Get a chance to do this on a good bit of road, the GT4 RS will be ready to fill you with sensations that'll make you immediately remember why you like cars to begin with. It'll make for a red-letter day.
Images by Anis Shaikh
Also read,
Porsche Cayman GT4 RS launched at the Festival of Dreams
Porsche 718 Spyder RS debuts as the ultimate open-top Cayman
Green Light: Porsche Macan GTS on the Mumbai-Delhi Expressway
Price (Ex-Delhi)
Starts Rs 1.05 Crore
Price (Ex-Delhi)
Starts Rs 86 Lakhs
Price (Ex-Delhi)
Starts Rs 10.9 Lakhs
Price (Ex-Delhi)
Starts Rs 1.38 Crore
Price (Ex-Delhi)
Starts Rs 69.98 Lakhs