Maserati Quattroporte GTS road test review
In 2003, Maserati made history with what I'm convinced is one of the best looking sedans of the modern era, the fifth gen Quattroporte. 12 years down, I still get a minor aneurysm and painfully sprained neck whenever I spot one. There's no other way to describe it, it's sex on wheels. The new one uses the same recipe of long, flowing Italian heartbreak but with the nose from the stunning Gran Turismo sportscar. The result is a car that makes people stop in their tracks, forget what they were doing and momentarily reduce them to slackjawed zombies. It's rare for a car to have that effect in a city like Mumbai where flashy machines are a part of the landscape but the Quattroporte spares no bystanders. Most don't even know what it is, but they damn well know it's something special.
Design and engineering
Sitting behind the wheel, it's easy to forget just how big this car is. Stretching over 5.2m, I can think of a very few cars that are this big. But just as those subtly voluptuous lines mask the bulk outside, the feeling is somehow replicated from within the cabin too. I remember an M5 feeling larger and more intimidating in traffic. The Italians have even managed to make it about 100kg lighter than any of its rivals with a 50:50 weight distribution. Honestly, none of that matters. I'm just transfixed by those intoxicating haunches, the delectable 20-inch wheels with their many, many spokes, that hypnotising trident badge in the long and oh-so-low nose….
Plush, luxurious cabin is constructed in fine materials but doesn't quite match the beauty of the exteriors
It's an all consuming design, one the opulent and thoroughly luxurious cabin can't quite compete with. There's no doubt that this cabin belongs in a special, very expensive machine but it doesn't make you go gaga quite like the outsides have clearly made me. The optional leather in here is of the highest grade with minimal odour and free from pesky mosquito bites. What's the relevance of that? Apparently mosquitoes leave teeny tiny pockmarks in most leathers that us regular folk are used to. The space in the back is at S-Class levels, it's a real lounge back here and aside from reclining seats this pretty much has it all.
Elegant 20-inch wheels fill the wheel arches just ahead of the trademark Maserati vents in the fender
There's no doubt that a huge effort went into designing the Quattroporte and engineering it into reality. But there is a sense that after they were done, the Italians passionately yelled, 'Bellissimo!', blew a few kisses at their wondrous creation and popped the champagne. When you spend time with the car you notice that it lacks some of the over-engineering that goes into similar German machines to ensure that everything works just right. It's in the small details like the fiddly steering mounted controls or the low res touchscreen that often needs a heavy jab to register an input ( this is a car that debuted in 2013, a time when screens weren't quite so sharp). Or in the fact that some dials like the speedo read in metric units while others like the trip computer and climate control display in miles-per-gallon and Fahrenheit, respectively. I just couldn't figure how to switch them to easily understandable units without having to resort to a calculator to decide something simple like cabin temperature. It's almost as though the engineers said, 'since you insist, we have moved the steering wheel to the wrong side for you – don't bother about the rest, just enjoy!'
Quad pipes represent the firepower under the hood
Engine and performance
Oh, and enjoy it you will, for under the prettiness lies an engine of the highest pedigree – a Ferrari-built, 3.8-litre V8 with two turbos! All of the motor's 530 horses are sent to the rear wheels via an 8-speed automatic. There's a choice of three driving modes and a separate button to firm up the dampers on the adaptive 'Skyhook' suspension this car came fitted with. You can't individually tailor steering, suspension, engine and exhaust settings but there is a considerable difference between the modes. Sport keeps things very taut with crisp throttle response and a more aggressive power delivery. Switch to ICE (Increased Control And Efficiency) mode and the Quattroporte suddenly feels subdued with slow responses, making it very easy to drive. Flat out performance is very impressive with a measured 4.8s run to 100kmph and a claimed top speed of 307kmph. Equally shocking is the Maserati's ravenous appetite for fuel. The best we saw all day was 12.1kmpl on the highway but that number can easily drop below 4kmpl. It was an expensive test.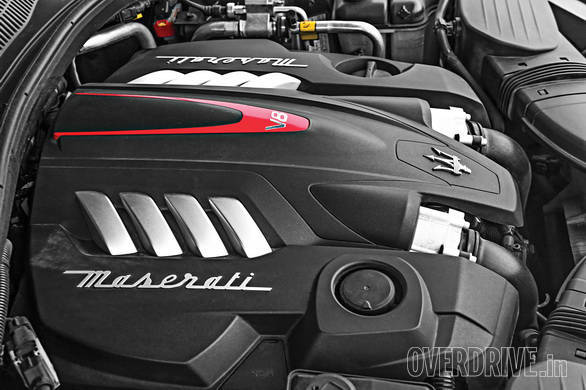 Ferrari builds the twin turbo V8 for Maserati. It's very fast and makes all the right noises
The GTS is a seriously fast car but in a very polished and restrained manner. Unlike the BMW M6 Gran Coupe, there isn't the same electric response between your right foot and the rear wheels – the power is put down much more cleanly. The gearbox is also more relaxed, offering swift but not particularly brutal, kick-in-the-back style shifts. I personally love the BMW's constant and dramatic battles with the ESP but most will appreciate the way a Quattroporte GTS manages to be a ballistic but relatively civilised experience. Also worth mentioning is the incredible noise the GTS makes in Sport mode, especially from the outside. The cabin is so well insulated, you have to lower the windows to appreciate it. It's a deep, guttural roar permeated by turbo wastegate noises and screaming rubber. Fantastic!
Ride and handling
Predictably, the GTS is stiffly sprung but it's not a deal breaker. In fact, on smooth roads I even found that the stiffer suspension setting was usable, not something most sporty cars can claim in India. It has an old school hydraulic steering rack, heavy with a decent amount of feel and feedback. However, what turns out to be this car's biggest issue is its ground clearance. Most low slung cars can handle our speedbreakers with care but the GTS scraped its belly numerous times despite gentle sideways crawling.
Show it a highway though and the GTS is in its element, feeling planted, serene and completely at ease at any speed south of 180kmph. There is much more performance in reserve above this but you then start to feel the speed and need to focus extra hard on our unpredictable roads. In the corners, the GTS is really impressive for a car so big. It sticks to lines resolutely and can carry some serious corner speeds. But you can tell that the electronics are working extra hard to keep everything in shape.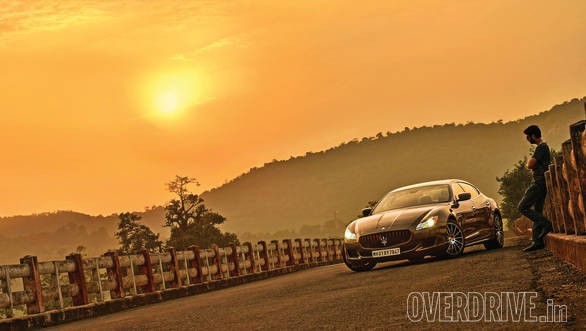 So good looking, you can stare at it all day into the sunset!
Conclusion
Maserati had a rather sour experience their first time out in India thanks to Ashish Chordia. Now they're attempting to re-enter the market with a range of cars from 2013. For now Maserati has one functioning dealership in Delhi while Mumbai and Bangalore will get showrooms shortly. This is a much smaller network than rival brands like Porsche and Mercedes-AMG. But the Rs 2.2 crore GTS makes up for it by being a lovely and very special car. I spent half my day staring longingly at it, urging Suresh to shoot more just so I could buy a little more time to gaze at the thing. It's so dominated by its good looks that things like performance and luxury tend to fade into the background. Besides which, most owners will spend a majority of time in the back seat, a place where comfort and luxury outweighs power and noise. Which makes the Rs 1.5 crore diesel Quattroporte with its better ride height and softer suspension more appealing.
| | |
| --- | --- |
| | |
| Drivetrain | |
| Type                             | 3799cc V8 twin turbo |
| Power                                  | 530PS@6,500-6,800rpm |
| Torque                 | 710Nm@2,250-3,500rpm |
| Transmission                     | 8-speed automatic |
| Valvetrain                     | 4-valves/cylinder |
| Power to weight              | 279PS/tonne |
| Chassis & dimensions | |
| Suspension F/R                | Adaptive |
| Brakes F/R                          | Ventilated discs |
| Tyres(F&R)                        | 245/40 R20 & 285/35 R20 |
| Kerb weight                      | 1,900kg |
| Fuel tank capacity            | 80 litres |
| LxWxH(mm)                    | 5262x1948x1481 |
| Performance & efficiency | |
| 0-100kmph                        | 4.8s |
| Top speed                          | 307kmph (claimed) |
| City/highway/overall    | 4.8/12.1/6.5kmpl |
| Price                | Rs 2.2 crore ex-Delhi |
| | |
Price (Ex-Delhi)
Starts Rs 1.67 Crore