Maruti Suzuki S-Cross facelift first drive review
In a time where SUVs are the bee's knees in the Indian market, the Maruti Suzuki S-Cross was a rather bold move by the brand. Taking on more SUV-like vehicles such as the Renault Duster and the Hyundai Creta, isn't easy, and admittedly, the Maruti Suzuki S-Cross hasn't ever set the sales charts on fire. That said though, it was a nice car overall - comfortable, practical and fairly involving to drive too. Maruti has now launched a facelift, which it hopes, will make the car even nicer.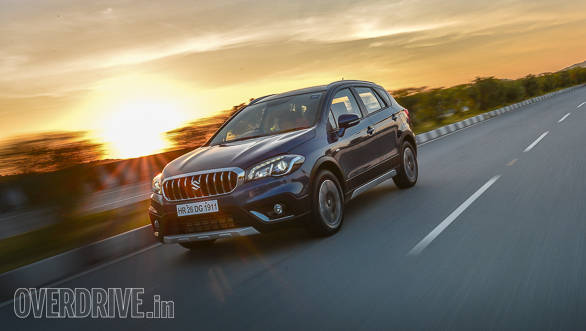 The Maruti Suzuki S-Cross' updated front-end gives more presence
The most noticeable changes you'll find are on the outside, especially at the front. The whole face is pretty much revamped with a more sculpted bonnet, new LED headlights with DRLs, a vertically slatted chrome grille and a new bumper with a new faux bash plate. Do I like it? While I don't love it, I don't not like it either. The new face gives it a bit more presence and character than the outgoing car, but at the same time, it can come off as a bit overdone. At the side you'll notice that the car gets new 16-inch wheels and a broader set of 215/60 section tyres. Oh and the tyres are new too - JK Tyre UX Royales from the previous JK Tyre Elanzo. At the rear, the Maruti Suzuki S-Cross gets a new bumper with a new faux bash plate, and updated taillight elements.
The rear of the Maruti Suzuki S-Cross still looks very similar to the outgoing car, save for the new tallight elements
Once you step inside the car though, the changes are so subtle, that you probably won't even notice them initially - I know I didn't. Maruti says there are new soft touch elements around the dashboard, which are nice, but there's nothing significantly new. But then there was nothing that ever needed change to begin with. The overall dashboard design is simple, clean and quite ergonomic too. It's got a slight European touch which quite suits the overall character of the car. There's also more than enough space to seat five and also plenty of boot space. Overall fit and finish is good, and the soft touch plastics all around certainly play their part in making this car feel quite premium. However, and this is something I've seen in other Maruti Suzuki products too, the fact that the door pads flex and move a little every time you roll the windows up, betrays the overall premium-ness of the car.
Changes to the Maruti Suzuki S-Cross' interior are so subtle that they're almost unnoticeable
Feature-wise, nothing has been added, but again, the Maruti Suzuki S-Cross didn't lack any features. You get automatic climate control, auto headlights and wipers, keyless entry and ignition, a cooled glove box and a good 7-inch touchscreen system which now supports Apple CarPlay and Android Auto. On second thought though, what could have been added are rear AC vents which, in a climate like ours and with a reasonably large cabin, would be appreciated a lot.
A more significant change to the Maruti Suzuki S-Cross however, is under the hood. Maruti has decided to drop the 119PS/320Nm 1.6-litre turbo-diesel that was available earlier, and will only offer the 90PS/200Nm 1.3-litre turbo-diesel with a five-speed manual. However, Maruti Suzuki has added the SHVS (Smart Hybrid Vehicle by Suzuki) system like in the Ciaz and the Ertiga. This system adds a start-stop system, a regenerative braking system and an electric motor which assists the car while moving from a standstill. Thanks to this, Maruti Suzuki is claiming an overall efficiency of 25.1kmpl, which is approximately a 7 per cent increase (2kmpl) over the previous car. Does it feel any different to drive though? Nope, not at all. But that's not a bad thing. The engine still has that familiarly noisy, with turbo-lag till around 1,800rpm, after which 200Nm of torque is simply shoved in your face, as the car pulls steadily till around 4,500rpm. It takes some getting used to, but if you like a bit of enthusiastic driving, you'll enjoy it. Thankfully, there's no torque steer at all, and the sharp, precise five-speed gearbox is a pleasure to use. The car does get up to triple digit speeds quickly, and you won't really miss the 1.6-litre engine. However, you will miss the 6-speed gearbox which makes the car feel a lot calmer at those speeds.
The Maruti Suzuki S-Cross continues to have a good balance between ride and handling
Like before, the Maruti Suzuki S-Cross' balance between ride quality and handling is one of the best parts of the car. The suspension goes about doing its job pretty quietly, soaking up all the small to medium sized pot holes without any complaints. The larger ones though, do cause a fair bit of movement in the cabin. But that's not something to complain about, because A) it's not a proper SUV, and you don't expect that of it, and B) it ensures that handling isn't a mess. The suspension does allow for a little bit of body roll, but it's well-controlled and nothing unnerving. The new tyres meanwhile, are a huge improvement from before, and there isn't too much road noise, squealing or understeer when you push the car. At the same time, the steering is sharp and offers a decent amount of feedback, which instills confidence to make quick direction changes. That said though, I do wish it weighed up some more at high speeds, like in the 1.6 variant.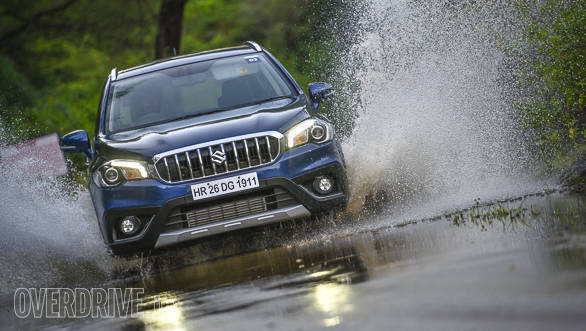 The Maruti Suzuki S-Cross, if priced well, could finally start selling in respectable numbers
Overall, the car hasn't changed too much. It's still very familiar to the previous 1.3-litre variant, while the decision to drop the 1.6-litre variant won't be missed by most. But familiar is good, because the outgoing model had just a few flaws to complain about. One of them was the slightly bland design, which Maruti has fixed. The other, was the high price tag. Unfortunately, with the car being over 4m, GST is going to be a bit heavy. To add to that, cars with the SHVS system, no longer benefit from the discounts that were offered under the FAME scheme. So it's definitely going to be tricky for Maruti Suzuki to price this right. But if they do, we might just have some movement on the sales chart.
Price (Ex-Delhi)
Starts Rs 8.39 Lakhs
Price (Ex-Delhi)
Starts Rs 9.99 Lakhs
Price (Ex-Delhi)
Starts Rs 8.49 Lakhs