Light my fire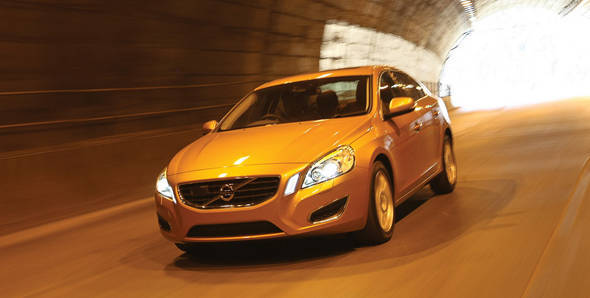 When Sirish drove the S60 D5 variant he was more eager to drive the T6 petrol version of the same car. He predicted it to be a sub 7-second car and well if only we'd paid more attention to him, we'd have been betting millions on the World Cup. Still the IPL is on and it's keeping Sirish busy because yes, the Volvo S60 T6 sped past 100kmph in 6.94 seconds. That's a very quick figure to post for a car that looks like it does not have a hint of aggression in it. The general consensus on the S60 has been very positive, Sirish found it to be a very likeable car with all the right ingredients to make you go wow much after you've got over staring at the beautifully sculpted exteriors. And I've been suitably impressed with the way she rides and handles, not to mention I've loved spending every minute inside that gorgeous cabin. BMW, Mercedes and even Audi need to study the page where it shows how Volvo designs interiors to feel elegant and inviting with fewer, neater and clearly identifiable elements.
But enough has been said on almost every aspect of the S60 and I'm here to tell you just how the petrol engine feels. The T6 petrol isn't new to Indian consumers. We recently experienced it in the XC60 but in a slightly lower state of tune. For the S60, the T6 which is a turbocharged engine, internally designated the B6304T, displaces 2953cc with an undersquare bore-stroke (82x93.2mm) configuration and a compression ratio of 9.3. The design of this engine permits it to have a high amount of torque available at low rpm so you get 440Nm of max torque at just 2100rpm. The max torque holds fort all the way till 4200rpm, giving it ample driveability at low speeds. Max power is upped to 304PS and that comes at 5600rpm. So on paper the S60 T6 is clearly the most powerful sedan in its segment by a clear margin.
The T6 then is nothing short of a firecracker. Acceleration is strong and lets the S60 build up momentum rapidly. There isn't turbo lag and power delivery is linear and seamless accompanied by an exhaust note that can only be described as lilting. It isn't an aggressive note, it's not going to scare any cows off the road but yes, step on the gas and you do hear the power of those six cylinders hammering away as that exhaust note rises emphatically. What makes it all the more pleasing to drive is that the engine responses are instant, almost sports car like, and this dynamic sense is further elevated thanks to the 6-speed Geartronic transmission which is impressively quick on the shifts. Volvo's engineers worked at refining this second generation gearbox and the use of new valves and less friction between parts results in quicker shifts.
This 6-speed gearbox has a sport mode which is basically a map or software that tells the gearbox to act sharp. The sports map alters the shift points raising it higher on the rev counter so that every single drop of power is extracted from that engine.
The power and torque are also distributed to all four wheels with an AWD system provided as standard along with the T6. This of course ensures seamless acceleration, and without any wheelspin the S60 puts all its power down evenly allowing lightning quick getaways.
As a result what we got was a 6.9-second time to 100kmph. Past the quarter mile the stopwatch indicated 14.87 seconds taking another 12 seconds thereon to cross a kilometre. And this engine also has all the characteristics of a diesel, a very quick diesel at that. According to the roll-on acceleration times, the S60 goes from 40-100kmph in drive mode in just 4.8 seconds which shows its mighty low and mid range torque that is usually characteristic of a strong diesel engine.
But immense work has gone predominantly into the refinement and efficiency of this engine which is already an award magnet. A low friction drive belt tensioner, revised frame bearings within the crankshaft and an aluminium water pump housing improve the engine's efficiency. The T6 has improved valve tappets also which feature a unique carbon surface treatment called Diamond Like Carbon. Thanks to the hardness of the carbon structure and its self lubricating properties camshaft friction has reduced to enhance fuel efficiency.
But where fuel efficiency is concerned Volvo also reworked the fuelling programs to reduce fuel consumption by nearly 10 per cent. For a 6-cylinder engine with 300 plus horsepower you need a lot of fuel to burn, so don't expect the S60 to be a miracle worker. In the city she achieves 6.9kmpl which increases to 13.5kmpl on the highway. Those give an overall 8.55kmpl and with the 67.5-litre fuel tank, a range of around 570 plus kilometres.
The explosive performance is complemented by an equally dynamic chassis and suspension. There would be a difference between the petrol and the diesel, the diesel having been tuned to accommodate a slightly heavier engine and ancillary parts. But undoubtedly the petrol is the more confident of the two. There isn't any pitch or roll and on most surfaces there is hardly anything that can upset the finesse of the S60. The suspension is stiff but not hard enough to make ride quality uncomfortable. And of course with AWD, the S60 is quite nicely composed. At high speeds on the expressway she is perfectly planted but I did detect a slight twitchiness in the steering wheel which is a result of that stiff suspension constantly feeding information between the road and the steering wheel. Yet give yourself some time to understand the S60 and it will become one of the most comfortable extensions in your life.
It's got the good looks to brighten up any day. That burnt orange shade especially is just marvellous and those interiors, art deco. While the petrol engine may not be the most frugal option available in the segment it is undoubtedly the most exciting. It's the closest you can get to an everyday sports car at a price point where you get a whole lot of goodies, unmatched luxury and this very unique but typically Scandinavian sense of style. And with Volvo steadily increasing its reach in the country, there isn't any reason why the S60 shouldn't set the tone that it has always been on the lookout for.