Jaguar F-Pace Prestige 20d road test review
The Jaguar F-Pace R-Sport is one of the most involving SUVs I've driven so far. And that's mostly because it doesn't really drive like an SUV, but more like a sportscar after a weight gain programme at a Gold's Gym. It runs a 300PS/700Nm, 3.0-litre V6 turbo-diesel that does 0-100kmph in 6.8s, and it handles like a dream. But it's also got a pretty hefty price tag – Rs 1.60 crore, on-road Mumbai. However, there is a comparatively cheaper option – the Prestige variant – which gets a smaller engine and fewer features. So does it offer better value for money than the R-Sport, without compromising on driver involvement? Let's see!
Design
I've said it once and I'll say it again – the F-Pace is one of the hottest-looking SUVs you'll find. Externally, there aren't many differences between the Prestige and R-Sport variants, with the latter getting a sportier set of 19-inch wheels instead of the Prestige's multi-spoke 18-inchers. The bumpers are a bit different too, especially at the rear where the twin exhaust tips are placed together in the Prestige variant.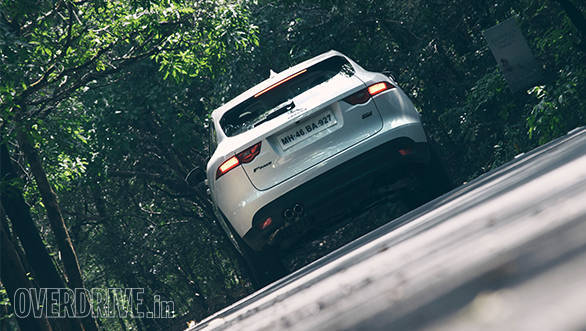 The interior layouts of the two cars look the same too, but the R-Sport gets contrast stitching on the dashboard and a more snug set of sports seats. The Prestige variant also gets a smaller touchscreen system and analogue dials in the instrument cluster, but can be optioned with the larger infotainment unit and digital cluster like the car here. Admittedly, the interior doesn't look as gorgeous as the exterior in the day. But as soon as it gets dark and the ambient lighting comes on, the interior looks a lot cooler.
Engine and performance
The F-Pace 20d variant runs an all-aluminium 2.0-litre turbocharged diesel engine and produces 179.47PS at 4,000rpm and 430Nm from 1,750-2,500rpm. Start it up and you'll find that it's not the quietest diesel engine, but it is creamy and refined. There is just a hint of lag till around 1,700rpm, but if you let the quick transmission do its thing, you'll never even notice it. When the engine is in its power band, power delivery is smooth and linear with a strong mid range and a good top end. However, it does fizzle out by around 4,500rpm while the redline is set at around 4,800rpm.
The F-Pace 20d is all-wheel driven and uses an 8-speed automatic transmission which is smooth and very responsive to throttle inputs. It delivers downshifts almost immediately, when you ask for it. Switch to Sport mode and as you'd expect, the gears shift up later and downshifts earlier, to ensure that the engine is almost always in its power band. But there are four other drive modes independent of the transmission's modes - Dynamic, Normal, Eco and All Surface Progress Control (ASPC). The ASPC works between 3.6-30kmph as a type of cruise control for low-traction surfaces. Speeds are controlled by the cruise control switches to ensure you don't make sharp throttle inputs which could cause a loss of traction.
Like the F-Pace R-Sport, the way the car pulls isn't aggressive or violent at all, which makes you think it's not quick. But the claimed 8.7 seconds it takes from 0-100kmph tells you otherwise.
Ride and handling
What made the F-Pace R-Sport most involving to drive was its corner carving ability. And thankfully the Prestige variant has that ability. It stays incredibly flat for an SUV around corners at high speeds, while turn-in is very quick and precise. The steering, meanwhile, offers good feedback for an electrically assisted unit and its weighting is well judged at all speeds. Like the R-Sport variant, this one gets a torque vectoring by braking system which helps keep the car in line when you're pushing hard. When this system detects you're going into a corner, it individually applies the brakes to the wheels on the inside of the corner to reduce their speeds. This makes turn-in super sharp and the F-Pace feels very nimble.
However, the relatively firm damping means that there's quite a bit of movement in the cabin if you don't slow down over the larger ruts and speed breakers. The smaller ones, however, are absorbed quite well, and the large tyre profiles should make it quite easy to live with.
Verdict
The F-Pace Prestige is certainly a very nice car - it looks great, handles like a dream and manages to be quite practical in our Indian conditions. The 2.0-litre diesel variant is definitely a very nice car to drive and keeps you almost as involved as the more powerful 30d trim. So that's one box checked. But what about the more important one - its price? The F-Pace Prestige will cost you Rs 1.05 crore, on-road Mumbai. While that is Rs 55 lakh cheaper than the R-Sport, it is still very expensive. To put things into perspective, a German rival like the Mercedes-Benz GLE starts at around Rs 79 lakh for the 2.2-litre diesel engine, while the 3.0-litre variant costs around Rs 93 lakh. However, unlike the GLE, the F-Pace is a CBU, and therefore attracts a lot of taxes. But also unlike the GLE, the F-Pace is a unique offering and in India at least, it feels a lot more exclusive.
Price (Ex-Delhi)
Starts Rs 69.9 Lakhs
Price (Ex-Delhi)
Starts Rs 73.7 Lakhs