India-bound 2018 Volvo XC40 first drive review
There's something special about a car that wears the Volvo badge. It's also unique and lately proven to be a very desirable luxury brand in India. The XC series in particular has seen the introduction of capable and attractive SUV's in the form of the XC90 and the just released all-new XC60. These Swedish machines make for a first-class choice despite there being a long list of exciting German options around. The XC portfolio however has been missing a compact SUV for a long time now, especially with this segment having seen rapid growth in almost every market around the globe. It seems like Volvo wasn't sitting idle all this time, now they have made one and it's all-set to roll out this year. Meet the Volvo XC40, the Swedish carmaker's reply to the Mercedes-Benz GLA, Audi Q3 and BMW X1. OVERDRIVE was recently invited to test this fresh and new Volvo in Barcelona, Spain and we came back very impressed.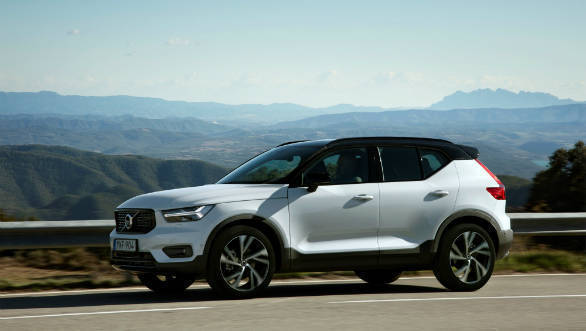 The exterior
There are only a few production cars that look almost identical to their initial concept sketches, and the Volvo XC40 is one of them. To confirm this-just-Google Volvo 40.1 and compare the image search results to the Volvo XC40 you see here and you will see for yourself.
The Volvo XC40 is an attractive SUV and just one look and I was hooked. The bold face is accentuated by the large family grille and signature Volvo 'Thor Hammer' LED headlamps. The clamshell bonnet sits quite high when compared to the competition and this gives it a typical SUV front rather than a crossover face that we are normally used to seeing in this segment.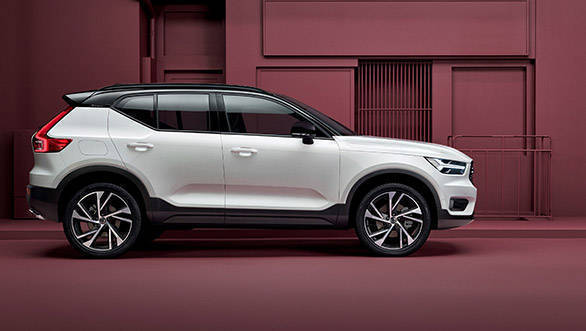 Move to the side and this is where you'll note that the XC40 is fresh and unlike any other Volvo out there. In fact Volvo says that the XC40 is more a cousin and not a sibling to the XC60 and XC90 SUV's, and we agree. The silhouette goes with the youngish character that is meant to appeal to the younger buyer. The short overhangs and the contrasting roof adds to the sportiness, especially in the R-Design trim since it's blacked out. Another unique and striking feature is the beltline that rises all the way to the upper end of the C-Pillar and merges on to the contrasting roof. This gives the pillar a thicker look, something not seen in other XC models. The test cars we drove featured snazzy 19 and 20-inch wheels and we prefer the latter thanks to the dual-tone styling and multi-spoke arrangement. The India-spec variant will mostly get 18-inch wheels and larger ones will be offered as an option.
The concept car inspired design is evident in the XC40's rear-end as well. Look closely and you'll notice that the rear is wider than the front section of the car; this is due to the muscular stance and a wider rear track width. The curved vertical taillamps look great and appear best when the sun goes down thanks to a thin LED signature outline. Unlike the larger XC models, the boot lid doesn't hold the registration plate and this gives the Volvo XC40's rear-end a clean look.
Stepping in
Step inside the Volvo XC 40 and one is greeted with an interior that's uncluttered and a design that is fresh yet similiar in some ways to the larger XC's. The chunky three-spoke steering looks premium and is great to grip too while the portrait oriented Sensus centre infotainment 9-inch screen is now a Volvo signature feature. The instrument cluster is a full digital TFT screen like all other Volvos on sale today. The vertical air-vents are unique and detailed well while the materials used are top-notch and easily one of the best we've seen from a car in this segment. The floor and door pads even get matching felt that's actually made of recycled bottles, good job Volvo!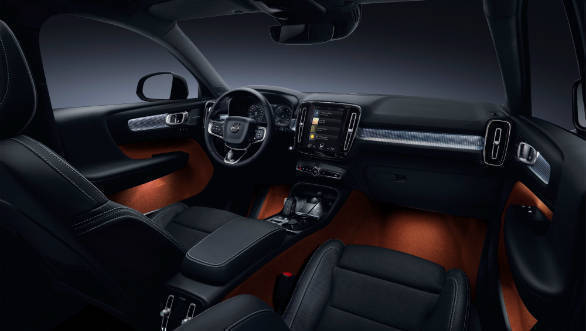 Volvo says that buyers in this segment also want practicality and that's been delivered as well. There are lots of clever storage points, like the wide and deep door pockets that can even accommodate a laptop, if needed. This is possible due to the removal of speakers from the door pad. Instead Volvo offers a unique air woofer that's air ventilated and placed above the dashboard, Volvo claims it's a world first. There's also a deep cubby hole that gets an optional wireless charging pad and a large centre armrest storage. To make things cleverer, the glove box has a small foldable 'curry hook' that can be used to hang your yummy take-away order or even a handbag or shopping bags. There are also easy to access points to slide in parking and toll cards.
The cabin offers remarkable passenger space and comfort thanks to its tall and wide body. There's enough front headroom and knee room even for tall drivers. The seats offer ample support and are comfortable on long drives as well. There is a lot of headroom even for rear passengers but knee room is just about adequate. The floor isn't fully flat and there is a centre transmission tunnel but it has been designed to be as non-intrusive as possible for the middle occupant. The boot is spacious and on par with competition with a capacity of 460-litres, going up to 1360-litres with the split seats folded down. Another interesting detail is the foldable boot floor; this lets it become a divider when locked in place and as a result gives access to storage compartments and hooks.
Under the skin
The Volvo XC40 will be available with two engine options initially, the petrol T5 and diesel D4. Both being four-cylinder turbocharged units mated to 8-speed Aisin automatics, which are found in other Volvo models as well. We got to drive both variants around Barcelona on the highway and through town. The D4 pushes out 190PS at 4000rpm and 400Nm of peak torque between 1750 and 2500rpm. On the road, the engine is smooth and NVH levels are impressive. Power delivery is linear making it a pleasure to drive in town and on the highway. Gear shifts are seamless and there's enough power available throughout the rev-range. The diesel XC40 is quick off the line too, Volvo claims a 0 to 100kmph time of 7.9 seconds.
The petrol powered T5 meanwhile is even quicker thanks to a total power output of 247PS available at 5500rpm. Peak torque is an impressive, 350Nm that's produced from as low as 1800rpm going up to 4800rpm. After driving the diesel for a good 100 odd kms, the petrol immediately felt a lot more lively and eager. The engine is also quieter than expected even when you step on the pedal and the exhaust note is barely audible, something we did not expect from this XC40, especially in R-Design trim. The T5 goes well with the Volvo XC40's character as it makes it fairly powerful for a compact SUV.
Both diesel and petrol models have various driving modes - Eco, Comfort, Dynamic, Off-road and Individual. These modes basically alter the throttle and transmission response, steering feel and the all-wheel drive system's torque bias. Dynamic mode does improve throttle response noticeably and we ended up using this mode the most especially on the fast highway sections and around a few corners while driving up a nearby hill around Barcelona. In terms of handling, the steering is quite direct and weighs up well as speeds increase. Body roll is controlled despite the tallish stance and overall grip is impressive. The R-Design variant of the VolvoXC40 is more impressive in this department thanks to a stiffer chassis, beefier anti-roll bars, firmer springs, dampers and monotube rear suspension along with 245-section Pirelli P Zero rubber developed exclusively for Volvo. Indian models will get the R-Design package but it has to be seen if the same tyres will be offered.
The diesel XC40 is slightly more nose heavy but holds its line well despite the additional weight. Ride quality is impressive despite the large 19 and 20-inch wheels. Though we drove on only a few broken roads the way the suspension worked suggests that the smaller 18-inch wheels will improve the ride further and make more sense for India.
Summing it up
The Volvo XC40 will be sold as a CBU when it goes on sale in India sometime in August 2018. It will mostly be available in two variants initially, the diesel will either be offered in the more affordable Momentum trim or the top-end Inscription while the petrol will get the R-Design package. All variants including the base Momentum will get LED headlamps, navigation, City Safety package with pedestrian, cyclist and large animal detection, oncoming lane mitigation, 18-inch wheels, rear park assist, 9-inch infotainment screen and a 12.3-inch TFT instrument cluster. Some of these features have never been offered in this segment, before even in top-end trims, and it will be nice to see Volvo offering them as standard.
Volvo has taken its time but has built a very impressive compact SUV in the form of the XC40. It offers the best of Volvo's SUV styling and presence with a smaller footprint. The Swedish carmaker is known for pricing its cars competitively in India and we expect the same with the XC40 as well. Our guess is a price range between Rs 35-40 lakh. At this price point, Volvo should surely have a potential winner on its hands.
The CMA platform
The XC40 is an important new model for Volvo; it is not just their first compact SUV but also the first car to be built on an all-new platform, the CMA (Compact Modular Architecture). The CMA has been developed for use in Volvo's future 40 Series cars including the soon to be unveiled S40 and V40 as well as upcoming Geely models. The platform uses transverse engines, MacPherson struts up front and a multi-link rear setup for use in front and all-wheel drive cars and can accommodate a wide range of powertrains including pure electric and hybrid units.
Price (Ex-Delhi)
Starts Rs 39.9 Lakhs
Price (Ex-Delhi)
Starts Rs 32.48 Lakhs
Price (Ex-Delhi)
Starts Rs 35.9 Lakhs
Price (Ex-Delhi)
Starts Rs 42.1 Lakhs