Hero Xpulse 200 4V first ride review
The Xpulse 200 has always been a special dual-purpose machine, in our country. Given its displacement, pricing and most importantly, capabilities off-the-road, there's absolutely nothing that comes close to it at this point in time. But remember this is a dual purpose motorcycle and if there was anything that this bike was lacking it would have to be engine refinement and performance in the mid range and top end. The bike was all there to be felt when you set off down the highway. This was the case when hero came out with the BS-VI version of the Xpulse 200 last year.. but this year the company has put in even more effort into improving this already outstanding machine. This is the Xpulse 200 4V..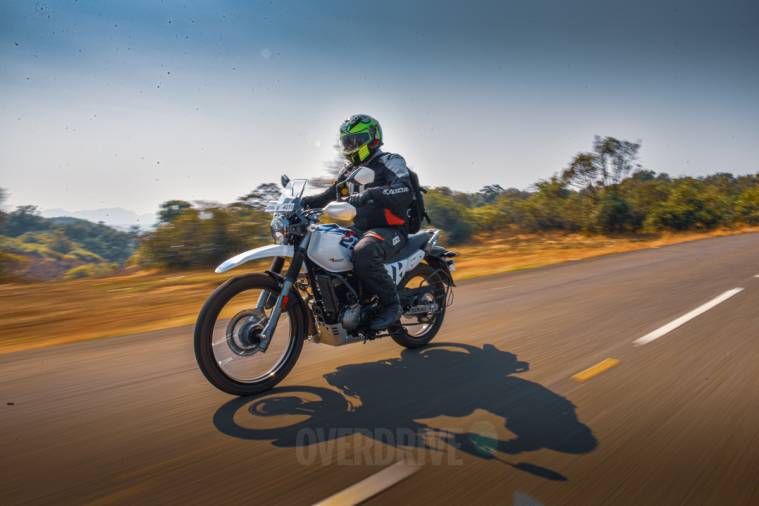 When Hero says that it takes the feedback from its customers seriously, we'd tend to believe them, because, the company's certainly done so with the Xpulse. For instance, take the 2V BS-VI Xpulse 200 that came out last year, some felt that the switchgear needed to be changed around – things like the rocker-style highbeam switch kept dropping off for some reason, so, in steps Hero to address this issue by changing the switchgear around with the Xpulse 200 4V, and while it doesn't look very special, it all feels built to last and good to use. Then there's the headlight of the older BS-VI bike which most felt to be weak. In comes Hero with a tweaked unit that's supposed to be about 20 per cent brighter than before, but I can attest that there's honestly still room for improvement on this front. Besides this there's other run-off-the-mill stuff cosmetic changes like the some new stickers on the tank and panels and even the new paint colour options that aim to freshen things up a bit too, and it has worked.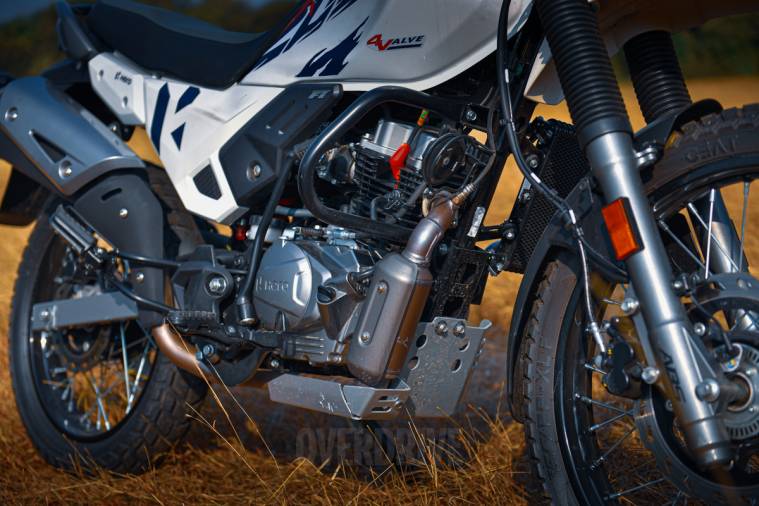 Now the most significant of changes with this motorcycle has to be the engine. The 4V in the bikes name stands for 4 valves.. which is 2 more than the older Xpulse model. Adding 2 valves reduces the pressure on the valvetrain and allows the engine to go about its business a lot smoother and cleaner especially at high revs.. this has also meant a slight bump up in power by 1PS and about 1Nm.. which might sound rather insignificant.. but it doesn't end just there.. the oil cooler is slightly bigger to help the engine cope better.. the gearing ratios has been altered and even the rear sprocket has grown in size and now has 7 teeth more than before to distribute power and torque better.. and this all translates to the Xpulse being a a lot more highway-friendly and a better touring machine.
The added power and torque are spread a lot more evenly across the powerband. The first two gears of the Xpulse's five-speeder are really short and are more suited to off-road riding scenarios. You'll often find yourself in third when you're in pottering around town at city speeds, while fourth and fifth gears are tall and more suited to speeds out on the open highway. A great thing of the Xpulse 4V is that now, the engine is a lot more refined, it sounds a bit gruff the higher you climb up the powerband, but it definitely feels less stressed than before. The bike gets off the line a lot quicker and even at low speed in-gear acceleration feels a lot livelier. Pick up the pace out on the open road, the motor doesn't feel out of its element like before, and you can hit speeds of 80-90kmph at 6,500rpm and hold it there very comfortably. 100kmph also feels very manageable as well, and there's even some more power in store to pull off an overtake on vehicles travelling at that speed, but it feels a overworked crossing the 110kmph mark at little over 7,500 revs. Another commendable but is that there are barely any vibrations to be felt around the 100kmph mark – which makes Hero's efforts on this front laudable.
The diamond-type chassis is still the same as before, and if you've ridden the older XPulse 200, you'll know that that's never going to be a bad thing. The suspension units at both ends and even the brakes with single-channel ABS have been carried over from the older BS-VI bike which came out last year. The Instrument cluster is the same too, just that the Bluetooth connectivity software has been received an update.
Off-the-road, the Xpulse remains just an impressive and capable machine as it was before – it's still got that remarkable go anywhere attitude, it's light easy to manoeuver, and more importantly a lot of fun to ride. The suspension is meant to tackle the rough stuff off road, but we all know how, out here in India our road conditions can test the limits any and all suspension units. It's a bike that really makes a lot sense for a country like ours because it's just so good at ironing out the rough stuff. Whether you're hitting bumps on purpose or not, this bike is just so forgiving, it's brilliant. And now with the new updates, Hero has strengthened the bike's dual purpose credentials. It's a perfect learning tool if you're getting used to riding off-road. More experienced riders will fancy the rally kit – which gives you better ground clearance, better knobby tyres, adjustable front suspension, flat bench seat, extended levers and so on.
Another thing that deserves a mention with the Xpulse 4V is its seat padding – and this makes a world of a difference. It's a lot firmer now. And your back and your backside won't be crying out for mercy as soon as you head out on long ride. And that's something that has literally helped make the Xpulse a better machine in the long run.
Now while the Hero Xpulse really excelled offroad, it was never really known to be a great highway tourer. Now have the company addressed that stature of this particular vehicle? Yes, it most certainly has. Now it's not only the engine, the gearbox or even the new rations and sprocket, but it's more of how it all comes together, including the little bits like the seat, that make the Xpulse a better motorcycle than the previous 2Valve iteration was. Considering the fact that all these new changes and bits come for just Rs 6,000 over the older 2V model, it's a steal. Hero have certainly sweetened the deal with this one.
Price (Ex-Delhi)
Starts Rs 98,500
Price (Ex-Delhi)
Starts Rs 1,28,150