Hero Xoom 110 first ride review
Hero MotoCorp has always been known to price its two-wheeler products very competitively out here in India, in all the segments that it plays a part in, and the scooter that we have out here today, the newly launched Xoom 110cc scooter, is no exception to that fact.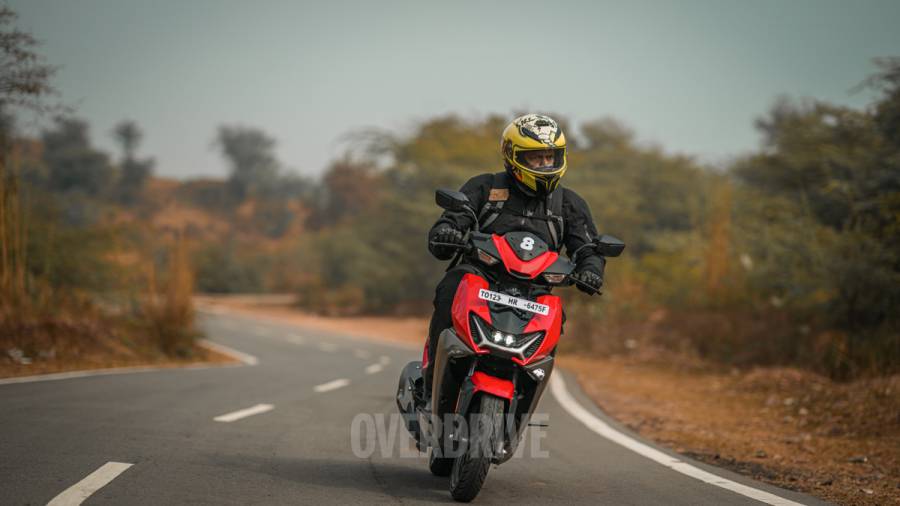 There are three trim variants that this scooter can be had in – starting with the Standard variant which will cost you around Rs 69k (ex-showroom), top-end ZX variant, which is this one, will set you back by around Rs 77k. Now this makes it competitively priced in its segment of operation where it will take on competition in the form of the Honda Dio and the TVS Jupiter 110cc scooters, and as you can see – it looks striking in terms of design and it also packs a lot of first-in-its-class features. But how does it fair out on the road, out in the real world? We have a very limited amount of time to find out this time around, so let's get right to it.
The Xoom is powered by the same the 110.9cc motor that already does duty in Hero's Maestro Edge and the Pleasure + scooter models. Output levels of the motor are identical, at 8.2PS and 8.7Nm, and with this new one you even get Hero's idle start stop tech or i3S to aid you in your quest for bettered mileage on the top two Xoom variants. Performance from the engine is just like before, it feels quick to accelerate to around 40-45kmph and the scooter feels at ease at this point. Pushing to 60kmph comes along quite nicely too but after that the engine can be sound quite brash with the speedo indicating about 80kmph. So when it comes to engine refinement, there's definite room for improvement here.
Hero says that the Xoom's chassis is almost identical to that of the other two 110cc scooters, although there have been some tweaks to accommodate the panels and bigger rear wheel. The telescopic fork and offset monoshock suspension set-up, is carried over from the Maestro and Pleasure as well but has been recalibrated to be stiffer in order to provide a sportier ride experience.
In terms of the Xoom 110cc's underpinnings, there's not a lot that's all new here but in terms of its ride and handling, this scooter's front end is really light which makes getting through traffic in the city hassle-free. You'll manage really easily. The engine fairs decently well in the city, but out on the highway, it's still a 110cc CVT scooter, so it will just about take you to 90odd kmph top speed.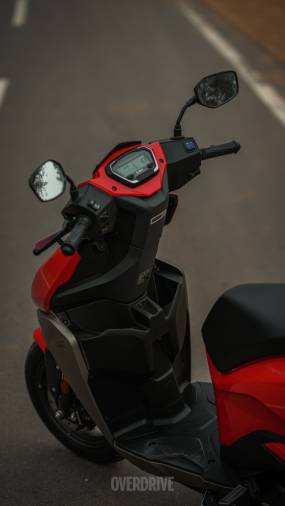 Changing direction on the Xoom is never a problem, and even taking U-turns on the scoot is a breeze on account of the awesome turning radius. While on paper, the ground clearance might not seem like much compared to the competition, the suspension is set up stiff, so there's less pitching about which allows it to clear ditches quite nicely. But taking on rumblers and rutted surfaces at speed is unsettling and it'll definitely rattle your bones.
The Xoom becomes Hero's the third offering in its 110cc scooter line-up after the Maestro Edge and the Pleasure + models. It's easy to make out that the Xoom is the more, sporty modern looking of the lot of them with all its sharp edgy cuts and creases all along its body panels. The scooter also gets some deep storage bays behind the front apron and there's even a USB port thrown in for good measure, but what's notable here are its first in class features – like the an LED headlight with its catchy H-shaped DRL, and the same replicated at the rear of the scooter too. Then you have the fully digital instrumentation which comes with Bluetooth connectivity and a big 12-inch wheel at the rear instead of the usual 10-incher. But the one feature that's bound to raise your eyebrow is the cornering lights – yes, this scooter uses a gyroscope to detect lean angle, and then illuminates a lights on either side of the scooter's apron accordingly. We're not too sure what to make of the system's functioning too, and since our brief stint with the Xoom was during the day this time around, we didn't have a chance to see how effectively this system works. So we'll reserve judgment on that bit for a later time.
In order to keep with the swanky new design and keep costs in check, Hero refrained from having an external fuel filler lid with the Xoom, and you'll have to do things the good old fashioned way by removing the key from the ignition and jabbing it in the side. Although the paint quality is alright for a scooter at this price point, if I had to knit pick, I'd say that the level of fit and finish could be a little better.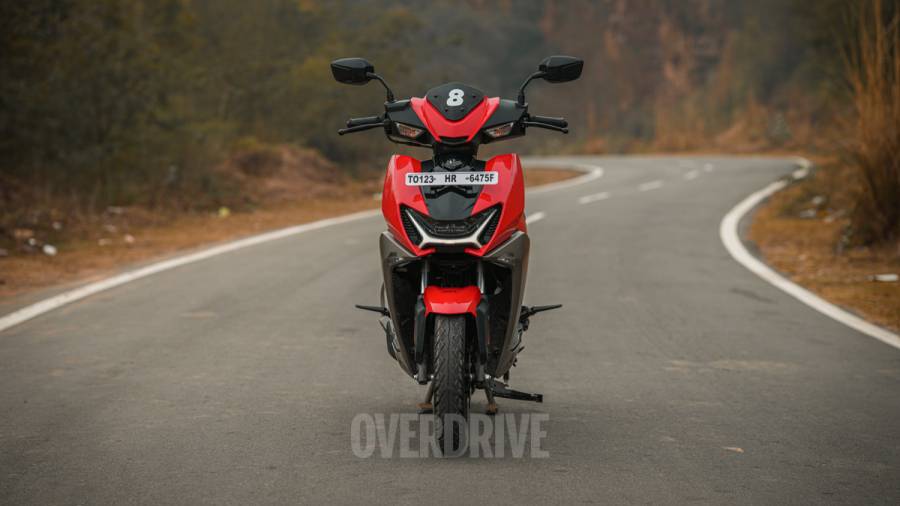 Coming down to the Xoom's pricing, prices for the three variants are Rs 69,000 Rs 72,000 and Rs 77,000 respectively. The top spec ZX Hero scooter is almost Rs 8,000 cheaper than the top-drawer TVS Jupiter 110 and about Rs 5,000 more costly than its direct rival the Honda Dio, but with the Hero you do get a features like the i3S, cornering lights.
So yes, Hero is offering you a good looking scooter that's packed with features and its overall attractiveness is only accentuated by its pricing, but when it comes to functionality, there are some setbacks. For starters, the foot-room on offer here is at a premium for the rider with the storage spaces eating away at precious room. This leaves little or no space for you to place items between your feet, in terms of bags, parcels bags or something that you'd usually carry in that space. I'm not disappointed with the absence of an external fuel filler lid, but access to the underseat storage could have been simplified through an accommodation on the scooter's ignition.
With all that this scooter brings t the table in terms of it's first in its class tech the big 12-inch rear wheel and everything, it is designed to be a sporty scooter that is targeted at a younger audience, and it does that. It will appeal to that audience. But then again in terms of downright functionality, as a whole, this scooter certainly does have its shortcomings, although we'll definitely have to spend more time with this scooter than we did this time around to understand it better.
Price (Ex-Delhi)
Starts Rs 54,800
Price (Ex-Delhi)
Starts Rs 59,990
Price (Ex-Delhi)
Starts Rs 54,349