Harley-Davidson - Sportster S first ride review
It's been almost 10 years now that American manufacturer Harley-Davidson has been experimenting with its bikes. The company has been drifting away from the traditional burly chrome-clad cruisers of the past and producing more modern-cut, tech-savvy kinds of motorcycles. Cut back to 2013 when Harley-Davidson came out with the LiveWire Electric which caught the world by surprise. That now is a complete spin-off brand on its own. A year later H-D came out with the 750, the street-bike which not a lot of people really took a liking to. A couple of years on Harley introduced the Pan America 1250, the big adventure bike, which honestly no old-school Harley aficionado really saw coming in their wildest dreams, or even their nightmares. And now here we have the brand's next step in its evolution – the Sportster S. now this is a far cry from the previous gen Sportsters that Harley has come out before. It's beefy, its a lot more tech-heavy, it's a lot more powerful, and it's a lot less of a cruiser. Now although Harley is saying that this is the next step in its evolution, is this new bike a revelation out here in India? Well, it's time to find out.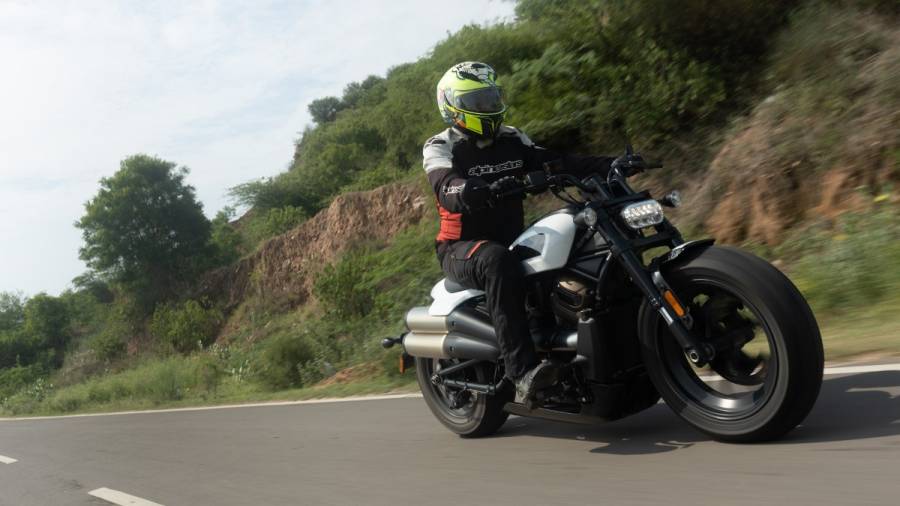 Design:
Starting off with the way this bike looks, it resembles no other Sportster machine that Harley-Davidson has come out with ever before. It's a lot more compact, a lot chunkier, muscular and boy does it look attractive. Starting with the front – up ahead you have this big chunky 160/70-17 inch tyre which could easily be swapped for a rear tyre on some other cruisers. It adds a great deal of bulk to the front end. Go further up you get a nice solid 43mm telescopic fork, but not a lot of travel room once you account for the bikes compact dimensions. Then you have the LED headlamp unit with indicator bulbs. Once again it appears to drifts away from the simplicity that the Harley Sportster was known for. Coming up to the bars, which are nice and flat sort of flat-tracker style which are a bit forward-set. Then you have the 4-inch round TFT digital display which once again breaks away from the old- Harley-Davidson bikes that you've been accustomed to seeing over the course of time. A lot of tech and riding aids are thrown on there. Coming back to the – you get a 12-litre unit which should give you a good range out on the highway which will allow you to cover a good amount of ground.
Under the tank, you have Harley-Davidson's big 1200cc Revolution Max engine, which is the real highlight of this motorcycle. It's almost identical to the unit that powers the big Pan America. You will also notice the suffix T to the engine's name – and that stands for torque. While on the Pan America you'll have to shift down a gear to take on tricky terrain, with the SPortster S, well it's designed to tear up city streets, so peak torque is more accessible in the mid-range of the powerband. Like with the big ADV bike the engine here is a stressed member in the frame that helps reduce weight. Harley has done ever so well to stuff that big engine in there and it looks ever so neat and just so darn gorgeous.
You have that massive and brilliant 2-1-2 exhaust unit, catches your eye as soon as you glance the bikes way. Simply outstanding. Then you get a single-piece seat on top. You do have the option of adding an extension for a pillion seat with a back rest as well, but honestly, there are better bikes to cater to that if you want to ride with a pillion. Further, out back you have an even chunkier 180/70-16 inch tyre. Overall the bike looks fantastic, but it does have its shortcomings.
Engine, Performance and Features:
The Sportster S is powered by the 1250cc Revolution Max engine, it's the same engine that sits in the Big Pan America ADV bike, there's enough torque and a good deal of power as well around 120PS, which is about 30PS less than the Pan America, but it produces almost the same amount of torque at 128Nm and hits peak output sooner (at 6,000rpm).
Power delivery is just tremendous. Low down the powerband, short shifting at around 2,000rpm, the engine does get a bit clunky, but when the needle rises north of that, man this thing just takes off. It just wants to hit the 9,000rpm redline every single time. Boy! This engine is a hoot. The power mill is very refined, unlike any other Harley-Davidson that I've ridden before. It's a far cry from the older Milwaukee Eight cruiser engines in its other motorcycles. This bike is in a league of its own. The motor cries to be revved hard, and overall, it feels at ease at higher speeds.
The Sportster S comes with a host of tech and riding aids that includes ride modes like Rain, and Sport and even comes with customisable modes which allow you to set the engine maps, engine braking, traction control, cornering abs, and so on, as per your preference. You even have Bluetooth connectivity and cruise control. But the ride modes are my favourite. In sport mode, this bike is just ballistic and you'll have to really hold on tight to stay on the bike which is exhilarating and unlike any other Harley Davidson I've ever ridden before. Even the small twist of a throttle propels you forward with great enthusiasm. See a nice, long and flat stretch of the open and you feel compelled to whack the throttle open and roar to the end. The only downside on the performance front has to be this bike's brakes. The single disc up front feels inadequate when you're riding fast and need to stop in a jiffy. I think that having a twin disc setup up front, like the Pan Am, would have made a world of a difference, although it might much up the bike's overall aesthetic.
Ride and handling:
With the ergonomics of this bike, you will have your legs in a forward-set, very cruiser-like position. The handlebars will have you hunched forward a bit if you're as tall as me, at 5'9, and it can get a bit cumbersome over long distances you do have the option of throwing on mid-mounted footpegs, but that will obviously cost extra.
Harley has tried something very different with this bike. It's sporty, chunky, it's heavy (at 230kg), and given its wheel size alone, this one was never going to be the best of handlers. Chuck it into a corner, it doesn't feel very comfortable and it'll take a bit of effort to keep to the line because it just wants to sit up straight all the time. When you ease off the gas and lean into a corner, it feels uncomfortable. You'll always have to be on the gas with this machine. With 90mm of ground clearance – which is painfully low – speed breakers will often be an issue. And of course you have the stiff suspension setup to deal with. Having a look at both ends, there's not a lot of room to play with and this will take a toll on your back when you hit a bump. Given Indian conditions, that's pretty much inevitable. Although the suspension settings are adjustable - up front you can adjust for preload rebound and compression – there's not a lot that you can really work with out there and after a couple of days of riding you will want to visit a chiropractor.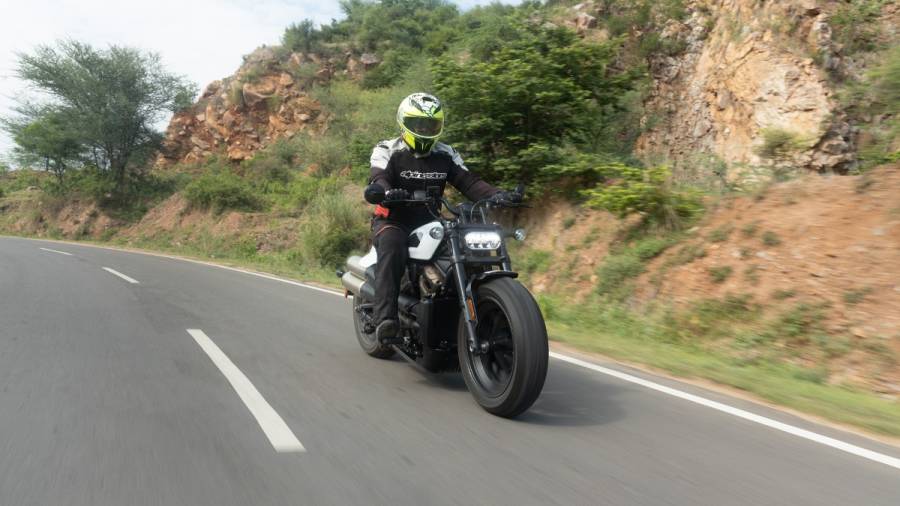 Conclusion:
Out in a place like Delhi, a bike like the Sportster S will set you back by around Rs 16.5 lakh which is for the standard black coloured variant. This alternate white coloured bike will cost you Rs 15,000 extra. Now is this bike a real revelation in a country like India? In all honesty, no it is not. It looks fantastic, with a lot of visual appeal. It feels nice to ride over short distances but over long distances, not so much so. Given the state of the road in our country, swing a leg over this one and you're assured one hell of a bumpy ride. You're either going to land up damaging the bike or your back. So at the end of it, it doesn't make a really great deal of sense. Although if you are a Harley aficionado you will want to get your hands on this one because it's like no other bike the company have come out with before, period. It is unique, it is sporty, its really breaks the mold.
Photography: Mohit Hambiria
Price (Ex-Delhi)
Starts Rs 15,51,000