Harley-Davidson Livewire first ride review
Harley-Davidson was always a very traditionalistic motorcycle company staying true to its roots and sticking to a formula that's seen it dominate the American motorcycle industry for over a century. That formula has evolved over the years but the basic formula (large twin engine in a laid-back street chassis) never changed. Harley-Davidson only ever used its other brands (like Buell and Aermacchi) to experiment with other forms of motorcycling. Of late though things seem to be moving at a much faster pace in the H-D think tank and the first real break in tradition was the Revolution engine in the V-Rod series with heaps of power and liquid cooling. An even bigger change came in 2009 with their first regular production sport motorcycle - the XR1200. It's also trying to lower the average H-D customer demographic by targeting a younger crowd with the new Street series of motorcycles. So with the Livewire is it now aiming Cupid's arrow at the tree hugging fraternity? We headed to Malaysia to ride its first prototype electric motorcycle to find out.
The stunning front end is very cool and classically beautiful at the same time
When I got my first, in the flesh, glimpse of the Project Livewire, I was surprised by how compact a motorcycle it is. That's probably down to the stunt woman/Scarlett Johansson's petite frame making it appear larger than life in the Avengers: Age of Ultron trailer. There's also been a flood of its images and videos on the Internet since its reveal in June last year so it is a familiar motorcycle, but it's quite a departure from anything on sale from the American manufacturer. In fact H-D said that when it presented the motorcycle to early focus groups, it omitted any branding and when people were asked to guess what manufacturer this motorcycle came from, the answers included a number of European and Italian marquees. In Harley's own words, the makers wanted it to look more electric guitar than cute electric car. And with the sporty profile and butch black and red colour scheme you can't deny that they have shed any cuteness typical to most electric vehicles. Once you do know the family name though, there are some lines and shapes that start to look familiar. The whole front end, the lines of the tank and the shape of the seat cowling seem to remind me of some H-D model or another.
Like the actress riding it on celluloid, the Livewire sports a gorgeous face, dominated by a beautiful round headlamp. The vertical stacked array of projector lamps contrasts with the horizontal indicators and they have also cleverly integrated the rear view mirrors on to the back of the indicator brackets for a clean look. The trellis like frame does a good job of breaking up the characterless mass of batteries that dominates the central mass of the motorcycle. Harley says that at 6.3kg it's the lightest frame it has ever built.
The faux tank sports the last badge you'd expect on something so futuristic.
Under the batteries, and near the bottom of the motorcycle resides the chromed electric motor. It's been designed to emulate the massive superchargers that stick out of over-the-top tuned American muscle cars. It's a good way to disguise an unfamiliar looking electric motor and also gives customers (American) something they can relate to. Overall it's a sporty design that's quirky but attractive at the same time. The motor is powered by a 10kW lithium-ion battery pack and is good for about 80 kilometres in Range mode and 50 kilometres in Power mode. It's mounted longitudinally in the frame with a linkage flipping the drive 90 degrees to drive the rear wheel. From its size and shape it looks like it's a 55kW unit but Harley-Davidson is sticking to its guns and not releasing too many details as this is a prototype.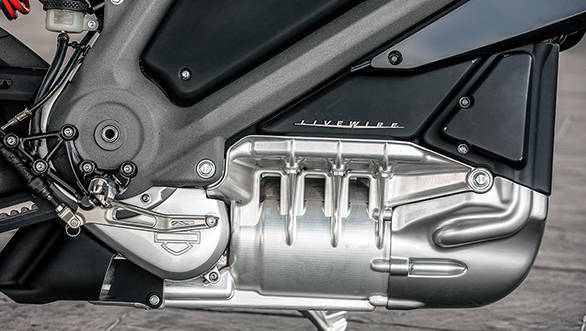 Longitudinally mounted electric motor sounds like a jet engine taking off
We had a short briefing on the starting procedure, the fact that it has no clutch lever or gears to shift through and then we were ready to head out for a ride. The riding position is very sporty and again quite unlike Harley. Your feet reach back to the pegs and the flat handlebars are a comfortable reach forward – very streetfighter and very nice. You need to hold the start button down for a couple of seconds till the 8-inch colour touchscreen monitor comes to life. The screen asks you to choose between two ride modes, range or power, then you thumb the starter button again and you're ready to go. But when you do thumb the starter for the second time nothing much happens. Nothing in the traditional sense. There is no thundering roar as the motor comes to life nor is there the idling 'potato, potato' we're used to from any other Harley-Davidson. The second press of the starter is met with an eerie silence. But it's actually ready to go at the twist of the throttle.
We were asked to use range mode to conserve battery life and even in this lower output mode, that twist got the motorcycle to pull away briskly and cleanly. There is quite a bit of power from the electric motor but it's delivered in a very gradual and progressive manner. Harley claims that it's capable to sprint to 100kmph in less than four seconds in full power mode. It's also limited to 150kmph but we had no chance of getting anywhere near the limit on our first orientation ride in a closed parking lot.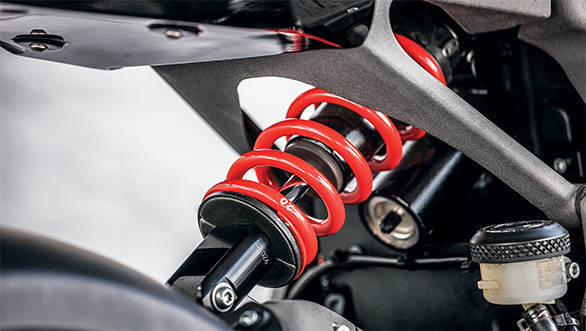 Our second ride thankfully, was a much longer one and snaked through some twisty service roads adjoining the Sepang International Circuit in Malaysia. Here we had a chance to open the throttle and push the motorcycle a little, through some nice fast corners. After the smooth acceleration delived from the flat torque curve, the other thing you notice is the whine of the electric engine that Harley has spent some effort in amplifying - making a feature out of a by product of the electric drive train that can't be hidden. It's different and not unpleasant, though I can't say how that sound will linger in your ears after a long ride.
The 8-inch touchscreen displays battery status and temperatures
It's a tight handling package too with fully adjustable suspension front and rear that was set up for a sporty riding experience. The handling was very neutral and it was great fun in the corners and again, not very Harley like. Nice. I even managed to slip it into Power mode and this quickened the throttle response and also added a lot more thrust – enough to cause a little wheel spin when I whacked open the throttle still leant over exiting one of the corners, planting a wicked grin on my face. Even if they don't make the Livewire in the near future, I hope this project at least paves the way for more motorcycles from Milwaukee that handle like this. Maybe an XR/flat track racer styled bike with a Revolution X engine in it?
The biggest surprise with the Livewire though was how quickly the fact that it's an electric motorcycle, with no clutch lever and no gears etc, loses significance. In no time after getting on it, I was past the technology and quirkiness and was back to being a motorcyclist enjoying a motorcycle. This shows how great a job Harley-Davidson has done on Project Livewire. It looks like it comes from the future, with matching technology as well but it already feels like a well sorted motorcycle that I wouldn't mind riding everyday.