Ducati XDiavel Black Star first ride: The definition of mean and insane in Italian
I get big American V-twin cruisers motorcycles. They're the sort of bikes that treat you to the easy-going, stretched-out, low-slung biker life. Letting you take in all the sights in comfort, look cool while at it, and even braap away all those local hounds that come snapping at your ankles with the twist of a throttle. They are a unique bunch, sort of like pineapples. I also understand Italian V-twin performance motorcycles - the other end of the spectrum. Sport-focussed, flying by the seat of your pants stuff - the most aggressive of the lot with high revving engines, stiff suspension and aggressive riding stances. Quite like pizza – everyone wants a piece of that Italian pie. Then you have something like the Ducati XDiavel which fuses these two dissimilar strains of delectable edibles into one mouth-watering mechanical dish. See where I'm going with this? Yes, it's definitely an odd concoction, but still, could it be thoroughly enjoyable? Let's find out.
Appearance-wise, the XDiavel Black Star brandishes much of some brilliant Italian brawn, all with a hint of evil about it with its dark coloured components. The bike looks beefy in profile yet the shape of each panel and component appears to physically sync beautifully with the next bit, giving the bike this sweet and sporty flow. It is an absolute stunner, and a stealthy one too.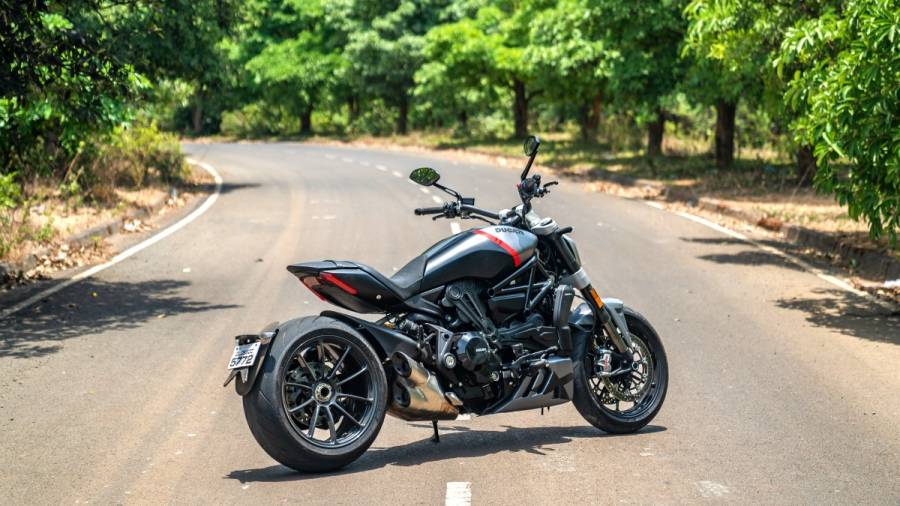 But it doesn't just look fast, this thing just flies off the line like a bat out of hell. And it revels in being one. There aren't many cruisers in the world like the Ducati XDiavel – which weigh the size of a three-month-old baby elephant and still have the capacity to bolt like a cat on a hot tin roof. And this XDiavel Black Star edition also happens to be 2kg lighter than the XDiavel S.
The all three versions of the XDiavel including this Black Star model come powered by Ducati's brilliant 1262cc, liquid-cooled Testastretta DVT V2. It puts down a mammoth 162PS of max power and 127Nm of torque. It's an absolute beast. To give you some perspective, the latest power cruiser from Harley-Davidson, the Sportster S, the latest 1,252cc Revolution Max V-twin in that bike makes a max 120Ps and 125Nm. It weighs almost the same but feels nowhere close to matching the Ducati in terms of raw acceleration and they're leagues apart in terms of handling, but I'll save all that for another time.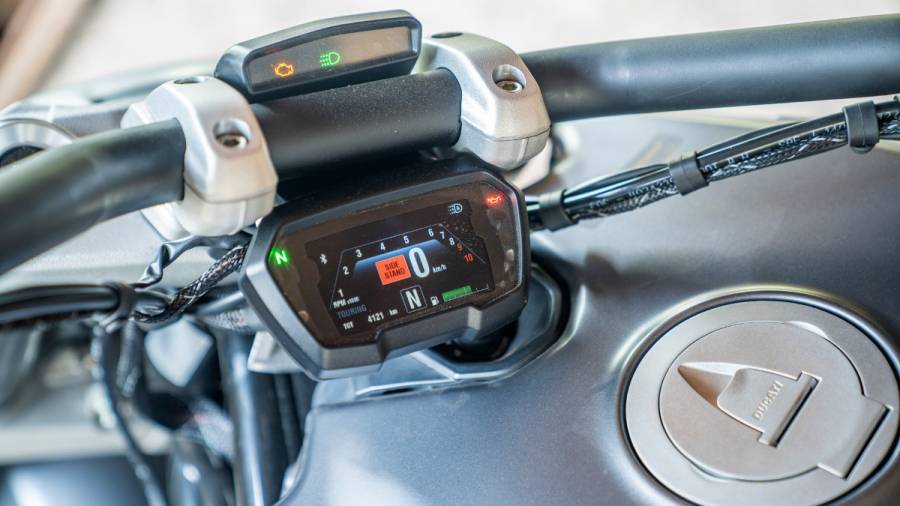 To further emphasise the aspect of 'power' on this power cruiser, the Italians have packed this XDiavel with enough electronics to impress those who fancy the latest lot of track-focussed machines. The bike comes a sophisticated electronics suite including a 6-axis Bosch Inertial Measurement Unit which acts on electronics systems like cornering ABS, traction control, wheelie control (yup, there's that too), and cruise control.
You get three customisable ride modes that allow you to save your picks from the numerous ABS, engine map and traction control settings. The suspension at both ends can only be adjusted manually and is, but of course, on the stiffer side as it should be. The last thing you'd want to do at speed is waft about the place.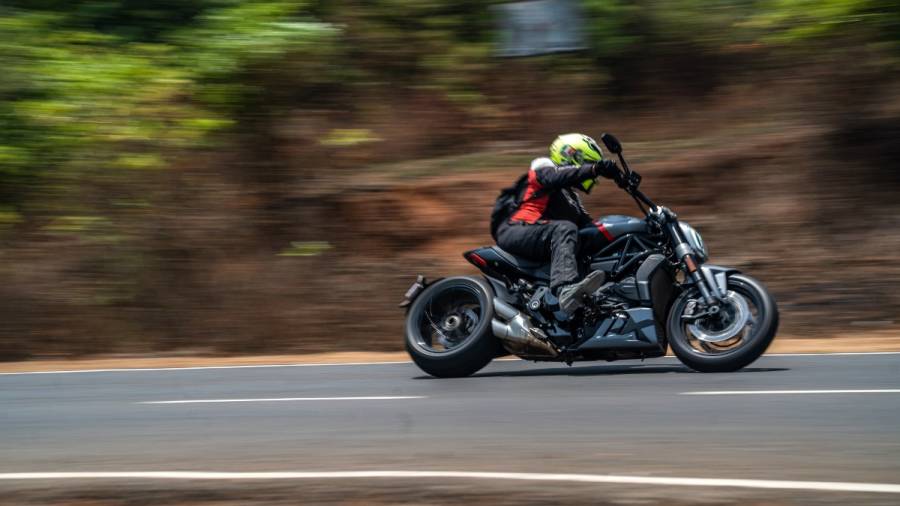 Like most of what this bike is all about, the launch control feature on this Ducati is absolutely mental. See a small gap and you don't think twice, you'll be there before anyone else knows it, but they most definitely will hear you going for it. The harder you throttle, the raspier the exhaust note - in true Ducati fashion. Low down the band you're in proper stealth mode. You can pull up to a cars stopped at a signal without a peep, and scare the daylights out of the driver with a flick of your wrist. The more you twist the throttle the louder one of most beautiful (stock) Italian V-Twin symphonies you've ever heard gets. And this is just so addictive. See an open stretch and temptation will almost always get the better of you. Decelerating with quick downshifts is a real treat too with this mechanical beast popping and snarling all the way through. An absolute aural delight!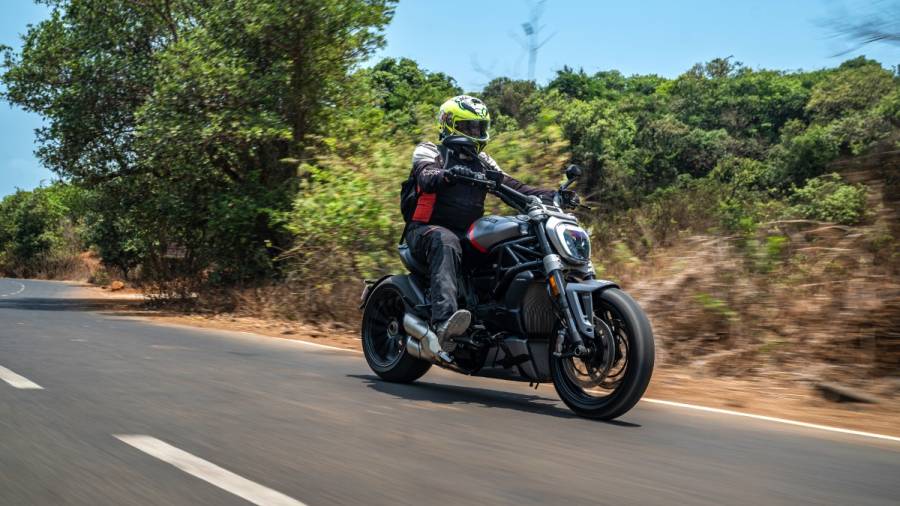 Handling-wise, this bike's bars are really flat and wide which is good for short runs. Out on the highway, your arms could get stiff if you keep stretched out for about three hours in the saddle. But in the city, even though the bars are wide, weaving through slow traffic is a breeze. The Ducati definitely turns in quicker than your average large-capacity V-twin cruiser. It most certainly challenges your perception of the regular old cruiser boundaries while allowing you to push to a limit way higher. Even so, it won't be long before you find this bike easy to predict and manage, it's so consistent in its way of functioning, the brakes, the suspension, the level of grip… yes that deserves a special mention too – the Pirelli Diablo Rosso 3 tyres – a mighty fine pair of Italian running boots that give you a good boost in confidence at full stride.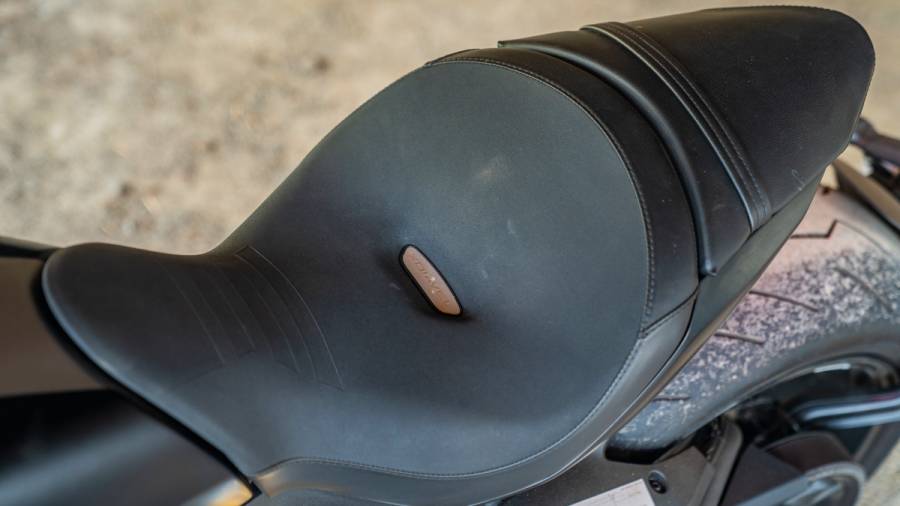 A couple of not so commendable bits about the bike – the pillion seat without the back rest is a joke. Sure, the bike does come with the rest as standard, but still, I think the bike looks better minus it. That and the fact that the XDiavel is definitely one that despises the city. Yes it has to do with people, and traffic. Get stuck in Mumbai city traffic and this bike really makes you pay by doing a great impression of a Shawarma machine. Also, the bike squats quite low so speed bumps are often an issue.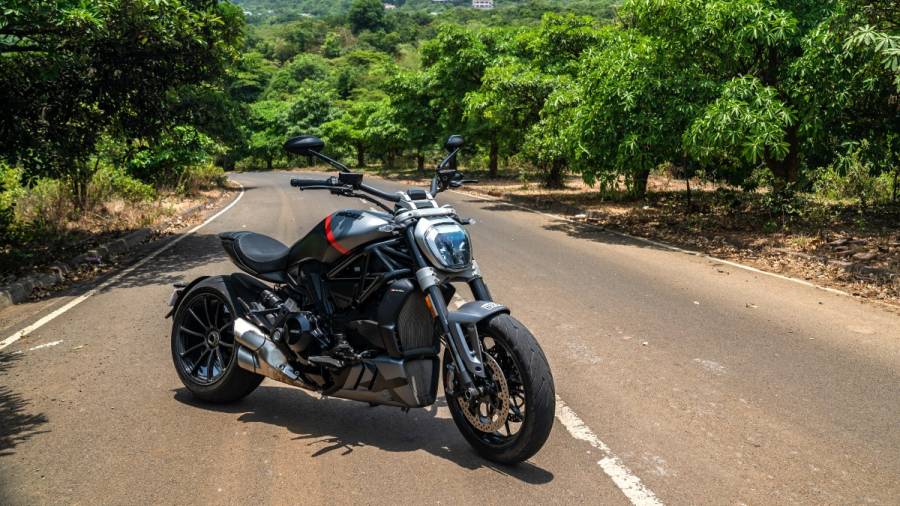 So, overall, the XDiavel Black Star is meant to be look mighty, mean and fast and actually have the go to back the show, and all of that it most certainly is. Those are some of its strongest aspects. But some aspects that don't work in its favour are, the fact that it isn't the best cruiser or the best sports bike, because it's off on a different tangent altogether which might not be what you'd want to spend your Rs 22+ lakhs on. Which bring me to the second bit which is – its cost.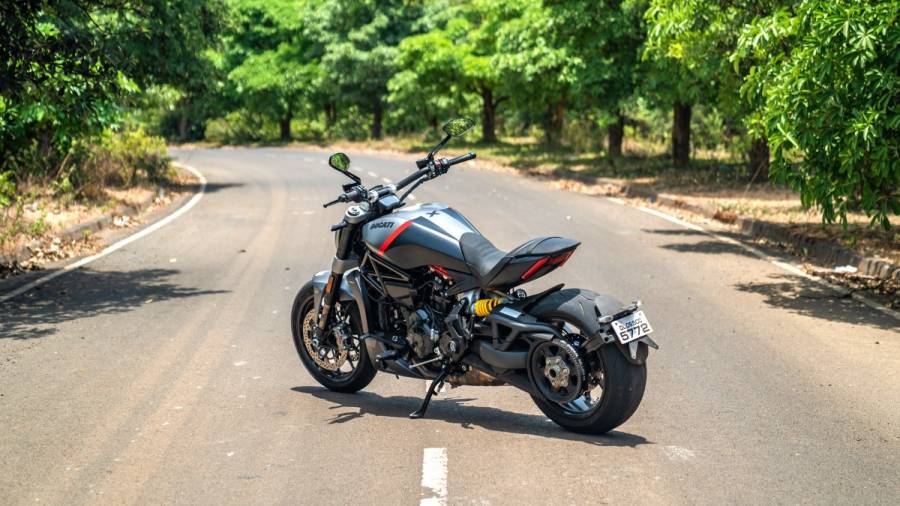 The XDiavel Black Star is the latest in this motorcycle's evolution, and its sole purpose is to help you look beefy and mean as you rocket past every other road user in your path, while also making you elegant enough to be the envy of every two-legged soul at the club as you rumble in. Yes, it's like pizza with pineapple toppings. Didn't see that one coming? Well, that's alright because not all will really make sense of it.
Price (Ex-Delhi)
Starts Rs 18,00,000