2017 Toyota Corolla Altis petrol automatic vs 2016 Hyundai Elantra petrol automatic
Let's get one thing straight at the beginning of this comparison test - the executive sedan segment is dying in India. There is no coming back from it for now, and I don't know how the future will pan out and neither does anyone else. No one saw or envisaged how SUVs would dominate consumer mindspace and begin to slowly replace every other body style. So if anyone says executive sedans will come back, they truly don't know what they are talking about. Then why are we doing this comparison. Well, one because we still like sedans, and like the few thousand people who invest in a sedan in this segment especially, we think it's a body style that will fade out but will always be fondly remembered for what it is. Second, both these products are here for some time now, so why not?
We believe both the Corolla and the Elantra have achieved for their maker what few others could, and it's imperative that we look at each other's strengths and weaknesses. The Elantra was a popular nameplate in its previous generation. It received high marks for its comfort and features, but above all else is its stunning styling. The new Elantra set the benchmark even higher, and when it did that it took some of the sheen off the bestselling Corolla Altis. Today the Elantra is the bestselling sedan in its segment (even though those numbers are in the low hundreds every month), followed by the Toyota Corolla. Both these sedans are fighting hard to stay on top of their game; we are just here to add a little more fuel to that fire!
I'm not going to get in too many details since we had done an exhaustive comparison between these two cars a short time ago. What I'm here to analyse is purely the petrol engines and their transmission, since both these cars are automatics.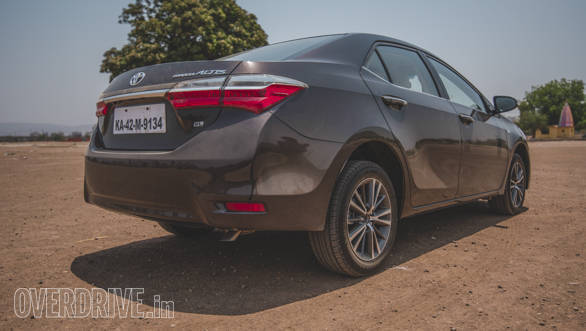 However, a word here on the Toyota Corolla which has received a minor facelift. I don't see it. Literally, if I was a regular customer, I wouldn't know what those changes were. This facelifted Corolla looks too similar to the car before it. It's lost one slat on the grille, and the front bumper has been reworked as well. Yet it does little to change how the car looks. And that is altogether not a bad thing, because Toyota instead of giving it a stark change, have very subtlety introduced some refinements. I'm personally fond of the way this generation's Corolla design language indicates that there is a hint of excitement in the way this car feels. The design language is akin to some of the sleeper sedans we see in Japan, mildly ordinary to behold on the outside but with a wild streak when the ignition is switched on.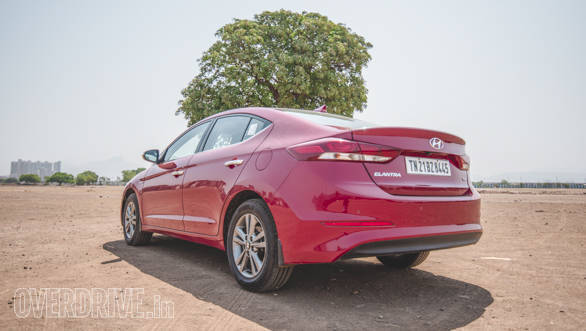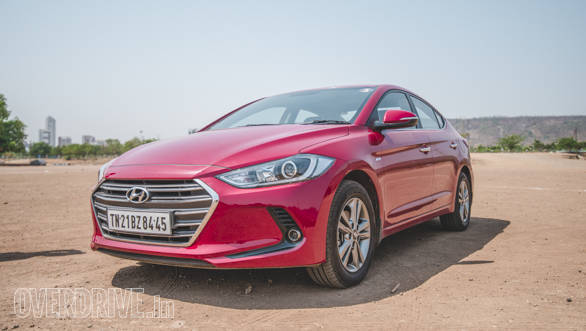 In comparison, the Elantra appears too European and that is something I'm not entirely in favour of. With the previous generation's fluidic design, I thought the Elantra was stunning, unique and brought a character to the brand that could set apart the Korean manufacturer. Unfortunately, I now think Hyundai is losing some of its Korean genealogy in an attempt to be a more global manufacturer. The Elantra is still a good-looking car, but hey, that big goatee grille wouldn't look out of place on an Audi now, wouldn't it?
When you step inside these cars is where things take a dramatic turn. The Corolla undoubtedly feels more vintage, and the look and feel of the dash feels like it came straight out of the late '80s, if it weren't for all the electronic displays! It's dull and boring and could do with some heavy revisions.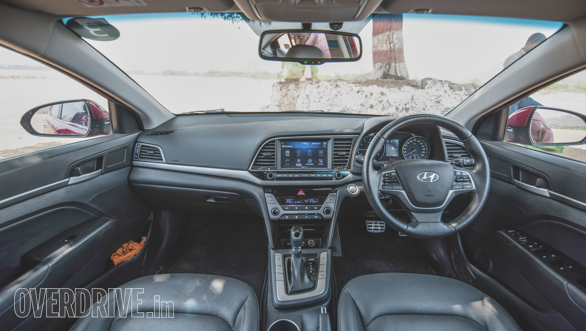 But let me not digress and get to the critical bits - the petrol engines and the automatic transmissions. First off, the Corolla uses a 1.8-litre 4-cylinder engine with 140PS of max power available at 6,400rpm. Max torque is listed at 173Nm peaking at 4,000rpm. It's not a very powerful engine but is certainly good enough for urban conditions. It's pretty quick to respond to throttle inputs, and on our performance runs, the Corolla was just a tenth of a second slower than the Elantra. That sort of pace comes from its automatic transmission which in this case is a 7-speed CVT. This CVT is part of the K411 family of Toyota transmissions developed for use in front-wheel-drive cars. It's got a Sport mode in addition to a Normal mode. Only difference being that in Sport, the shift points come up higher in the rev range, diving deep into the power band. This CVT has manual modes which you can select either using the shift stick on the transmission tunnel console or with paddle shifts placed behind the steering wheel.
This transmission's 7-ratios are primarily there to enhance fuel efficiency though it's not too bad where certain performance parameters are concerned. It's relatively refined and even quiet at urban speeds, but step on the gas and you can clearly hear the CVT whine creeping in. It's not an intrusive sound and can be drowned out by raising the volume on the stereo, but it's certainly no match to the transmission of the Elantra.
The Hyundai Elantra uses the 6F24 transmission, a standard torque convertor type of automatic built by Hyundai Powertech with six forward ratios. This is a compact automatic transmission built specifically for front-wheel-drive Hyundai and Kia models and is fully electronically controlled. This transmission is matched to a 2-litre petrol engine whose power output is rated at 152PS and max torque at 192Nm. Undoubtedly, the Elantra has the edge on the Corolla where specifications are concerned, but it also feels much nicer to drive on the whole. The engine is smoother and more flexible. With higher power and torque outputs, it offers better drivability though with the automatic transmission, you really have to exercise the engine in manual mode to realise this.
The Elantra's automatic transmission does not have paddle shifts and that to me is a big drawback. Nonetheless, the transmission is so much slicker than the CVT of the Corolla. It shifts easily, does not whine and is refined at all speeds. Though it does not feel as urgent as the Corolla, it results in marginally quicker times. This transmission also has an Eco mode in addition to the Normal and Sport modes. What any of these modes does is changes the shift points to deliver better performance or efficiency depending on user selections.
Coming to the performance and efficiency aspects, the Corolla is the slower car here for sure, but not in every aspect. In the 0-100kmph speed trap, it's a tenth slower to the Elantra's 11.51s run. However, and this is where its continuously variable transmission has an edge over the Elantra, overtaking speeds are much quicker in the Corolla. So, in the 30-80kmph in 3rd gear run, the Corolla is a second quicker than the Elantra. And it gets better, 40-100kmph in 4th gear, the Corolla is substantially quicker - at just 8.05 seconds on that run it's nearly twice as quick as the Elantra. Now why this happens is because we conducted the test in manual mode, and the Elantra in manual mode does not downshift to a lower gear if it senses it is within the power band. However, getting into the meatiest part of the power band using the same gear takes time, just like in a manual gearbox. So the better way to utilise this is to either leave it in Automatic mode, where it is substantially quicker, or manually drop a gear when overtaking.
And now to the all-important fuel-efficiency aspect. The Corolla is tuned for efficiency, and it proves to better the Elantra in this respect. In the city, the Corolla automatic delivers 12.6kmpl while on the highway it stretches this out to 16.9kmpl. That gives us an overall of 13.68kmpl which is just about 1kmpl better than what the Elantra is capable of overall. In the city, the Elantra gave us 11.3kmpl though on the highway, its slightly taller gearing helps achieve a better 17.6kmpl when you're cruising at a steady 100kmph.
Verdict
The Corolla has an advantage over the Elantra where aspects such as efficiency and overtaking speeds are concerned. Its CVT transmission is also quicker to respond when needed because how many of us really are traffic light racers. But in this comparison, the Elantra trumps the Corolla overall for two reasons. One, it is the better car to drive, and part of this is down to its fantastic gearbox. The smoothness, refinement and noiseless operation of the Elantra is certainly much better. But there is where the Elantra automatic scores its biggest point - it is more than Rs 2.5 lakh cheaper than the Corolla automatic, comparable variants considered. With better features, a more comfortable car overall, nicer driving dynamics and ride quality, and a better engine with a more luxurious transmission, the Elantra automatic is hands down the car to buy.
Images by Anis Shaikh
Also see:
Price (Ex-Delhi)
Starts Rs 17.6 Lakhs