BMW R 1200 GS Pro first ride review
Our first taste of the current BMW R 1200 GS was fleeting and it was scary. I had an ultra-brief stint in the saddle of the very motorcycle that Mr GS - Tomm Wolf, the man behind the GS Trophy - used while he was here running the India round of GS Trophy qualifiers. My stabs at making sense of BMW Motorrad's labyrinth of trims, upgrades and optional bits suggested that I was riding a special motorcycle that was extra tall and snappy on purpose. Some part of me loved it. Another part of me was scared of that BMW R 1200 GS Rallye. And a third part understood why the GS was such an icon.
Is that pretty? The BMW R 1200 GS has immense presence and has this precise, German sense of style
Now, I have, in fact, ridden both a much older BMW R 1150 GS as well as an R 1200 GS from two generations ago. I know that the snappiness of Mr GS' GS wasn't normal. I, in fact, remember this motorcycle as being a bit of an elephant. It's large, extremely spacious and by and large it has an extremely peaceful, agreeable nature. It can produce insane performance when provoked but that isn't why the GS is loved so much.
This beauty was my ride for the Deccan Safari. The stickering points to the fact that this particular BMW R 1200 GS was used for the BMW GS Trophy qualifier earlier on
For the BMW Motorrad Deccan Safari, I was happy to see #711. 711 appears to be the number of the bike at the GS Trophy qualifier and the stickers are still on. Under the skin is a completely stock BMW R 1200 GS. No outrageously large tank, or fancy trim bits. The very essence of the icon. Mine. For 550km on city, highway and smaller country roads. Perfect. Two extras only - the Rs 40,000 spoked tubeless rims and the Rs 35,000 paint, called Ice Chocolate Metallic.
Design
Beautiful resorts on the banks of the Kabini were ideally rest spots for the BMW R 1200 GS
The BMW R 1200 GS isn't pretty. But like Marv, it's got presence. Heaps and heaps of it. And it's essentially German in the way it looks. There are all kinds of angular creases, flat planes, contrasted plastics, painted aluminium bits, tubular steel frame members... it would be a mess if it wasn't so carefully crafted to produce an extremely complex design. In some ways, your eyes find no place to rest. In other ways, your eyes have no time for anything else once a GS is around. It's a wonderful design even though it isn't pretty in any traditional sense. Add to this the GS owner's propensity to cover said motorcycle in protective plumbing and complement the excellent LED headlights with more lights - not that I can excuse myself from that same excess - and the picture is arresting. Wherever we stopped, people would walk over to marvel is slack-jawed amazement at the size and girth of the BMW. They'd wonder how you'd ride a bike this large while their eyes visibly pin-balled from part to part endlessly.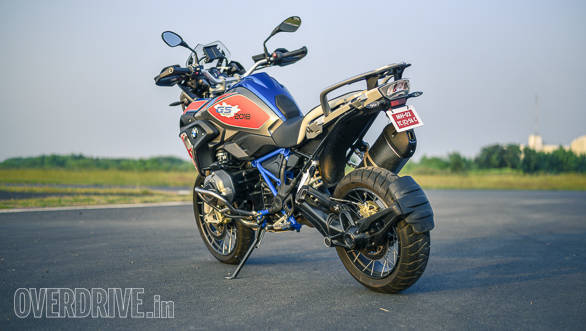 This BMW R 1200 GS Rallye also sports the Passenger Kit which is BMW's name for the single seat unit with a flat profile for off-roading
Ride and handling
So how do ride this enormous motorcycle? The answer unsurprisingly, is easily. You have to get over the idea that you're riding a large motorcycle first. The GS Adventure is a significantly larger, heftier and more unwieldy motorcycle to be sure. The basic GS is far more, erm, compact. Bone stock, the tall saddle height will make slow-speed manoeuvres, especially if you're not sure of how much grip your feet have, decidedly challenging.
The quick u-turn timed test produced some spectacular riding on the BMW Motorrad Deccan Safari. This GS Adventure was dropped multiple times but it survived unscathed
But once it gets rolling, it's a sweetheart. The electronic suspension feels like it knowns how to handle everything the road (or lack of it) throws at it. The lack of dive from the Telelever front suspension takes some time to get used to. But after a while, you stop worrying about bumps and lumps and carry contemptuously on. It's very liberating to not worry about the bike, I promise you.
The telelever's advantage is that chassis pitch is very tightly controlled which also makes cornering it confident despite the size of the GS. The brand-new Metzeler Karoo tyres on the GS I was riding were odd though. As the more experience GS owners pointed out, the Karoos start with an extremely aggressive rounded contour that makes the GS feel like it's dropping into the corners a little too fast for comfort. Worse, the GS seems to stay at the lean angle longer than you want it to which is a bit scary. Lowering the tyre pressure a bit and allowing some kilometres to pass did help immensely though. By the end, I was flinging the GS around happily through the corners and through the gaps in traffic as well. But what sticks with me isn't the individual elements of the ride quality or the handling. And I'll come to it in a moment.
Engine and performance
The GS' engine is a legendary format that's evolved one step at a time into what it is today. A format that's both part of the definition of the GS and one could argue, an element that sets a limit of what (all) a GS could evolve into.
The 1,170cc part-cooled flat twin makes 125PS and puts out 125Nm of peak torque. Top speed is 200kmph according to BMW and the massive heft of 244kg (wet) will still hit 100kmph from a standing start in 3.60 seconds.
The 1,170cc boxer engine is a unique tradition for the BMW R 1200 GS Ralley
But that isn't why you buy a GS. I asked owners of 3-6 year old GS' about the reliability and the answer, uniformly, was that the BMW doesn't have off days. No niggles, no issues to report. That reputation for utter reliability is part of the GS' lore.
But remember the thing I said marks the GS out a special, specific kind of the motorcycle? That would be its feel.
The engine sounds, erm, confident. Like that chap in the back office who's always ahead of the deadline but never raises his voice or seeks attention. A fast pass on rapid traffic requires only a whiff of throttle opened further. The ever-present Germanic thrum deepens in rumble and grows a hint louder in volume. And we're past whatever it was.
This low frequency thrum is matched to a ride-handling package that I can only describe as endless. It feels like the GS is tireless. Tirelessly capable, tirelessly comfortable. I know a close friend who once left Delhi for Mumbai on a GS Adventure deciding to stop when he got tired. He ended up riding home in one very long stint. When I roundly chastised him and asked him how he'd come to lose his marbles so comprehensively, he said, "It's not me. It's the GS. It doesn't feel like you ever need to stop. You will see when you ride one."
I can now vouch for the fact that all marbles were in tact and the GS is, indeed, relentlessly exhaustion free.
Overall
It isn't hard to see that the BMW R 1200 GS is an immense, immensely likeable motorcycle that truly deserves its cult status. Inasmuch, I'd venture that Long Way Round brought the GS to people but its qualities were appreciated by the congnoscenti long before Charlie and Ewan learnt to drop the bike repeatedly on every continent possible.
The iconic BMW propeller looks smashing on the BMW R 1200 GS Rallye
What's not right with it? The GS is the wrongest possible motorcycle to buy for specifically two kinds of people. New riders of short inseams will find the GS a challenge to live with. Let me hasten to add that this is a problem you can learn to overcome. With skill, training, practice and a little help from the BMW Motorrad catalogue. The other rider is the sporty rider. The GS does sporty if you want it to, but it does this with a straight-lipped competence that doesn't quite generate the visceral feelings that sporty machines are supposed to. I know you're going to ask who in their right mind would ask a GS to be sporty. I agree, but I'm just making sure we are on the same page.
The BMW R 1200 GS Rallye uses this extremely bright and effective - and assymetric - head light unit. The ability to run just the DRLs appears to be an optional extra
What you buy the GS for is three things as far as I can see. The first is the premium build, finish and reputation of the GS. You buy it because it's a GS and you have to have one. The second is its sweet, unflappable nature. Nothing seems to faze the GS and it makes this a deeply India-ready motorcycle. Take any turn you like and chances are the GS can handle whatever lies around the bend. The third reason to buy the GS is that its highway and off-road ability are both extraordinarily well developed as long as outright sporty riding isn't the end goal.
Our test bike was wearing custom graphics for the 2018 GS Trophy but the stock BMW R 1200 GS Rallye comes in this fetching blue colour
What you should watch out for when you do walk into the showroom with a cheque burning a hole in your very deep pockets is the clear idea that the GS both an expensive purchase and an expensive bike to own - service and spares are both expensive. Also watch the spec sheets carefully, the base GS is priced well but includes very little by way of feature or equipment. The middle model is the best loaded of the lot but the price jumps up quite a bit. And trust me, you don't need a GS Adventure.
Price (Ex-Delhi)
Starts Rs 19,30,000
Price (Ex-Delhi)
Starts Rs 17,25,000