Bajaj V15 first ride review
We have just ridden the Bajaj V15, the new commuter from Bajaj Auto Limited. The V15, as you know, is the same motorcycle that uses scrap steel from the INS Vikrant in the metal used to make its fuel tank. A terrific marketing idea that resonates well with patriotic Indians even though it has very little actual utility or performance value to be honest. The Bajaj V15 uses a brand-new long stroke 150cc engine that makes 12PS at 7,500rpm. But it really is tuned for torque - 13Nm at 5,500rpm with a high and flat torque curve.
Here's what I felt on my first ride of the motorcycle.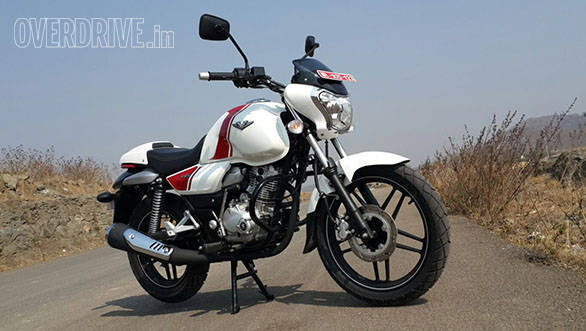 (Full disclosure - I've ridden about 25km at this point including city and highway roads. I'll be updating this story as I put more miles through the day on the Bajaj V15.)
Engine
To read more details on the background of the engine and its engineering, please read this story. Bajaj officials warned us that we shouldn't expect a blossoming top-end from the motorcycle and they're right. On paper, the V15 appears to share the INS Vikrant's power to weight ratio (that's figuratively, not literally). Top speed is nearly twice as much, thankfully.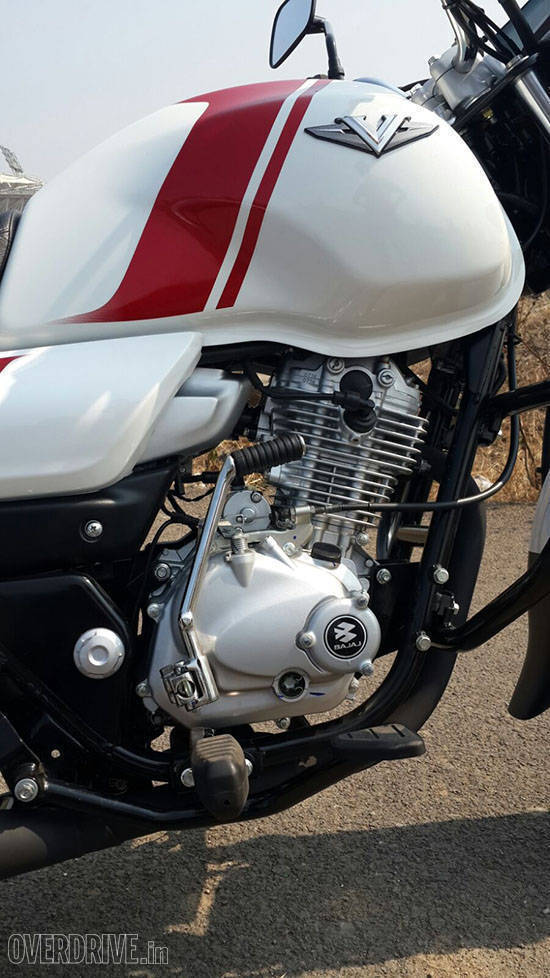 But this isn't the story of the Bajaj V15. What the V15 likes is to be short shifted into top gear, trundling along at slow or middling speeds. This sounds unexciting. But to be fair, it is a commuter and 90 per cent of every Bajaj V15's life will be spent at those speeds and in high gear.
The thing is that it handles that job well. The engine sounds refined though a further (slight) reduction in vibration would make the Bajaj V15 feel butter smooth. It's smooth enough to about 55kmph after which vibration rises. By 70kmph you can feel the engine's discomfort and at 80kmph or faster the protest is loud and clear. I saw a 100kmph on the clock today but it requires effort to get there.
As a good city commuter should, the V15 acquires its 30-50kmph speeds easily and passing anything is just a matter of rolling the gas on. I wish the engine felt a little bit more eager but I'm not sure if the target customer will notice this.
Finally, a good gearbox (all-up pattern, five-speed) manages the power efficiently. Faster roads might have you hunting for a sixth gear but the conceit is that this is not part of the normal operating cycle for the Bajaj V15 as a rule.
Bajaj says the motorcycle will return about 50-55kmpl in real world riding and we will be be looking to add numbers to the story once we get the road test motorcycle.
Chassis and suspension
The brand-new engine is housed in a brand-new double cradle chassis. The suspension is a set of conventional right side up forks and a gas-charged, pre-load adjustable rear twin shocks. Bajaj claims one of the best ride qualities in the commuter segment for the V15.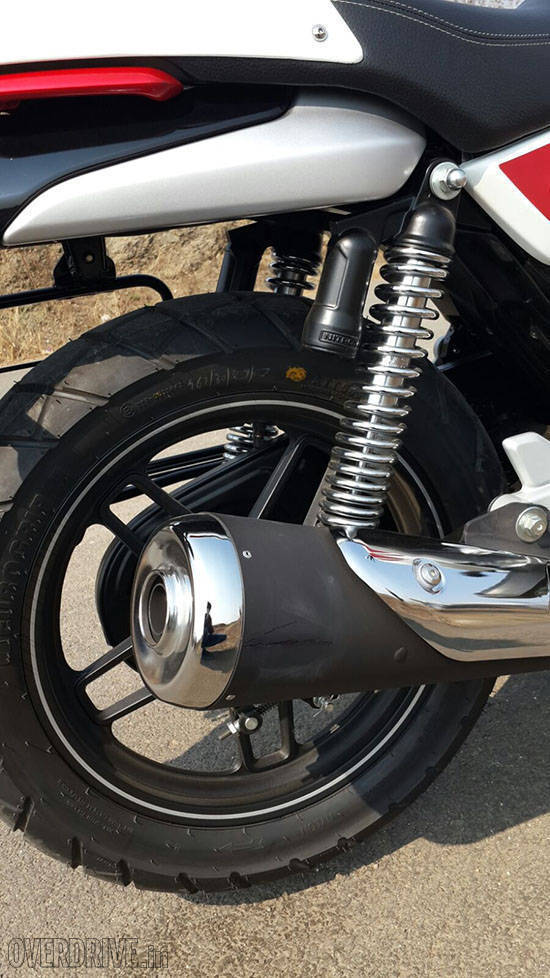 I found the motorcycle well damped and sprung a bit stiffly. This doesn't make it uncomfortable but I was expecting a more plush ride. The setup allows the Bajaj V15 to return a fair amount of feedback and that was good to have on bad roads. That said, I'm going to reserve the judgement on ride quality until I've ridden more.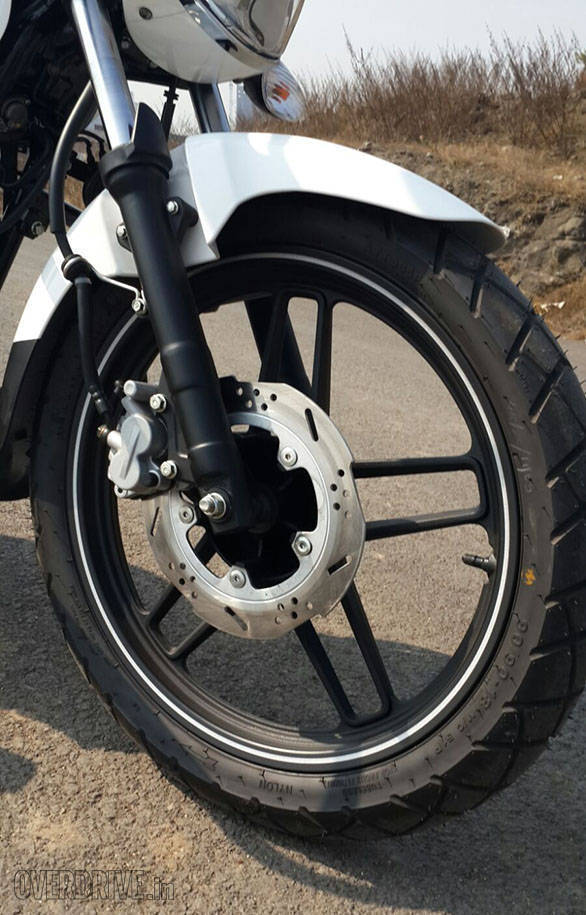 Our test bike came with 90/90-18 and 120/80-16 Eurogrip tyres. Bajaj says MRF also supplies tyres for the V15
In traffic, the Bajaj V15 initially feels long. It does have the longest wheelbase in class and you have this sense of riding a longer than normal machine. But the feeling passes and you'll soon discover a chassis that's quite agile and able to change direction fairly rapidly. This may not be the ultimate mountain road carver - it isn't supposed to be - but it certainly is handy in traffic.
Conclusion
Bajaj intend to start delivering the V15 later this month with prices starting at Rs 62,000 ex-Delhi. The price includes the rear seat cowl and a grab rail, both of which aren't mounted on the bike. Bajaj says the bike aims for differentiation and it overlaps all kinds of motorcycles from 125s to 150cc commuters and premium motorcycles.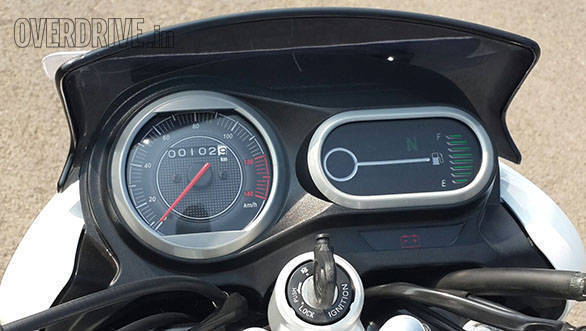 Tell tale lights on the meters are hard to read in the sun. Neutral light excepted
And that's how it feels to ride as well. The Bajaj V15 doesn't present the expected cohesion of the experience a hardcore commuter or a hardcore premium bike might. Just like its styling, you can sense elements that draw upon various bikes.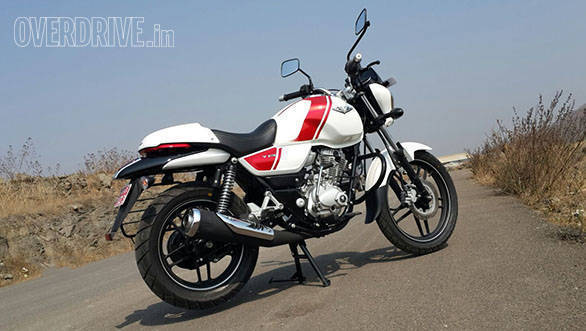 That is a polarising way to make a motorcycle to be sure. And as we said at the launch, that's going to be the story of the V15. If this medley of sensations and styling draws a positive vibe it'll float and bloom. If it doesn't, it'll sink.
We wait for the more extensive ride for the road test to form a more better opinion. Until then, let us know what you think in the comments.
Images by Suresh Narayanan
More from OVERDRIVE on the new Bajaj V15
Image gallery: Bajaj V15 first ride
Things you will like about Bajaj V15 and things you won't
Price (Ex-Delhi)
Starts Rs 66,739
Related Stories