Ather 450X First Ride Review
The Bangalore-based electric scooter maker has only been selling their debut product - the 450 - since late 2018, but are already making significant strides with the new 450X. They're dubbing it a "super scooter", and they're not far off the mark. The story here is not about the numbers, but rather about the entire approach to owning an EV.
With the 450X, Ather is moving to a purchase plus subscription model. You can choose between three subscription plans that decide what "variant" you're riding - Lite, Plus or Pro. I put those quotes there for a reason: no matter what variant you choose, it's the same scooter. Your subscription plan decides whether you get 66km, 75km or 85km of range. For your added monthly payment, you also get continued over-the-air updates and enhancements as they become available, as well as effectively unlimited warranty coverage for your battery. It's a bit of a leap, but I think it might be worth it.
Tech
It's no surprise that so many new cars and bikes have a connected component. Ather also uses this riding data from across their customers to inform their decisions about future updates. For instance, the new "Warp" mode in the 450X was made possible by all the learnings they've gathered over six million kilometres of logged distance.
In the 450X, the 7-inch touchscreen has been upgraded to a 4G e-sim for better connectivity, along with Bluetooth and WiFi compatibility along with an Android-based OS for the dash, which offers Google Maps and Spotify music. It also performs better than the previous iteration, even in pre-production guise.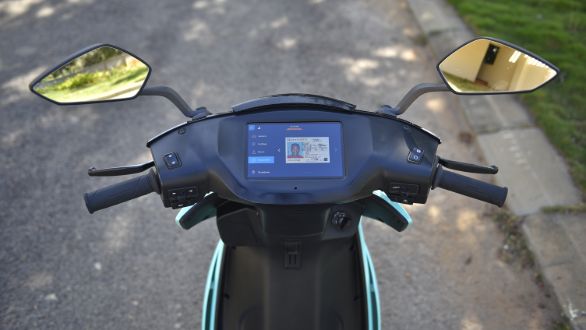 The battery pack has also been upgraded to use the 21700-type cells as on a Tesla. This gives the scooter more battery density and efficiency, while dropping overall weight by 11kg, substantial for an already-light scooter. It's a non-removable 2.9kWh unit that slow-charges from 0-80 per cent in 3.25 hours, or fast-charges to the same level in an hour. A 10-minute connection to a fast charger will give you about 15km of range, which is what Ather thinks most owners will do to cover eventualities. A 5A portable charging brick can be carried along in the underseat space as a last resort.
Engage
The Warp mode replaces the old scooter's Sport mode. The 450X can now generate up to 27Nm of torque. That's as much torque as a 250cc motorcycle from a scooter that's benchmarked against 110cc peers. You're propelled from 0-60 in a scant 6.5 seconds. Try buying a petrol scooter that does that!
The torque is seamless and continuous, making wringing out the 450X an enjoyable experience. You won't get the full 85km of range doing that. There's the Eco mode for that. Noteworthy here is that Ather quotes their own numbers, which are realistically calculated for a 175kg payload. That's a rider, pillion and gas cylinder, they say.
The 450X is also a good handler. Helping is the low centre of gravity (the battery is below your feet), reduced weight and solid engineering. It feels taut, agile but not fidgety. It's entirely natural, moving from a motorcycle to the 450X, engaging warp mode and just going for it. The pre-production model we rode had some issues with rebound damping, but it should be fixed on the production models. The throttle is definitely a star here. It's so sensitive, yet easy to modulate. It's entirely possible to do figure-8s at crawling speeds, one-handed. And the best part is that this is modifiable using software updates. For instance, the 450X has regenerative braking, but it's not quite there yet. But it'll get there, and it'll just happen to your Ather scooter without you knowing it.
Conclusion
Ather intends the 450X to be a no-compromise scooter, and I think they've succeeded. It has reasonable range, excellent performance and bonus features you're unlikely to find elsewhere. The 450X will be available in 10 cities through 2020, with fast-charging networks wherever they're sold.
Also see: Ather 450X electric scooter | First Ride Review

Photography - Sumit Gaikwad