Ashok Leyland FAT 6x6 first drive review
Very few civilians have had the chance to drive the massive Ashok Leyland Stallion used by the Army. Lucky them, right? No, lucky me! Because I just one-upped them with this, the FAT 6x6. First things first - the FAT 6x6 isn't called what it's called because of its size. It's an acronym that stands for Field Artillery Tractor. That said, it is a very apt acronym.
What is it and what can it do?
The FAT 6x6 is an all-terrain vehicle designed to tow huge artillery guns to almost anywhere in the battlefield, transport troops and supplies. It's designed to be used in every kind of terrain - right from the high mountains in the Himalayas to the blistering deserts of Rajasthan. Ashok Leyland says that the FAT 6x6 can be used at altitudes of up to 5,500m above sea level (that's around 140m higher than Khardung La) and -40°C, as well as in temperatures of around 55°C.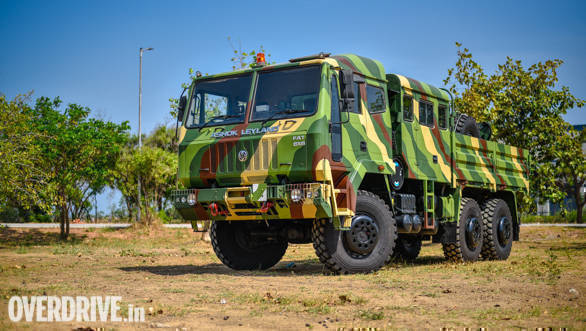 It runs an 8.0-litre turbo-diesel from Ashok Leyland's Neptune series engines, and produces 360PS of power and a massive 1,400Nm of torque at 1,300rpm. It's got an 8-speed manual gearbox (with the option for an automatic), a 2-speed transfer case, full-time 6-wheel drive and will hit a top speed of 90kmph. That's pretty impressive considering this truck weighs a hefty 21 tonnes. It's also got a 350-litre fuel tank, which gives it a 700km range. Ashok Leyland is the only company selling a 6x6 to the Indian Army with an engine made in India.
All three axles are live with differential locks for each one, which will help this mammoth get out of the stickiest of situations. But even if that doesn't work, it's got a 10-tonne winch to pull itself out. It's got a parabolic bogey suspension which is essentially a leaf spring set-up.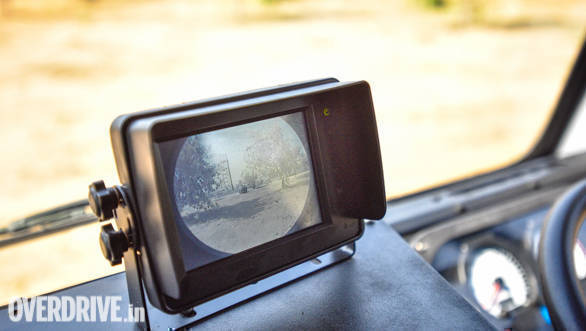 The FAT 6x6's towing capacity is rated at 8 tonnes, which means it can tow a Stallion and then some more! Apart from the driver's cabin, which can hold around four people, there's also a crew cabin just behind it which can hold at least six people comfortably. There's also a crane in the cargo bay which can lift weights of up to 2.7 tonnes, to help load ammunition and supplies for transport. Speaking of transport, the FAT 6x6 can be transported across the country either by air or rail.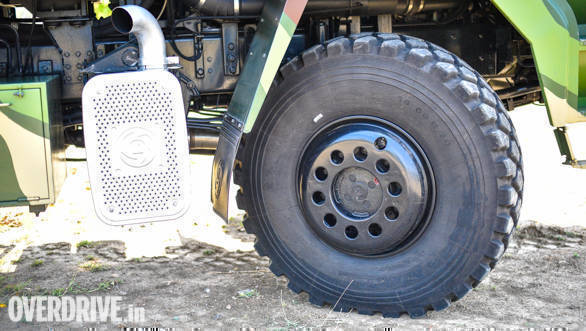 Coming to the safety systems, the truck has a fire and smoke detection unit, a bead lock in the tyres to prevent them from slipping off the rim in case of a puncture, an infrared rear-view camera and an optional emergency steering system. What this does is provide hydraulic support to the steering in case the engine-pump driven power-steering unit fails.
Its biggest USP, however, are its self-inflating tyres - like in the Mercedes-AMG G63 6x6, except the tyres are twice as big. If the truck needs to travel across the sand, the driver can drop tyre pressures to around 35PSI with the press of a button. Back on tarmac? No problem. All he has to do is press another button to get the pressure back to around 85PSI. Of course, he does have to take into account that reinflating the tyres fully will cost him around half an hour.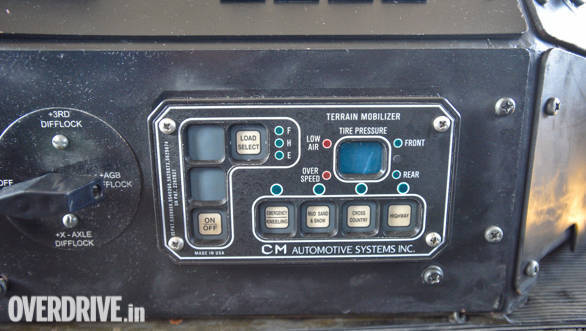 What's it like to drive?
Surprisingly easy! When you get into a vehicle this large, you'd expect everything to be tough and hard to use, but no, not in this one. Almost everything is hydraulically assisted right from the clutch and brake pedals, to the gearbox. Why the gearbox, you ask? Like I mentioned earlier, the FAT 6x6 has a 2-speed transfer case. What that means is that the first four gears have a very low ratio set-up just to get the truck moving from a standstill. Then you nudge the gear stick further right and the hydraulic system engages the second set of gears which have a high ratio set-up to help pick up the pace.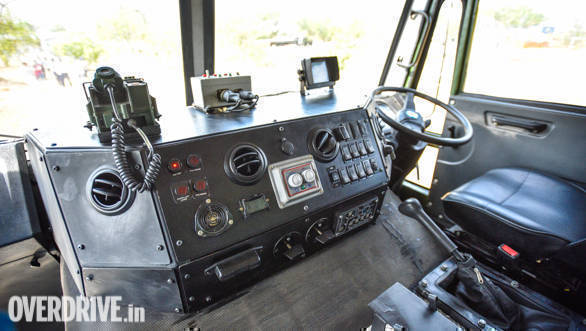 As you'd expect, it won't throw you back in your seat under hard acceleration, but if it did, you'd probably drive it straight into a wall. So, good thing it doesn't. Instead, speed picks up very gradually as you shift through the gears 1-2-3-4, before you're in the high ratio gears and doing around 50kmph. My first couple of minutes behind the wheel were a bit unnerving because I'd never driven anything larger than a pickup truck. The steering was angled in such a way that it was almost parallel to the ground, and quite simply, it was like nothing I've ever driven before.
But pretty soon I got the hang of it and then eventually began enjoying it. Sitting that high up showed me what a commanding driving position really is - a Toyota Innova looked like it could be squashed from there. Even the HVAC system was super effective, as began feeling cold in the cabin despite the dreadful Chennai heat.
Now I'm going to nitpick a little, but keep in mind, I come from a background of testing road cars. So in the world of trucks these things might even go unnoticed. To begin with, the steering is as vague as it can get. I had no idea what was going on down there but I guess that's still better than having to do all the work of turning those big heavy wheels. The gear changes can be a bit of a forearm workout too, with you having to arm-wrestle the gear stick every now and then.
But all this is easily forgiven and forgotten the second you see it climb up a 30-degree slope like it was mild incline. 30 degrees might not sound like a lot on paper, but only when you walk up the slope do you realise how steep it actually is. I know, because I tried. Oh, and it also has a water wading rating of one metre.
Would I buy one?
Well, if Ashok Leyland would sell it to me and I had a large enough bank balance, yes! Why? Firstly, I'd like to show up at every off-roading event in a FAT 6x6, just to see the look on everyone's faces. Secondly, there are very few things I enjoy more on the road than intimidating people. With this, I don't even have to try. But jokes apart, Ashok Leyland has made a truly impressive machine that has the capability to tackle almost everything the Indian Army can throw at it. Except bombs and bullets, of course.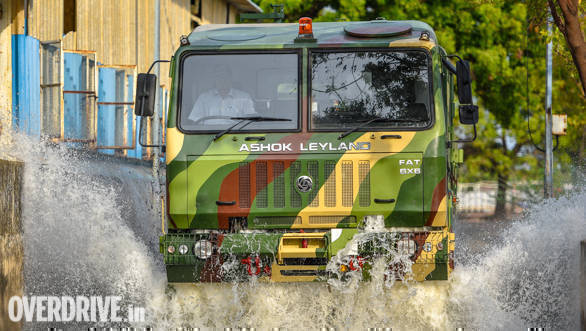 Related Stories