Ampere Primus first ride review: A new channel of energy
Greaves Cotton is an Indian company with many diverse divisions. Finance and the production of power generators, engines and farm equipment are a few of its best known. The company even has a relatively unheard off electric division named Greaves Electric Mobility (GEM) which produces electric two- and three-wheeler under the brand Ampere Electric. The Primus e-scooter you see here is the third two-wheeler that GEM have rolled out since acquiring Coimbatore-based Ampere Electric Vehicles back in 2018 and yes, it's the same scooter that was showcased at the 2023 Auto Expo in Noida. This is the production model scooter that we've been invited to ride briefly out here today. Let's indulge.
The design of this scooter looks a bit dated and definitely not as radical as some of the other e-scooters that have and will come out this year. It's got halogen indicators and taillight which may not look very exciting but very functional nonetheless. It does feature a LED headlight DRL strip under the headlamp, but this doesn't really stand out aesthetically. But overall, the scooter does look neat and tidy. I quite like it. Standing still, the Primus appears would come across like any regular ICE scooter if it weren't for that lack of a muffler. But it does get a slightly gaudy looking panel in place of that which hides the Motor Controller. Now why is the controller placed there we asked and the reason behind that we're told is to keep that particular component cool. It does stick out like a sore thumb from the otherwise very sleek scooter design theme (that's inspired by a certain arctic bird).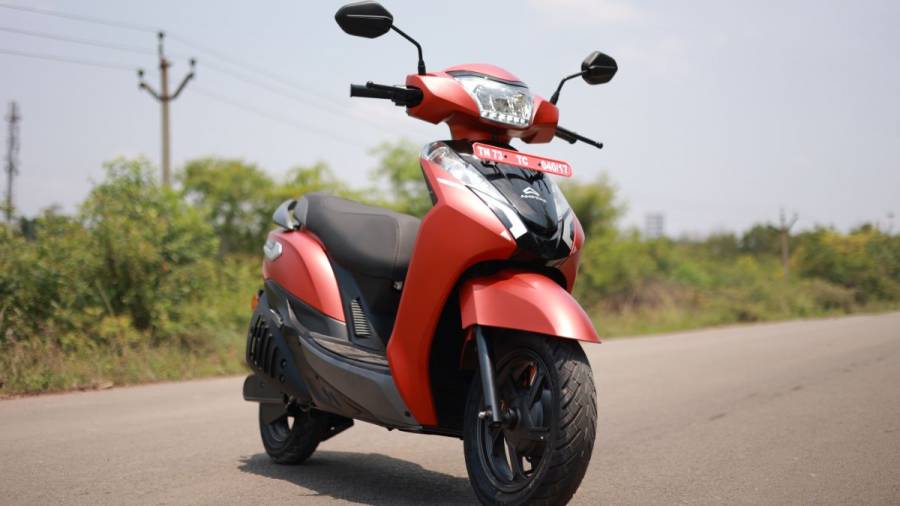 The Primus does link up to your phone via Bluetooth that gives access to data on your scooter and rides. No vibrant Touchscreen or TFT display here though, but a rather simple LCD screen with all the regular ride info you need. It was a bit difficult to read out info during certain times of the day.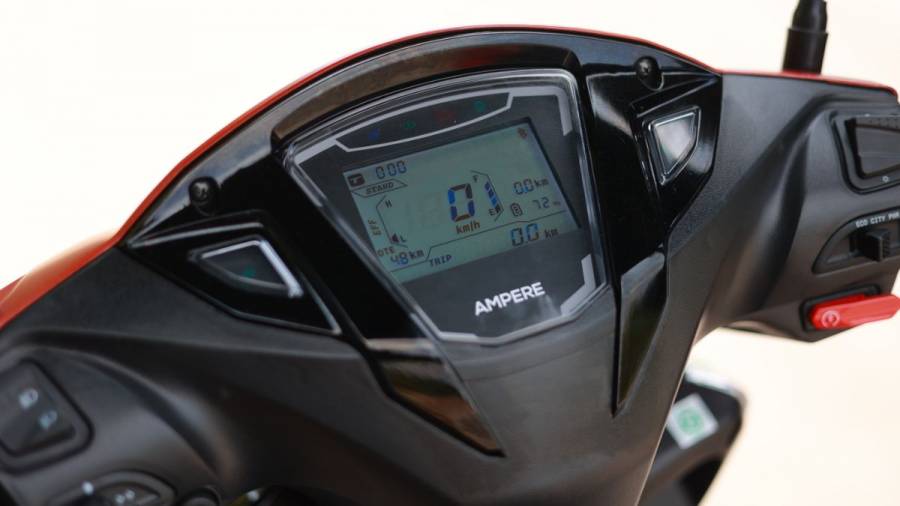 My biggest problem with the display was the fact that the single trip meter cannot be reset manually, and instead automatically resets every time the scooter is turned off. The Primus misses out on stuff like digital storage space and OTA updates you do get turn-by-turn navigation like with some modern ICE scooter models and three ride modes that alter the way the way the scooter performs – Eco, City and Power. The Primus houses a fixed 3kWh LFP battery which powers a mid-mounted motor that's capable of producing 4kW of peak power. Yes, this setup isn't as good as some of its established rivals out here, but the Primus is still said to be capable of a range of 107km out on the road in Eco mode, while a 15A charger can is said to charge a completely drained battery to 100 per cent in about five hours as well, but both we are yet to verify both these claims.
The Primus boasts a decent ground clearance but its floorboard is a bit high in relation to its seat which is of conventional height, so that means the taller you are, the closer your knees will be to the handlebar. To sum that up, taller riders will feel a bit uncomfortable over fairly long riding stints. The Primus is a mighty comfortable scooter to ride otherwise – its 12-inch wheels and long (1400mm) wheelbase provide a very comfortable ride. But this 130kg scooter does feels a slightly heavy at the bars in comparison to the current crop of e-scooters.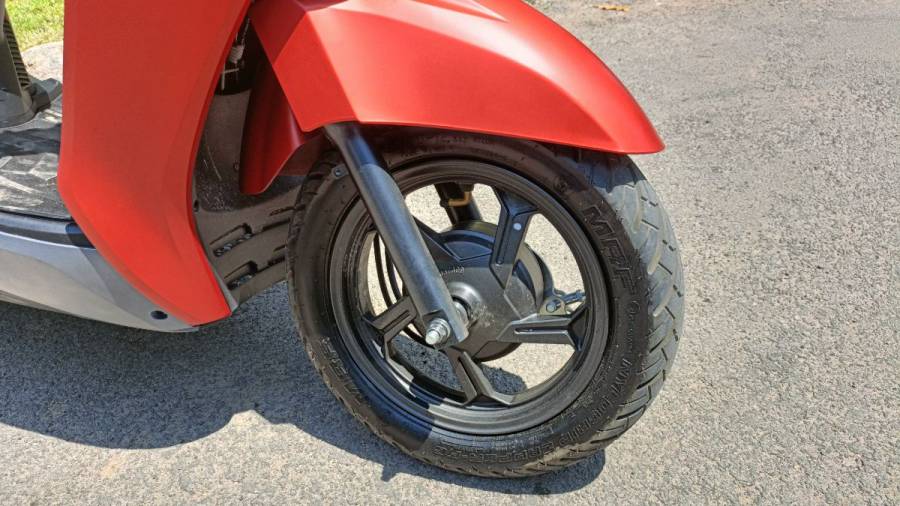 The suspension robust making most of the rough stuff that you're bound to encounter in the city and once I was ready to test the upper echelons of speed *around 80kmph* on this scooter, the telescopic fork and pre-load adjustable twin springs kept things nice and pliant, and quite enjoyable through long bends. Downright performance isn't its forte and you'll want to steer clear of your pals on their S1 Pro and Athers looking for a sprint race, but in the right mode its throttle is nowhere close to giving you feelings of disappointment. Acceleration is smooth and linear. Eco mode will take you to a max speed of an indicated 43kmpl, City mode pleasantly ups the ante a tad and it's throttle transitions are never choppy, not even in Power mode either. Getting to 40kmph takes a claimed 4.2secs, and it took a fairly decent stretch of Ranipet highway for me to push the scooter's speed to 85kmph in Power mode.
Overtakes at around 40-50kmph are manageable, anything faster requires better calculation and planning. The Primus comes with CBS but it is one of the first modern-day e-scooters that doesn't feature a disc brake up front, and limits the scooters performance in some way, and even more so with the lack of ABS. You have the option of slapping on a couple of add on extras onto this scooter like a center stand and a brake lock lever, but no front disc brake as an option.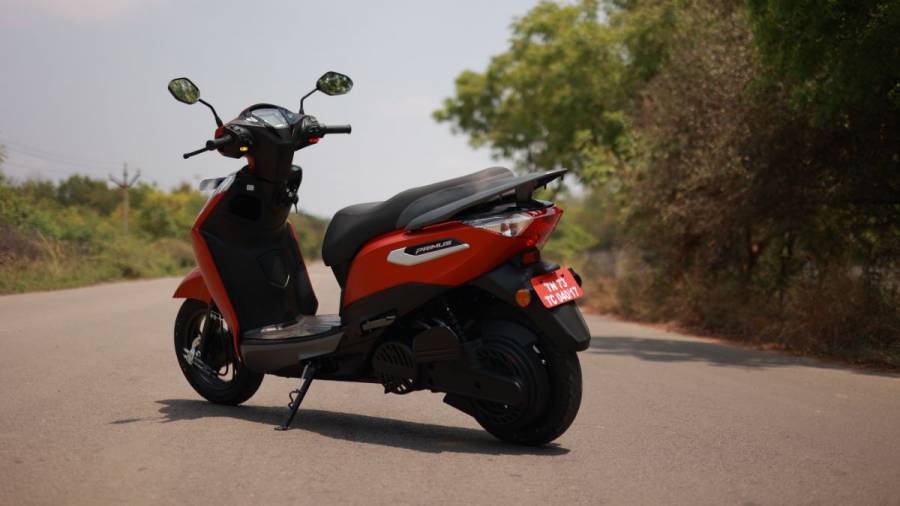 So what does the Primus bring to the table in the end? There's good room between your feet, an accommodating seat with a 22-litre storage bay underneath it, a throttle that feels responsive even up a gradient and a decent amount of features including a USB socket that's almost out of sight in storage behind the apron. Even though its switchgear could be better the Primus still manages to tick enough boxes for you to be content with. The Ampere Primus comes across as well thought through and put together scooter overall, but I would have liked to see a bit more features on it with that Rs 1.02 lakh (on-road Chennai) asking price. The cost seems a bit much at first for a scooter that doesn't boast a lot of stand-out features. But what you get for that money is a scooter that feels built-to-last from one of the oldest Indian companies in the world that's assuring service if and when you need it. The problem for the Primus is the fact that there are other tried and tested e-scooters available today which feature-wise offer a lot more for in an additional cost, and the cost is one most  customers in this space won't mind shelling out for.
Price (Ex-Delhi)
Starts Rs 1,10,149