2023 Royal Enfield Himalayan 450 first ride review - For muck's sake!
The original Royal Enfield Himalayan (411cc) which came out in 2016 was an awesome bike for its time. It took the company down a very different path, because Royal Enfield was previously known to produce some charming retro-theme cruiser bikes at the time. Its simplicity of functioning, overall dynamics and pricing opened the doorway for the masses on a budget who yearned to venture down roads less taken on machine that wouldn't quit. At a reasonable cost, you be considered an off-road enthusiasts in our country if you opted to actually indulge in the same form of activities. The new Himalayan 450 promises not only to be an evolution of the older bike, but a revolution at that, one that can teach the other bikes and their manufacturers a thing or two. After a two-day ride in the land it was built to take on – the Himalayas – this new Himalayan 450 makes the old Himalayan 411 appear like an ancient relic, while also kicking-up muck in all its competitors faces. Here's why.
First up, it looks grand. It's a lot sleeker, a lot more presentable and nothing like the boxy old 411. The Himalayan 450 retains the 21/17-inch wheels setup with new rims and bespoke Ceat dual-purpose tyres. The tyres are tubed for now, with homologation for the cross-spoke rims which can accommodate the same tubeless tyres already underway. The bike gets a new 43mm USD Showa separate function fork up front and a new swingarm which is hooked up to a preload adjustable monoshock at the rear.
Both units offer a good 200mm of travel. Lighting all around is LED. Although the headlamp unit looks like it's been carried over from the Super Meteor 650 cruiser, it is quite different on closer inspection. The tail lamp... well, there isn't one, because the rear and brake lights been neatly integrated into the turn indicators. Quite cool. It makes the bike unmistakable and easily identifiable from behind.
In terms of features, you get a new 4-inch all-digital TFT info pod with phone connectivity. No analogue anything, which makes it quite unique by RE standards. The best part about this bit is that you can cast your map directly onto the screen of the bike so you don't need to bother about having a phone mount on there. You get a ride-by-wire throttle which feels great to use and a slip and assist clutch which keeps the left lever up top nice and light at all times.
Then there's a USB-C type socket and a new joystick as part of the new, rugged-looking switchgear that lets you toggle through things like the two ride modes 'Performance' and 'Eco' – which give you all power and dull things down a bit – the display settings and the switchable ABS at the rear. No traction control on this one, and in all honesty, it isn't missed. Because, well, you have ECO mode.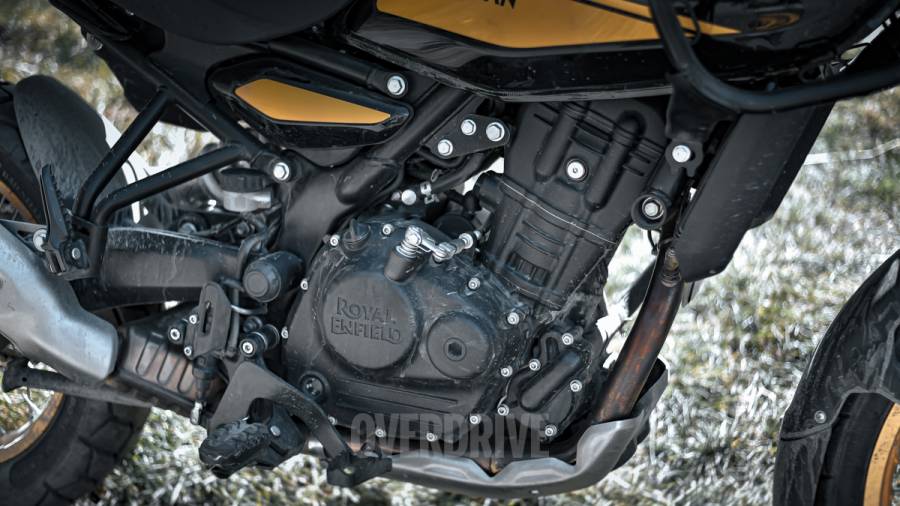 The loveliest bit about the Himalayan 450 has to be the new Sherpa 450 engine. It's a 452cc, liquid-cooled, DOHC, single-cylinder unit that makes 40.2PS of max power at 8,000rpm and 40NM of max torque at 5,500rpm. It might not appear like much on paper, but riding the bike up here in the Himalayas, where you don't feel all of the power you have on tap at these altitudes, the bike didn't really feel heavily underpowered. There was a nice wave of torque to ride from as low as 3,000rpm and there's enough power to haul your behind out of sticky situations. The new engine doesn't feel or sound clunky at low revs like the older one either, it's a lot more refined.
Now although it weighs just 196kg, which is just 3kg lighter than the Himalayan 411, you don't feel the bike being as top heavy or as much of a task to manage as before when the going gets rough. I did have to wind it up a bit to get up steep inclines, but that should all change closer to sea level where the engine, like most riders can breathe and function a lot better. RE have worked wonders with the weight distribution and kept the mass of the bike low and to the front, so you do still feel the weight of the bike once you take it off its stand or have to push it around, but it's that same weight which allows it to retain its stability and composure over the rough-stuff like the older bike, but better. And it feels absolutely brilliant at that!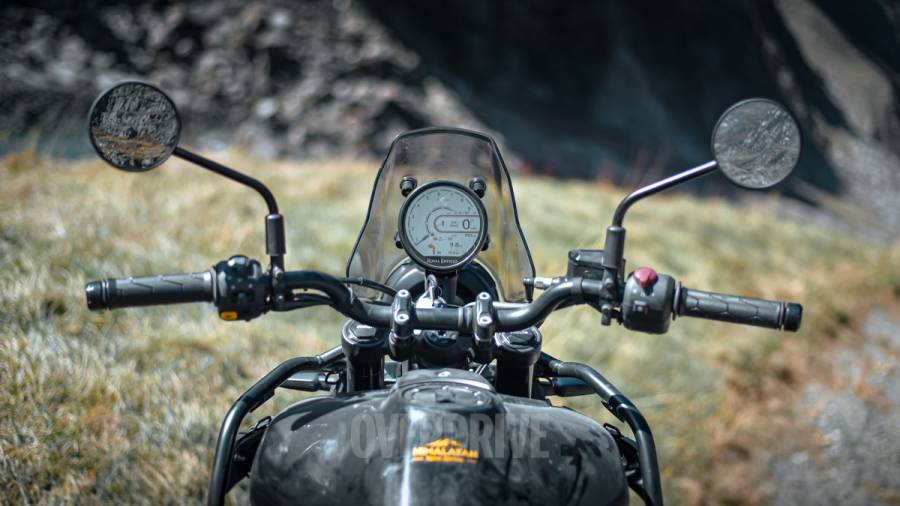 The new steel twin spar frame is a much welcomed form of evolution as well, because it changes the entire dynamic of the bike. it uses the engine as a stressed member, and has a new bolt-on sub frame which, in addition to reducing the cost of you having to replace the entire chassis in the event of a bad crash, it has also made way for a new, narrower swingarm. And this latter bit, when coupled with the relocation of the airbox to the central portion of the tank, means the Himalayan 450 has a much narrower waist than before, which helps is great news for when you stand up on the bike and hit those gnarly trails.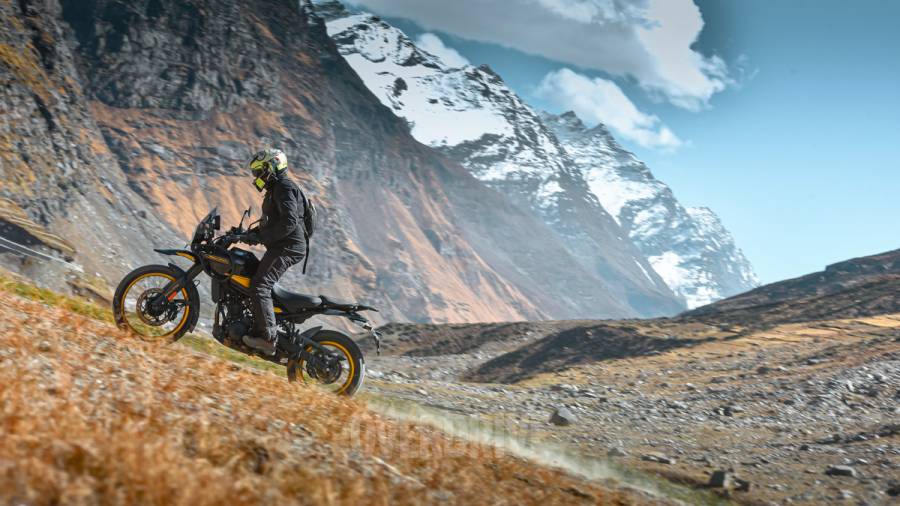 There's a bit of a nice intake whine that I noticed as well. With no side panels in the way you get a better grip of the bike with your ankles and the shape of the new 17-litre tank aids in you having more control and feel of the bike with your legs. Just as before, the bike took on loose rocks and gravel like it was no big deal and if you really want to find out why adventure bikes manufacturers go with a bigger 21-inch wheel up front, well, the Himalayan 450 will be more than happy to show you why over big riverbed boulders. You may need to visit your chiropractor after, but one thing's for sure, the bike will get you through it.
The Himalayan 450 is not as tall as it looks. Seat height is at 825mm and can be raised by 20mm by moving some rods around under the seat. Getting aboard isn't as tasking as it was on the older Himalayan (411) and if you're about 5'9, it's easy to get both feet on the ground this time too. There's a shorter 805-825mm adjustable seat option as well. The seat is massive and allows you to move around quite a bit which is great news for long touring stints.
What I appreciate about the Himalayan 450 is the fact that it does just what the older 411 did, but excels where the older bike fell short. Out on the highway for example, it feels like a comfy long-distance touring machine, but now it gets a sixth cog (one more than the 411) and the bike can hold a speed of about 120kmph without feeling overly stressed (like the older bike over 90kmph). Yes it can go faster still, but it feels a tad out of place. The brakes work a lot better and the bike takes on sweeping bends with a lot more composure, aided by the fine rubber that RE and Ceat have come up with specifically for this bike.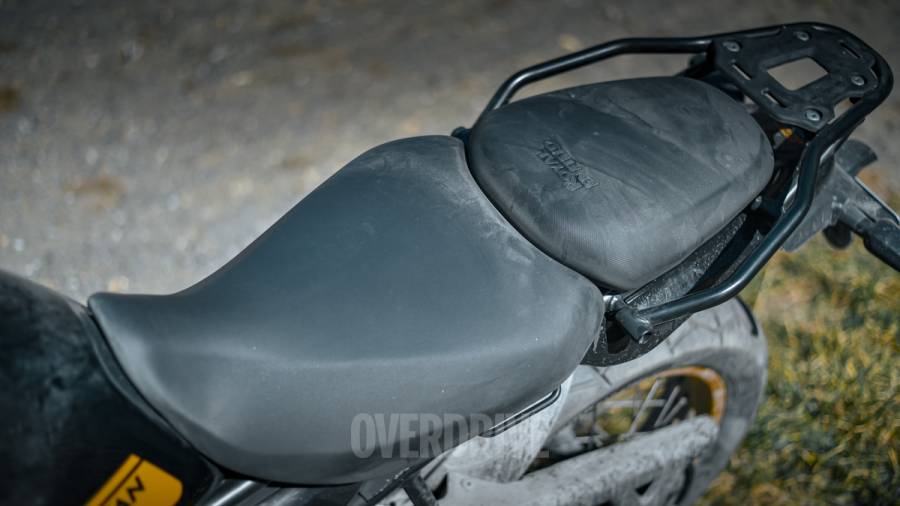 The Himalayan 450s design, its dynamics and the power on tap make it one of those motorcycles that doesn't make you think twice. You just point it in the direction you want to go, and go. It's that simple. And it's in this simplicity where its true beauty lies. Plus it has that awesome screen which you can cast your map on, which is simply brilliant and makes you wonder why no one else has done it up till this point.
Many people currently see Royal Enfield as one of those manufacturers who usually play catch-up to the rest of the bike makers in terms of technologies implemented into their motorcycles. But in terms of usable features, overall design aesthetics and most importantly functionality, the Himalayan 450 feels like it has the upper hand.
Now the old 411 was and still is considered a very capable machine, drawing a decent fan following overseas too. After having ridden the Himalayan in its old and updated avatars across borders, its outstanding points it, without doubt, had to be its composure over the rough stuff off-road once you got up to speed, coupled with its pliant suspension and generous seating arrangement which made it one of the most comfortable bikes to ride long-distance. Yes, it was lacking in certain areas, primarily in terms of power delivery and it felt top-heavy and could prove a handful in certain off-road scenarios, but this new Himalayan 450 takes over the good bits of the older bike and more than makes up for all of the older one's shortcomings.
Now this here is what you call a thoroughbred off-roader! While also being more than capable of any long-distance touring plans you can come up with, because it should be an absolute treat on the highway as well. It's built to be a jack of all trades of sorts – to take on everything – and heck, it really feels so. It feels like the real deal! Now, come on RE, hurry up with those cross-spoke wheels already!
Photography: Anis Shaikh
Price (Ex-Delhi)
Starts Rs 2,01,000