2023 Range Rover Velar review, road test - style and substance
See a Range Rover pass by on the street, you are immediately aware of that sense of the old melding with the new in the way these cars give off that traditional sense of luxury and grandeur but in a crisp, modern package. The new full-size Range Rovers take this up to a whole new level but the Range Rover Velar is where it started from. The Velar also fits in nicely in the range between the quite small Evoque and the larger but now quite pricey full-size Rangies.
2023 Range Rover Velar styling
So with how well-sorted the styling was to begin with, Land Rover hasn't had much to do with this update to keep the Range Rover Velar feeling fresh. You get new pixel-LED lighting in the front and a slightly different grille pattern that adds a touch more modernity to the face. That being said, this clean-swept look to the face, which ties in with the unfussy bodywork still makes the Velar one of the more attractive SUVs out there.
Like the full-size Range Rovers, one of the Velar's better angles is still probably its side profile. The way the roof and bodywork converge at the end gives it a sleekness that looks rich. The new colour-matched 20-inch wheels on this example do a great job of complementing this too.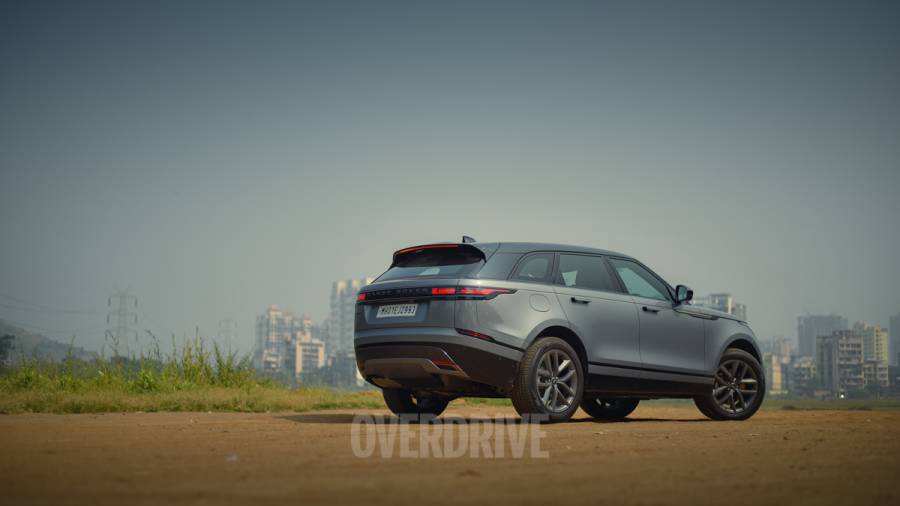 The rounded look to the rear carries on with the modern, minimal theme and has been spruced up with sleeker new lighting. This again fits naturally into the existing styling while adding a touch more crispness to the overall look.
2023 Range Rover Velar interior, space
Now the basic design of the Range Rover Velar's dash hasn't changed but the smart play of materials and textures still makes this feel fresh, especially in the way this grey and deep red matches with the gloss black and textured wood. The simple, functional design also has a role to play in this.
But Land Rover has taken this minimalistic approach quite a bit further with this update. It's striking enough to catch your eye as soon as you get in. The centre stack is completely devoid of any switchgear with all functions now controlled through the new curved 11.4-inch screen. The wireless charger and cubbies too are hidden away beneath the rich textured wood panel.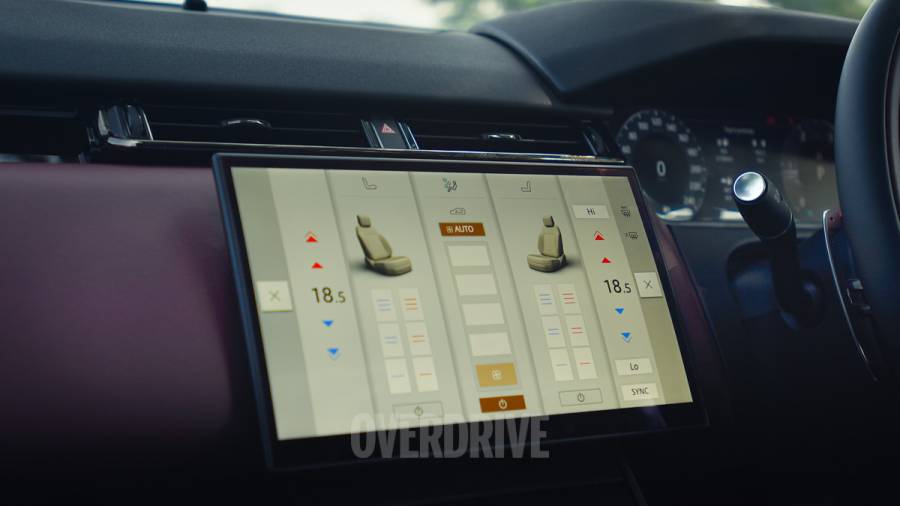 All of this looks and feels special but you will have to contend with fiddly touch interfaces to perform basic functions like changing the climate functions and the drive modes. Other Land Rover models do this far better with their dialled setup. Aside from this, the screen itself is intuitive and crisp in its operation.
Among other new bits added is the new Range Rover steering wheel. Like the rest of the updates, this too fits naturally into the existing look of the Velar and is if anything a step up in functionality from the earlier unit. The instrument cluster is new too, carrying a slicker display with more logical sub-menus.
Even with the strong focus on style, practicality hasn't been lost on the Velar. You have an ample amount of storage in the doors and in the deep central bin. Its split opening lets you maximize this space further.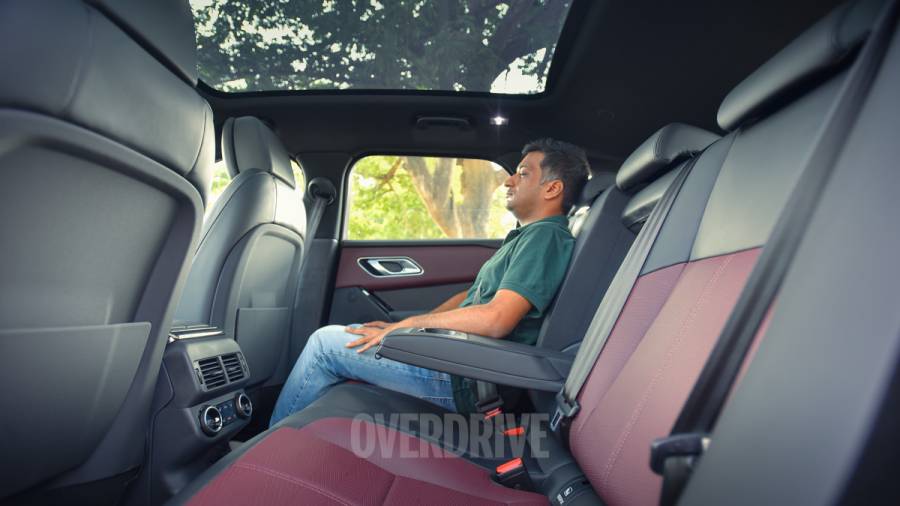 There's a middling amount of space in the back seat of the Velar given its footprint and stylish exterior but it's quite a comfortable space for two at least, the access mode of the air suspension making it straightforward to get in and out. The tinted panoramic sunroof and large mirrors give you a good sense of space which works well with the comfortable seats.
They feel soft but still supportive and the powered recline function adds to the comfort with its well-judged angle of recline. That said taller passengers will want more legroom and knee room and under-thigh support could be a touch better. Still, you get some thoughtful touches here like the four-zone climate control and the charge ports in the centre armrest although there aren't any sunblinds.
2023 Range Rover Velar features, safety, off-road
The Range Rover Velar happens to be pretty well equipped. You get full LED lighting, four-zone climate control, Meridian audio, wireless charging, wireless Android Auto/Apple Carplay, auto headlamps and wipers, 20-way adjustable front seats, cruise control and a PM 2.5 air filter.
But safety could have been given more attention. There are no ADAS features and you have six airbags as standard. But there is a crisp set of 360-degree cameras, TPMS, hill-hold, hill-descent control and torque vectoring by braking.
As expected from a Range Rover, the Velar will go quite some way off-road despite its prim exterior. You get AWD with a central locking differential, Terrain Response 2 with Wade Sensing, two off-road ride height settings, and the transparent bonnet feature being the highlights.
2023 Range Rover Velar driving impressions
From the driver's seat, the Velar is a bit different from its larger cousins. You don't sit quite as high up but you still have the bonnet flow out in front. So frontal visibility is great but you do have to contend with the thick A-pillar. But the steering wheel is placed well and the front seats are especially comfortable with their extensive adjustments including an extendable squab as well as ventilation, heating and massaging functions.
We're driving the Velar with a 2.0-litre diesel that makes 204PS and 430 Nm. These outputs may not set the world alight but Land Rover has done well to extract the most from this engine. It isn't the quickest in a sprint from 0 to 100 kmph as our 9s tested time shows, and you sense this too with the slight lethargy as you set off.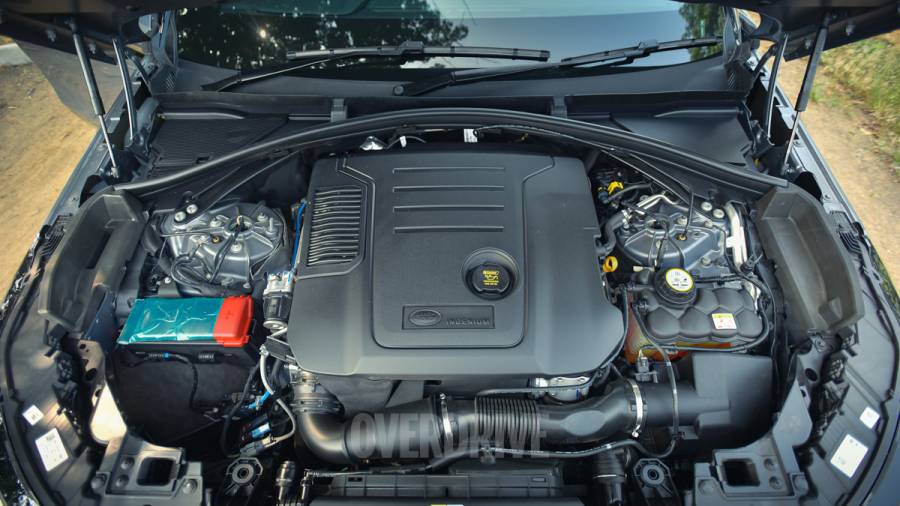 But once the motor hits the powerband it's smooth sailing. There's that wide and even spread of diesel torque with gives you a sense of ease in most situations apart from stop-go traffic. There's quite a wide mid-range for a diesel, the Velar keeps pulling to nearly 4,000 rpm which makes overtakes and highway cruising especially stress-free.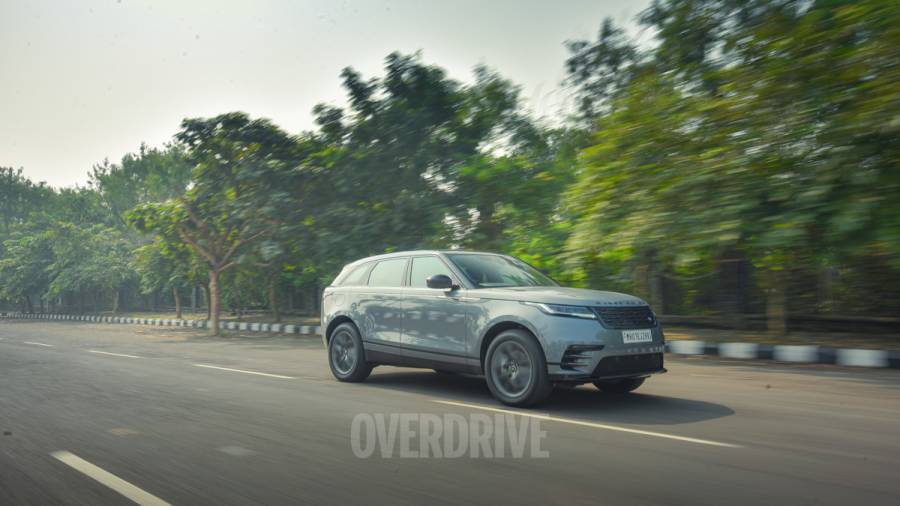 The 8-speed ZF gearbox also does its bit to extract the most from the engine. In the D mode, it's a bit hesitant to downshift under hard acceleration but in more sedate driving the wide powerband tides you through. In any case, switching to the Sport gearbox mode fixes this to quite an extent without the Velar becoming too snappy.
You also have well-judged drive modes, these don't make an especially stark difference but in the Dynamic setting, there is a pleasing enhanced engine note that makes things more exciting. In any case, the Velar is as refined as you want an SUV of its price to be with well-controlled wind and tyre noise, helped by active noise cancellation.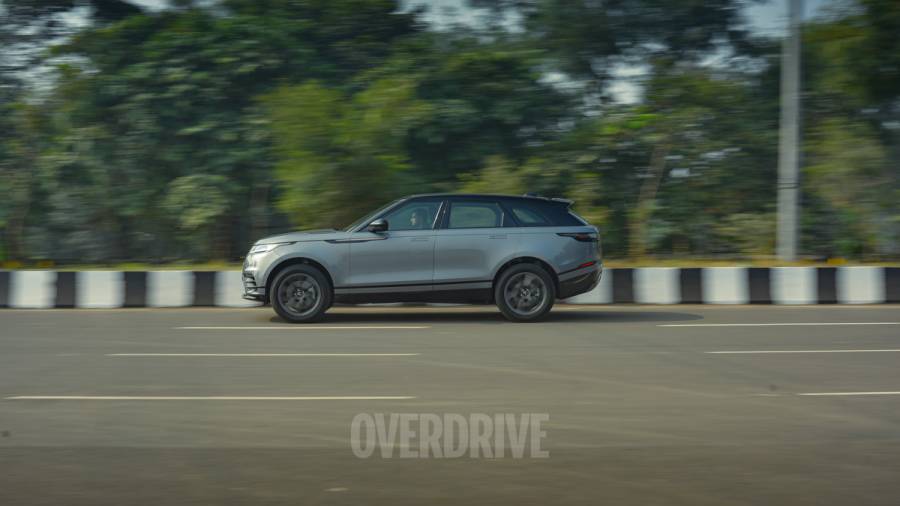 But what has changed quite a bit from the last time we drove a Velar is the addition of air suspension and adaptive damping. This has tightened up this Range Rover's ride and handling character notably. So while the large wheels add a firmness to the ride at slow speeds, especially over broken surfaces, there's a soft edge to it that doesn't make it too uncomfortable. This clears out as you start going faster which is where the Velar seems to do that luxury car thing of isolating you from your surroundings well, although that sensation of it bouncing over long undulations and pits continues from the larger Range Rovers here.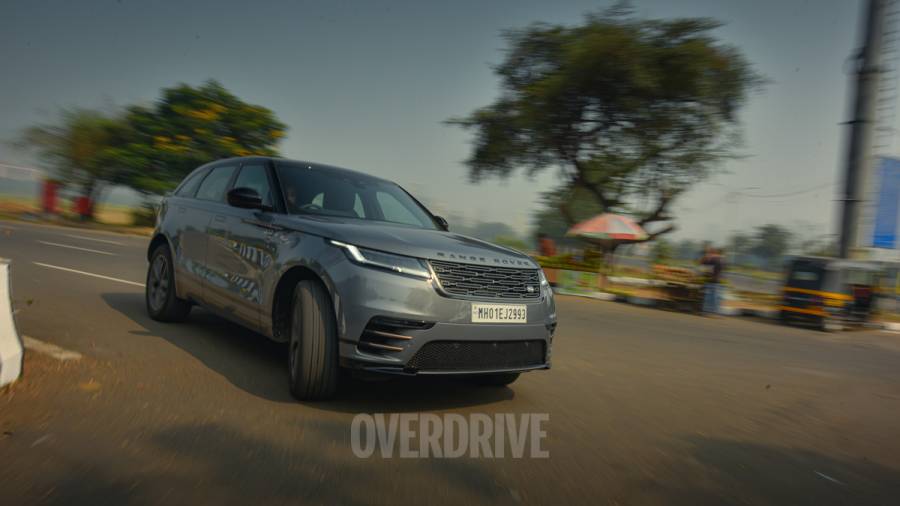 The Velar also feels quite a bit sharper to drive. Lean is better controlled than earlier but within the realms of what's possible with a large SUV. There's great high-speed stability as usual. Keep things steady, and the Velar will also change direction with relative directness. That said, you do feel a slight twitch come on when you pressure these all-season tyres too much along long curves at high speeds or sharp corners.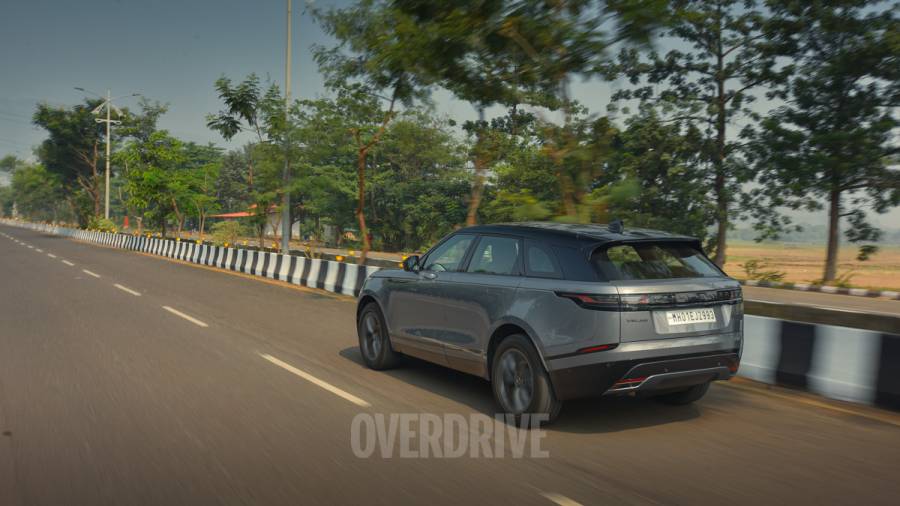 2023 Range Rover Velar price, verdict
Priced at Rs 1.14 crore on road, the Range Rover Velar competes with the slightly larger Mercedes GLE and BMW X5. As the sales numbers show, this new model has carved out its own space in this price range and it's not difficult to see why. You could ask for more space and performance but you get the bragging rights of the Range Rover brand at a more accessible price, good features and driving dynamics, a stylish cabin and a striking look.
2023 Range Rover Velar real-world performance, mileage
Performance

Acceleration
0 to 100 kmph - 9s
In-gear acceleration
30 to 50 kmph - 1.5s
50 to 70 kmph - 2s
60 to 80 kmph - 2.1s
Braking
100 to 0 kmph - 44m, 3.2s
Mileage
City - 9.5 kmpl
Highway - 15.15 kmpl
Overall - 10.91 kmpl
Text: @tuhinguha

Images by Anis Shaikh
Price (Ex-Delhi)
Starts Rs 74.9 Lakhs
Price (Ex-Delhi)
Starts Rs 79.87 Lakhs