2023 Ducati SuperSport 950S first ride review: Fast and Friendly
Ducati claims that the SuperSport 950S is its most user-friendly fully-faired motorcycle to date. In fact the Bologna-based bike manufacturer says that you can ride this motorcycle around town on a daily basis without any hassles at all. Quite unlike most fully-faired Ducati sport motorcycles, in short. So if you wanted a motorcycle from the Ducati Stable that was a little more sport-focused than the Monster bikes, and not as aggressive as the Panigale series of bikes, this is the one you should be looking up. So is there any truth to this claim? We're about to find out.
The SuperSport S has all the typical Ducati flair. It's got some neat cues that pay tribute to the Panigale V4 like the sharp face with those stern-looking LEDs and the neat little winglets. The fairing on the 2023 model covers most of the mechanicals while it may not be as much as a visual delight as the bigger, sportier Panigale series, it is supposed to help disperse heat better than before, while keep things nice and tidy on the visual front. And any Ducati it wouldn't be complete without the exposed trellis frame and the ever so sumptuous single-sided swingarm. Looks very nice and compact in profile. In the flesh one might even mistake it for a smaller capacity bike.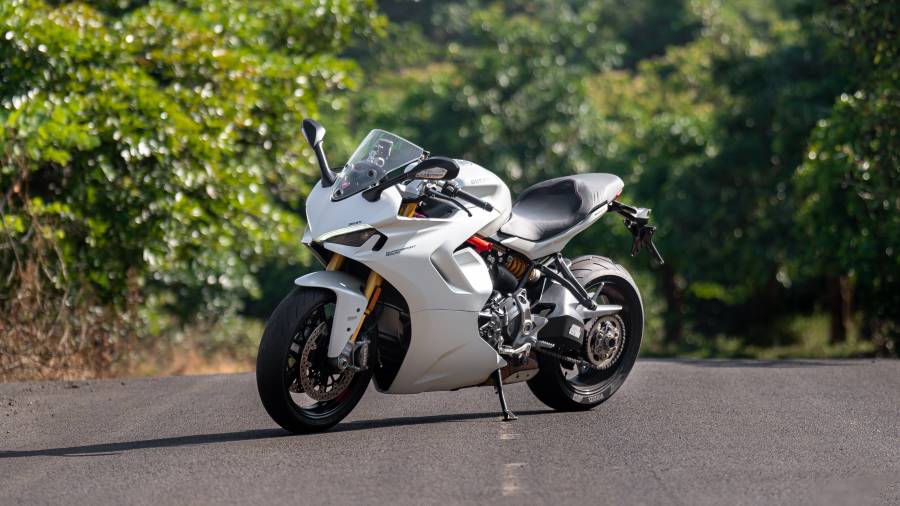 In terms if features, the SuperSport S gets a thicker fully-adjustable Ohlins fork at the front and monoshock at the rear over the standard models Marzocchi and Sachs units. In true Ducati fashion, it comes packed with a 6-axis IMU which detects the roll, yaw, and pitch angles of the bike. You also get three customizable ride modes which allow you to set the cornering ABS, traction control and wheelie control as per your preference. The SuperSport S gets a full TFT colour display which looks very neat but doesn't get Ducati's Multimedia system, or Bluetooth connectivity, so if that's your thing, you'll have to shell out for that separately. Two of the best features of this bike have to be its slipper clutch and the bi-directional quickshifter. Both feel fantastic to employ on a daily basis not only on open highways, but the former makes life a lot easier in traffic.
Now not only does this Ducati look like a real gem out on the road, but it really has the go to show as well. Powering the SuperSport S is Ducati's 937cc Testastretta L-Twin motor. It's the same engine that powers the latest Monster, Hypermotard and Multistrada bikes. The engine puts a max power of 110PS and 87Nm of max torque in Sport. Things are dialed down a bit with the engine map settings easing off in the Touring and Urban mode. The motor just loves to be revved and the best thing with the Testastretta motor is that you don't have to really rev hard to get performance out of this thing. It just loves to be revved, from 3,000rpm all the way up to the redline at 9,000, pulling so sweet and cleanly it feels like a proper performance machine, worthy of the esteemed Ducati badging.
It really feels like you could ride this bike all day. Except for when you're in Mumbai and it's the peak of summer, because these kind of riding conditions really favour any type of Italian sports motorcycle. This one too tends to heats up quite a bit if you're stuck in a jam. And you'll want to pull over to stop over and give her a breather if you don't fancy your thighs getting cooked. As soon as you get back up and running, you'll see the engine temp readout on the dash drop quite fast which I must admit, was mildly reassuring. It won't be long before you're holding on to gears while creating some lovely tunes from those sweet cut short twin pipes.
And the best part about this bike and the way its setup is that you don't really have to ride fast to feel comfortable. The ergonomics are will have you hunched forward with some weight on your palms but it is surprisingly comfortable and isn't as extreme and unforgiving as some of Ducati's sportier series of bikes.
Something that makes the SuperSport 950 S comfortable and easy to manage out on the road first and foremost is the seat. At a height of just 810mm off the ground, it is fairly easy to get on the bike in full riding gear, something that isn't so with the more aggressive sportbikes from Ducati. With my 5'9 frame getting both feet flat on the ground once astride is very easy too and its something shorter riders will appreciate as well.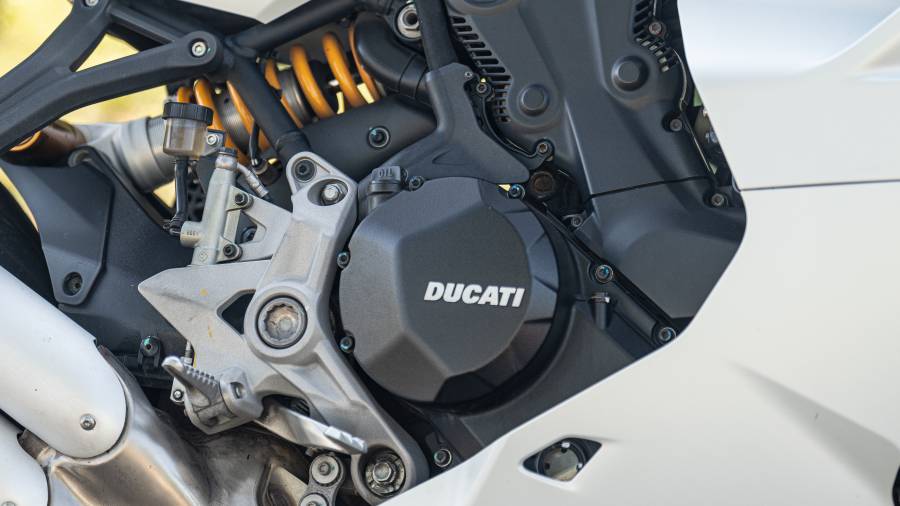 Now this is the S version of the SuperSport so you get Ohlins suspension on both ends. In this stock setting the bike feels nice and plush in the city which is shockingly refreshing for a Ducati sportsbike. Things aren't bone-jarring the way they usually are on a Ducati bike. But then again, if you're the free spirited sort who loves to really give it the beans at times, you will definitely want to dial in more stiffness at either end of this motorcycle.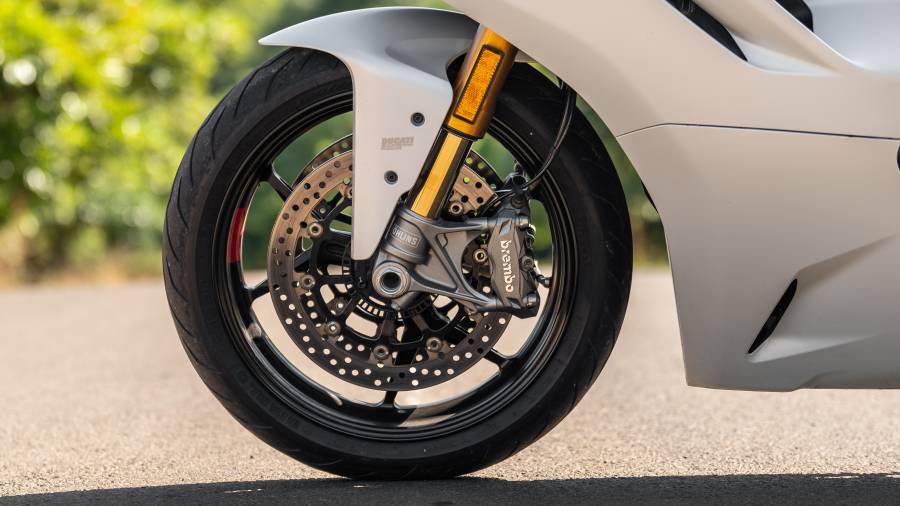 Traditionally, Ducatis are not bikes to that are meant to dish out large dollops of comfort, but this one surprisingly does that. Ducati sportsbikes are meant to be fast, fun and exciting, not only to ride, but to look at as well. And the SuperSport definitely ticks off all those three boxes. If you have the right tools and the skillset, you can definitely sharpen raise the bar of potential on this one. Sure it may not be extreme and overbearing like some machines with a stronger emphasis on speed, but it has its own set of likeable traits and has enough definition, dynamism and character for you to enjoy spending your days with.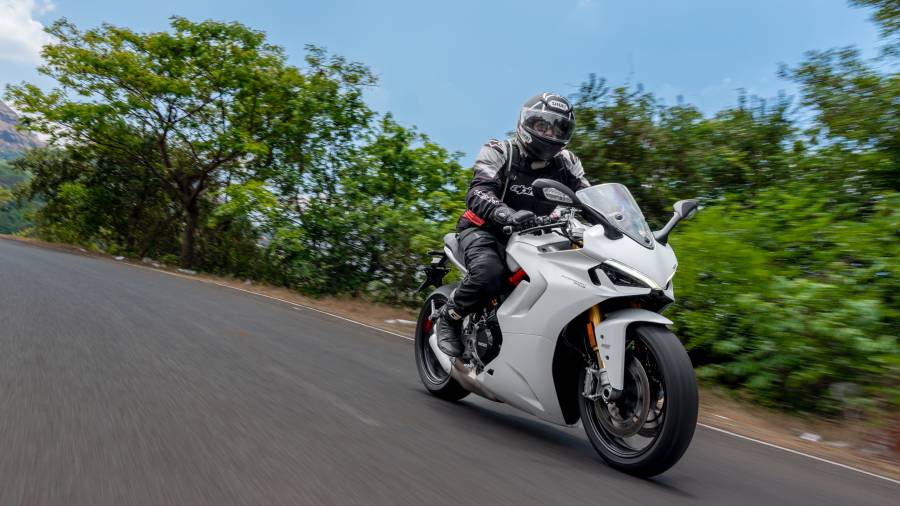 In every sense, the SuperSport gives you the feeling that you are riding a proper Ducati Sports bike. It isn't vibe free but still, it gives you that solid feeling when you lay your hands on its bars. It roars to life every time you fire it up. Like a little spectacle in itself. You can feel the engine working its magic between your legs when you wring the throttle while that lovely tubular steel chassis holds it all together brilliantly. Like the older Ducati's has that nice slightly raw, powerful feel to it all which is awesome, but it blends the tech in well giving you a good margin of safety in tricky situations. It feels like this ruffian who exudes etiquette of sorts, which is a welcomed surprise. The only shortcoming I found with this bike was to do with the stitching on its seat, which appeared to fray quite easily. Not something I'd expect on a motorcycle that costs close to Rs 18 lakh.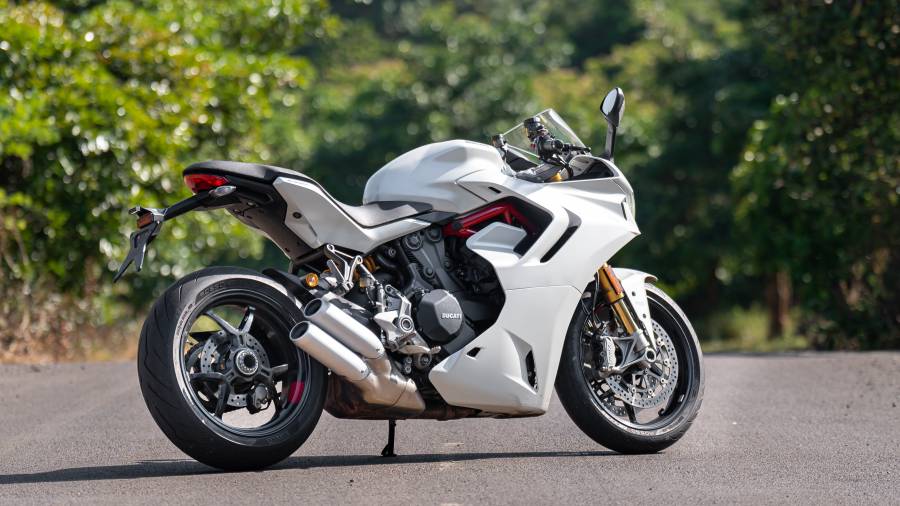 Now to sum things up out here with the Ducati SuperSport 950 S. First of all, a big yes to it being one of the most comfortable and easy-to-ride fully-faired sportsbikes from Ducati. Not only does it look spectacular, but it also comes with the Testastretta L-twin which is just something else! Three ride modes a hoard of electronic adjustments in the suite gives you a good amount of flexibility which you will desire out on the road. It's an exciting and enjoyable thoroughbred Ducati motorcycle through and through.
Price (Ex-Delhi)
Starts Rs 13,49,000