2023 BMW X5 review, road test - sharper looks, but sharper drive?
The X5 is usually what comes to mind first when you think of a BMW SUV. It's set the template that the other SUVs from this brand have largely followed since, in the way that it toes the line of being engaging to drive and luxurious at the same time. But when this fourth generation came about a few years ago we felt that the focus may have skewed a bit more towards luxury. But there's been a fairly extensive mid-cycle update so where does the X5 stand now?
2023 BMW X5 styling, boot
Most of the visual changes with this update to the BMW X5 are centred around its face. The few changes that have been made are effective. The X5 now looks leaner and sharper, largely down to the slimmer headlamps with their crisp blue detailing. The large grille is still quite traditional by current BMW standards but the backlighting at night with the blue hue has you more than covered for presence.
In keeping with this theme, there's a lot less chrome now in this M Sport version. It's been replaced by that large blacked-out functional front air dam with the vertical slits on the sides, adding to the more athletic sense that's being created.
This theme continues to the side profile of the facelifted X5. Here too, more gloss black has seemingly condensed this car's quite large presence but quite striking are these new 21-inch M Sport wheels with their blue callipers. They are some of the more exciting-looking ones we've seen on an SUV lately. The quite simple bodywork otherwise doesn't seem too far out of sync with the new face.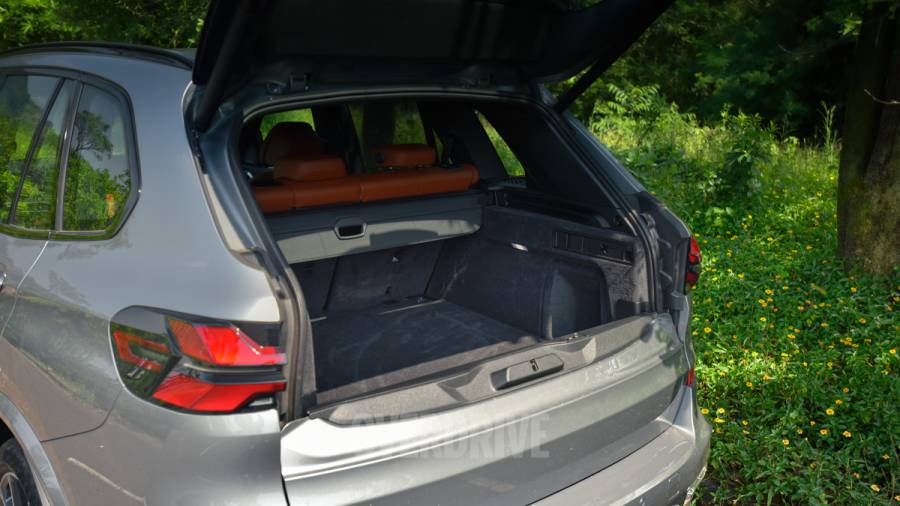 At the rear, there are some minimal changes. The tailamps have been condensed to recreate the new L-shaped 3D signature found in newer models like the X1 while the bumper too has been made less fussy. A pair of fat, exposed exhaust tips amp up the sense of performance with this version. The X5 staple split boot lid remains intact though, with the added benefits to practicality that brings.
2023 BMW X5 Interiors, space, practicality
Step inside the new BMW X5 and you won't miss the biggest change here. It's the new single-pane curved iDrive 8 display which fits fairly naturally into this older cabin design. Some other minor changes go with this to bring the X5 up to speed with other, newer BMWs.
So you now get the more minimalistic vent design as well as the arrow-head light motifs in the dash to mimic the new external light signature. The other notable change is the toggle-type gear selector in the centre console. As before, the quality of materials and finish is about as good as you can expect at this price point. The textured wood and leather all have varying sensations coming through that bring about a great sense of class. The originally classy design has matured well over time to keep the X5 feeling contemporary.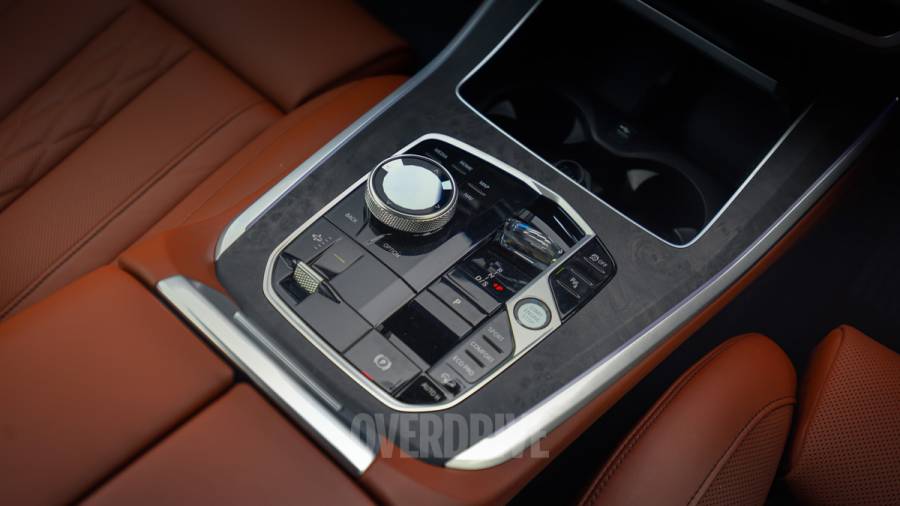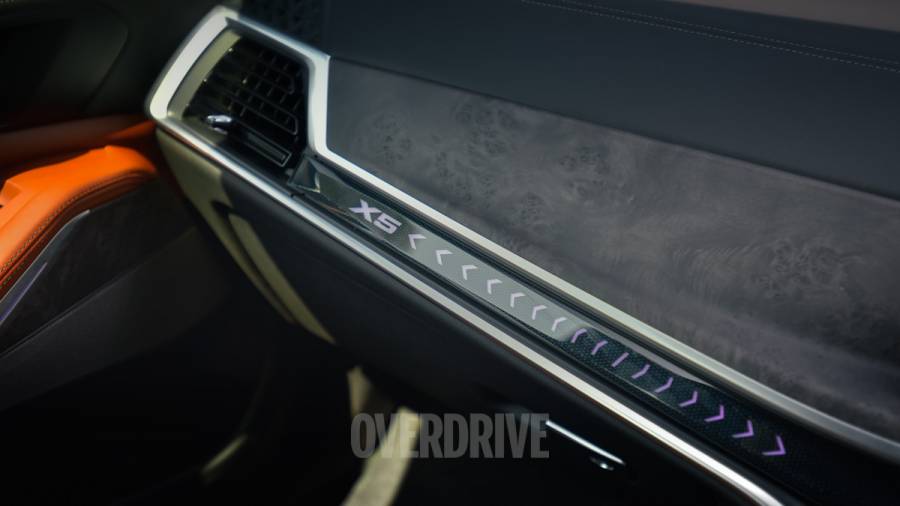 The new vents though falter in this regard, they don't quite have the heft and tactility of the rest of the switchgear. But the 14.9-inch central touchscreen has seen some minor improvements. You now have a more intuitive home screen and the touch climate controls have been simplified, addressing some of our earlier complaints with this system. Further, with the older rotary dial retained, this execution of the iDrive is probably the best BMW currently does.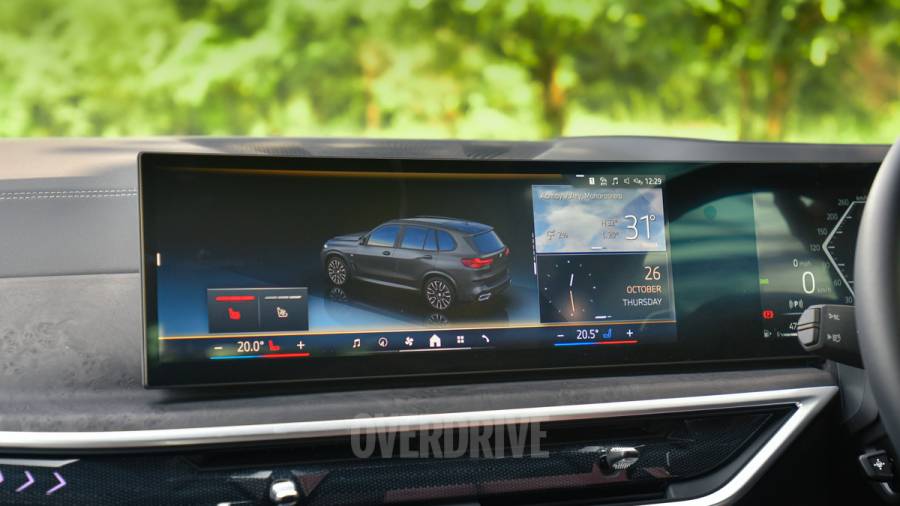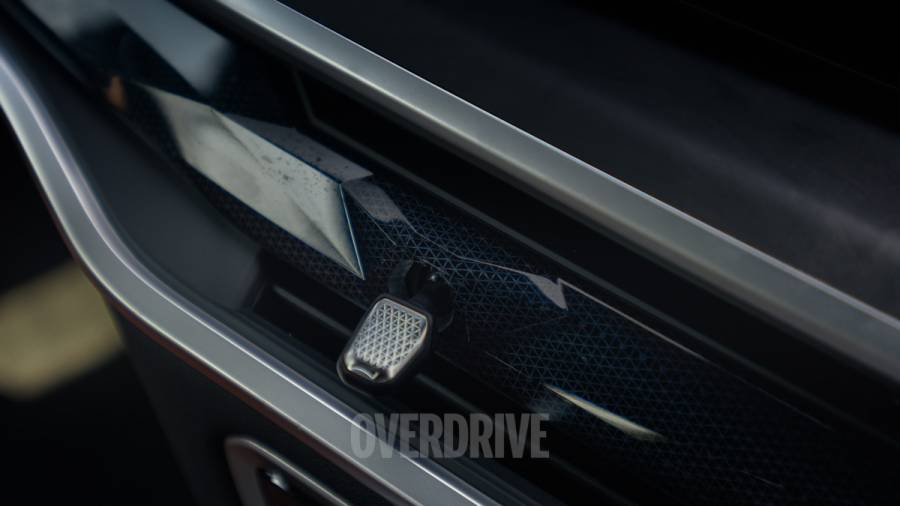 The central tunnel could have done with slightly larger cubbies, especially for the wireless charger, but otherwise, there are type-A and C charge ports and large door rockets to hold stuff in place.
Quite a few of you will like the new X5 for its back seat. There's no reclining function for the seatback which is a miss but it's good news from here on. The cushioning is fairly flat but still soft and well structured, so long journeys will be comfortable. With the low central tunnel, there's also enough space for three adults but thigh support could be a touch better. There's a good amount of head, knee and legroom as well.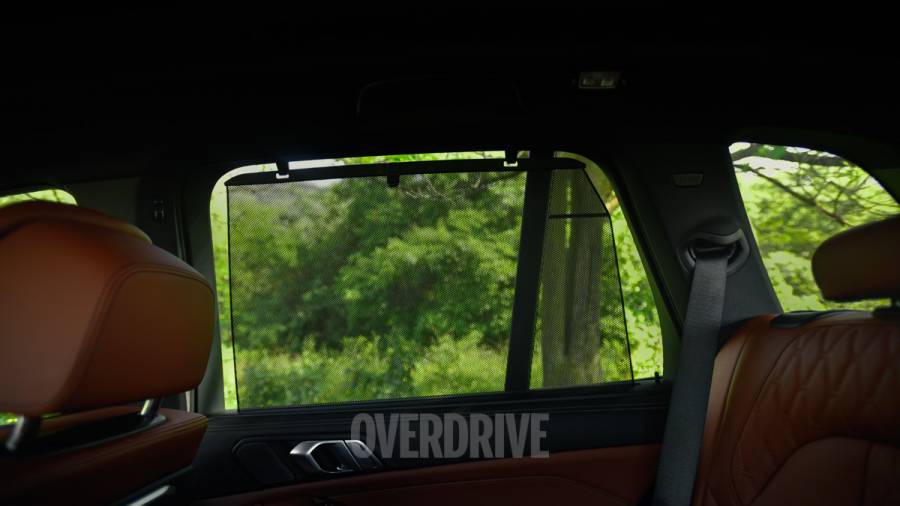 There's a long list of amenities to go with this. You get an access function for the air suspension, four-zone climate control and sun blinds as well as neat power outlets and jacks in the seatback for devices.
2023 BMW X5 features, safety
Also helping lift the ambience is the vast list of features. You get adaptive LED lighting, soft-close doors, heated and cooled front seats with adjustable bolsters, thigh squabs and seatback angle, wireless Android Auto/Apple Carplay, 12.3-inch instrument cluster, HUD, panoramic sunroof, ambient lighting, connected features and a powered tailgate being highlights.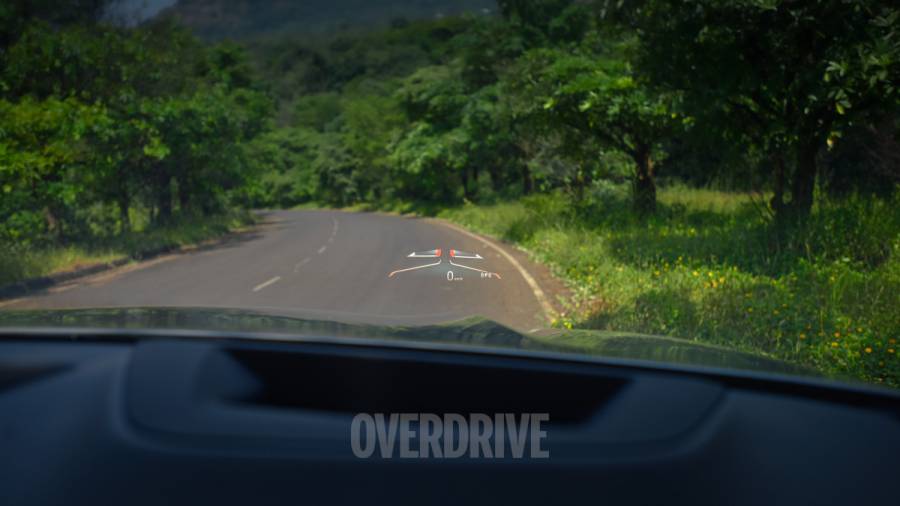 As for safety, you get some degree of ADAS features like a collision avoidance system, land departure warning and driver attention functions. You also get a crisp set of 360-degree cameras, TPMS, reversing assistant, hill-descent control and run-flat tyres.
2023 BMW X5 driving impressions
From the driver's seat, the facelift BMW X5 makes for quite the cosseting experience. You have a typical SUV view out with the high-set seat and open glass area, the large M Sport wheel comes up to you in that near-perfect BMW way and the seat has an immense degree of adjustment available. The cushioning too is soft but still dense enough to be just right, holding you in steady comfort.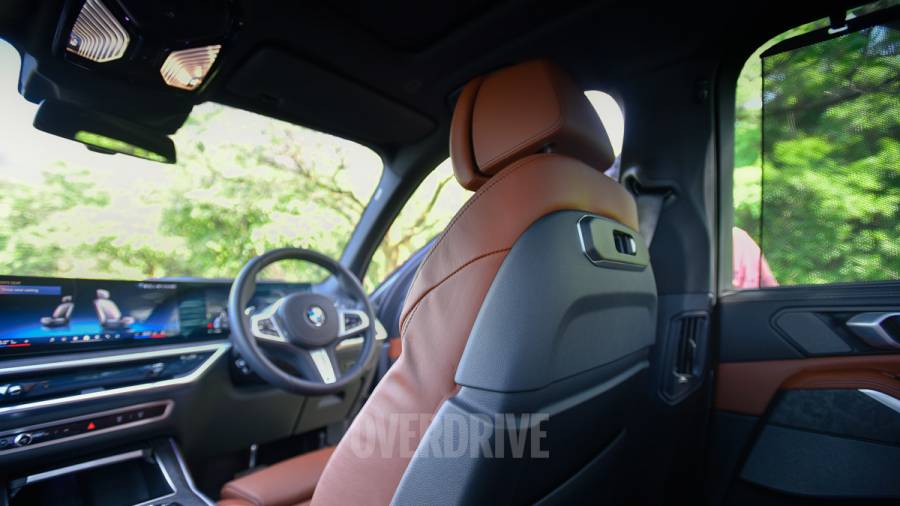 A notable update is the reworked 3.0-litre inline-6 diesel in this xDrive30d variant. The motor now makes 286PS and 650 Nm but more significantly you now have 12PS and 200 Nm of mild-hybrid assistance.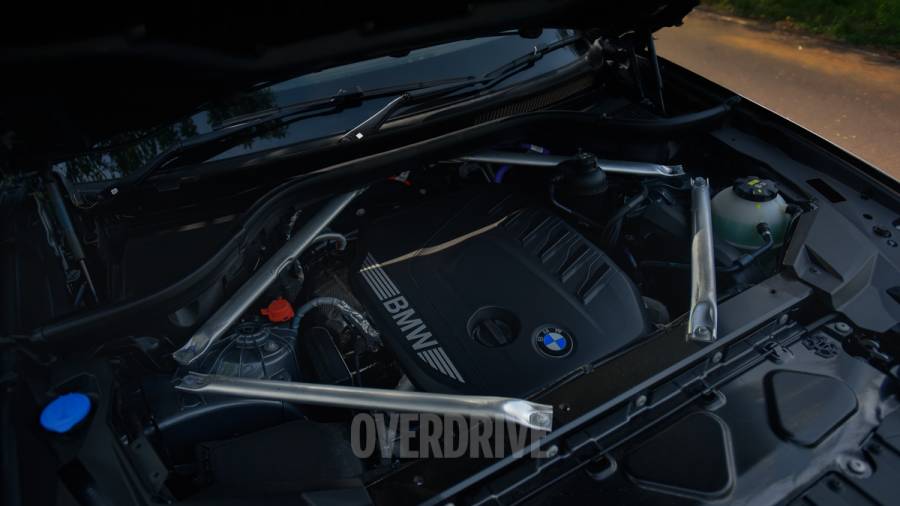 But what strikes you first is how exceptionally refined this powertrain is. There's no real way to tell it's a diesel. There's barely any noise or vibrations at low revs and the piped-in engine note as you push further is more reminiscent of a BMW straight-six petrol or even a lazy V8. Wind and tyre noise are also equally well controlled, making the X5 feeling more than its price suggests.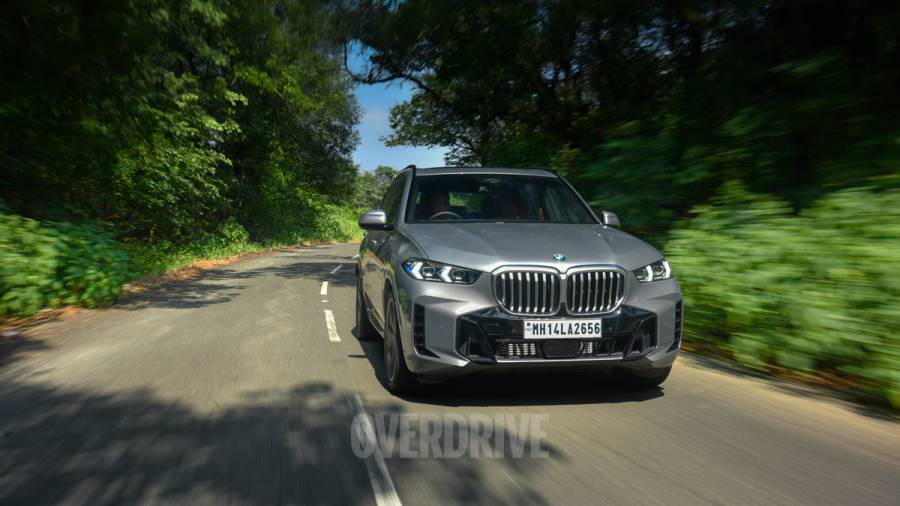 Then comes the equally impressive slug of performance. With the electrical assistance, there's nearly no lag and the X5 seems to pull from right above idle. From here there's a wave of torque that seems to keep growing in intensity right up to 5,000 rpm. This makes the engine more alert in nearly every situation and there's now a sensation of a much wider powerband than you'd expect in a diesel. So you never feel short of performance as the 0 to 100 kmph time of 6s suggests. The potent midrange also means that this diesel X5 will leave a fair few cars for dead with its sub-1.5s rolling acceleration times.
There's a new Sprint mode which, gimmicky name aside, exploits this performance well. It puts the engine and gearbox in its most aggressive setting for a short burst that makes overtakes and other manoeuvres easier. You still have the other drive modes, which seem to now work better with the more flexible powertrain. The X5 doesn't feel too restrained in Eco Pro or too snappy in Sport.
The 8-speed ZF gearbox is top-notch as usual. The changes to the engine seem to tide over whatever little hesitation that used to be there in regular D mode. It now truly fades away in the background, letting you go about in a smooth, uninterrupted way that ties in well with the luxury credentials of an SUV like this one. In the Sportier modes, the gearbox again plays its part well. It'll downshift to the correct gear quickly and then snap through ratios confidently.
This M Sport version also tidies up the ride and handling package of the X5. To start with, the air suspension does a commendable job of smoothing out our rough roads. There's some of that pitching at low speeds over a series of bad patches but the X5 feels plush otherwise. Most imperfections stay out of the cabin, even larger potholes are heard more than felt, and despite these 21-inch wheels, there's a softness to the ride that makes the experience comforting. This sense keeps getting better the faster you go.
Commendably this doesn't come at the cost of that typical BMW driving sparkle that you expect. Those fat 315-width tyres immediately create a great sense of grip and the steering too doesn't feel too light. It's got the right mix of ease and directness. Body movements are especially well-controlled, and the X5 usually surprises you with the kinds of cornering speeds it manages. There's that balanced, fluid sense to the driving experience that you want from a BMW with the 50:50 weight split. Of course, around tight hilly roads, you will find the X5's size and heft catching up to it. But with the long-distance cruising ability this diesel gives you, it's got that solid, effortless sense to it on the move at high speeds that you want in such an SUV.
2023 BMW X5 price, verdict
Priced at Rs 1.32 crore, this new X5 is a pricey proposition. But there's something here for everyone. It's got the comfort and luxury bit covered, in ways better than some rivals with its long features list and well-appointed cabin. The drivetrain is about as polished as you'd want from a car and to top that it has also retained that driving sparkle that you want from a BMW.
2023 BMW X5 real-world mileage, performance
Performance

Acceleration
0 to 100 kmph - 6s
In-gear acceleration
30 to 50 kmph - 1.2s
50 to 70 kmph - 1.4s
60 to 80 kmph - 1.6s
Braking
100 to 0 kmph - 40.3m, 3s
Mileage
City - 9.87 kmpl
Highway - 16.92 kmpl
Overall - 11.63 kmpl
Text: @tuhinguha

Images by Anis Shaikh
Watch our video review of the 2023 BMW X5 below
Also read,
BMW X5 facelift launched in India; prices start at Rs 93.90 lakh
Meet the Bulletproof BMW X5 Protection VR6
Price (Ex-Delhi)
Starts Rs 74.9 Lakhs