2022 Maruti Suzuki Alto K10 review, first drive - still India's default car?
Maruti Suzuki has sold a 100 Altos an hour for the last 22 years, and if the Alto nameplate were a separate car brand, it'd be the fourth largest in India. Once you've got your head around these numbers, it's easy to see the scale of the Maruti Suzuki Alto's impact on the Indian automotive landscape. But times are changing, a push by both buyers and carmakers towards more upmarket offerings along with pricey safety and emissions equipment being added from new legislation means that small, affordable hatches like the Alto are less attractive than they used to be. From being the top-selling car in India for over 20 years, the Alto now lags behind many of Maruti's larger, pricier offerings.
But Maruti Suzuki thinks otherwise. The 2022 Alto K10 is the first full generation change for the car in over a decade and the company thinks this update will see the Alto through the changes around it. So is the new Alto K10 still the default small car for India?
2022 Maruti Suzuki Alto K10 styling, dimensions
With the new Alto K10, Maruti Suzuki has created a more significant visual differentiation between this and the standard Alto 800 that continues unchanged.  The Alto K10 is 85mm longer and 45mm taller than the Alto 800 but more apparent is the new styling. There's more of a Japanese Kei-car whiff about the Alto than ever before, especially with the oversized honeycomb grille and the wide headlamps that now sit on a higher plane.
This should make the Alto K10 seem less anonymous among the SUVs that swarm our streets now, a good bonus for first-time car buyers. Adding to this is the more contemporary bodywork. The straight lines and flat surfaces have been replaced by soft curves and fuller panels, especially on the bonnet and with the mildly haunched rear section. But we think a set of 14-inch wheels would have fully reinforced this more modern look. The current 13-inch ones leave large gaps in the wheel wells and seem out of sync with the rest of the design. The rear is fairly straightforward, although modernity comes in the form of the more sloping rear windscreen and the small lozenge-like taillamps that seem to draw from the S-Presso and Celerio. The big bumper eats into boot practicality though, making for a small opening and a high lip.
Maruti Suzuki could have added some LED light signatures but a pleasant touch is the discreet honeycomb details that dot the car like in the lighting and wheel caps. As it stands, Maruti Suzuki seems to have kept the balance between bringing in a more contemporary look to the Alto while keeping it within the realms of what a fairly conservative buyer would want in their garage.
2022 Maruti Suzuki Alto K10 interiors, features
The big news with this update is that the Maruti Suzuki Alto K10 moves to the latest Heartect architecture, as seen in the S-Presso and Celerio along with other small Marutis. The dimensions hardly suggest this, wheelbase has grown by 20mm, but step into the Alto K10 from the Alto 800 and there is a noticeable increase in interior space.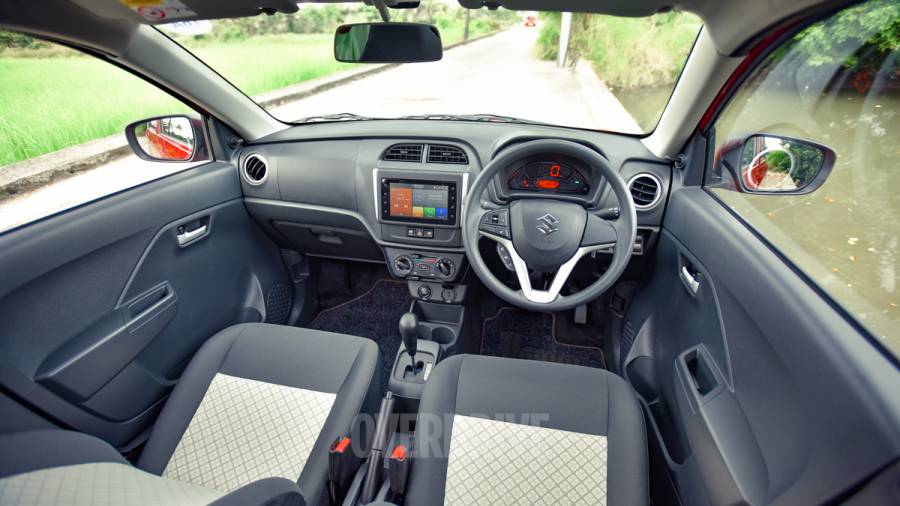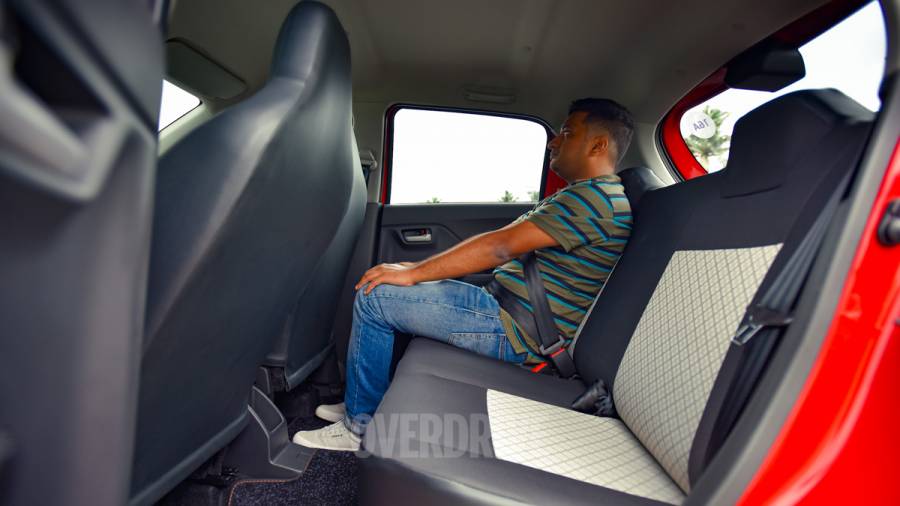 The footwells are wider and deeper in the front while the seats more supportive and better cushioned. But the biggest draw for most will be the rear seating. There's adequate legroom for all but the tallest of occupants and the space itself is more efficiently managed despite no increase in exterior width. Seating for three adults abreast, though tight, is completely possible and there's great headroom and reasonable shoulder room, even the central tunnel is less of an obstruction than before. Underthigh support is somewhat lacking but is as expected in a car of this size. The rear seatback is set at a comfortable angle also. The large windows and high seat heights further add an added sense of space. In effect, the Alto K10 is now perfectly sized for a small car for the average Indian family.
There's a new dash design to go with this. As with the exteriors, it doesn't break any new ground in terms of design flourish but is functional and inoffensive. As in any Maruti at this end of the price spectrum, the plastics are hard and largely scratchy but consistently put together. We would have liked to have seen some varying textures and finishes to break up the larger surfaces, there are subtle nods to the exterior's honeycomb patterns on the seats and the speaker covers and maybe this theme could have been stretched further. But most controls fall to hand easily and the switchgear feels hard-wearing.
We think the Alto K10 could do with more features, or a better equipped ZXi variant over the top VXi Plus currently available. You have the quite intuitive 7.0-inch touchscreen with its Android Auto/Apple Carplay but the screen catches glare quite easily in sunny weather. There's a large digital speedometer with some basic trip data as well as steering-mounted controls, front power windows and keyless entry. This should suffice for a mid-spec trim but we think equipment like power-operated mirrors, rear power windows and an exterior boot release could have been added in a separate top variant. The air conditioning works as well as in any other Maruti so rear vents aren't missed.
2022 Maruti Suzuki Alto K10 safety
Maruti Suzuki could have used this big shift with the Alto K10 to strengthen the lingering questions about its cars' safety. You get the mandated two airbags and ABS along with the many buzzers but some stark misses are a day-night inner rear-view mirror and a rear defogger. The new architecture should bring with it stronger crash protection although a full crash test will be the best judge of that.
2022 Maruti Suzuki Alto K10 driving impressions, real-world mileage
As the driver, you have a good view out of the Maruti Suzuki Alto K10 with the large windows and slim pillars. There is limited adjustability but the driving position should work for most body types. The Alto K10 now gets the 1.0-litre Dual Jet petrol with 67PS and 89 Nm. There's not much in the way of sound deadening, so the motor is always audible but vibrations through the wheel and pedals are very well controlled.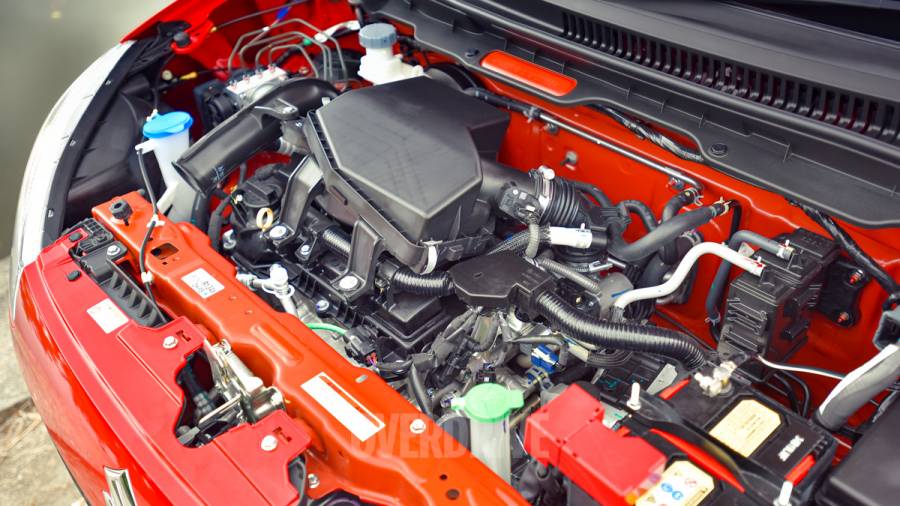 And on the move, the Alto K10 feels like a typical small, peppy Maruti Suzuki. There's that energetic feeling at low revs that makes keeping up or passing through tight traffic easy. The compact dimensions seem to magically enlarge gaps between cars and make narrow city streets feel wider than they otherwise would be. But rev it out, and there's consistent performance on offer through the rev band, quite unlike some of Maruti Suzuki's larger engines. In highway driving, we were always surprised by the spiritedness with which the Alto K10 could reach and hold triple-digit speeds. Although we did sometimes notice a slight inconsistency in the way the motor delivers power at steady part throttle, this isn't apparent enough in a way to scar the driving experience entirely.
The 2022 Alto K10 can be had with a five-speed manual or AMT. Our pick would be the AMT, if your budget permits it, simply because of how easy it makes the entire experience. In the light throttle inputs you need, the gearbox fades away into the background and shifts are smooth and consistent. The usual AMT 'head nod' only shows up during faster overtakes or while trying to make up gaps in traffic. Downshifts come with some hesitancy but are still perfectly acceptable in this price range, if anything this trait seems to be better controlled with the Alto K10 than with some of the firm's earlier offerings. The manual isn't too much of a compromise either. While the shift feel could be less mushy, the clutch itself is light and progressive, so driving the manual doesn't take too much effort. The tall gearing and wide powerband also mean that you don't need to shift all that often to begin with, second and third should see you through most of your commute.
But the one fact that will be of most interest to Alto K10 buyers will be its deeply impressive fuel efficiency. We managed 21.48 kmpl of real-world mileage in reasonably heavy traffic without much concession to efficient driving.
It's no surprise that the Alto K10 won't be setting enthusiasts' hearts racing with its ride and handling behaviour but we would have liked a generally more polished experience. Yes, ride on smooth or mildly uneven surfaces is quite plush but the Alto K10 seems notably limited by its tiny 145/80 R13 tyres. These cause it to hop over speed breakers and other undulations and a fair bit is passed into the cabin. Conversely, the light hatch with these thick side-walls glides over potholes and ruts, so owners who frequent rural roads will be happy. Stability on the highway is alright too, there's not much skittishness at steady legal speeds.
But drive the Alto K10 into a corner in any anger, and the car does tend to run wide early with its skinny tyres, but we suspect this will be far from a deal-breaker. The steering however could have been lighter at parking speeds, three-point turns take some effort, but this improves as speeds rise. Braking too feels fairly confident in regular use.
2022 Maruti Suzuki Alto K10 price, verdict
Prices for the 2022 Maruti Suzuki Alto K10 start at Rs 3.99 lakh and go up to Rs 5.85 lakh. Aside from a lack of features and tyres that feel a size too small, there is nothing really to fault here. A feeling helped by the incredible efficiency, the big improvement in space and the Alto K10's general ease of use. But will it be a stretch to reach for the mechanically identical S-Presso, with its crossover-like practicality and more refined driving experience, at a marginal Rs 15,000 to 25,000 premium?
Text: @tuhinguha
Images: @anis.shaikh.media 
Also read,
Maruti Suzuki Alto K10 Vs Maruti Suzuki S-Presso: What's different?
2022 Maruti Suzuki Alto K10 launched in India, prices start from Rs 3.99 lakh
Price (Ex-Delhi)
Starts Rs 4.25 Lakhs