2022 Hyundai Tucson review, first drive - More, for more
The outgoing second-gen Tucson (launched 2016, facelifted 2020) was discontinued in April this year. But chances are, you didn't know that. The Tucson, large, spacious, and comfortable as it was, had been outshone by new mid-size SUVs below and above its price. And its double digit sales figures showed just that.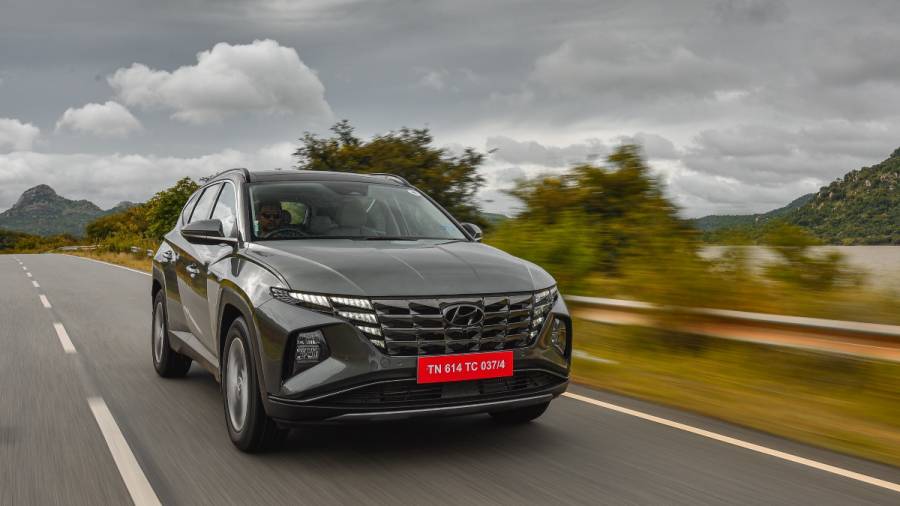 With this new third-gen Hyundai Tucson, it's more than equipped to make a comeback. There is, of course, the question of price. With the range starting at Rs 27.7 lakh going up to Rs 34.54 lakh (ex-showroom), the new Tucson is priced Rs 5-7 lakh over the outgoing model. Is the new styling, platform, interiors, technology, and ADAS worth it?
2022 Hyundai Tucson platform and dimensions
This is an all-new car, as if the radically changed styling wasn't indication enough. It rides on Hyundai-Kia's Third-Generation Compact (N3) platform that also underpins new models like the Hyundai Santa Fe and Sonata, as well as larger vehicles like the new-gen Kia Carnival. The Tucson we get is the long-wheelbase model, which is quite significantly larger than before. The short-wheelbase Tucson available abroad, not quite as much.
Numbers? At 4,630mm long, it's 150mm longer than the previous gen. It also sees an 85mm increase in wheelbase at 2,755mm, just short of something like the 7-seater Skoda Kodiaq's 2,791mm. This adds up to an 80mm increase in rear legroom, and 56-litres of added boot capacity for a total of 540-litres.
2022 Hyundai Tucson styling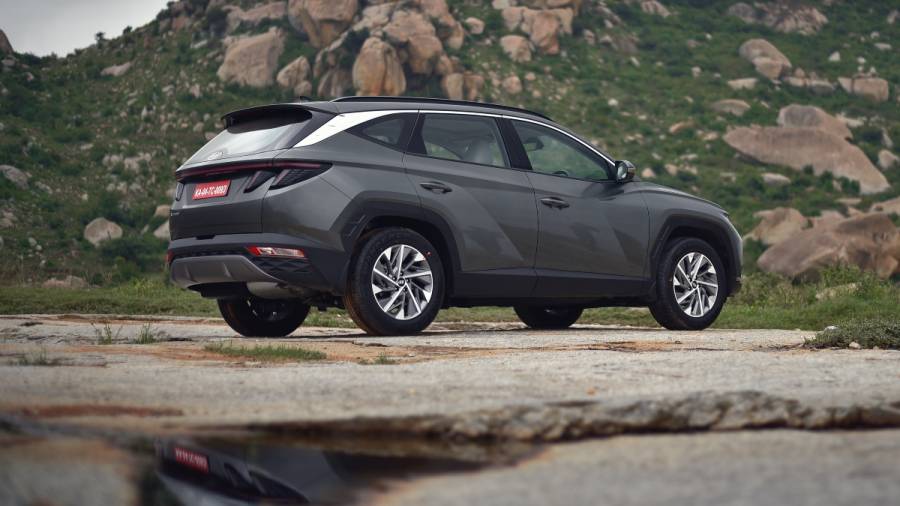 Far from the gentle curves of the second-gen Tucson, this new Tucson (NX4) is all sharp cuts and creases in every body panel, an embodiment of the new Sensuous Sportiness design language. Hidden DRLs blend in with the dark chrome of the parametric grille thanks to a chrome nickel coating on the inside of the lens/reflector. They're definitely the most dramatic part of the Tucson. In profile, the extra length of the LWB model does seem apparent, but the angular sides do make for interesting viewing.
2022 Hyundai Tucson interiors, comfort and features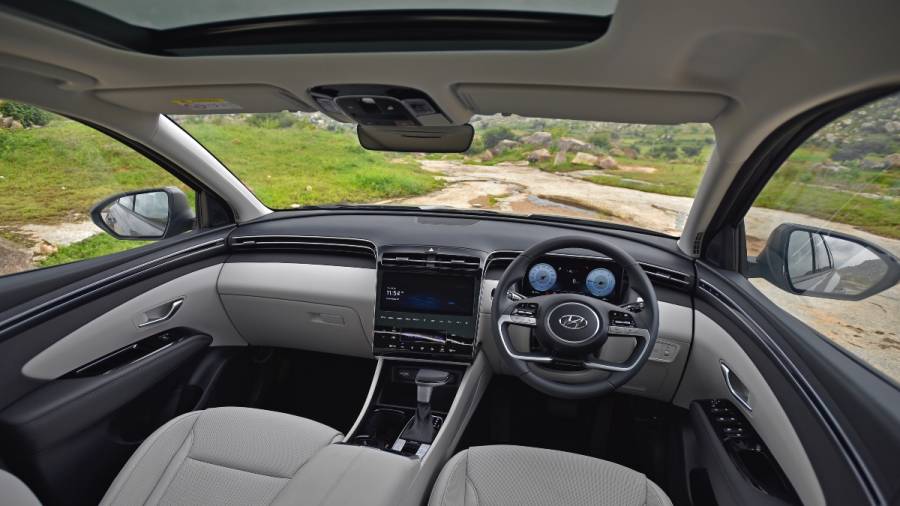 Another huge step up here in terms of the presentation of the cabin. While I can't confirm this, it does look like Hyundai's looked to the cabin of the Bugatti Chiron for inspiration! To that effect, both front passengers have defined sections of the dashboard, with the central spline housing the massive 10.25-inch touchscreen infotainment. Though all the controls are touch-sensitive and not physical buttons, they're large enough to not be too disruptive to use on the go. The other 10.25-inch screen sits behind the steering wheel, and though it's clear it takes some getting used to as it's placed lower than you expect. That said, visibility all around is great.
The split-section dash isn't all just for show either. The climate control also blows diffused air from subtle vents in the arcs (sort of like the AC on airplanes) for days when you don't want a blast of cool air on your face. The features list is long, and includes heated/cooled and powered front seats, dual-zone climate control, panoramic sunroof, BlueLink connected tech with Alexa integration, Bose 8-speaker audio (best sounding application of it so far), and usability stuff like regional language support in the infotainment.
The rear seat, with all that added legroom and a huge degree of adjustment for the recline of the seatback, goes one further with boss controls for the left rear passenger. Lounging back here will be supremely easy, and the rear seat cushioning feels better judged than the front, which felt a little over bolstered for my lower back. That said, the outgoing Tucson's seats were like loungers, and the new Tucson doesn't seem to have the same level of under thigh support.
2022 Hyundai Tucson ADAS
Before we get to how the Tucson drives, let's talk about how the Tucson (almost) drives itself. It's the first Hyundai with Level 2 ADAS, and right off the bat, this is the best judged system we've used so far. It judges the distance to cars in front accurately, isn't over eager to brake or accelerate back up to speed, and the whole thing just feels intuitive and seamless. Adaptive cruise control and lane keep assist work well together to keep the Tucson tracking straight, making small adjustments that don't feel jagged.
You could easily manage highway journeys safe in the knowledge that the system has your back if you get distracted, or you're taking a sip of water for example. That's the ideal use case scenario and we worry too many people are going to let the car drive for them when they realise how well the system works. Remember, it's called Advanced Driver Assistance Systems for a reason.
2022 Hyundai Tucson driving impressions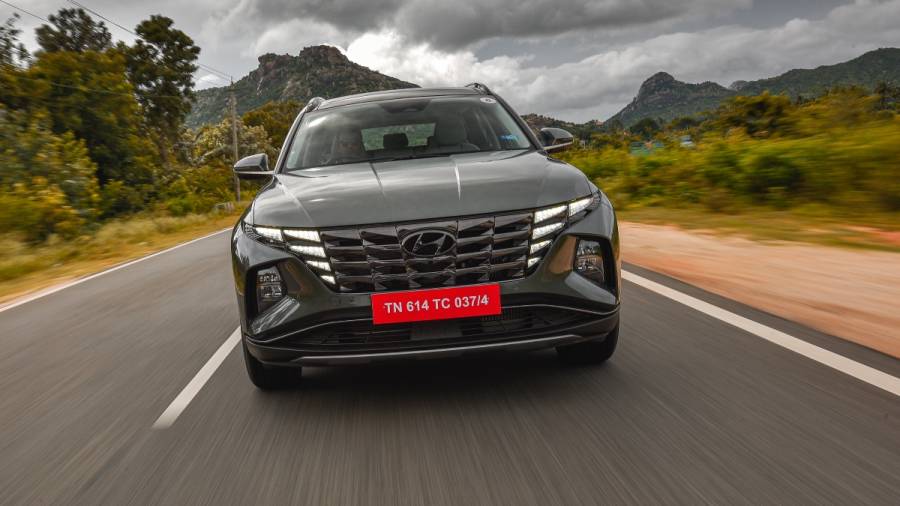 The 2.0-litre petrol and diesel engines carry over from the outgoing models, with a slight tweak (+16Nm a little higher in the rev range) to the torque ratings on the diesel (186PS/416Nm). India won't get any of the fancier, newer engines available abroad just yet because of cost. Good thing, considering how much prices have risen already.
Also, because the 2.0-litre diesel, was one of our favourite drivetrains for how effortlessly (and efficiently) it eats up kilometres. The 8-speed automatic works as well with it as we remember from the facelifted model. However, it still goes into coast mode too eagerly sometimes, and the revs don't pick back up as seamlessly as one would like. But it's not terribly jarring, and you can live with it. Performance is otherwise more than adequate, and it'll chirp its tyres on quick getaways from standstill, but with no signs of torque steer.
The new Smart drive mode picks from throttle/steering settings of Eco/Normal/Sport depending on the situation automatically. We'd rather keep it in Normal or Eco since that suits the character of the Tucson better. Sport dials in a little too much weight, an old Tucson trait, but thankfully doesn't feel as artificial as it used to on the older cars.
Now though, the Tucson AWD also gets terrain modes to make the best use of Hyundai's HTRAC all-wheel drive. It uses a centre clutch to send torque (up to 50 per cent) to the rear wheels when needed and seems capable enough, but more off-road oriented testing is required here. The 4WD lock feature to send power to all four wheels up to certain speeds continues.
2022 Hyundai Tucson ride comfort and handling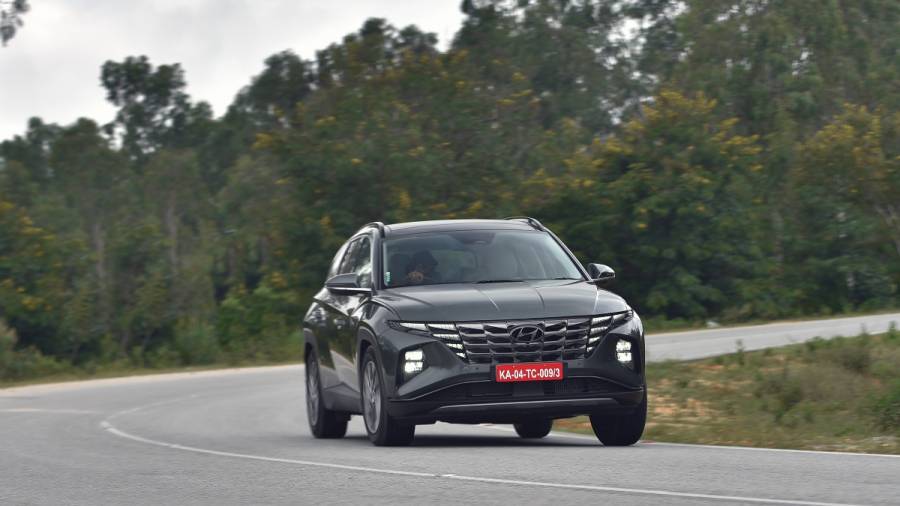 With the extra wheelbase, we were expecting somewhat sloppy handling, but the Tucson surprises with neat and controlled body movements, faithfully going where you point it. There is roll and lean, yes, but it's managed well and at less than all out speeds it stays fairly level in the cabin. That should give you a hint of how the suspension is set up.
The ride feels a little more taut, and less plush than early Tucson models, though it's quite similar to the facelifted car in how it deals with bad roads. That means it's still comfortable, with no unwanted extra rebound over speedbreakers. You could say it feels even more European in its ride than the previous car.
2022 Hyundai Tucson verdict
With the new-gen Tucson, Hyundai's kept bits of the formula we liked – spacious and comfortable, with the lovely, efficient 2.0-litre diesel making a return. It's then fixed everything else holding the Tucson back. It's a looker, it's packed with useful tech, and it's even more spacious now. Though, if your comments are any indication, some variants may be priced a little too high for their own good, especially the diesel AWD.  Against a Jeep Compass, it doesn't seem that expensive since it's significantly larger and packs ADAS. Against a VW Tiguan, it offers more features, and a diesel. Against a Citroen C5 Aircross, more tech, modernity and AWD. All that does justify the price on paper, but really the way the package comes together does it all on its own.
Photography by Anis Shaikh, Hyundai India
Also read, 
2022 Hyundai Tucson launched in India, prices start from Rs 27.69 lakh
2022 Hyundai Tucson: Prices and variants explained
Spec Comparison: Hyundai Tucson Vs Jeep Compass Vs Volkswagen Tiguan Vs Citroen C5 Aircross
Price (Ex-Delhi)
Starts Rs 27.69 Lakhs
Price (Ex-Delhi)
Starts Rs 31.3 Lakhs
Price (Ex-Delhi)
Starts Rs 17.79 Lakhs
Price (Ex-Delhi)
Starts Rs 24.95 Lakhs
Price (Ex-Delhi)
Starts Rs 34.99 Lakhs
Price (Ex-Delhi)
Starts Rs 31.99 Lakhs