2022 BMW i4 review, road test ft. 320Ld, 530i - meeting the family
If you happen to be someone who likes cars and driving, this rapid shift towards electrification must sound quite bleak. But if there was one carmaker you could rely on to keep delivering the thrills even in this exceedingly one-dimensional age, it'd have to be BMW right?
That job rests on the BMW i4 for now, it's the first fully electric BMW sedan after all. The numbers look good. This i4 eDrive40 is rear-wheel-drive, makes 340PS and 430 Nm and can do its claimed 0 to 100 kmph time of 5.7s even in pouring rain. Pretty much the time-tested BMW sports sedan formula.
2022 BMW i4 specifications, driving impressions
On the road, we're happy to report that the experience is largely heartening. The i4 feels close to what it is really, a 4 series that happens to be electric. Yes, that distant four-cylinder grumble with the pleasing power delivery we're used to from these smaller BMWs is gone. Replaced by a rear-mounted electric motor that delivers power in a monotonous but brisk way.
But snap it into the Sport mode, where the steering weighs up nicely and you have quite a sharp response from the pedal, and the i4 does a fair job of replicating the fizzy energy of a small BMW sedan. And you know those exciting standing starts you get from these BMWs, the i4 does it as well as any other 3 series we've driven recently. Happily, this performance runs deep into triple-digit speeds as evidenced by our rolling acceleration times.
For more sedate driving, you have the Eco Pro and Comfort modes. The Comfort mode finds a nice middle ground, performance is still sprightly and the steering light enough to not feel like a chore in traffic. Switching to Eco Pro is best kept for longer journeys where you might need to conserve charge, the i4 feels a touch laboured here but is still perfectly usable if you find yourself in heavy traffic or even on the highway.
But we found it easiest to just leave the i4 in the Braking mode in crowded conditions, especially since you don't get paddles to choose between the three levels of regen. In this B mode, the i4 can be driven with just one pedal, slowing down to a complete halt with just the electric motor. This harvests a significant amount of energy and makes life quite simple when you get used to it.
BMW i4 and BMW 320Ld Gran Limousine: similarities and differences
That the experience is so close to what you might get from a 3 series isn't surprising. The i4 uses a heavily revised iteration of the CLAR architecture you would find in most combustion-engined BMWs. But the structure has been enhanced to handle the added weight of the EV with new torsion struts, shear panela and front subframe are all unique to the i4, as is the suspension set-up.
Now that sounds like quite a bit, so we decided to bring along the 320Ld for some perspective. It is the most popular 3 series in India after all.
Switching from the i4 to the 320Ld Gran Limousine,you notice the quite direct BMW steering immediately as well as that sprightly feeling from the front. Of course, the long-wheelbase and the softer suspension tune for this particular variant dilutes some of the agility you expect from a 3 Series. However, this 320Ld is still about as engrossing as you would need a full-blown long-wheelbase luxury car to be.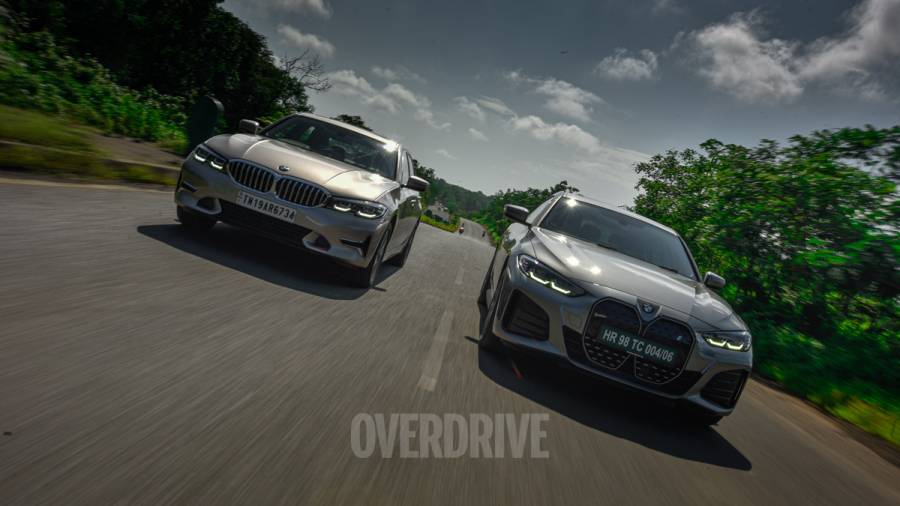 The ride quality is impressive, something that has carried over to the i4 to an extent. But this smooth diesel paired with this ZF 8-speed, such a strong BMW trait, is something that will be missed in the future. Yes, the i4 does linearity better still but that swell of diesel torque that repeats itself in every gear is addictive. On a road trip, the range indicator on the 320Ld is the perfect antidote to an EV's range anxiety. It makes you wonder why we are falling out of favour with diesel.
There's not a whole lot to separate the i4 and 320Ld in terms of creature comforts, both get a panoramic sunroof, three-zone climate control, powered front seats, acoustic glass and leather upholstery. But if you are looking for rear seat comfort and are driven around a lot, the Gran Limousine is the one to pick. It's got a 105mm longer wheelbase than the i4 and has 43mm more rear legroom than a standard 3 Series.
BMW i4 interiors, touchscreen
Stepping into the i4 makes for more of an event with its frameless glass doors, again a trait typical of BMW coupes. But the cabin's showstopper is the new monolithic, curved display for the iDrive 8 system with its 12.3-inch instrument cluster and 14.9-inch touchscreen. It's quite intimidating at first with its phone-like layout but as with most BMW systems, you get used to it eventually. The home screen widgets help with this as do the physical controls in the centre console. But, those tactile climate switches are gone now, replaced with a more fiddly touch-operated climate control.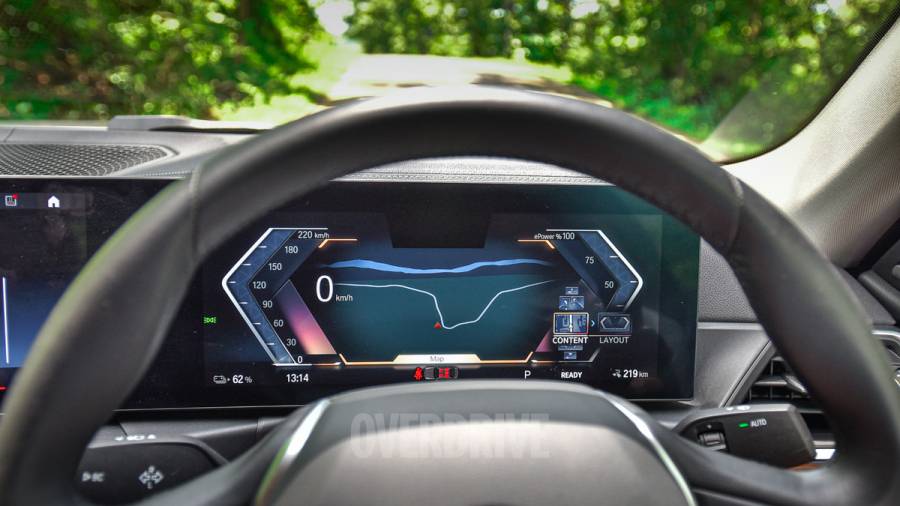 The graphics are crisp and the colours vibrant with this new iDrive infotainment but we would have liked it to have been a bit quicker with its load times. Also, some frequent tasks like switching the regen modes or resetting the trip computer need you to delve deep into sub-menus. That said, the deep Android Auto integration is impressive. The instrument cluster, already more informative than earlier will also display Google Maps navigation.
Now the battery pack in the i4 is very slim, it's only 110mm tall and placed low in the chassis. So the seating position isn't too compromised. You sit a bit higher up than a regular 3 Series but that low committed BMW sedan seating position is largely intact with the same large, perfectly positioned steering wheel facing you. Most of the door cards and dash panels are lifted straight of the 3 series, except for a new layered look to the top to accommodate the new screen, so it's a familiar feeling. A smattering of blue highlights, quite subtly integrated, points to this being an electric BMW.
That does also mean that you don't get the clever space efficiencies of a ground-up EV architecture. There's this wide central tunnel and regular-sized storage spaces and somewhat cramped footwells. The EV conversion has also led to quite a thick ledge, so ingress and egress isn't the simplest.
The i4 is best used as a four-seater. There's more headroom than the sloping roofline suggests, especially if you are of average height but the marginally higher floor does eat into under-thigh support for rear passengers. There's also a large central tunnel that will make life difficult for the third passenger. That said, the windows are large so it isn't a claustrophobic space. Boot space is a useful 470 litres, especially with the large hatch and the folding second row. But with the motor at the rear, there is no spare wheel. A significant drawback considering our road conditions.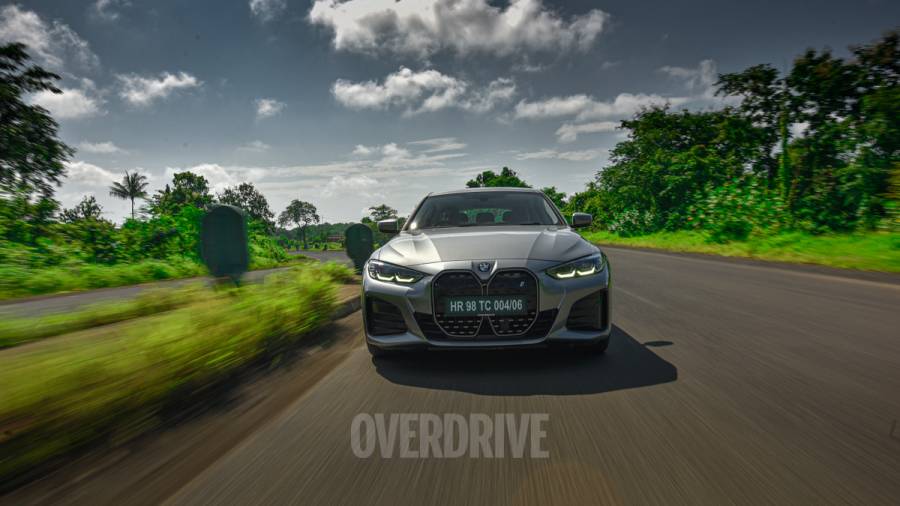 2022 BMW i4 ride and handling
On the move, the BMW i4's supple ride makes an immediate impression. Even on these 19-inch M Sport wheels, this coupe handles most of our road imperfections competently. Except for the typically EV trait of bobbing and pitching at low speeds, only the sharpest of imperfections pass through into the cabin making the i4 glide along unhindered at most speeds. The 125mm ground clearance is a hindrance, you will have to tiptoe over large speed breakers and deep potholes.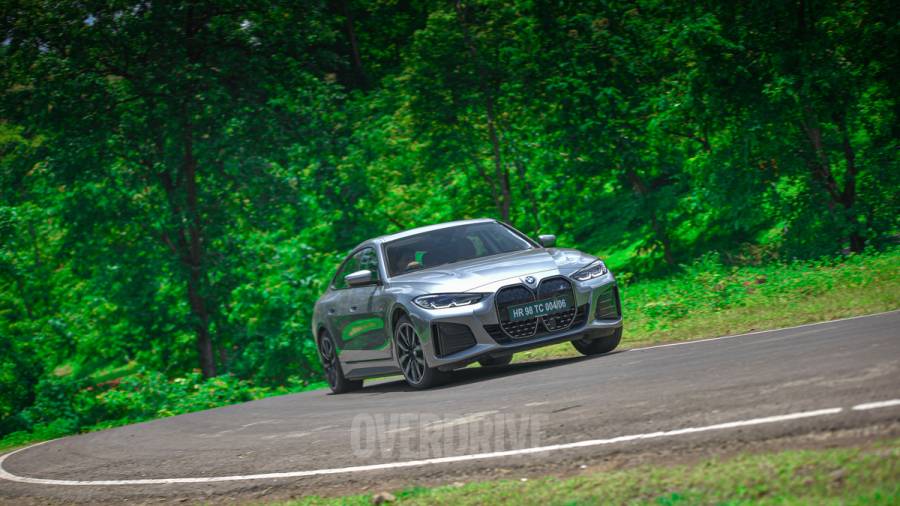 But get a bit feisty behind the wheel and the i4 continues to deliver. Sure, it can't quite fully hide its over 2-tonne kerb weight but that balance and alertness when you turn into a corner in a BMW are still very much present. The i4 corners quite flat, its centre of gravity is 54mm less than a 3 Series. The car always seems to work in cohesion but with just enough twitching and squirming to keep you entertained. The traction control isn't too heavy-handed either, so you can have fun and still be safe. The i4 slows down naturally, there's a good feel from the pedal despite the strong regen so you can carry speed confidently. Easily one of the more entertaining EVs you can get your hands on in India.
But hold on a second, because for just a few lakhs more on-road, you can get yourself a proper old-school BMW such as the 530i M Sport. Stepping into this cabin from the i4 is some sensation. You have hard buttons everywhere as well as touch redundancies, that was probably BMW's ergonomic peak. The 530i is a larger car, to begin with, and there is some special kit on offer too aside from the added space. Like the seats with adjustable bolstering and powered steering adjustment, small touches make you feel more special as a driver.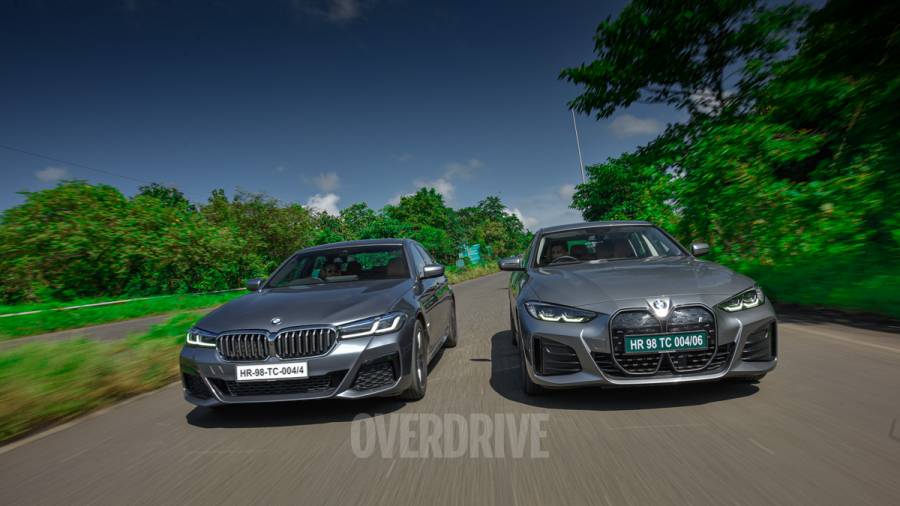 The 530i is also the benchmark in this company in terms of driver engagement, even though it is almost a second slower to 100 kmph than the EV. You feel deeply connected to the road, the car seems to shrink around you and the sharp responses from the 2.0-litre petrol in Sport mode seem to egg you on. It's the only one with adaptive damping, which works brilliantly at finding the right trade-off between plushness and control. But the 5 Series' best trait is the amount of feedback you get from it, you feel far more of the car's movements through the seats and the steering wheel. Just get one while you still can.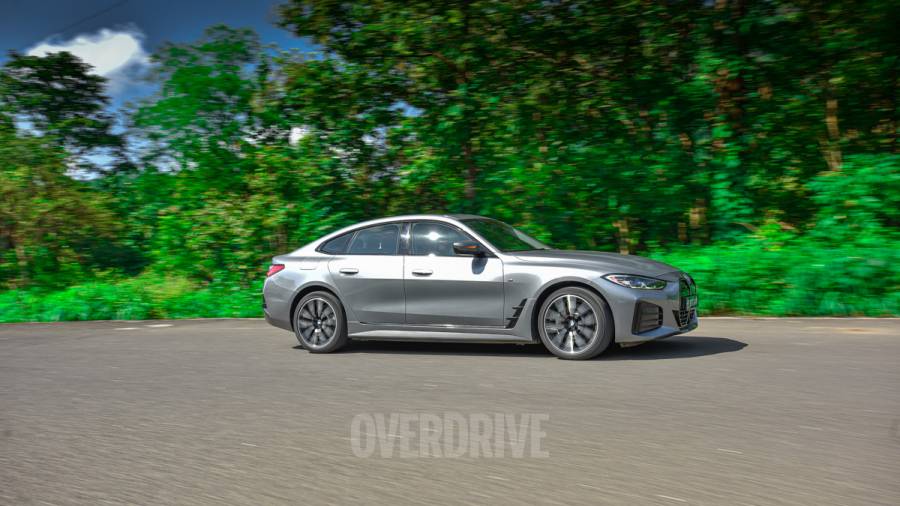 BMW i4 range, battery, charging
Either way, the BMW i4 should interest you even if you aren't an enthusiastic driver. Its WLTP range is 590 km and in the real world, the i4 does better than most EVs we've driven so far in getting close to these numbers. We managed a city range figure of 495 km which was largely down to the quite effective B mode. This system recoups a significant amount of energy and the power unit too seems quite efficient in general, the addition of a heat pump also adds to this impressive range figure.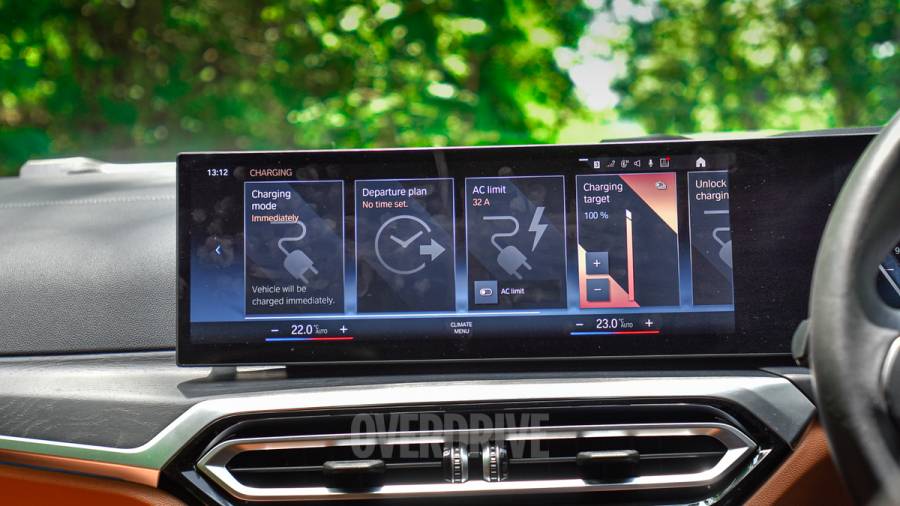 Equally impressive is the i4's efficiency on the highway. We managed 472 km of highway range. It's only a slight dip probably down to the commendable 0.24 coefficient of drag. We found the moderate regen level to be the most natural here, feeling the closest to an ICE BMW's engine braking. The i4 has an 80.7 kWh usable battery capacity which can charge at up to 205 kW DC and fills the battery up to 80 per cent in 30 minutes. Through 11 kW AC charging, a full top-up needs 8.25 hours. A useful addition is the charging features integrated into the iDrive system. It allows you to control not just pre-conditioning and set charging schedules but will even let you control the current level and the cooling fans.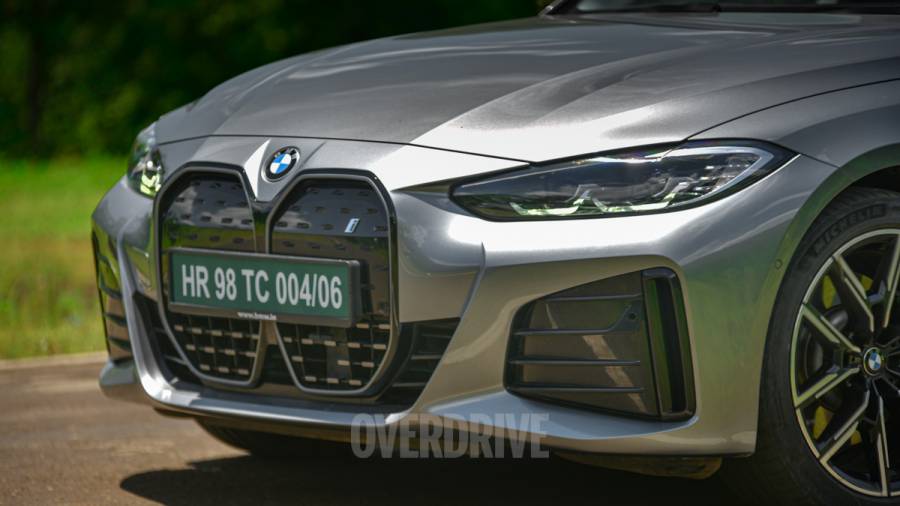 BMW i4 styling
Contrary to popular perception, by the time we ended our stint with the BMW i4, we had perfectly reconciled with its contentious face. If anything, it seems to be quite a crowd-puller. It helps that the rest of the design is typically BMW with its discreet lines and flowing shapes. We especially like the contracting black panels in the rear which cut down on the bulk of the i4's high sill. Also quite striking are the 19-inch M Sport wheels, they're a far cry from the flat disc alloys you see on most such EVs.
BMW i4 price, verdict
Surprisingly, we think the BMW i4 is one of the better value BMWs you can buy right now. Yes, it could do with better practicality and maybe some more creature comforts but for just under Rs 74 lakh on-road Mumbai you get an EV with genuine long-distance ability that doesn't seem to come at the cost of driving character. It bodes well for the future!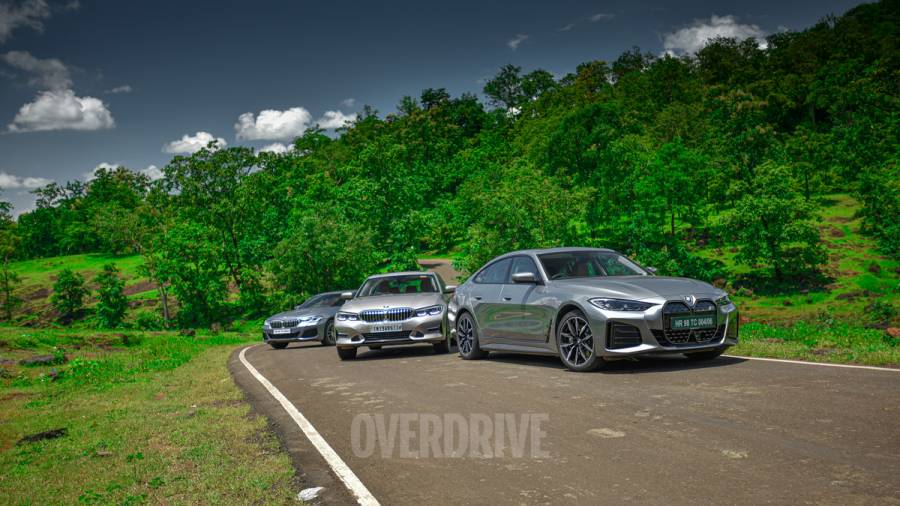 But bring the 320Ld and the 530i into the picture and it's interesting. If you have Rs 70 to 80 lakhs to spend on a BMW sedan, you have never been as spoilt for choice as right now. You can pick the i4 for its efficiency and briskness, the 320Ld for its comfort or the 530i for its sheer engagement.
Text: @tuhinguha
Images: @anis.shaikh.media 
2022 BMW i4 eDrive40 electric real-world range, performance
Range
City - 495 km
Highway -  472 km
Overall - 489 km
Performance(wet)
0 to 100 kmph - 5.7s
30 to 50 kmph - 1.1s
50 to 70 kmph - 1.4s
60 to 80 kmph - 1.3s
Braking(wet)
100 to 0 kmph - 44.9m, 3.4s

Also read,
2022 BMW i4 review, first impressions – makes no excuses
BMW 3 Series Gran Limousine 320Ld road test review
2021 BMW 5 Series facelift road test review
Price (Ex-Delhi)
Starts Rs 69.9 Lakhs
Price (Ex-Delhi)
Starts Rs 41.7 Lakhs
Price (Ex-Delhi)
Starts Rs 51.5 Lakhs
Price (Ex-Delhi)
Starts Rs 62.9 Lakhs