2022 BMW C400 GT first ride review
At a time when scooter manufacturers are all thinking 'sustainable mobility', and we're witnessing an invasion of EVs in our country, BMW Motorrad thought that it was the perfect time to bring in the C 400 GT maxi-scooter into India. Nothing about this scooter is average, it's big on size, looks, features and at Rs 13.60 lakh big on price as well. Now what all does owning this scooter bring with it? Does it even live up to the GT in its name? We're about to find out.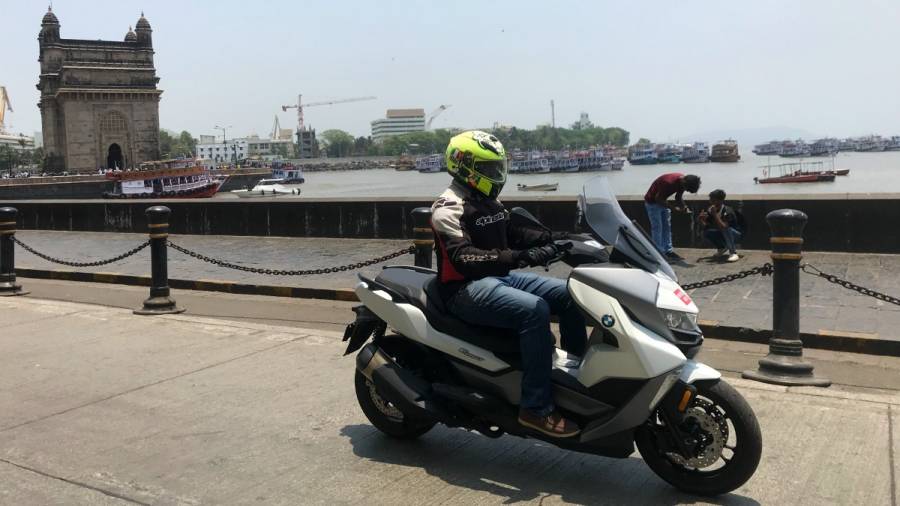 The C400GT looks like no other scooter that's currently available in our market. It's bigger than your average scooter and in most aspects it's better than your average scooter too. It's got a big, and imposing front end with that massive apron and that big wind deflector up top and you simply can't ignore the broad headlamp unit with those rather aggressive looking LED DRLs that stare menacingly back at you. Besides looking absolutely brilliant, they're also in sync with the design language across BMW's current crop of passenger cars.
Come around to the cockpit and everything's big once again. This is a proper maxi-scooter, so there's the 12.8 litre fuel tank which sits between your feet, so there's no real storage space down there. In terms of a display, you get a big 6.5-inch coloured TFT display which lights up very nicely with the keyless ignition, two lockable glove compartment storage spaces behind the apron – one with a USB charger socket.
The scooter also gets the rotary controller dial on the handlebar to toggle through the options on the screen. There's turn-by-turn navigation on offer too, but it just uses BMW maps which isn't as advanced as Google maps, and will want to send you down freeways where two-wheelers aren't allowed. One of the best features of the C 400 GT has to be its big, broad welcoming seat which has even got a tiny backrest for the rider. This is great for when you want to relax and stretch out on an open road, you have a slightly elevated foot rest position for that and it sort of pushes you back into the backrest so when you hit a bump in the road, it all feels very comfortable.
One of the biggest shortcomings of this scooter has to be below the seat. The storage area below the seat houses BMWs' Flexcase – which is an expandable storage chamber which will swallow a full-size full-face helmet. Without the storage area expanded, the shape of the bin is rather odd and you can't fit in anything in there aside from a small half-face helmet and a lady's purse. So there's decent storage space once you stop, with the area expanded, but the scooter won't start with the extension down. So on the go, I felt a little short-changed with regard storage space.
As far as the seating on the C 400 GT is concerned, it's a very comfortable scooter to be on, there's a lot of space, a lot of room everywhere. Ergonomically it's sound, everything's exactly where it'd like it to be. The handlebar's nice and wide and it's tall too so it doesn't interfere when you're taking turns or manoeuvring through traffic in the city. Even out on the highway, with regard to foot space, you have two positions at which you can keep your feet at depending on your riding style and preference. You can really relax and take it easy on this scoter, and that's one thing that I really like about it. You can really stretch out nicely on this scooter and when you do, your back comes up against that small backrest which gives you additional support, which feels great.
In terms of performance as well, single cyl, water-cooled 350cc engine, 34PS of power and around 35Nm of torque, well the power is all there to be enjoyed, and you'll really have fun getting about the city and even more so on the highway. The scooter remains very balanced and composed, even more so at higher speeds. At low speeds, the ride is a bit choppy, but it all irons out as you pick up the pace. In terms of handling, I thought that this scooter would be a handful to manage seeing as not only does it look big, but it weighs 214kg, also it's got one of the longest wheelbases for a scooter currently in India. But the C 400 GT was surprisingly nimble given its sheer size.
In the city, off the line at a traffic stop, the scooter feels light on its feet and acceleration is brisk. The exhaust note keeps things low-key but you will dart ahead of pretty much everything else on the road before they know it. And if some do see you coming in their rear-view mirrors, the gaze of the scooter will most likely make them get off the gas to take a proper look at you. Out on the highway, the scooter takes to 90kmph like a stroll in the park. There's only one ride mode to select from on the C 400 GT but what's commendable is how composed and refined the scoot feels when you're giving it the beans, and it's only when you look down at the display do you realise that things have become a tad illegal speed-limit wise.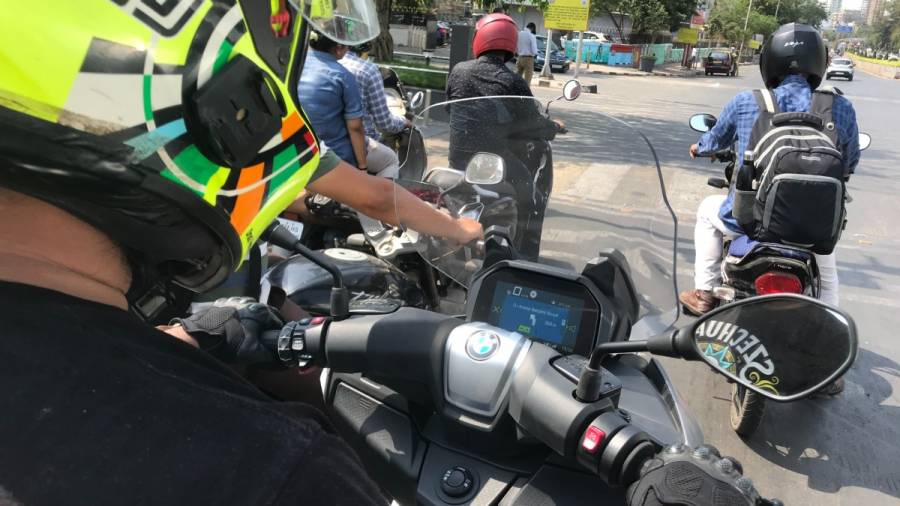 Some features on the scooter that surprised me about would have to be the suspension and the brakes. The ride is a bit stiff in the city at low speeds, but it totally works out on the highway. The brakes too, the Bybre brakes – a twin disc setup at front and the single disc at the back with the ABS work supremely to make this scooter stop on a dime.
With all that this scooter brings to the table, with its outstanding performance, superior ride quality and comfort, it definitely shows off a lot of form, but in terms of functionality, as to whether it lives up to the GT suffix in its name, well it does manage to do some of that, but there is still some room for improvement according to me. Because I think if you're going to be goin out on a fairly long distance ride, you'll want to carry some luggage with you and that's one shortcoming with this scooter – the amount of storage space that you have to work with. If you were actually considering buying this scooter you would want to also invest in the additional luggage carrier and the hard top case to carry around your belongings.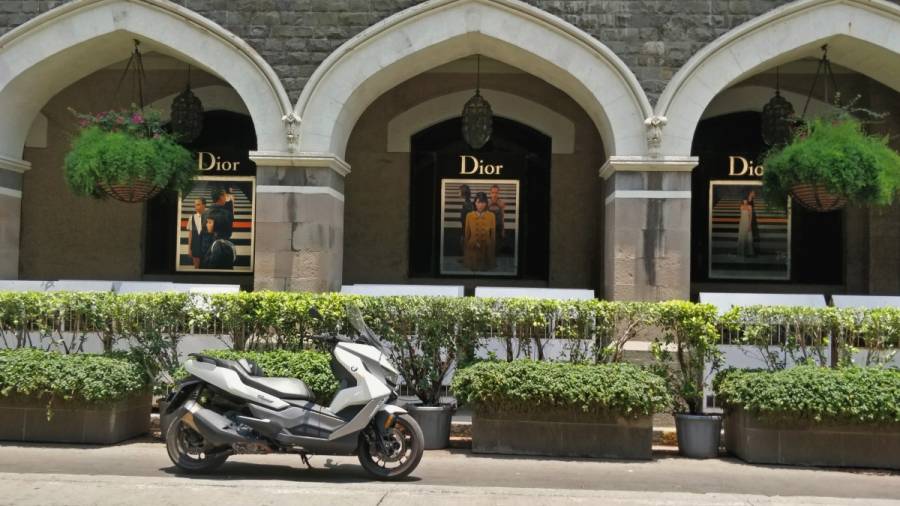 To sum the C 400 GT up, it's a beautiful scooter, but it's not the most sensible scooter out there, it's extremely comfortable, but on the other hand it's extremely expensive as well. It's a modern marvel of engineering, but it's not very practical. So what I'm trying to get at is, if you're the kind of person who has to save up 14 lakh for a scooter like this, your peers would think you've completely lost the plot. On the other hand, if you just so happen to have Rs 14 lakh lying around the house gathering dust someplace, well if you invested in this scooter, I'll tell you one thing, you are going to be the topic of conversation at the country club every time you roll in through the gates.
Price (Ex-Delhi)
Starts Rs 9,95,000