2022 Audi Q7 facelift first drive review
The Audi Q7 for long now has been an attractive, rich and luxurious full-size SUV, the darling of several celebrity A-listers and an ideal vehicle for large Indian families who needed the three rows of seats. Over the years in-cabin technology and features have been getting swankier, even the driving experience has consistently gotten more spirited. Previous generations had a torquey diesel powertrain in addition to the petrol TFSi, but post the Volkswagen dieselgate issues Audi has offered only petrol engines in their entire lineup and that will be the case with the new Q7 too. It's no slouch and while efficiency figures were not something to write home about, it did every other job handsomely. As a flagship standard, the Audi Q7 presented some of the best engineering in the segment, Audi's quattro all-wheel-drive tech brought in the best of all worlds, and adaptive suspension added that extra bit an Indian consumer always found handy.
2022 Audi Q7 facelift safety, new features, interiors
After a significant absence from the Indian market, now in 2022, the Audi Q7 gets a fairly large boost in terms of features without deducting anything from its superb driving character. These changes reflect everywhere, from cosmetic and safety upgrades on the exterior to comfort and convenience upgrades on the inside. The biggest feature update is the second level advanced driver assistance system which offers lane departure warning and adds in steering assist. This ensures that if you were driving on a road with proper lane markings, and staying in a particular lane, the Q7 will prevent the vehicle from straying into a corresponding lane by injecting inputs to the steering wheel automatically. So even if you were distracted and veering out of your lane, the Q7 would automatically ensure you were in the right lane. While doing so the reverse torque and slightly buzzy feel on the steering wheel would also alert you to the change in driving conditions. By using the cruise control feature you can in a nutshell almost let the Q7 drive itself, though the car will remind you to take control of the steering wheel soon as it senses a loss of contact on it and you have to pay attention to the braking.
The other big change in the Q7 is the addition of the matrix LED headlamps, previously only found on the A8. The illumination from these is extraordinary, however it's effect of reducing glare onto oncoming drivers is what makes them truly special. The technology is slowly seeping across to other brands and more and more manufacturers are introducing this technology that was first pioneered by Audi, in their cars.
Another feature addition is the parking assistance which allows the Q7 to park itself without human intervention. I Haven't had to try it out yet, but I can vouch that these systems work brilliantly especially for those who are geometrically challenged.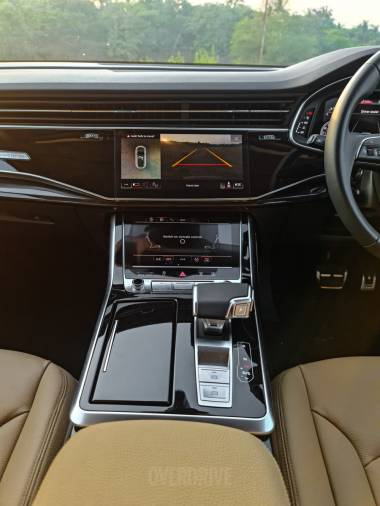 On the comfort side of things, the updated Q7 gets a new B&O 3D sound system, a larger dual MMI interface that looks quite lavish especially the virtual cockpit effect on the MMI screen behind the steering wheel. It allows you to not just flip between screens, but also lets you control an insane array of features without having to lift your hands off the steering wheel. The MMI menus on the main screen are quite exhaustive, and mapping the various functions can take some time to figure out where everything you would need is placed. Nonetheless it's a fairly simple task and after a couple of hits and misses, things fall easily to hand.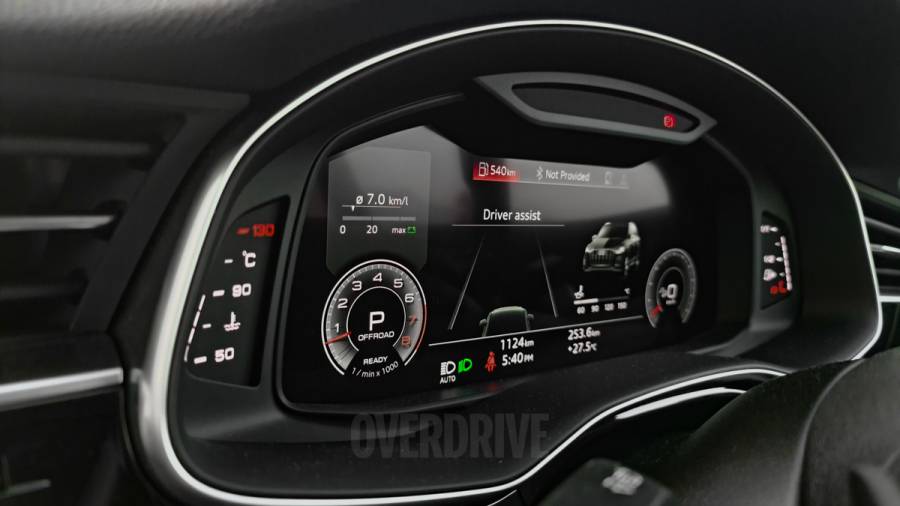 You also get air ionizers and perfume dispensation which freshens up the cabin, adaptive windshield wipers with integrated washer nozzles and a sensor based boot-lid where you wave your foot around under the tailgate hoping something happens, rear screens for second row passengers and then there's that panoramic sunroof which offers and expansive view of the skies above.
It's a spectacular cabin area overall, the lack of physical buttons on the dashboard lend an air of unprecedented sophistication, the space is generous with adequate room in the third row for even older teens, and the quality of materials feels timeless.
2022 Audi Q7 facelift driving impressions
Powering this updated Q7 is the new 3-litre petrol V6 that is also found on the Q8. It makes 340PS of max power with 500Nm of torque and power delivery from this motor is pure silk. You can smoothly cruise on the highway with the rpm ticking over calmly at around 2000rpm with vehicle speeds around a 100-120kmph. Kickdowns from the 8-speed automatic are also quick, so overtaking is never an issue. All in all it's a terrific engine, and one that will provide hours and hours of delightful motoring. This engine is also mated to a 48V mild hybrid system whose principal role is to enhance efficiency. Selectable drive modes alter steering, engine and throttle responses to provide a variety of driving experiences. You even get a individual mode that allows you to specifically alter the engine, steering and suspension characteristics.
On the ride and dynamics part, the Q7 continues to provide what it always did, a smooth unruffled experience over any road surface. The adaptive dampers work impressively to isolate any harshness while at the same time ensuring body roll stays neutral, and while the dynamics are surprisingly impressive for a vehicle of this size and order, it does not have the sharpness and agility associated with the BMW X5.
2022 Audi Q7 facelift verdict
Overall then the new Audi Q7 is a welcome change, and one I'm sure many of its loyalists will appreciate. It powers through as a stylish, spacious family wagon, though a lack of engine choices is a limiting factor. Are there better 7-seat full size SUV options in the market, well you do have choices from Mercedes and Volvo, and a full-fledged comparison in the near future will show us just where the new Q7 stands.
Also read,
2022 Audi Q7 facelift bookings open, specifications and features revealed
Audi Q7 facelift to launch in India by early 2022
Pocket Adventurer: Audi Q2 on the Manali-Leh highway
2021 Audi Q5 facelift launched at Rs 58.93 lakh
Electrifying Ladakh with the Audi e-tron
Price (Ex-Delhi)
Starts Rs 79.99 Lakhs
Price (Ex-Delhi)
Starts Rs 99.99 Lakhs
Price (Ex-Delhi)
Starts Rs 34.99 Lakhs
Price (Ex-Delhi)
Starts Rs 58.93 Lakhs
Price (Ex-Delhi)
Starts Rs 74.9 Lakhs