2021 Tata Tigor EV road test review
When do EVs go mainstream in India? It's a question we seem to get asked very often these days, and with increasing regularity. But to be honest we, and I'd wager many others who know a fair bit about these things, aren't fully sure. This is why this Tata Tigor EV is so interesting. It's seemingly come from nowhere and become the most affordable electric car for private owners in the country. But does it do enough to achieve true parity with a combustion-engined alternative?
This Tigor EV isn't to be confused with the pre-facelift Tata Tigor EV that was on sale to fleet operators and government agencies until recently. That car, with its smaller batteries and 75V architecture, has been rebadged as the Xpres-T EV and is still only available to commercial buyers. Meanwhile, Tata Motors has taken the 350V Ziptron electric architecture that debuted in the Nexon EV and fitted that to the Tigor EV to create a package that might be more readily accepted by individual owners.
The size of the battery pack has been reduced to 26 kWh from the Nexon EV's 30.2 kWh. This is clearly to fit this car's smaller dimensions and to keep prices in check. But with the Tigor EV being a full 165 kg lighter and by using a new, less powerful motor, the quite generous ARAI range estimate is not too far behind the Nexon EV's at 306 km. At full charge, we saw 224 km on the instrumentation, and a range test in both city and highway driving garnered a real-world range of 204 km. So depending on your usage cycle, up to 220 to 230 km seems achievable.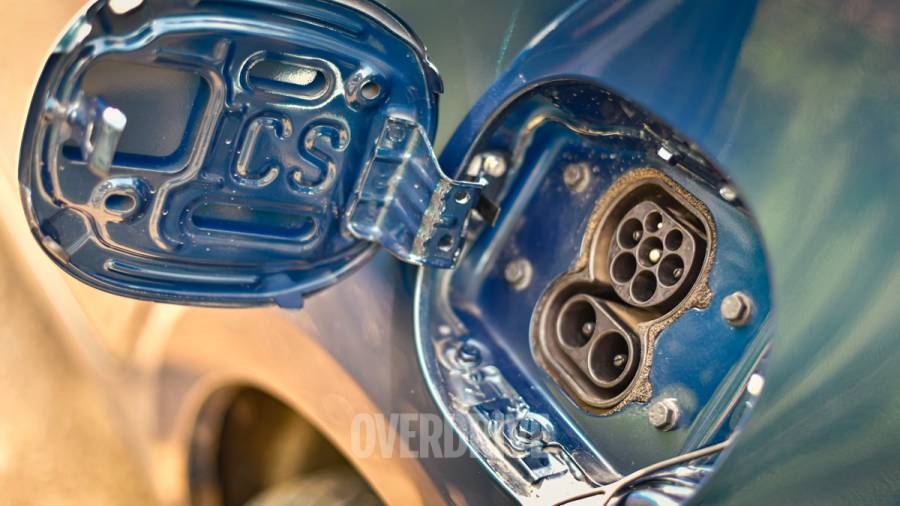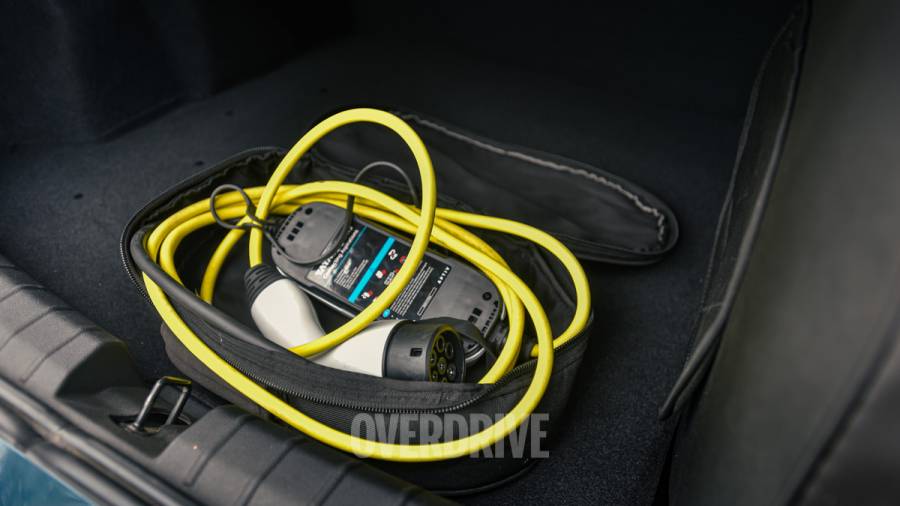 The liquid-cooled lithium-ion battery pack itself remains weatherproof and impact protected as before. And like in the Nexon EV, the Tigor EV can charge from 0 to 80 per cent via a 25 kW CCS2 fast charger in 65 min while a regular three-pin socket will take 8.5 hours. This is the same as the Nexon EV, and largely accurate in the real world, for a smaller battery pack but optimizations have been made to the charging process so that the battery pack can safely handle electrical supply from a variety of different chargers.
Tata Tigor EV driving impressions
As with every EV we've driven, the Tigor EV immediately makes an impression with its refinement and immediate responses. A slight, spacecraft-like buzz is all that you hear as you set off and the instant torque delivery of an electric motor remains a novelty well into your drive. This motor's 75PS and 170 Nm are significantly down on the Nexon EV's, but there is enough here to make for uninterrupted, hassle-free progress in crawling city traffic.
But we think the standard D mode is a bit too conservative for the Tigor EV to be driven in exclusively, unlike in the Nexon EV. Torque is limited to 140 Nm in this mode, but this seems to peter away very quickly off the line. This shows in our glacial 0 to 100 kmph time as well as in the difference in rolling acceleration runs. We also noticed a further dip in acceleration past 80 kmph. So while these traits aren't bothersome in heavy traffic or off traffic lights, closing gaps on large arterial roads or merging with faster traffic will be tricky.
Switching to the Sport mode dials away most of these anomalies, although you will need to take a range hit. But here the Tigor EV will do 0 to 100 kmph in 13s, much closer to what you might expect in a car priced as such. In this mode, the Tigor EV fully exploits the benefits of an electric powertrain with sharper responses from the throttle pedal and the motor leading to a far less cumbersome but equally refined experience. Unlike in the Nexon EV, where the SUV seems sometimes overwhelmed by the instant burst of torque, the Tigor EV feels more natural in the angrier setting. There is no wheelspin off the line and aside from some torque steer under heavy acceleration, an unlikely scenario for most users, progress is drama-free.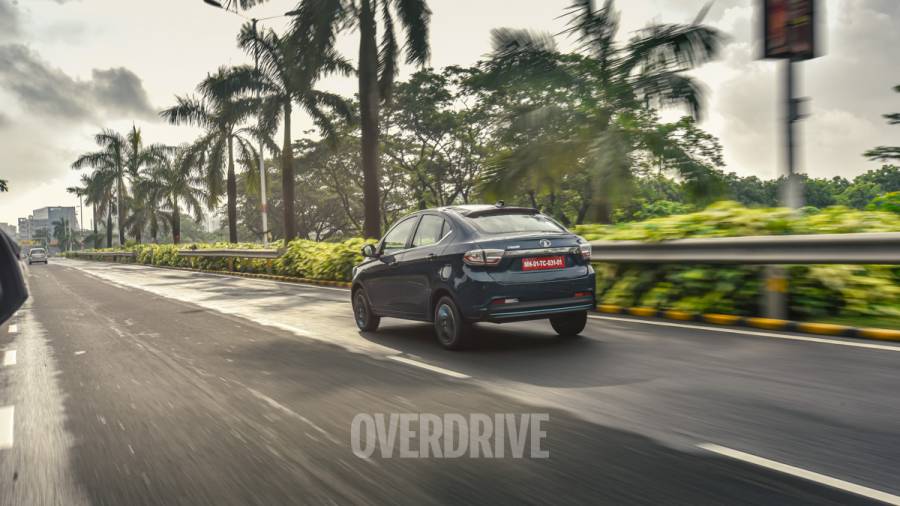 Tata Motors has worked to make its variable regen program more fluid, where in all modes, the transition from coasting to deceleration is progressive rather than abrupt. This dynamic regen function can take some getting used to when you want to coast up to a stop, a few days behind the wheel is all it takes get around it. The more efficient shape and improvements to the drivetrain's software over the Nexon EV helps the Tigor EV on highway runs, where it seems keener to hold regular highway speeds without sapping charge excessively.
The big highlight with the Tigor EV though is its ride and handling package. Tata Motors has given this version a specific suspension and steering tune which seems well attuned to the EV packaging. The low mounted battery pack always helps but the Tigor EV remains largely pliant at all speeds with only slight thuds felt over bigger potholes, where some degree of firmness is also noticeable. The efficient-focused(not EV specific) tyres with their large sidewalls lend an added layer of plushness and the low center of gravity allows for well-controlled body movements. There's a sense of solidity to the Tigor EV's motions that's not very common in cars this size despite the fairly skinny tyres. The steering helps with this in the way its weighs up linearly the further you turn in, even if it may not be the most precise of its kind. Aside from a dead zone from the regen early in its travel, the Tigor EV tracks straight and sure during heavy braking.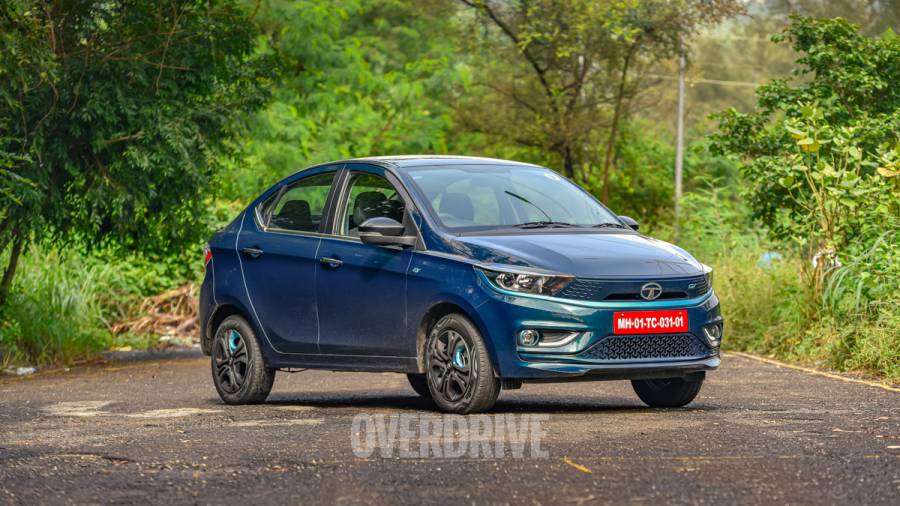 Tata Tigor EV exteriors, interiors, features
The Tata Tigor EV comes with electric-themed styling tropes to separate it from the standard Tigor. This teal shade is the most striking of these and is reserved only for the EV. Also different is the blank panel in place of the front grille with the fading tri-arrow motifs. A pattern that repeats itself lower in the air dam. The shiny blue highlights that distinguish Tata Motors' EVs from their regular offerings are seen here too below the grille and in the rear bumper, although there's still some chrome around the glass area and on the bootlid. These changes do enough to make the EV stand out from the regular Tigor, although the fastback shape and abrupt boolid is a polarising look. We also wish Tata Motors had kept the 15-inch alloys from the standard top-spec Tigor, as well disguised as these 14-inch steel wheels are.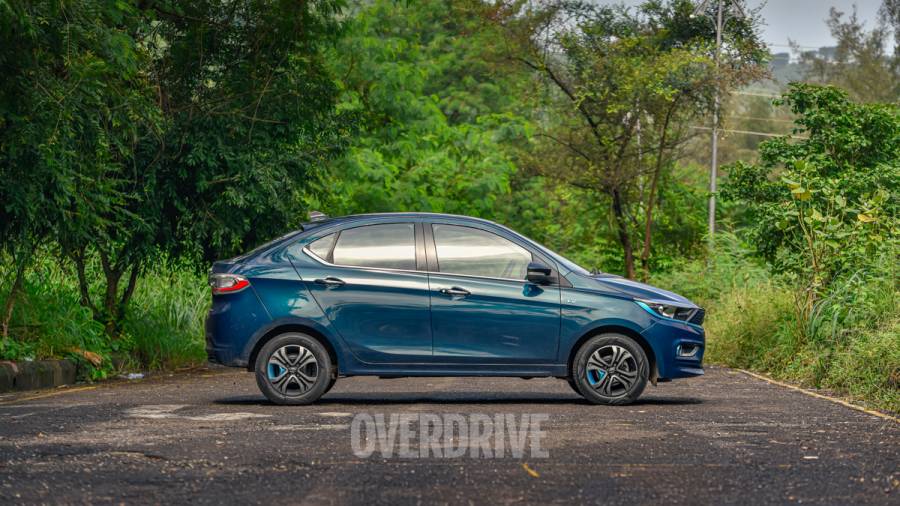 The blue accents are repeated on the inside of the Tata Tigor EV around the air vents and infotainment bezel as well as in the digital instrumentation. This instrument cluster displays EV-specific information and in our opinion does a better job of it than the more convoluted semi-digital cluster Tata Motors uses in its more premium offerings. This was also the first time we experienced the new buttonless 7-inch Harman infotainment system that Tata Motors has rolled out across its cars, and despite the lack of physical keys, we found this unit to be more intuitive and crisper than the earlier system.
Space inside the Tigor EV continues to be generous. The cabin feels airy, helped by a large glass area and the height adjustment for the driver should make finding a suitable driving position easy. The rotary dial has freed up some space in the central tunnel but we wish the front door pockets were larger. The cushion on the fabric seats with their blue highlights is soft yet supportive, a material repeated on the door elbow rests and the headliner. Rear seat room in the Tigor EV hasn't been compromised to accommodate the battery pack. The floor is at the same level as the standard Tigor and the seats offer decent under-thigh support as well as an easy backrest angle, although adjustable rear headrests are missing. But packing the battery underneath the seat has caused it to spill over into the boot, reducing space here to 316 litres from 419 litres.
As for the features list, we like that climate control is standard across the range, and the top trim gets the iRA suite of connected car tech. But we think Tata Motors could have been more generous here, given the significant premium the EV charges over the petrol version.
2021 Tata Tigor EV safety
Tata Motors has carried over its growing credentials as a maker of safe cars to the Tigor EV. The sub-four-meter sedan is the first Indian EV to be rated by Global NCAP, where it scored four stars. While the safety suite sticks to government mandates, there is a solidity and heft to the doors and sheet metal that is reassuring. We wish ISOFIX seats were offered though.
2021 Tata Tigor EV prices, verdict
Priced from Rs 11.99 lakh for quite a stripped-down base version, our pick would be the mid to top-spec versions of the Tata Tigor EV, topping out at Rs 13.14 lakh before subsidies. The base version does creep under Rs 10 lakh in Maharashtra post subsidies until the end of this year, but doesn't quite seem great value with the kit on offer. We think a more aggressive price would have made the Tigor EV the inflexion point in the switch to electric mobility that we've been waiting for.
Having said that, the lower price will mean that you will recover the added premium over a petrol sedan even earlier in the car's life cycle. And as it stands, the Tigor EV is a comfortable, easy to use and refined car that will be hard to argue against in an urban setting. That effective improvements have been made to the EV drivetrain to closed the gap further to IC-engined cars make us think the Tata Tigor EV should be another success for Tata Motors.
The writer of this story can be reached @Tuhin3112Guha on Twitter and @tuhinguha on Instagram
Images by Sumit Gaikwad
2021 Tata Tigor EV real-world range and performance
Range
Combined city-highway range: 204.5 km
City range(from trip): 224 km
Highway range(from trip): 201 km
Performance(wet)
0 to 100 kmph: 26.1s(D), 13.2(S)
30 to 50 kmph: 3.8s(D), 2.1s(S)
50 to 70 kmph: 4.7s(D), 2.9s(S)
60 to 80 kmph: 8.0(D), 3.4s(S)
Braking
100 to 0 kmph: 48.1m, 3.4s

Images by Sumit Gaikwad
Also read,
How to: Maximise driving range in your electric car
Living with an electric car: Mumbai-Pune roadtrip in a Tata Nexon EV
Do you save or lose money on owning an EV in India?
Price (Ex-Delhi)
Starts Rs 5.75 Lakhs
Price (Ex-Delhi)
Starts Rs 11.99 Lakhs
Price (Ex-Delhi)
Starts Rs 6.95 Lakhs
Price (Ex-Delhi)
Starts Rs 13.99 Lakhs