2021 Hyundai i20 N Line first drive review
I've settled into my seat, the textured leatherette and the side bolsters brace my love handles firmly. The steering wheel fills my palms, my thumbs rest in the groove between the ring and the arms of the steering wheel, and my fingers find themselves positioned just right on the flappy paddles behind the steering wheel. Shift the transmission lever down to 'D', slide it towards me and get it into sport mode. Time to rock and roll, baby! This is the Hyundai i20 N Line and while we are glad Hyundai's performance division has finally started its journey in India after a very long time, the first offering is a watered-down, tepid version of the full-blown N cars. Now I say this from the perspective of a hack, who has constantly been fed a dose of high octane petrol. When you club together performance and car, it releases copious doses of dopamine in our brain, Our testosterone levels spike, and we get excited. The N Line cars though are a bit tricky. Hyundai does not usually make mechanical changes to the N Line cars as they are supposed to be more show than go! But, in a first, Hyundai India got clearances from the Namyang R&D centre to tweak the suspension, steering, and add the rear discs to the i20 and still retain the N Line badge. So what you are supposed to get with the i20 N Line, is a sharper tool than the standard i20. So, how deep can it cut?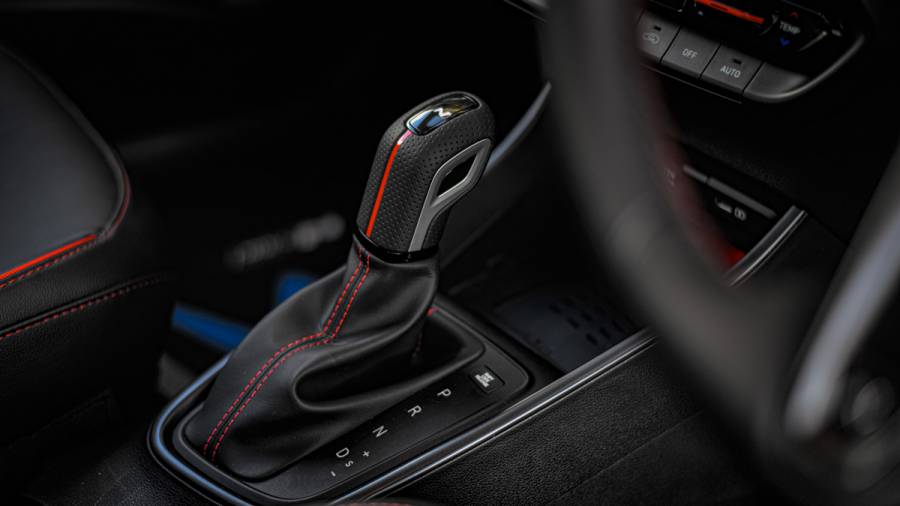 2021 Hyundai i20 N Line engine, gearbox
Pretty deep actually, though there are a few dull areas. First off though, the Hyundai i20 N Line retains the standard 1.0-litre turbo petrol motor that delivers 120PS of max power with 172Nm of peak torque. Nothing has been touched or changed in this area, however, with the DCT transmission, you now get paddle shifters. This is a nice touch, but in a first it's the biggest cosmetic mechanical addition to any car I've seen because it does not give you full manual control. Hyundai hasn't remapped the transmission, so you cannot hold the revs at or near the 7000rpm redline. Instead, the transmission will shift up to the next gear at around 6500rpm. Similarly, when downshifting, the gearbox won't shift down a gear until the engine revs drop down to around 3000rpm. In this case, you have to shed some speed to get the shifts to take place, so the pace with which you could have affected gear changes is absent. This is a rather conservative step Hyundai have taken, and while I do understand this has been done in an effort to protect the driveline and keep efficiency intact, the plot seems to have been lost if the intent is to be a performance car. Hyundai may as well have not offered the paddle shifters, thereby bringing the price down by a significant margin.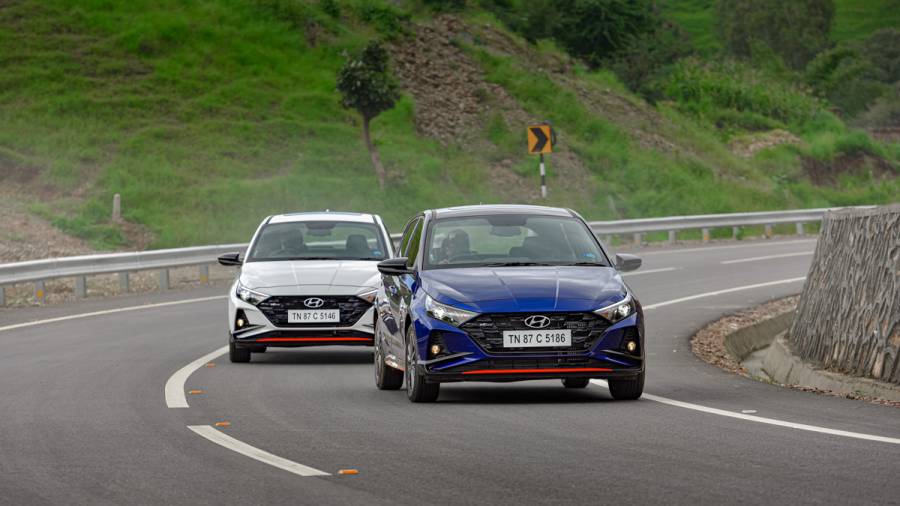 2021 Hyundai i20 N Line suspension, ride, handling
Now coming to the suspension. It has been tweaked with 30 per cent stiffer spring and damper ratings over the standard i20 to enhance the handling and reduce body roll. It is better than what you get on the standard i20 with more balance and sure-footedness. Ride quality has also been balanced out, so while you do sense a hint of stiffness, it does not make the ride uncomfortable. Even the steering has been tweaked, it is more direct, offers a more progressive wind up with more precision. There isn't much feedback given that is an electronic system, but what I do like is the way it weighs up at speed. I'd like to try this car out on a race circuit to better evaluate just how much sharper and controlled the tweaked suspension is. Out on the state highway, the corners were simply not acute enough to assess the handling adequately.
What I would have liked to have seen is larger wheels with lower-profile tyres, but a representative from Hyundai India clearly stated that going one size up ensures the tyres foul up with the wheel wells while turning. That reasoning really does not cut it, given the i20 N, which is also based on the standard i20 comes with 18" wheels and low profile tyres. Nonetheless, I would have also liked to have seen better quality tyres rather than the Ceats the Hyundai i20 N Line comes fitted with. What I do like about them is that they offer a fair amount of grip, and there is literally no tyre squeal even at the limit. What I am uncertain of is, how long would they be able to keep up.
Another addition to the mechanicals is the brake discs at all four corners, unlike the standard i20 which has a disc/drum setup. The red-painted callipers are a single pot type but lend greater bite and more progressive control when you go apex hunting.
2021 Hyundai i20 N Line exhaust
The final mechanical change with the Hyundai i20 N Line is the muffler. Hyundai provides a twin pot end-can muffler in the i20 N Line which results in a mildly better exhaust note. It has a bit of a warble to it, but its not loud enough to drown out the sound of your wife navigating. Neither is it audible enough when your revs start climbing north. Bystanders could hear it outside the car, but you still need a quiet location for the exhaust notes to be heard clearly. It's more audible at low revs, and the trick to get the notes loud and clear is to keep the revs low, slip it into a higher gear and slowly power up to hear the exhaust come to life. The challenge here was for Hyundai to meet NVH norms, so they couldn't make the exhaust note too loud or they wouldn't have got the necessary clearances. So the baffles have been tuned in a manner to ensure that while the norms are met, there is still enough aural delight to be had.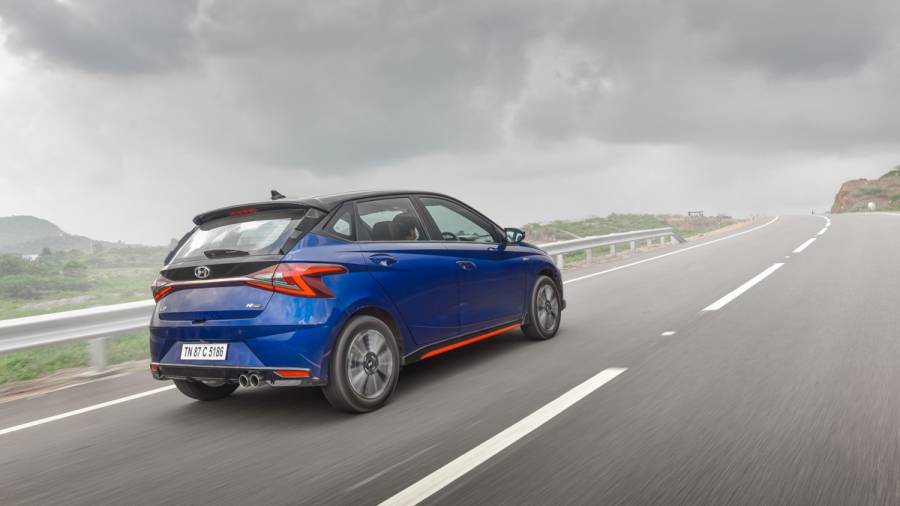 2021 Hyundai i20 N Line verdict
The i20 N Line though has another purpose in life, it is one of those cars that paves the way for faster sharper performance cars from Hyundai's N division. Had Hyundai gone the top-down route, bringing in the more powerful N cars, the response could have been tepid if not downright discouraging. After all, how many would shell out upwards of INR 25 lakhs for a proper hot hatch in this country? So the smarter thing to do is to take the N Line route. And from what Tarun Garg, Executive Director, Marketing and Sales mentioned to me, there are more N Line cars in the pipeline. The initial booking numbers have been more than encouraging, in the 1 day since prices were announced, over 1,000 customers lined up at Hyundai dealerships across India to order the i20 N Line. Those numbers are climbing, and I don't see why. The i20 N Line is a good looking car, makes all the right noises and levels up the standard i20 which is already a solid hatch in itself. There are still a lot of compromises in this car, but to kickstart the Korean way of performance motoring, it is a good starting block. So, if you're out looking for a sharper hatchback than what is available in the market presently, get N Line.
The writer of this story can be reached @BertrandGDsouza on Twitter and @bertdsouza14 on Instagram
Also read,
2021 Hyundai i20 N Line: Prices and variants explained
Hyundai i20 Vs Hyundai i20 N-Line: What's different?
Spec Comparo: Hyundai i20 N-Line Vs Volkswagen Polo GT
2021 Hyundai i20 N Line launched in India, prices start from Rs 9.84 lakh
Price (Ex-Delhi)
Starts Rs 6.8 Lakhs
Price (Ex-Delhi)
Starts Rs 9.84 Lakhs
Price (Ex-Delhi)
Starts Rs 6.17 Lakhs